FEATURES
Caroline Rose Tackles Fame on "Superstar"
By Mariana Timony · Photos by Cara Robbins · March 11, 2020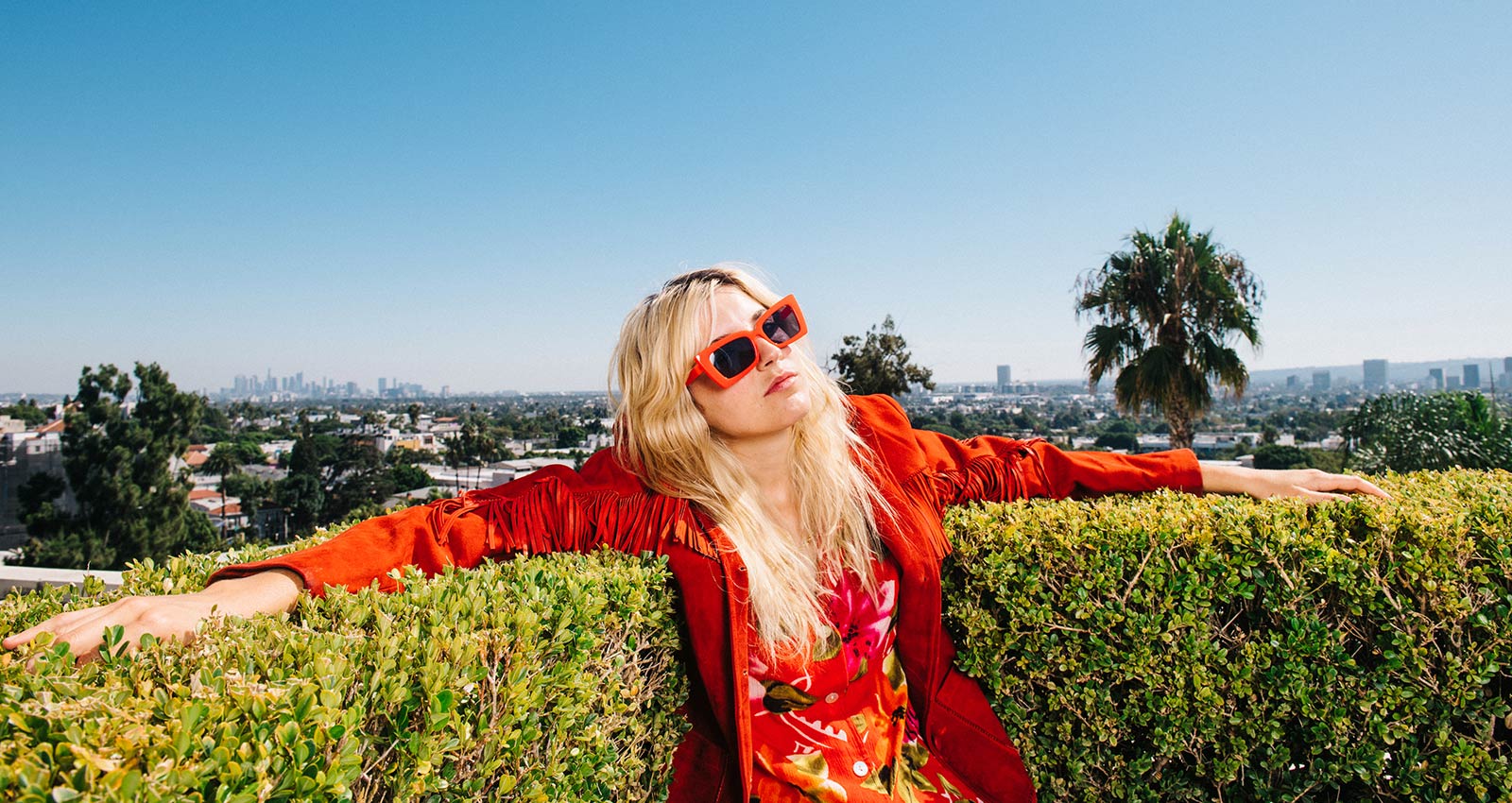 "It feels like you're an astronaut and you're tethered to the spaceship and all of a sudden your tether breaks loose and you go floating in space!"
Caroline Rose is talking about a favorite moment on her new record, the '80s-inflected synth-pop concept album Superstar. It happens midway through final track "I Took A Ride," and arrives at the end of a musical journey that follows the fortunes of a fame-seeking nobody who deserts the life they knew to chase their dreams to Hollywood, Mulholland Drive-style, only to suffer a mental breakdown à la Day of the Locust before hitting rock bottom and taking a Midnight Cowboy-esque Greyhound bus ride out of town.
"I know I'll get my baby back," Rose sings on "I Took A Ride," her aching voice low with regret, referring to a lost lover or perhaps a dream gone sour. "Someday soon…" Her vocals trail off and beat drops out, for just a few seconds, right before a blast of synthesized arpeggios bubble up and careen across the mix, their bright tones as shiny as the stars that glint in the eyes of California dreamers everywhere. It's a thrilling sonic trick and it does rather have the effect of being jettisoned off into an uncertain but wide open galaxy of possibilities—what Rose further describes as a "space odyssey."
Merch for this release:
Compact Disc (CD), Vinyl LP, Cassette
Vibrant imagery is par for the course when speaking with Austin-based Rose, who loves movies and initially conceived Superstar as a short film before she decided the idea was interesting enough to turn into a full-length record. Although Rose doesn't put it quite like that. She says she approached creating Superstar, "like a person who needs glasses but isn't wearing their glasses so everything looks blurry but you just kind of have an idea of what the figure looks like?"
The figure at the center of Superstar began to take shape in Rose's mind while on tour for 2018's Loner, when she would pick out melodies on an OP-1 synthesizer in various coffee shops around the country, and then afterwards during dedicated writing sessions once she'd relocated more permanently to Austin. Though it's Rose's heavily made-up and plasticized face on the cover and some of the themes she explores on the record are partially based on her own experiences, the "superstar" of the title is more an amalgamation of ideas than an actual person.
"It's me, but this person doesn't have a face or a name or even have a gender," Rose says of Superstar's anti-hero. "It's like if you have a dream about something and you wake up and you're like, 'I can't remember who was in my dream, but I remember the feeling of the dream.'"
The 30-year old Rose, who grew up on Long Island in what she calls a creative household, came to music quite young, taking piano lessons as a child and training as a competitive vocalist later. But it wasn't until she picked up a guitar in her early teens that Rose discovered "an actual profound love for music. I was starting to hear songs that were moving me and that's when I started writing because I was like, 'Wait, I can make the music I've been listening to and feel these things from my own music." She still remembers the first thing she ever wrote on guitar, a song in a bizarre tuning called "Out of Time." "It's funny because I have an insane anxiety about running out of time and feeling like I've wasted time. Clearly that anxiety has stayed with me," she jokes.
Superstar is Rose's third record and an ambitious follow-up to Loner, which itself was an ambitious left-field follow-up to Rose's debut, a "a singer-songwriter record that I only half-heartedly did and wish I could bury forever." Like Superstar, Loner also had narrative elements, but it was more like a book of short stories than a feature-length film, with Rose using her songs to inhabit characters going through all manner of unique experiences: the tale of Jeannie longing for a better life, there the inner monologue of a self-confident cutie decked out in fake Gucci crowing "I got soul!" to catcallers as she sashays down the street, or the familiar story about the music industry hopeful being pressured to "put on this little bikini and dance!"
"On Loner, I was fascinated with making little movies, like how can I make a record that expresses these different aspects of my personality," explains Rose. "For Superstar, I thought 'Wouldn't it be cool to make one big movie out of a record?'" She brought the idea of an overarching narrative to the writing process for Superstar, and "really painstakingly made sure that each song was a moment that revealed something and what it revealed leads you into the next song. If I could, I would write out a one-sentence or a few word sentence for each song."
Merch for this release:
Compact Disc (CD), Vinyl LP, Cassette
Rose's writerly attention to detail is apparent in Superstar's cohesive chronology. Each song embodies a different aspect of the protagonist's psyche as the storyline unfolds. While the superstar is still in the thrall of their supersized aspirations on "Got To Go My Own Way," Rose trills self-assuredly about how "they'll call me Little Hollywood" over glittery synths and rubbery basslines that sound as optimistic as her boast that she's "moving to LA/I'll weekend in Paris." In the latter half of Superstar, when those dreams have gone to seed, the drum machines turn more ominous and Rose's vocals more dour as she relates a grimmer chapter. Darkly shaded vamp "Freak Like Me" finds the superstar in a disreputable motel seeking meaning in sex games while Rose growls: "All I've ever needed is a lukewarm room, two pillows, sheets, some muffled screaming."
The topics are taboo, but Rose has never been afraid to express mortifying things, especially about herself. "I actually find it more interesting," she says. "When I watch movies, the people that I enjoy are going to be a Tom Waits rather than a George Clooney. When I was imagining what my movie would be about and what it would be like, I tried to lean into aspects of me that are pretty shameful, and make an interesting character out of it."
But while Rose doesn't shy away from giving her character comeuppance for self-delusion and arrogance, Superstar is also undeniably a big pop record geared to evoke pleasure in the listener even in its gloomiest moments. Superstar was hugely influenced, Rose says, by Bruno Mars's 24 Karat Magic—something that can be heard clearly on catchy and anthemic tracks like "Feel The Way I Want."
"There's literally always an ear hook," Rose points out about Mars's record, but she could just as easily be talking about her own. "It could be a vocal line or an instrument comes in once and plays this thing that you don't forget, your ears are just perked the whole time. I love that idea where there's no fat, you're using every element that you can and nothing more."
Rose produced Superstar herself ("Not to knock anybody, but my greatest asset is YouTube. I have multiple Ph.Ds in YouTube," she jokes about learning to produce) and established rules to help her maintain what she calls "an economy of sound" throughout the process. This meant not only being ruthless when it came to cutting ideas that didn't serve her overall vision, but also stopping herself from being too editorially heavy-handed when it came to how tightly to pack the songs with melodious doodles. Instead, she relied on her instincts. "When I was younger I used to do things like take things out to the point where it would nuke the sound," she says. "But I've done this long enough to know not to use my ears, but to use my emotions to make sure that I'm on the right track."
Emotional reaction is what guided her to include one of the more personal songs on Superstar, "Command Z," a track that functions as a moment of emotional grounding when the protagonist realizes that their choices have led them down a dark route and literally decides to hit "undo" on their past decisions. "Initially was just going to be a transitional instrumental that was going to last 10 seconds," Rose says. "Then I started freestyling these lyrics. I was just kind of spitballing and I ended up talking about something that really happened to me. I didn't even realize how moving it was until other people heard it. At one point I was going to scrap it, but everyone's reaction to that song was, no you need to keep it."
Merch for this release:
Compact Disc (CD), Vinyl LP, Cassette
Rose won't say whether or not she thinks Superstar is ultimately a happy or sad story—though she does cop to pouring some of her own regrets into the record. "I've had past relationships where I've never allowed myself to get in it too far because I've always been like, 'I have big dreams, I want to go do my own thing.' I remember that feeling very well in a particular relationship where I was falling in love with this person and then I left to go start my album. That's actually what the song 'Pipe Dreams' is about."
For Rose, the ending of Superstar is ambiguous—and that's the beauty of it. Circling back to her favorite moment on "I Took A Ride," Rose says she loves how the song breaks open because it represents a kind of duality. It could be the sound of an ego cracking in half or a crack of light beaming unexpectedly in the darkness—even she's not entirely sure what it is.
"Ultimately this person has gone on a big journey and then at the very end they're realizing that they've been trying to find something that might be a figment of their imagination or something they don't have yet or what they left in the beginning. It leaves you wondering," says Rose.
"Maybe that's sad, but I think that's just life," she points out. "There are some moments when you're high and some moments you're low. All in all, it's just a big ride."