FEATURES
Build and Destroy
By Oliver Wang · April 01, 2014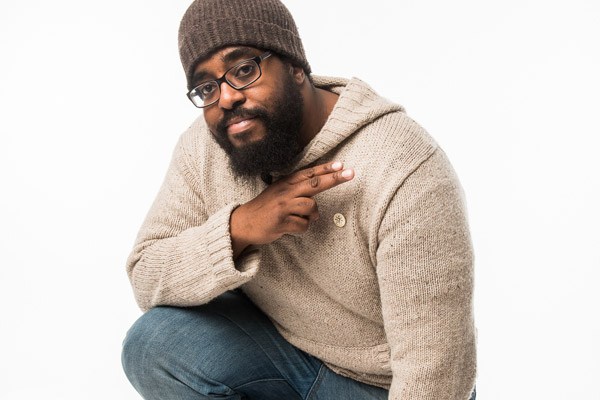 "A lot of the cats that came up around the time I was coming up, the ones that are still relevant today, had some sort of major label foundation that they were able to make good on. If you're keeping score, I'm trying to catch up."
.
00:10 / 00:58
In 1995, as a college student at SUNY Albany, J-Live released his first single, "Longevity." Giving his debut that title was a brash move for a rapper barely out of his teens, but nearly 20 years later and J-Live has made good on the promise. For a rapper/producer who's seen countless peers come and go while he navigates his own career's travails, you could call him a survivor, but with his sixth full-length album—Around the Sun—on the horizon, he's not just surviving: J-Live is thriving.
To be sure though, it's taken a while to get here. When I first met J, it was around the time of that first single; he had come to my radio show on KALX in Berkeley, CA to promote it. Within my clique of fellow-minded hip-hop fans though, he was already on our radar, having been featured in the vaunted "Unsigned Hype" column in The Source. Moreover, we marveled at the B-side track, "Braggin' Writes," where J served as his own DJ, cutting things up on two turntables while simultaneously rhyming on the mic.
Even then, the lucidity of his lyricism made an instant impression. At a young age, he had already mastered an economy of language – saying more with less – but also displayed a dazzling ability to switch between different modes: storyteller, social documentarian, and cipher specialist. A generation later and his mic presence hasn't faded a bit. Just piece apart his latest single, "Money Matters" and follow the flow:
"Your world, my world, same shit, different day,
Different shit, same toilet, paper gotta circulate,
Just to keep the water flushing, stove hot, fridge cold, cabinets full,
Clothes clean, quarters for the wash and fold."
.
00:10 / 00:58
J-Live was a natural as an MC, but his growing pains came everywhere else, especially while gradually taking the reins of his career. He had a falling out with his first label, Raw Shack. When he signed to Payday in the late '90s and was poised to release his debut album, The Best Part, the sale of Payday's parent label led to his project being shelved: bad luck, tough times.
Impatient fans took to bootlegging it, leading to rumors that J himself had been behind the leaks. By the time he officially dropped The Best Part on his own, in 2001, his initial buzz had long waned. He wasn't quite back to square one, but he remembers it as a frustrating setback: "A lot of the cats that came up around the time I was coming up, the ones that are still relevant today, had some sort of major label foundation that they were able to make good on. If you're keeping score, I'm trying to catch up."
If it's not apparent, J is a perfectionist with a relentless work ethic to match: twenty-some recordings and counting. He is his own harshest critic at times, admitting that his third album, The Hear After, was not his proudest record: "I feel like I could have done a lot of things differently on that album." Yet from an outsider's perspective, what's remarkable is that he even pushed himself to make it to a third album (let alone now, a sixth). Far lesser challenges have stilled the careers of many of those same contemporaries that J-Live referenced before but he's still here. Learning. Striving.
.
00:10 / 00:58
J's been known as an "indie" artist since the beginning, but there are different levels of independence. In the past, his albums have usually gone through a separate label, such as Penalty or BBE, but with his 2011 album, Said Person of That Ability (S.P.T.A), he handled the whole release from beginning to end. Apropos of someone who used to teach primary school English classes, J constantly processes his career as one long learning process. Regarding S.P.T.A., he says, "I feel like, musically, I did everything I wanted to do, but as a label, I didn't necessarily do it justice. So people are still discovering that album." Those lessons have gone into Around the Sun: "I can already see what the finish line looks like, because I've run this race so many times before. I'm like, but now you know what to do. You have the means to do it, you've done it before, you can reflect on what it's like to do it right and what it's like to do it wrong."
J-Live isn't just learning about better ways to release his own music. In the last few years, he's also built a label, Mortier Music, which takes its name from the French translation of "mortar," a term that itself has multiple meanings to J. "Mortar shells, as in bombs, mortar and pestle, as in it could be used for cement, medicine, for seasoning, any kind of dye, coloring, things of that nature. So, within the word mortier, you had elements to build bridges and destroy barriers."
Some of that bridge building includes artists he's met in his transplanted home of Atlanta, where he's lived for nearly 10 years. "We often joke that there's so many transplants here, it's kind of hard to find somebody who is from Atlanta," says J, and as it is, one of the newer artists to sign to Mortier is J Nolan, who comes to ATL via Connecticut. Along with producer Reese Jones, they're featured on the new Mortier song, "Real Fellas."
"My challenge is to host the artists and see the potential in what they're trying to do," explains J, describing how and whom he chooses to bring into the Mortier fold. "I respect their work in the sense that we have common goals, and I feel like I'm in a place where I can help take their music somewhere where they can't." Ever the student, as J moves into the third decade of his career, he's learning how to be a headmaster too.