FEATURES
Brooklyn's Ambient Church Focuses on Close Listening
By Andy Beta · Photos by Landon Speers · January 11, 2018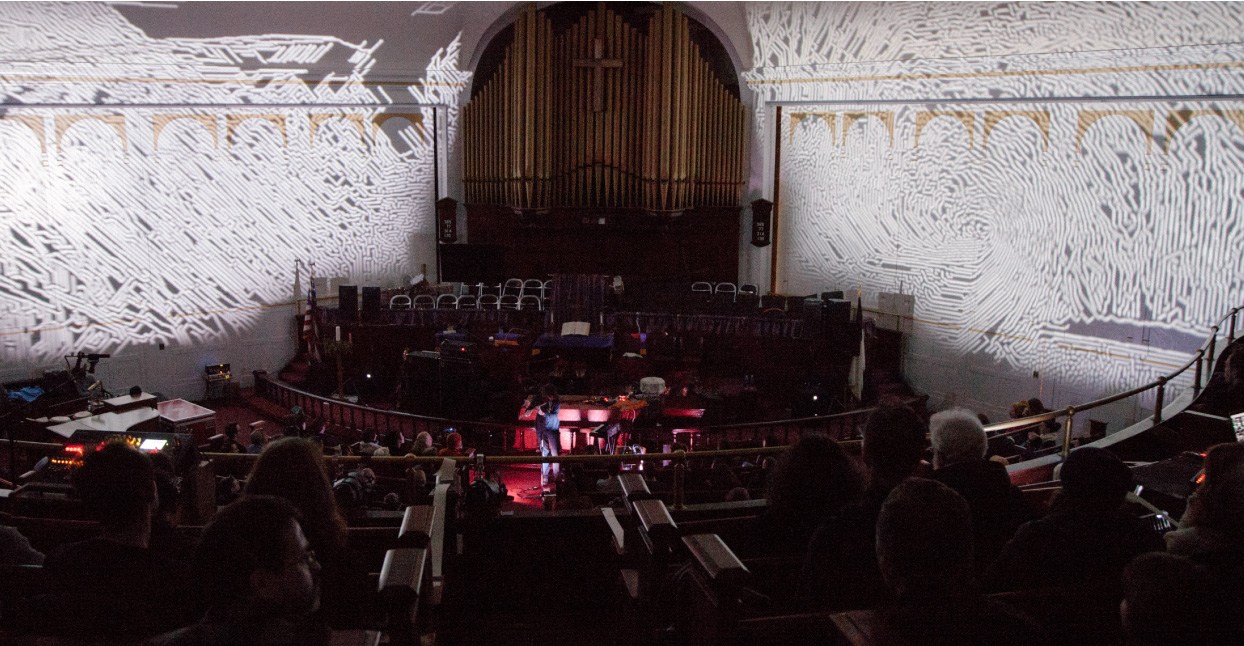 Brian Sweeny was walking through his Brooklyn neighborhood of Bushwick when, to quote the Mamas & the Papas, he stopped into a church he passed along the way. Concert promoter Sweeny hails from Rhode Island, was raised Christian and became one himself at the age of eight—though he doesn't practice now. After putting on concerts for the past six years at yoga studios and in other alternative venues, he was looking for a resonant space in which to host a series of ambient concerts.
"I was walking by and I saw there was a crew outside, filming a movie inside the church," Sweeny says of the Bushwick United Methodist Church, a striking white stone building situated at the corner of Bushwick Avenue and Madison Street. "The crew was basically taking it over, and I thought, 'They're really going in on this church. The church must be open to having secular events happen there." So after a year during which Sweeny staged deep listening concerts at venues around the borough, from Brooklyn Heights to Greenpoint, the Ambient Church concert series found a home in Bushwick. It recently brought its first season to a close with a formidable bill that featured the legendary bassist-producer Bill Laswell with New Age zen master Laraaji, and up-and-coming experimental musician Ka Baird opening. To say it was a special night would be an understatement. How many ambient shows get the Bootsy Collins seal of approval?
.
00:10 / 00:58
Sweeny explained to the church that his shows were very much like a church service—there would be peaceful music and the audience would be seated, not standing or dancing. "Once I said it, they loved it," he says. To date, Ambient Church has featured a broad-minded (not to mention mind-expanding) array of artists, both those firmly established in the space music firmament and emerging stars. In its inaugural season, Ambient Church featured the likes of Cluster's Hans-Joachim Roedelius, Chairlift's Caroline Polachek, Julianna Barwick, Weyes Blood, Visible Cloaks, and others. Whether it's legendary '70s kosmische or 21st century indie and New Age pioneers, Ambient Church presents a diverse array of sound, from laptop abstraction to ethereal folk, analog synthscapes to wordless voices looped into a luminous cloud.b
"Brian consistently cross-pollinates legends with artists from the current generation," says John Also Bennett, who played Ambient Church on three separate occasions, as a member of his band Forma, in Jon Gibson's ensemble, as well as in a duo with Belgian artist Christina Vantzou. "What strikes me about the audience at Ambient Church shows is the level of respect shown to quiet, delicate, or 'ambient' music—it's similar to the kind of audience behavior you might encounter at a classical music performance. In many ways, it's ideal venue for this type of music, allowing for a community of people to gather who really just want to relax and appreciate music in a beautiful setting."
.
00:10 / 00:58
That dedicated audience also allows for the musicians to go deeper into their own music, knowing they won't have to compete with bar sales and idle chatter during performances. "I had a solo performance with Ambient Church last year," says Steve Hauschildt. A founding member of Emeralds, Hauschildt's solo work continues his deep exploration into abstract yet kinetic electronic zones. "So I had an idea of what to expect when I played with Roedelius. I knew that the audience wouldn't be talking during the set, so the dynamics of the collaboration could be more nuanced, with more experimental and quieter parts drifting in and out. A space like that encourages reflection, and is conducive to more intent listening."
As transportive as the music can be at the Ambient Church, just as much thought and time goes into the visual accompaniment, which gets a boost from the austere design of the church. "Methodist, Presbyterian, Unitarian churches I find are very modest in their design and their accoutrements," Sweeny says. "I like the architecture to be simple, not a bunch of decorations and frill. I like surfaces that can be projected onto so that visual artists can provide the content." For French sound artist Felicia Atkinson, the architecture of the church, as well as the white expanse of the walls, allowed for a sublime visual effect. "Playing in circular spaces are always special, but the light animations that were used were very powerful," she says. "I felt really like part of a kind family and it was very heartwarming."
.
00:10 / 00:58
For many years, ambient music was seen as background music—something to quietly read or work to. In ambient pioneer Brian Eno's estimation, it's music that "must be as ignorable as it is interesting." But by setting such music in the foreground, Ambient Church reveals that it can make for a powerful communal experience. "Listening in a crowd is a very different experience than listening in the privacy of your own home," Sweeny says. "It puts in a new context, and puts it out in the open. It becomes real life, rather than sitting at your computer doing your work while listening to this music. It's a powerful experience listening with other people and experiencing it all together. And there's power in numbers."
-Andy Beta