FEATURES
SXSWatch: Brodka's Haunting Songs of Love and Cannibalism
By Ally-Jane Grossan, Laura Studarus · Photos by Daniel Cavazos · March 20, 2017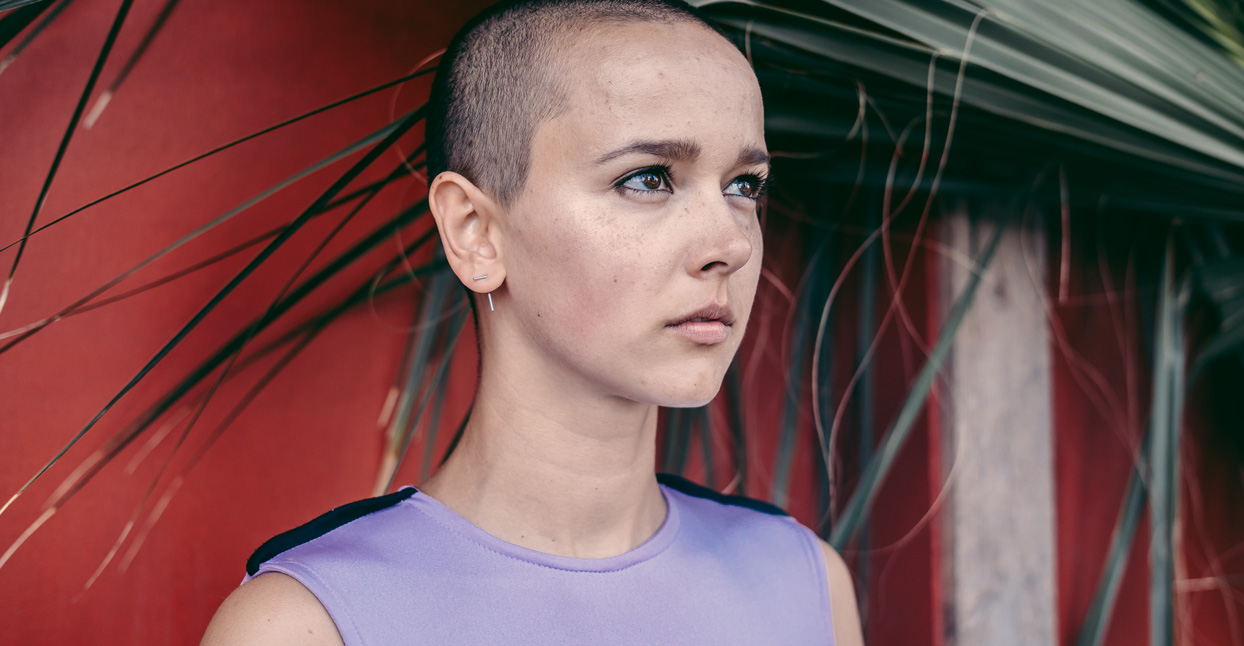 It's the day after her 29th birthday, and Monika Brodka—better known simply as Brodka—has shocked her fans with an Instagram post of her freshly shaved head. The Polish singer/songwriter laughs at the frenzy she's accidently created while still in bed with her two cats in her Warsaw apartment. But perhaps it's also the surprise she still has the ability to shock at all that has her smiling.
Brodka's breakthrough in her home country came thanks to her 2004 win on Polish Pop Idol. Her first two efforts minted her as a mainstream commercial pop darling, an image she successfully began to subvert with 2010's Granda, which she recorded using traditional Polish folk instruments, which she then remixed to create spiky electro pop. Last year's Clashes (her first international release) further fiddled with the script, an exercise in eclecticism with its arms around both stripped-down, Patti Smith-style punk and melancholy folk. Over the course of 12 tracks Brodka manages a confessional sort of storytelling without actually revealing anything personal—her tales of sex, heartache, and breakups veiled behind images of cannibalism, funerals, and a girl dreaming about horses. (That last detail sounds like it owes something to Belle and Sebastian, but is actually a nod to Courtney Love.)
Brodka played an official showcase in Austin last week at SXSW, at the chaotic center of the festival on corner of Red River and 6th Street on the final Friday. Outside, roving packs of K2 zombies celebrated St. Patrick's day while sophisticated Europeans with bejeweled faces played pop music. During a rocky soundcheck, the monitors went so out of whack that the ceiling shook and dust fell onto the stage, causing Brodka to proclaim, "It's snowing in Austin." The set began with a somber electronic organ and tambourine before a skull-pounding single drum joined in. Her stoic confidence and shaved head can't help but conjure a comparison to Sinead O'Connor. But Brodka is her own brand of 21st century pop star, inspired by post-punk and a survivor of Poland's answer to American Idol.
In person, the musician is incredibly forthcoming, recounting her struggles to focus, love of working in different cities, and that one time at SXSW when she embraced her inner rock star.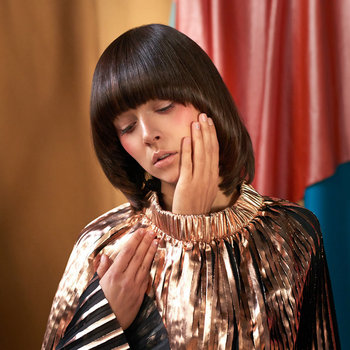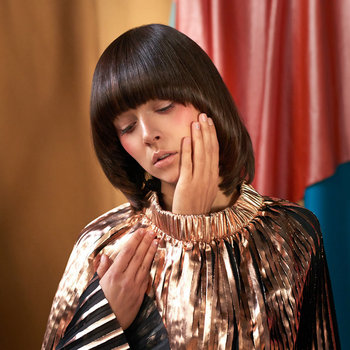 Since so much of Clashes was written in Los Angeles, what's your favorite thing about the city?
The ocean. I used to stay near the ocean in Venice, but now I prefer to be closer to downtown and Silver Lake. I really like the fact that every direction you go, it's an hour drive from the ocean or from the desert or the parks. Everywhere is magical and beautiful.
Can you hear different cities' influences in your work when you spend so much time traveling?
Some people do! Some people really see images when they're listening to this record. It's working on your imagination, somehow. I've been pretty lonely. I've been exploring my solitude in all these cities. That helped me to actually work hard and be less lazy and to push myself to work. That's what I hear in these songs—how much I've been really focused on these songs and working.
That's important—to be able to focus your thoughts rather than to get distracted by Facebook and social media.
Yeah, it's horrible. It's very hard to concentrate on reading or writing—something that's forcing you to be in the moment and isn't as entertaining as checking your Instagram. It wasn't like that some years ago. I think it's madness. We have to work more and more to be more focused and concentrated.
Did you find it to be easier to explore your loneliness once you were in the middle of it?
I think I had to push myself to be in the process of writing. I was very focused on that. Every time I had something that I liked, like some tunes or some sentences, that helped me to continue. But I'm not most motivated person in the world! I should have this habit of writing one song a week—or even just lyrics. It's easier for me to concentrate when I'm in the process and I know that I'm working on the album.
It feels like even when we love something finding motivation can be difficult.
Yeah, definitely. I'm also this kind of person who, when something is working and when I can finish my day with something that is interesting for me enough to continue, it's cool. But I can be so disappointed by a few hours in the room with nothing.
You've called writing an album a series of little experiments. What experiments helped pave the way for Clashes?
The idea was to come back to my very first music memory as a child, which was going to the church and listening to music during the mass. It was organ music. I was obsessed by this instrument. I wanted to explore it and use it on this album as much as I could. But it's always like that for me—I have this basic idea at the beginning, and I'm expecting that idea to be the basis of the album. But at the end, there's only four percent of [that initial idea] on the album. It actually just helps me to create something new and something which is more mine. I wanted to put church organ in every song, but it didn't work. So then, there was the moment when I had to accept that it was just the first idea, and now you're somewhere else with this album, and it's also cool.
So it was about the atmosphere of sitting in this empty church, and thinking about your spiritual side, thinking about yourself more—this feeling of the empty church, where you can stay alone with your thoughts, helped me to find themes for the lyrics, and to create some kind of vibe.
Was there a specific song where that idea really came through for you?
I would say "Funeral." It's the closest for the idea I had for this album. I managed to put this idea in there and to turn it into a weird tune. But it's more about the atmosphere and the feeling this music gives you. I didn't want to place it in a specific genre.
You seem to be good at changing it up.
It was never my plan to change my music. People think my music changes with each album. It happens naturally because there were long breaks between my last two albums and a lot of things changed in me and in my life. It was impossible for me to write the same album again. It's maybe a surprise for my fans, but when I look at different artists like David Bowie—he had periods where he was fascinated by this kind of music. He was changing into his alter ego—which is pretty normal for me, but maybe not for some people. I'm just trying to write music intuitively. I want to do it naturally without thinking if people will accept it. It's always a diary of my life. I'm okay with that and I respect it.
I love the line in "Horses" where you refer to the "car crash girl."
It's from Kim Gordon. I was reading her book when I was in LA. She said something about Courtney Love using this sentence. I wrote it down and thought it was a pretty cool line.
Any other artists influencing the process?
I've actually been reading a lot of Ginsberg poems and some Brecht. Both weirdos! I've been trying to create some of my own stories. I don't want to be too cliché with writing about my love life or my stories—which are pretty normal. Breaking up with someone, being in love with someone—just to write about those things in a different way. Writing about desire through sexual cannibalism. "Funeral" is about the end of a relationship, but comparing it to putting your body in the grave and burying something in the ground. It's the end of something that's important to you.
What are your memories of SXSW?
I've been once in 2012. I almost lost my arm! Once in my lifetime I did something crazy and rock and roll: I got a bit drunk and I went to a tattoo studio with a friend of mine. I did this red lightning bolt on my arm, and I didn't know that was allergic to the ink. I got a very big infection, and I came back to Poland and I had to go to the dermatologist. He gave me this antibiotic and told me that I might end up with a hole in my arm. I was touring for the next two weeks in the U.S. and I couldn't move my arm. It was pretty horrible! The story has a happy ending, but I do have a little hole in my red lightning bolt tattoo.
But I love Austin. I think SXSW is a pretty special festival. I have only good memories. Eating lunch next to Dave Gahan, or seeing Jared Leto leaving the hotel in his limo, or having a walk on the main street and hearing some good tunes. One year I decided to go to one of the venues and there was a small outdoor stage. And I thought, "Who is this guy? I think I recognize his style by the way he plays guitar." It turned out it was the new project from Thurston Moore. So you can just walk there and suddenly you see one of your idols playing on a little stage. That's very special.
—Laura Studarus
—Additional Reporting by Ally-Jane Grossan