FEATURES
Independent Black Artists Are Changing the Landscape of Country Music
By Marcus K. Dowling · July 16, 2021
The past two years have seen a Black artistic revolution emerge in country music, even as America faces a resurgence in strife directly linked to anti-Black racism and bigotry. Iconoclastic Black artists working in both the genre's mainstream and independent spaces are standing up for themselves by creating uniquely organic homages to country's traditions. These sounds reclaim the genre's Black roots while also encouraging its future.
"[Coffey Anderson] said that Charley Pride went out and cut down all of the high grass for [Black country artists] to run fast and free. Compared to that, If I stray from the path that Charley cut, I'm like a turtle caught up in kudzu; I don't know which way to go," says Mississippi-born and Nashville-based traditionalist country artist Aaron Vance, summing up the mood shared by Black country artists in 2021. Anderson's statement not only honors the legacy of recently deceased, groundbreaking Black country performer Charley Pride, it also positively speaks to independent Black artists' future in country music.
Artists like Vance, Western Canadian singing shaman D'Orjay, rural-culture-adoring Black Americana devotee Dom Flemons, timeless living legends like Jerry "Swamp Dogg" Williams, more contemporary-leaning folkies like Lizzie No, and a plethora of others, illustrate the depth and scope of Charley Pride's grass-cutting sweep. Though country's mainstream offers an often distressingly monolithic representation of the genre, its independent side's embrace of a diverse presentation of Black artists provides the hope of a broadly representative perspective.
"Cabin Fever sounds country as all get out!," says Vance of his most recent album. "One day, I woke up tired of being cooped up inside. I threw on some old overalls, took a drink of some Gentleman Jack whiskey, and started writing." The album that emerged is a radical embrace of his artistic freedom that helped remove his self-imposed limitations: "I'm 40 years old and just now figuring out that all I ever needed to succeed was to remember my roots, play my guitar, and showcase my talent. I can stand alone."
Merch for this release:
Vinyl LP, Compact Disc (CD)
Allison Russell claimed victory over personal demons on her latest album, Outside Child. And in in her work with the quintet Our Native Daughters, she reclaimed the banjo's historical legacy, restoring its place as an instrument first and foremost familiar to Black Americans and Canadians. The one constant throughout her work is that it is as beautiful and bittersweet in sound as it is ferocious and profound in impact. The Montréal-born performer's sound is analogous to the folksy singer-songwriter style explored by residents of Laurel Canyon in the 1970s. Though her music feels as if it has country music in its roots, Russell's dynamic range and lyrical intention add soul music's gravitas to the mix—just listen to Outside Child's "Nightflyer" for a terrific example of this fusion at its best.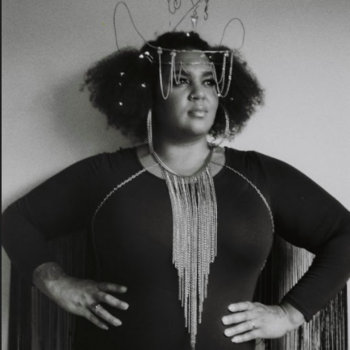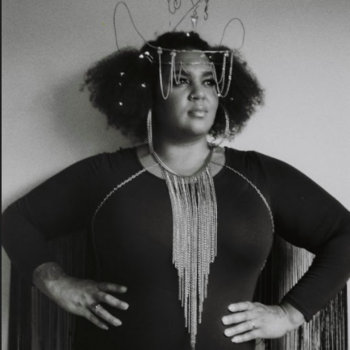 Canada's D'orjay the Singing Shaman is a practicing shaman who is the daughter of a single mother and a descendant of immigrant Irish farmers. Her rural roots included riding horses, slaughtering chickens, and raising pigs. Her country-rock breakout hit "New Kind of Outlaw," took a half-hour to write, a deliberate process that resulted in lyrics like "I love country music/ Will country music love me?," which felt like "battle-rapping the air." In "speaking to a wound to validate it as being real," as she says, the song represents one of the first times that the artist has fully reflected her shamanistic healing practice in her music.
The dreadlocked, Bobbie Gentry-loving, Haitian-born Brit DeLila Black writes songs that highlight her profound sensitivity to Black struggles and country music's future. (Witness these lyrics from "Routine": "She was stopped on the road and asked for ID/ We were told it was routine.") In her opinion, the genre's ability to "cultivate independent-minded artists who can distill potent activism, emotional self-awareness, or feel-good storytelling into three-minute anthems is essential." DeLila Black is a political activist in both nature and expression, and her music—which brings together styles as disparate as punk, Appalachian folk, and soulful, throwback countrypolitan grooves—feel as much driven by a devotion to aesthetics as they are by a desire to overthrow conservative-leaning societies.
Merch for this release:
2 x Vinyl LP, Compact Disc (CD)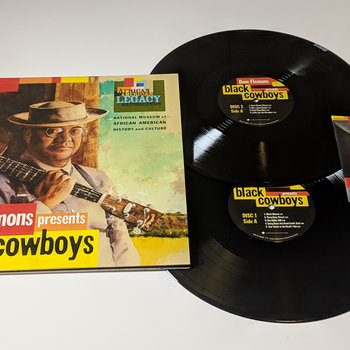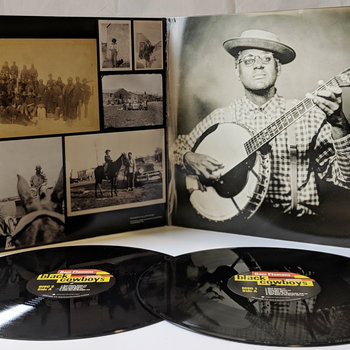 Dom Flemons is a walking musical encyclopedia, someone able to chronicle the direct impact of Black American musicians on country, roots music, and Americana with depth and precision. In his music—like the 2018 LP Black Cowboys—Flemons recontextualizes American history in sound. Old Western songs and poems weave with the tales of Black pioneers (of music, and the country itself). In a quote related to achieving visibility and empowerment through music, Flemons says, "If you empower yourself by being a black cowboy, you have broken yourself out of the bounds of the past, the things that define you culturally. The cowboy is just out there, doing whatever they want to do."
The Appalachian-born, Washington D.C.-based Evil, who describes themself as, "a depressed queer country singer," has fully embraced cowboy aesthetics, finery, and sound over the past decade. (You may also remember them as Babeo Baggins of the DIY rap group Barf Troop.) "Broken Wing," which was released in April of this year, could be loosely described as ambient pop, but it also contains significant references to Gene Pitney's heartbroken, anthemic "Town Without Pity." Evil swirls together their many influences with a gentle twist.
New York City's Lizzie No crafts plaintive guitar ballads in which her twangy plucking style attracts the ears of anyone well-attuned to country and folk. This allows her yearning vocals on tracks like 2020's "Scared" to twist people's idea of the way these genres typically sound. There's a subtlety at play in her work that has intriguing roots. In a 2017 NPR interview, No said, "Women of color are handed this idea that we have to be really strong for everybody, and that our anger and our sadness and our confusion is dangerous, and that's something that I've internalized a lot throughout the course of my life." Denying that narrative's power over her music as much as her life makes her artistry as inspirational as it is noteworthy.
Merch for this release:
Compact Disc (CD),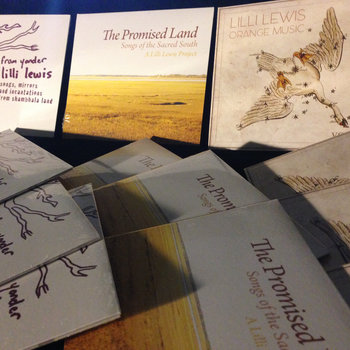 The self-proclaimed "Folk Rock Diva" is also the Vice President of Operations and Head of A&R for independent label Louisiana Red Hot Records. A graduate of the University of Georgia's Music Performance program, Lewis has an ethnomusicologist's understanding of both classical and Black American musical traditions that inspires her country-leaning songs. Her bio notes that she "conjures the likes of Big Mama Thornton, Sister Rosetta Tharpe, Odetta, and Janis Joplin." To wit, 2020's empathetic and prescient My American Heart double EP offers a title track that serves as a literal national benediction, earnestly providing hope for families for food, home, and solace during a dynamic and divided time in American history.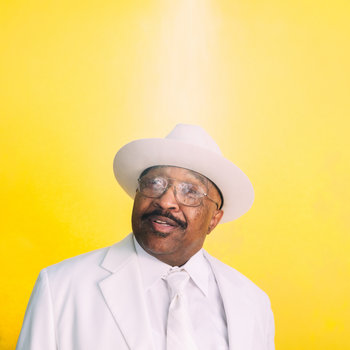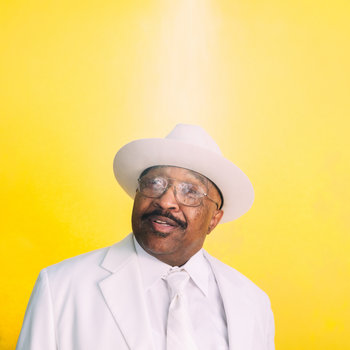 Jerry "Swamp Dogg" Williams is an iconoclast in all regards—and one of just a few Black artists willing to embrace the "country" tag on Bandcamp. Tired of a Southern music industry unwilling to support sounds left of Motown and right of Stax, his irreverent sound feels much more "outlaw country throwback" than modern Nashville pop. Listening to the self-recorded sketch of what eventually became "Sleeping Without You is a Dragg" (a song that would eventually feature Justin Vernon and Jenny Lewis on 2020's Sorry You Couldn't Make It) offers proof of the timelessness of the country/soul hybrid.
Merch for this release:
Compact Disc (CD)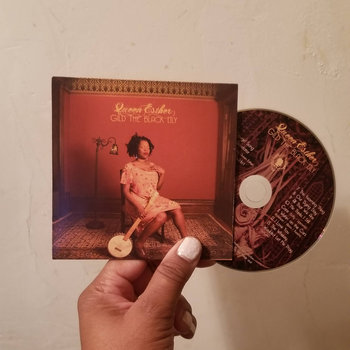 Queen Esther's voice has been compared to a number of superstars—Lucinda Williams, Melissa Etheridge, Sheryl Crow, Sly Stone, Nina Simone—which is a reflection of her incredible talent. On 2021's Gild The Black Lily, her rootsy rock bursts with emotional gravitas. She covers gospel blues vocalist Blind Willie Johnson ("John the Revelator") and The Eagles ("Take It To The Limit"), spinning it all up into her own, self-styled "Black Americana" sound—of which the somber original "Oleander" is a fine example.
Elizabethton, Tennessee-based singer-songwriter Jett Holden released his first single, "Taxidermy," this year; a melancholy country tune which impugns performative activism as "taxidermy for your Facebook wall." As a gay, Black man, Holden has said in an interview with Black Opry that he "was apprehensive about stepping into the country music arena, but is taking the chance."