FEATURES
Ukrainian Post-Punks Bichkraft Make Beauty From Bleak Circumstance
By Jordan Reyes · March 07, 2018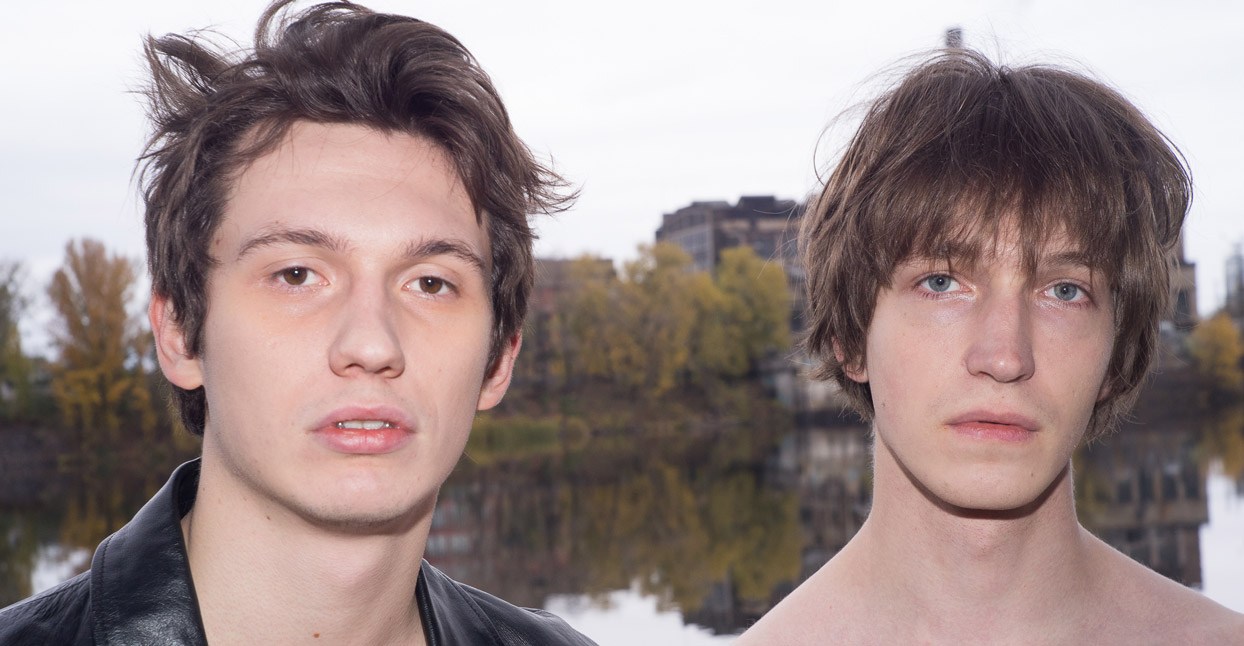 Between the dissolution of the USSR, the contemporary war in the Donbass, and the required military conscription for able-bodied males between the ages of 18 and 25, the notion of "dystopian existence" is a Ukrainian reality. Kiev post-punk/shoegaze band Bichkraft, who make music despite these circumstances, are set to release their third LP, the trans-Atlantic burner 800. The two founding members of the band—Dima Novichenko and Jenia Bichowski—have lived in Kiev their entire lives, navigating the ebbs and flows of a city and country in flux. Tension and disquiet are ubiquitous, almost normal.
.
00:10 / 00:58
Merch for this release:
Vinyl
The pair met as teenagers at a small venue called Malaya Opera, one of the few places cheap enough to rent for smaller shows. Hardcore, punk, and noise rock gigs were almost always held there. Novichenko and Bichowski started Bichkraft soon after meeting, adding bassist Serzh Kupriychuk and Zenya Fenec on live drum machines. Though Kiev's never been outright hostile towards rock, it hasn't been especially supportive either. "It's more about electronic music because people are on their own, playing music with their laptop," Bichowski explains. "We have our underground radio and parties happening. There are raves every day." That consistent schedule doesn't apply to rock bands, and few international bands end up making the pilgrimage to Kiev.
Perhaps due to the lack of bands touring through the city, Kiev's recording community ends up having, according to Bichowski, a limited palate. "You can't make an album like 800 here because people are narrow-minded," he says. "They'll tell you how to record the guitar. It's typical to be told you can't do something." Appropriately, Bichkraft recorded their first two full-lengths on their own. Mascot, their first, was created in a basement, and the second, Shadoof, in a studio they erected in their garden, carpeted in garbage—"trash kingdom," Novichenko calls it.
Merch for this release:
Compact Disc (CD), Vinyl LP
800 is a bigger endeavor. Recorded in both Brooklyn at Mike Kutchman's Kutch-1 studio, and Ukraine, 800 is massive, tight, and clear. The sessions were intense. For two weeks, the band lived in New York, spending each day recording. Novichenko elaborates, "We'd record in 10-hour sessions, hang out in bars all night, and then go back to the studio." The recording experience was markedly different from Ukraine. "Our sound engineer was open-minded," Novichenko continues. "We brought in a drum machine and modular synthesizer, and Mike thought we should use it. That would never have happened in Kiev." Once the recording was done, Carson Cox of Merchandise—a band Bichkraft had played with in Europe—took over production.
Though the title 800 is a humorous nod to the number of cigarettes the band consumed in New York, it hides seriousness just below the surface—habits like that are often a method of escape. Ukraine is changing, and people are migrating en masse from the Eastern portion to the capital. That's brought more bands to the country's capital, but it's also indicative of both psychic and physical violence. Novichenko considers the effect the war in Donbass has had in the creative realm: "Russia doesn't call what's happening a war, but Ukraine does. It influences art in a strange way. People want to entertain more. There's a dangerous feeling across the country because you don't know what will happen next." It's clearly had a beguiling effect on art, but it's also had a more sinister effect on political parties, sometimes egging on more dangerous individuals. "When the war began, there was a rise of right-wing parties," Novichenko continues. "There was no such thing before. Up to 2,000 people will go to a Cxema [an underground Ukrainian rave], and commune there. It's like living your last day, which is perhaps a little too strong of a metaphor, but it's close."
Just because it was forged in a frightening reality doesn't mean 800 foregoes the opportunity to celebrate, reveling in its precision, volume, and communal creation. It may be a symptom of the need to entertain in the midst of oppression and impermanence, but it sounds triumphant. In their testament to perseverance, Bichkraft are more energized than ever.