FEATURES
How Bang On A Can Rejuvenated New York's Improvisational Spirit
By Seth Colter Walls · April 10, 2017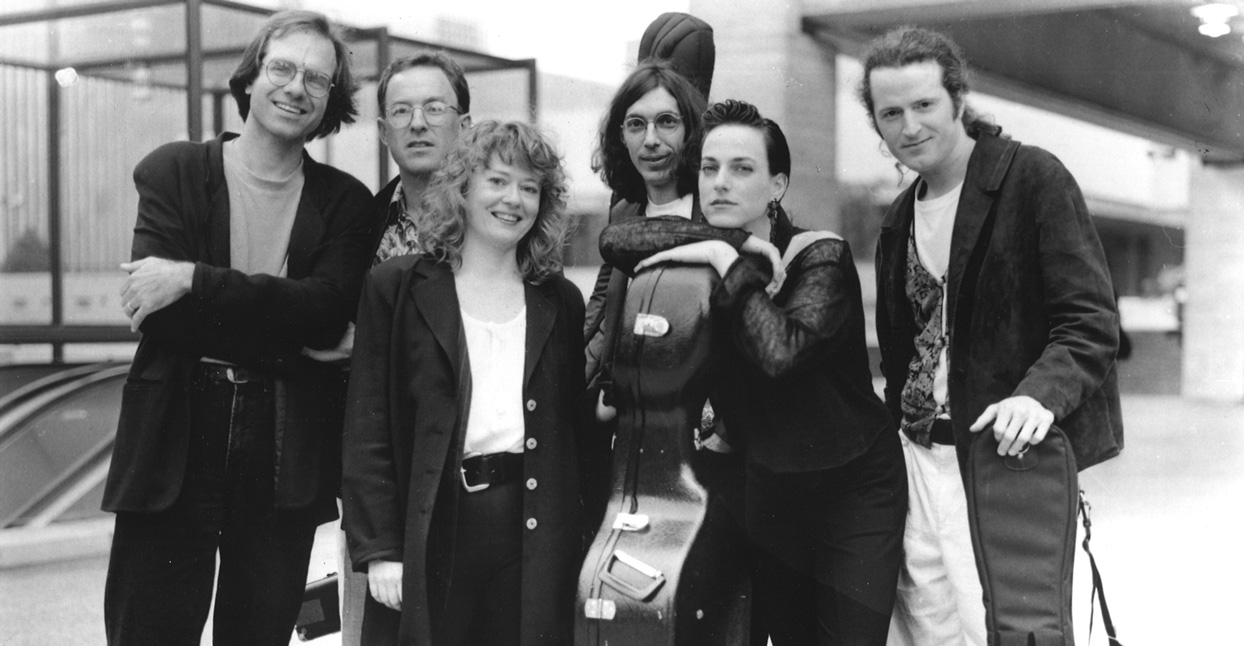 New York in the 1970s was a crazed, creative zone. Composer-improvisers like George E. Lewis shared venues with writers of fully-notated classical works, like Steve Reich, and post-punk experimenters like Rhys Chatham. But by the late '80s, the underground had atomized; the all-welcoming, genre-agnostic community had splintered into a collection of discrete camps. Classical minimalists, turntablists, and post-punk pioneers were still putting in work, but they rarely occupied the same stages. When conservatory grads Julia Wolfe, Michael Gordon, and David Lang first arrived in that late '80s New York scene, they found the lack of cohesion crushing in its sadness. They wanted to bring that not-so-old New York collaborative spirit back.
Over the 30 years that followed, their collective—dubbed Bang On A Can—would help rejuvenate that communal vibe. Over time, other composer-based collectives sprang up around them, emulating their pan-stylistic values. Artists on their own label, Cantaloupe, won Pulitzer prizes for music. They would collaborate with a wide variety of experimentalists, including Meredith Monk and Thurston Moore—while also helping to realize ambitious works that had never been performed previously (like composer Anthony Braxton's piece for 100 tubas).
This summer, the collective will celebrate their 30th anniversary with an eight-hour marathon at the Brooklyn Museum. The Bang On A Can founders have also begun to make their deep archive of live recordings available, exclusively on Bandcamp, for those who join the Cantaloupe label's subscription program. The influence of the Bang On A Can marathons can be seen in other underground gathering grounds, like Knoxville's Big Ears Festival. Thanks to the new archive, you can visit some of their earliest concerts.
At the beginning, they didn't know where to start. "We did a lot of complaining," Wolfe admitted with a laugh, during a break from writing a new piece for orchestra and chorus that she says is inspired by industrial noise. Lang recalls that, "when I came to New York in the early '80s, it really felt like there were people who were making decisions about whether or not to be nice to me based on whether or not they liked my music."
Along with Gordon, Wolfe and Lang had notched early compositional successes. But those individual victories seemed fleeting. By 1987, they had the idea of putting on a long concert of contemporary music—one in which every rival school could be represented (and forced to engage with their peers). The collective envisioned the show as a 12-hour "marathon" of music. When the Bang On A Can organizers found a venue willing to host the proceedings—the now-defunct SoHo gallery ExitArt—the founders had to adjust it to become an afternoon-into-evening event. But they made good on their goal of bringing an unlikely crew of artists together.
Wolfe remembers programming works by minimalist master Steve Reich and the atonal modernist Milton Babbitt, on the 1987 marathon. This was a bit of a provocation, since stylistic turfs were carved into the city's actual map: Atonal experimentalists ran Uptown, near Columbia University. Neo-romantics dominated the Midtown zone, and the concert complexes close to Lincoln Center. Downtown was where the post-minimalist mavericks roamed. Straying from your lane was not encouraged.
"We did that on purpose," Gordon recalls. "[Reich and Babbit] both came, and I think were kind of curious. In many cases, we tried to put composers back to back who had never met each other. And sometimes they did their very best not to meet each other at the Bang On A Can Marathon, either."
The first iteration of the marathon received an early blessing from a venerated elder of the experimental music scene. "We actually called John Cage," Wolfe remembers. "'Hello, Mr. Cage? We programmed your piece on this… thing?' He said, 'Tell me a little bit about it. Oh, I'd like to come.'
Cage made good on his word, showing up toward the beginning of the first Marathon. "He had a big fight with David, at the door, because he insisted on buying his ticket," Wolfe recalls. "We were like, 'You're on the concert, you don't buy a ticket.' But he would not come in, unless he bought his ticket. So we finally let him buy his ticket. He stayed about four hours; he didn't stay for his piece—that was too late. But that he came and was listening. That was just so encouraging." Wolfe says Cage attended the Bang On A Can marathon every year until his death in 1992, and he was also their first official foundation supporter. "The second or third year, this envelope arrived. It was a check from the Cage foundation."
The first marathon had been planned as a one-off event, but 400 people came through the small gallery space on that day. Michael Gordon remembers sweeping up at 4 a.m., and thinking, "Yeah, that went pretty well. Let's do this again."
By the time the second event rolled around, in 1988, the organization had gained some momentum. When an early act dropped out of the program, the Bang founders could call Philip Glass on short notice, and have the famous composer bail them out of a scheduling predicament. Along with his frequent bandmate Michael Riesman, Glass performed a two-keyboard version of his early composition "Music in Similar Motion." In the early going, this take has a harried vibe—perhaps even a little under-rehearsed. (Glass and Riesman were working at a furious pace on newer Glass projects at the time.) But by the final minutes, there is the sense that the room might be collectively levitating—as the two keyboardists gradually introduce higher-octave figures into the minimalist trance.
The Bang On a Can founders communicated their interest in improvisation, by inviting artists as different as Pauline Oliveros and Christian Marclay to participate. Oliveros led the audience in a "New Sound Meditation," prefaced with a warmly humane lecture about her philosophy regarding communal, deep listening.
At that same marathon, Christian Marclay's more clattering improvisational style held the room rapt for a long stretch. Since much of Marclay's early turntablist work is hard to find (or out of print), access to a performance like this one helps to show how valuable the Bang On A Can archive can be.
The Bang On A Can co-founders weren't merely activists when it came to organizing their local underground community. They were also progressives when it came to musicology. Though classical music's formal academy had long held jazz at arm's length, Lang, Gordon and Wolfe encouraged their audiences to embrace the complexity and variety of work by composers associated with the genre.
Lang recalls his year working as a junior "composer in residence" at the New York Philharmonic in the 1980s, and trying to get the orchestra to consider playing the music of visionary composer-saxophonist Anthony Braxton. "The very first thing I did—I called up Anthony, and I said: 'Send me all your orchestra music.' And I spent the year trying to sell it to [the Philharmonic]." Lang's advocacy wasn't successful. But by the time of the 2006 marathon, the Bang On A Can crew would take on the task of realizing a once-improbable idea: They gathered the 100 tuba players needed for Braxton's never-before-heard Composition No. 19.
"I saw Sonny Rollins play, and I started getting interested in Chicago [avant-garde] jazz when I was in undergrad," Lang says. "That doesn't really come up in in the 'mainstream,' European-ized version of what contemporary music is or should be. Anthony Braxton, in particular, I just fell in love with his music—and I fell in love with him."
Bang on A Can's enthusiasm for jazz composition has long been clear in their marathon programming. They have featured several other composers who worked with Braxton on Chicago's South Side in the late '60s as part of the Association for the Advancement of Creative Musicians (or AACM). In 1996, AACM member Henry Threadgill wrote a new work for a Bang On A Can marathon. In 2016, he would win a Pulitzer Prize for composition—meaning the Bang collective was 20 years ahead of the institutional curve when it came to recognizing the composer's elite gifts. Muhal Richard Abrams, a co-founder of the AACM, was commissioned by Bang On A Can to write a string music work for the Cassatt Quartet, which was performed at the 1992 marathon. Unfortunately, that take only survives in the archive on a slightly compromised tape. (Though the historical importance of this idiosyncratic, compelling work more than outweighs the tape's more wobbly pitches.)
And string player Leroy Jenkins delivered a bravura performance, riffing on some themes that would show up on a subsequent live album. His lengthy exploration of melodies and timbres on viola, heard at the 1991 marathon, is even more thrilling—as Jenkins stirs folk-song textures and experimental accents into a swirl of inspired soloing.
"One of the things we started to address, in the '90s, was the intersection where contemporary classical music, experimental jazz, and experimental rock meet," Gordon recalls. "So we tried to program with all those points in mind. At the time, that was a big issue. It's par for the course now."
By the mid '90s, word about the Bang On A Can marathons had spread. Wolfe remembers being approached by festivals and performing arts organizations from all over the globe. "People started to calling up, saying, 'Can you do Bang On A Can in California?' Something like 21 composers and ten different groups—how do you transport something like that?"
The collective's solution was to create their own house band: the Bang On A Can All-Stars. "If we had an ensemble—something a little more compact—we could take this kind of [programming] voice on the road," Wolfe remembers thinking. The Bang On A Can All-Stars make ample use of electric bass and guitar, percussion, piano, cello and reed instruments. They can touch on rock as well as jazz accents —and also collaborate on more intimate-sounding chamber music.
"We thought of the players who really stood out as new-music warriors," Wolfe says. "It's an odd group, kind of bass-heavy—the strings are cello and bass. But you've got some higher range with the clarinet, and reed instruments, saxophones and stuff. And high end of piano, high end of some percussion. But [otherwise], this really beefy sound."
Not surprisingly, the collective's co-founders wound up taking full advantage of these players' particular gifts. Lang's "Cheating, Lying, Stealing" has a sly and puckish energy that makes use of of the group's nimble low-end. At the 1999 marathon, Gordon's solo percussion piece "XY" received an energetic performance from All-Star percussionist Schick.
The quick success of the All-Stars helped point the way for other amplified "new music" groups. The 21st century saw the formation of bands like Crash Ensemble, who showed up to marathons with well-drilled performances of obscure works by minimalist titans like Terry Riley.
Other icons from the era that predated the Bang On A Can collective began taking notice of the vibrant work being done at the marathons, and eventually became collaborators themselves. Vocalist-composer Meredith Monk's "Three Heavens and Hells"—a piece for the Young People's Chorus of New York— was performed at the 2007 marathon, with the composer in attendance.
The surge in adventurous new groups has continued in recent years. The 2012 marathon played host to a powerhouse, six-piano ensemble, dubbed Grand Band. Including new-music virtuosos like pianist Vicky Chow, the group displayed their mastery of multiple-piano works by Julius Eastman and Steve Reich. They also delivered a stunning interpretation of Wolfe's "My Lips from Speaking." Based on sliced-up shards of chords heard at the opening of Aretha Franklin's "Think," Wolfe's writing slowly makes room for touches of gospel-influenced piano (which the pianists in Grand Band bring across with bluesy, modernist power).
With her own Pulitzer Prize for composition on her mantle, Wolfe now fields invitations to write for the same New York Philharmonic that couldn't quite take her colleague's advice about Braxton, back in the 1980s. To some degree, they all feel vindicated. "There are some movements that we've been part of that have been very successful," Lang says. "Concerts that mix different conceptions of music and different genres of music, and different ideologies of music, that's really common now. And that's really good. I think experimental music and clubs where you drink beer—that seems like something that everybody accepts now."
But the organization's co-founders don't see their job as complete yet. "There's a lot of growth in the audience-building and the advocacy world for us," Lang adds. "We've gotta figure out what those things are."
In part, the collective's decision to digitize their vast archive of marathon concerts—a process that will be ongoing, in the coming months and years—is yet another organizing project. It's a way for the collective to show what they've already helped to put together, and a way to model that same history for other potential allies. Making this history accessible, as part of the Cantaloupe label's subscription program, ensures that interested audiences will be exposed to music by younger composers, as well. (An upcoming album by the piano-drums-bass trio Bearthoven focuses on twenty-something composers, and is slated for release on Cantaloupe this Spring.) And of course there is the next marathon setlist to finalize, before May 6 rolls around.
"I think there's still a lot to do," Lang says. "We've tried to be as open as possible—and a lot of what we've been focusing on is building new audiences. I think that now, in our political world, there's definitely a need for organizations that can bring a lot of people together, to do something positive and optimistic and good. And I'd love to be able to take this to all sorts of other kinds of places and communities. Be a positive model for people who come together to do something which our corporate overlords have told us is completely useless. I feel like music education in general—and experimental music in particular—it's something that no one can prove they need, but which everybody needs."
—Seth Colter Walls