FEATURES
Balam Ajpu Bring Indigenous Mayan Spiritual Knowledge to Hip-Hop
By Isabela Raygoza · November 16, 2016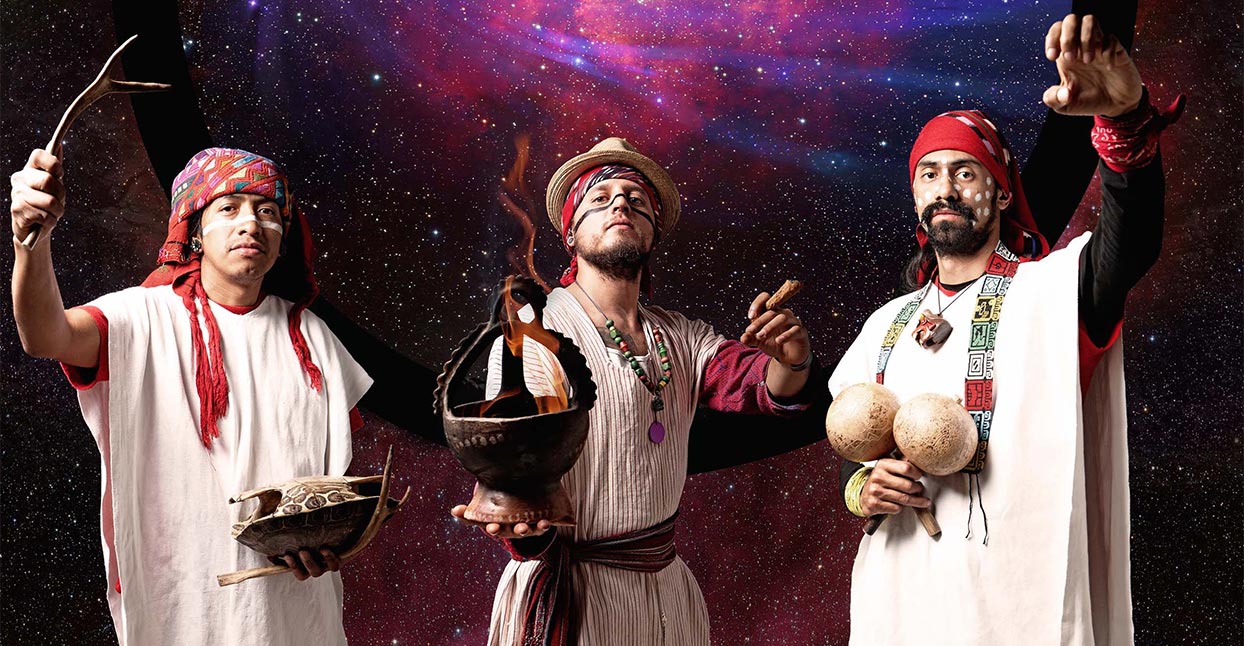 Listening to Balam Ajpu's Tributo a los 20 Nawales is like opening a centuries-old vault containing ancient, sacred artifacts. On their riveting debut LP, the trailblazing Mayan hip-hop trio carry the messages of the nawales (deities, many of them animal spirits) to the rest of the world. Each of the album's 20 tracks is meant to evoke a specific nawal; some songs sample and replicate their animal sounds, others simply detail their divine attributes. The group seamlessly fuses pre-Columbian instrumentation with modern hip-hop beats and production. And like other indigenous rappers, Balam Ajpu find power in hip-hop's oral history, using its framework to tell stories in both Spanish and Tz'utujil.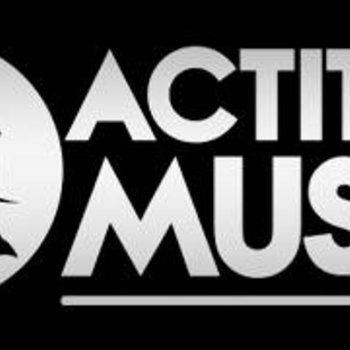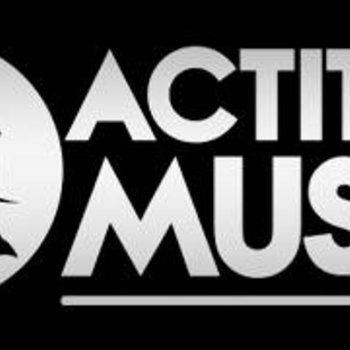 On the rattling "Kan," (Snake) they recount the sly, flowing motion of the universe over jubilant dancehall reggae; "Imox" (Water Spirit) compares human veins and arteries to Mother Earth's rivers. "Kame," a mysterious song of death and rebirth, confronts darkness and embraces the unknown, while "Tijax" (Obsidian) describes the holy properties of a blackened crystallized mineraloid made from volcanic magma—the same mineral that natives used to make arrowheads. According to Mayan lore, the nawales combine to become the embodiment of Mother Nature and the universe. Similar to horoscopes, every human is cosmically assigned a unique nawal based on their date of birth. Each day, one nawal is represented in the Mayan calendar.
Last month, the members of Balam Ajpu—the bright-eyed Dr. Nativo, the soft-spoken and langid M.C.H.E., and the vivacious Tz'utu Kan—presented a lectureat Columbia University called, "Indigenous Cosmic Visions, Mayan History, and Ancient Frequencies." It was followed by a riveting start-to-finish performance of their album. Donning warrior face paint and tribal garb, the trio delivered their odes to the nawales at full force. They banged turtle shells, blew whistles that sounded like owls, rattled shakers, and ferociously strummed their nylon-string guitars. Their performance was passionate, charming, and invigorating.
A few days later, I met with the group—who refer to their country as "Guatemaya"— during a break from their daily routine of train busking. Carrying their instruments and looking splendidly bohemian, they began by showing pictures of a huge indigenous mural they were working on. Then, a rapid-fire education on their rich and ancient philosophy began.
Balam Ajpu means "Jaguar Warrior." What led you to choose this name for the group? 
M.C.H.E.: We have 12 feminine and masculine energies; both women and men have equal male and female energies, but at different levels. In search of an equilibrium, we found this name that represents Mother Earth as the Jaguar [or Balam], and Father Sun [as Ajpu]. Balam represents feminine energy, and Ajpu represents light, the sun. Warriors!
How did you begin working together?
Tzutu Kan: We first teamed up in 2010 in the Lago de Atlitán region to build a school for youth called "Cosmovisión Hip-Hop Casa." Our mission was to increase kids' musical and artistic potential. While we were participating in ceremonies—always carrying our instruments and singing throughout ritual—some spiritual guides took notice of us, and suggested that we start a group in tribute to the nawales. December 18, 2012 was the date of our first ceremony [for Balam Ajpu]. On the Mayan calendar, that date coincides with Jun Naoj, which represents One Knowledge.
And what actually goes on in these ceremonies?
Dr. Nativo: There are different ceremonies for different things. In our first ceremony, we asked the guides for permission to see if were were the chosen ones, and they saw that we were. There are candles, and incense—depending on the ceremony, different elements are utilized. [We questioned], 'What does the B'atz' nawal want us to say about him? What did Aj want us to say?' Every lyric you hear on the record comes directly from the source. We didn't invent any of it. Tzutu only adjusted the flow, but the meaning and essence of everything the nawales said is all in the songs. It's something that comes with a deep history, and is alive.
Tzutu Kan: There were 13 days of ceremonies. On the first day, we got together to ask permission [to make this album], so Venancio Morales, our spiritual guide, began channelling. It was a magical moment, and a very important one for us. We dedicated our time to writing and transcribing everything he was saying. That's how the nawales came down to us.
That must have been an incredibly enlightening experience. How did their energies transfer into the songs?
Dr. Nativo: Each song talks about each nawal and their energies. In Spanish, you'll hear verses regarding their elements, their meaning, and their place. In Tzutujil, you'll hear lyrics asking for forgiveness and permission; you'll also hear prayers and gratitude for allowing us to talk and sing about the nawales. Musically, we try to interpret every sound that represents each nawal. There are instruments that replicate animal sounds, like turtle shells that make the sound of the jaguar. For that, we got the help from a group called Tzotzil Jai, who make pre-Hispanic music and theatre. So part of it was done with instruments, and the other with sampling. Ultimately, it created the ambience of each nawal.
You mentioned in your Columbia University lecture that this is all tied to numerical ancient frequencies. Can you elaborate on that?
Tzutu Kan: We began working with the musical model of the 20 nawales. In the first week of knowledge, from 1 Naoj to 7 Acabal, the first 10 nawales came down. And from 8 Kat to 13 Toj [the second week], all 20 arrived. We are always following the frequency of time. December 21 of 2012 was also a significant date for the Mayan calendar, which was the 4 Ajao. It was very interesting for us to work on this project during this transitional phase, beginning a new project in a new era.
M.C.H.E.: Each day brings an element that connects us to nature. It's right on our fingertips. There are 20 days, 20 nawales, 13 energies, 13 major joints, 13 moons, 13 Baktuns, four colors, two legs, two arms, and one tool [the Mayan calendar] to connect us with Mother Earth.
What's the overall goal with this project?
Tzutu Kan: Part of the Balam Ajpu project is to promote the [Mayan] calendar so it can be utilized. To use the Mayan calendar at a global scale would be super interesting, because it's one of the most exact calendars out there. There's no other like it. The [Gregorian] one we're currently using is very mechanical and artificial in comparison. It's our commitment to take this music everywhere and, thanks to the nawales, the doors are beginning to open. We are taking this music to different levels, from busking on the streets and in trains to performing in concert venues, universities, and festivals. The spiritual and educational side to this project is very important.
M.C.H.E.: Formalizing the [Mayan] calendar in Guatemaya—and across the globe—is like sharing a tool to reconnect people with Mother Earth and humanity, since each nawal has a spirit that connects you with nature.
Is Mayan hip-hop common in Guatemala? 
Dr. Nativo: It's not common, but because of what we are doing, it's becoming more known. There are different genres native to Guatemalan music, but I feel that for many years the [hip-hop] scene was turned off, and since the late '90s it faded. There was a big repression, and many groups were imitating US hip-hop rappers or pop singers from England. During those times, we lost our sound. But over the last four or five years, the music scene has gained strength. Groups who weren't active are beginning to take the stage again, like Bohemia Suburbana and others. Now, the hip-hop scene in Guatemala is huge. Everyday there's a new group, a new rapper, a new Guatemalan song uploaded to YouTube. The scene is growing. But in terms of Mayan hip-hop, we are the spearheaders.
Any final words?
M.C.H.E.: [Mayan] knowledge has been preserved for 400 or 500 years. Since the European invasion, it was seen as witchcraft—things of the devil—because fire is worshipped, the Earth is worshipped, the wind is worshipped, water is worshipped. What we bring is a lot of information, a lot of knowledge to be shared. But this is only a grain of sand when it comes to Mayan culture. And through hip-hop, we are opening up discussions. Now is the right time to share this, according to the calendar. Over the 400 years that it was kept away [in the safety] of spiritual guides, it was at the brink of fracture.
We are in the new era of light. We started with the Baktun, the awakening of consciousness. Now is the time to reclaim our true values. We are not making hip-hop, we are hip-hop. We are not making Mayan music, we are Mayan music. We are Mayans who travel through time. The way the weather changes, our aspect changes. Our being is an enigma.
—Isabela Raygoza