FEATURES
The Mystery of Aziz Balouch, Who Fused Flamenco With Sufi Poetry
By Grayson Haver Currin · September 10, 2020
When Stefan Williamson Fa felt homesick, he would listen to the radio. In the Winter of 2009, Williamson Fa was in his second year at the University of Edinburgh, pursuing a degree in social anthropology. He was 19 years old, and more than 1,000 miles north of his home, back on the southern tip of the Iberian Peninsula in the fabled British trading outpost of Gibraltar. Williamson Fa found comfort in streaming a weekly show from National Radio of Spain—a mix of obscure, archival, and emerging flamenco, the emotionally anguished genre that slowly took shape near Gibraltar in southern Spain. And that's when he first heard the voice he would spend the next decade trying to track down: a round, rich tenor with a perfectly tempered vibrato, howling first in Persian and then in Spanish over tangles of flamenco guitar. Who was this singing… and how could he hear more?
"It was just one of those moments for anyone who loves music where you hear something completely different from anything you have heard before," Williamson Fa says from his family's home in Gibraltar. "But then there was no way to hear it again."
The radio, at least, gave Williamson Fa a name: Abdul Aziz Balouch. For years, Williamson Fa asked around about the singer and scoured online archives until he finally stumbled upon a cheap cache of self-published books attributed to variations of "Azizullah Balouch" in a British estate sale. One book claimed to prove the Arabic origins of Spain's prized flamenco. Williamson Fa had found his mysterious cantaor.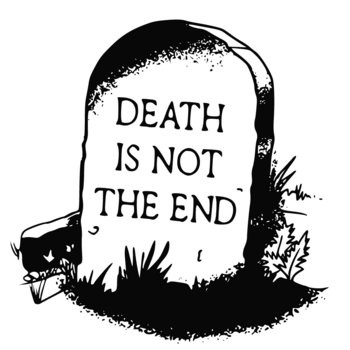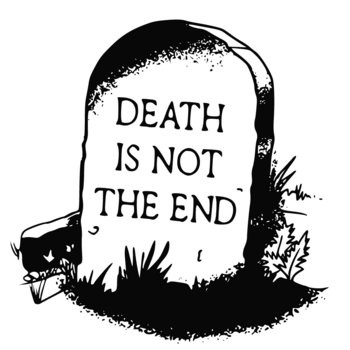 Merch for this release:
7" Vinyl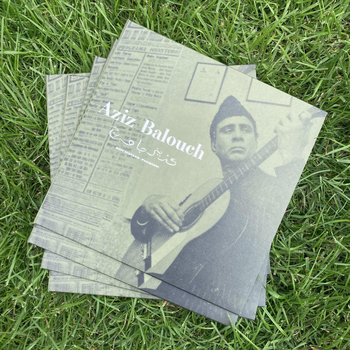 But the books were only the beginning. Even the recent reissue of Sufi Hispano-Pakistani—the transfixing four-track EP Aziz Balouch released in 1962, including the song that began Williamson Fa's continued quest—only deepened the mystery. Who was Aziz Balouch, and how did he draw such an early musical arrow between the flamenco of Spain and the spiritual songs and sounds of the Arabic world, a point of scholarly debate even now?
Nearly 90 years ago, in 1932, Aziz Balouch left his native home in the Sindh region of what would soon become Pakistan for Gibraltar. He had heard flamenco recordings from the same Hindu entrepreneur who offered him a job working long hours in a shop there. By night in Gibraltar, Balouch would cross into the Spanish town of La Línea de la Concepción to hear flamenco. That's where he saw—and soon stunned—Pepe Marchena, a legendary singer with a voice so strong but supple it suggested steel wire. Balouch sang for Marchena and earned the nickname "Marchenita," or "Little Marchena."
That moment jumpstarted a career that had been all but lost to history until Williamson Fa began researching Balouch and writing about him, including an extensive 2019 article for Critical Muslim. During the next three decades, Balouch performed across Spain and England, allegedly appeared on public radio in both countries, and organized a concert for Marchena in Pakistan. In Barcelona, Parlophone Records asked Balouch to cut his songs; that material became Sufi Hispano-Pakistani.
Meanwhile, he founded societies devoted to Sufism in Madrid and London, becoming a popular and unflagging apostle for the mystical interpretation of Islam. Sufi poetry filtered into his flamenco, as did singing in Hindi, Arabic, Persian, Sindhi, and, of course, Spanish. Centuries ago, Spain was part of a sprawling Muslim caliphate, and its thumbprints linger now across the Iberian Peninsula to varying degrees. During "Seguiriya," the song Williamson Fa heard on the radio, Balouch slides seamlessly between languages. In his books, Balouch argued that such cross-cultural ties had been there all along, even if the evidence he offered could prove tenuous.
"From the moment Aziz first heard flamenco music, he felt its connection to his home. He describes that clearly in his writing—the experience of feeling it in his body, the emotional reaction," says Williamson Fa. "It's all very passionate. He doesn't care much for defending his claims."
Merch for this release:
7" Vinyl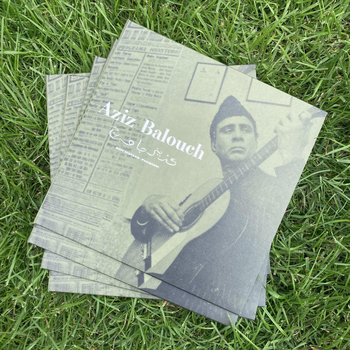 In the decades after Balouch's death in 1978, though, musicological and historical research would reinforce the assertions of Balouch's writings and recordings, Williamson Fa says. What's more, after Williamson Fa first heard Balouch sing and began to trace his story from Sindh to Gibraltar to Spain and to London, he recognized an odyssey that reflected his personal understanding of the way ideas could interact beyond national borders.
Within the postage-stamp-sized Gibraltar, a crucial trading hub on the north side of the nine-mile strait that divides Europe from Africa, Williamson Fa had seen cultures collide and inspire each other. In addition to Gibraltar's own dialect, he'd heard Spanish, English, Arabic, and a dozen other tongues there, plus music from all over the world. It was an international crossroads, a place where the possibilities of profound interactions between Arabic and Spanish realms remained obvious.
"The place I'm from is made of these connections between places that are often seen as distinct spheres—Europeans and the 'other' world," says Williamson Fa. "Aziz was challenging that narrative."
Williamson Fa eventually found a coveted copy of Sufi Hispano-Pakistani for 40 euros on a Spanish auction website, and uploaded two of the four tracks to YouTube. Luke Owen, who has run the cross-cultural excavation label Death Is Not the End since 2014, soon found his way to the clips. Owen spotted that thrill in Balouch's songs—an instinctual and unapologetic link between forms that shared a candor and a power, even if they didn't share a language. "I am continually surprised to find these far-fetched cultural exchanges happening within the prism of folk music," he says now.
Owen was astounded by the unique nature of the songs and their story within but apart from flamenco, a genre with which Death Is Not the End had flirted. Owen asked Williamson Fa to collaborate on reissuing Sufi Hispano-Pakistani, a timely endeavor for a moment when so many societies are vilifying the Islamic world or ignoring its outsized cultural contributions. Indeed, according to Williamson Fa, the influence of Arabic language and music is still lampooned in certain corners of Spain—"especially among nationalists who say those claims have been exaggerated," he says.
Merch for this release:
7" Vinyl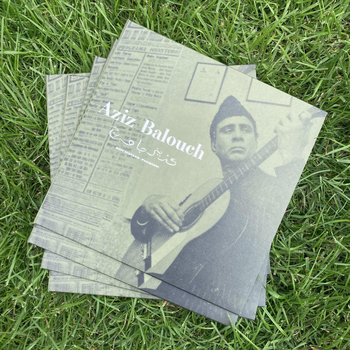 "I like to dig for scenes and styles that reflect a connection between all of the world, which is needed these days when everybody can feel so bigoted and isolated," says Owen, laughing at the sad relevance of what may scan as stale platitude. "I find that melding to be quite an inspiring thing, really."
In the busy realm of archival record labels, Death Is Not the End is something of the proudly adolescent punk, an imprint whose enthusiasm for staggering or surprising sounds outstrips all else. Owen purports neither to the same standard of scholarship as, say, Dust-to-Digital and Smithsonian Folkways nor to the immersive depths of Sahel Sounds or Mountains of Tongues, or even Williamson Fa's own emergent trove of riveting recordings from the Caucasus. In only six years, Death Is Not the End has swiveled from hardscrabble U.S. prison songs and spirituals to hypnotic Mexican rituals, from beguiling Fado to tentative Jamaican doo-wop. For better and worse, Owen trails pure feelings more than traces detailed lineages.
"It's about music that's way past my lifetime, and the eerie nostalgia for a time and place I've never experienced," says Owen, a 33-year-old sales manager at the British music distribution company Kudos. "It's often about a head-down singular performance and the human experience as a whole."
An unmistakable intensity permeates these four tracks, driven by Balouch's unshakable conviction that these bifurcated forms belong together. He sings "Fandangos" like he's wrenching it from his very core, his voice pushing the limits of the microphone with sustained, overpowering waves. He sounds vulnerable and wavering during "Serrana," stuck in a sort of supplication endemic to heartbreak and prayer alike.
Merch for this release:
7" Vinyl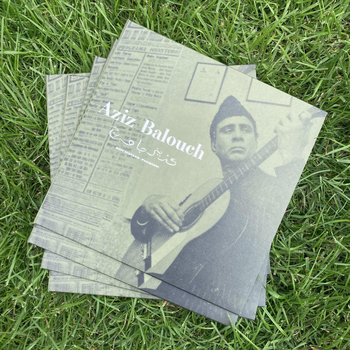 When Death Is Not the End first reissued Sufi Hispano-Pakistani in June, a few tracks were transposed, so that some songs originally sported incorrect titles that have since been fixed. The error feels somehow appropriate to Balouch's byzantine saga, now being unearthed in fits and starts after a half-century of relative anonymity. It adds another bit of misdirection for future listeners.
Williamson Fa is familiar with this process by now. While presenting a paper about Balouch in Karachi in 2018, he met several Sindhi scholars who insisted Balouch had married a British singer and settled down outside of London, near Williamson Fa's own home. Williamson Fa tracked down the records, found Balouch's death certificate, and hunted down the graveyard where he's thought to be buried. The fact that there was no physical gravestone only posed a whole new series of questions: Did Balouch have no survivors, no one to see that his grave was kept clean?
"Maybe this all sounds creepy, but it feels like an adventure, where one discovery leads me to the next," says Williamson Fa with a sheepish chuckle. "I start to learn more about him, but then I get to these points where he suddenly disappears."
Williamson Fa does not think this reissue is the end of this game of hide-and-seek, played out across at least two continents and two centuries. He's almost certain there are other Balouch recordings somewhere, perhaps lurking in the recesses of the BBC's vaults or on some hoarder's crowded shelves. Just before Sufi Hispano-Pakistani reappeared on Death Is Not the End, he found a record with alternate versions of the same songs, though he has yet to learn anything else about it. In a world where we may presume we have instant access to everything, as though our lives where captured by black-box recorders, who doesn't cherish a mystery that may never resolve?
"Life takes you on strange journeys, you know?" Williamson Fa says. "Maybe in 100 years someone feels some kind of connection like this to us."