FEATURES
At The Plates' Culinary-Inspired Death Metal Is No Gimmick
By J. Bennett · September 21, 2020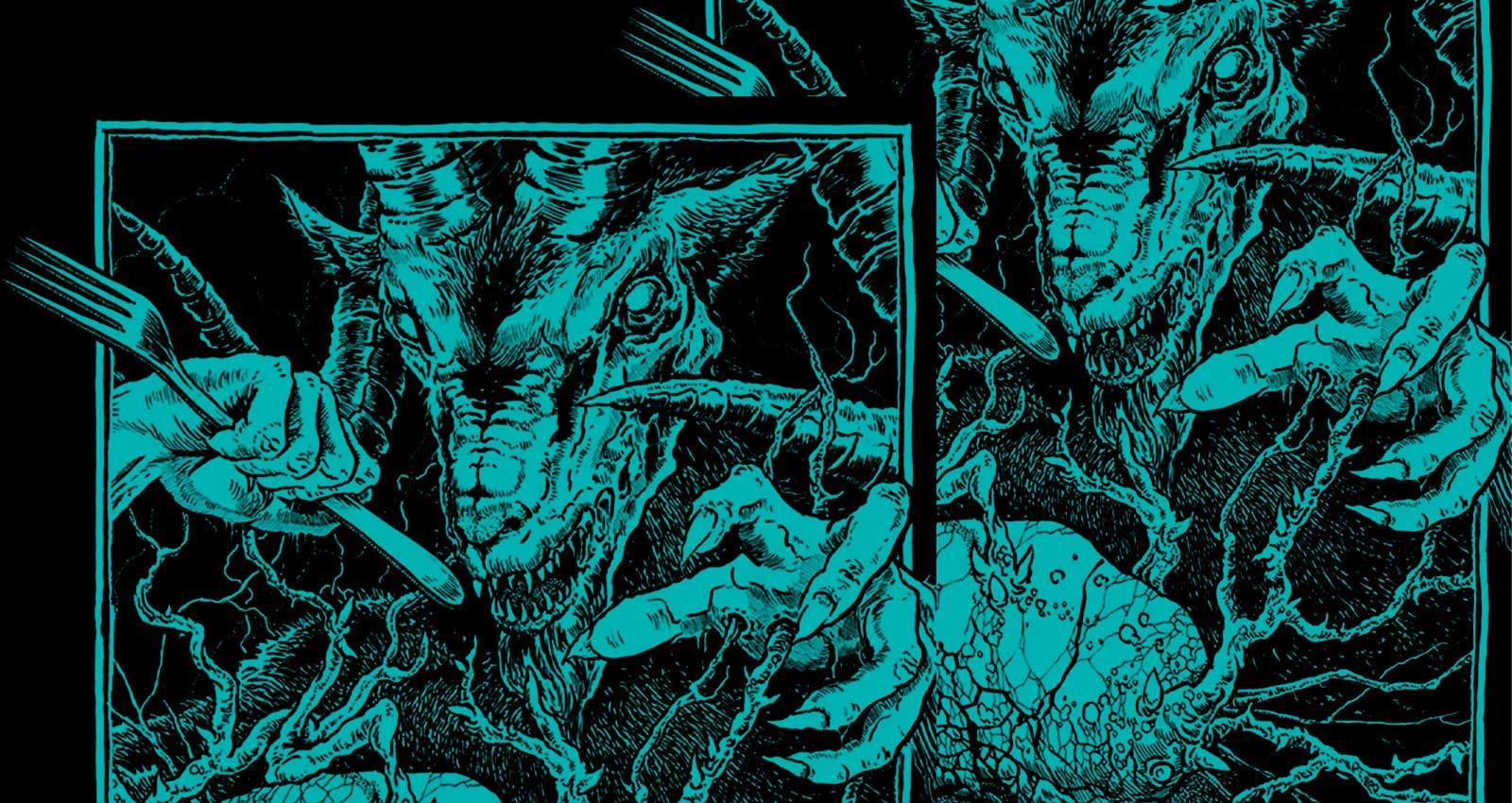 Like many death metal enthusiasts, Tony Rouse is a big fan of At The Gates, the Swedish band that blew the genre open with their 1995 masterpiece, Slaughter Of The Soul. But few At The Gates fans have taken their passion to the lengths that Rouse has. The Virginia-based multi-instrumentalist was already a veteran of several extreme metal bands when he decided to start a solo project in 2018. "I was super into At The Gates at the time. I love food and I do like making puns," he explains. "I figured 'plates' rhymes with 'gates,' so it was a perfect name for a food-themed death metal band."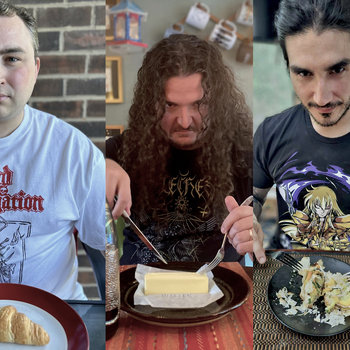 .
00:10 / 00:58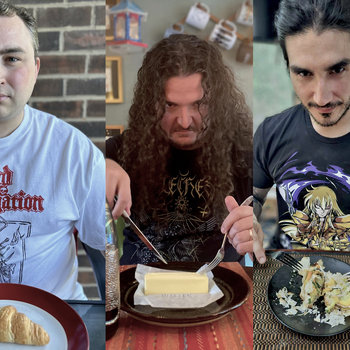 And so At The Plates was born. As a death metal band based on a pun of another death metal band's name, it's not without precedent. In 2006, Municipal Waste bassist "Land" Phil Hall founded Cannabis Corpse, a band that started out by specializing in weed-based puns of Cannibal Corpse song titles. "At The Plates was largely inspired by Cannabis Corpse," Rouse concedes, "but I wanted to do something a little bit different."
At The Plates premiered in 2018 with the Garden Salads Of Grief EP, named in homage to At The Gates' 1991 demo, Gardens Of Grief. Similarly, At The Plates' song titles aped those of ATG. "Souls Of The Evil Departed" became the march-into-battle intro "Bowls Of The Cereal Digested." "All Life Ends" became the harmonic-laden riff-storm "All Rice Blends" and "City Of Screaming Statues" became "City Of Sizzling Skillets," a blast barrage punctuated by stormy minor key melodies. These weren't merely covers with altered titles; these were original compositions, written in the majestic and melodic style of At The Gates.
But where At The Gates features the unmistakable vocal presence of living death metal legend Tomas "Tompa" Lindberg, At The Plates' debut was strictly instrumental. "I'm really bad at death metal vocals, and I was too shy to reach out to anyone and ask if they wanted to help out," Rouse says. "So I decided to release it as an instrumental, just as a way of establishing the band. But when I started writing the next album, I began to seriously think about legitimizing it with actual lyrics and themes to go with the song titles."
Which brings us to Starch Enemy, At The Plates' full-length debut. Released in late August, the album includes four guest vocalists and expands its purview beyond At The Gates-based puns. Reveling in furious riffery and graveyard atmosphere, Death's "Pull The Plug" becomes "Pull The Pork": "With their hands they rip and tear/ Smothered in sauce without care/ Blessed are they who pull the pork/ To be placed on bread or put to the fork."
.
00:10 / 00:58
Suffocation's "Infecting The Crypts" becomes "Infecting The Crepes," a vicious, thudding tale of kitchen revenge against a whiny restaurant patron: "A line cook sees to the steak/ The rest of us gather around the crepes/ Culinary malevolence/ Infecting the crepes methodically/ With piss and other heinous germs."
Meanwhile, Gorguts' "Considered Dead" becomes "Considered Bread," a song based on Rouse's own experience as a Type 1 diabetic. "One night I woke up with really low blood sugar and I didn't have any food in the house besides a jar of strawberry jam," he explains. "So I ate the shit out of that and went back to sleep. For the song I imagined the same scenario, but instead of jam, all you have at home is a molded-over loaf of bread. So it's more of a horror story."
You might think that someone this preoccupied with food might be a chef—or at least work in a kitchen. Not so, says Rouse. "I'm not a chef," he laughs. "I'm not even that good of a cook. Most of the inspiration comes from the fact that I love cooking shows. MasterChef, Kitchen Nightmares, Chopped—I watch them with my wife all the time. I love watching these chefs and learning about the nuances of what they do. Perhaps in another life, if I wasn't so passionate about making music, I'd be passionate about making food."
Though death metal is a genre largely bereft of intentional humor, Rouse says the response to At The Plates has been mostly positive. "I'm sure some people naturally shy away from it because of the dumb parody humor," he says. "But I hope that when they listen to the music and lyrics they'll see that a lot of thought goes into it. I take that part of the band very seriously. The name and the pun song titles are just meant to be turning people's heads and making them laugh. So I hope the takeaway is, 'Come for the puns, stay for the music.'"