FEATURES
April + VISTA Embrace Vulnerability on "Pit of My Dreams"
By Natelegé Whaley · April 08, 2021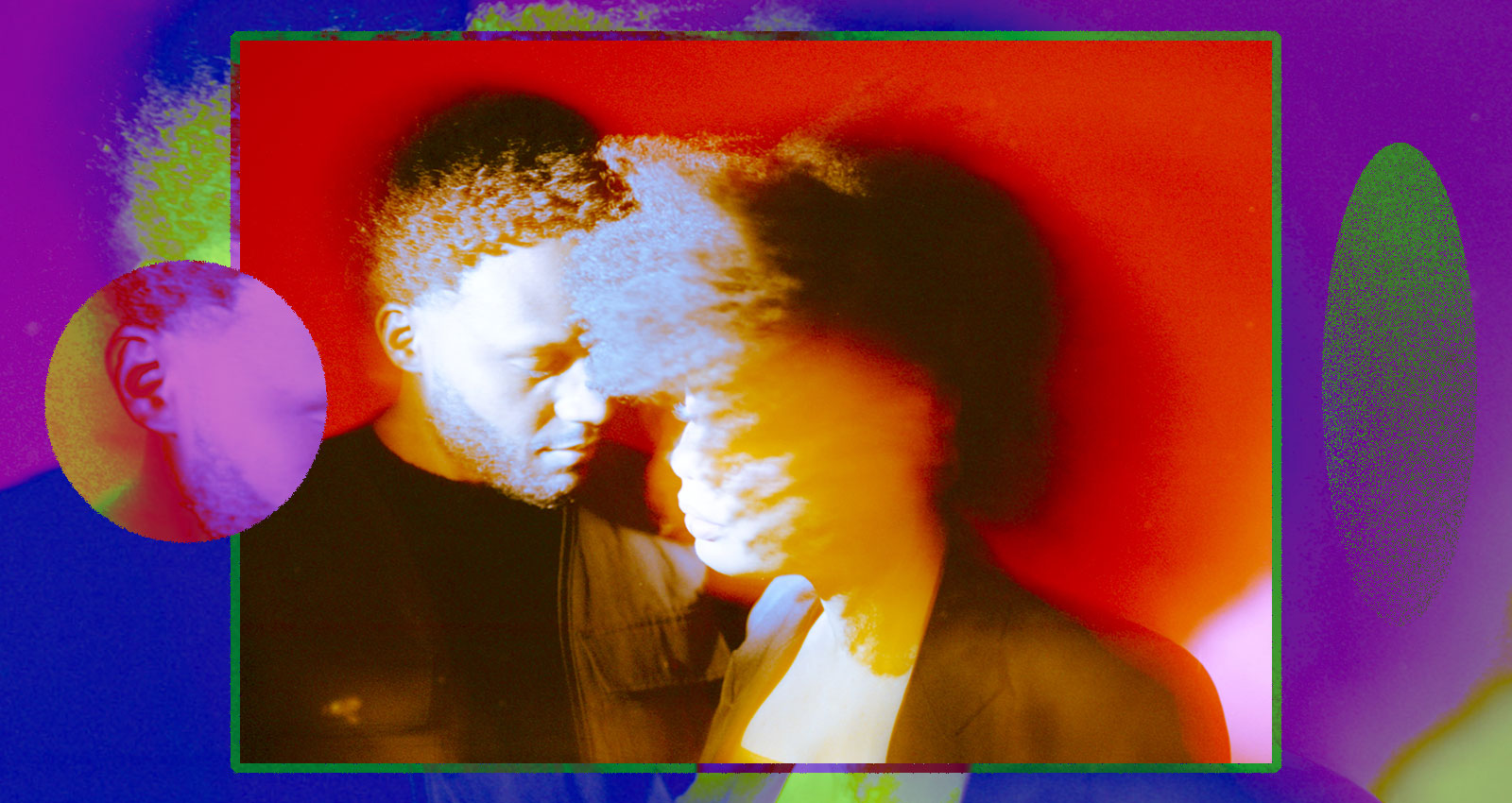 While recording the gothic "Every Void" two years ago, DMV-based electronic duo April + VISTA laid the foundation for what would eventually become Pit of My Dreams, their latest LP. Vocalist April George says the chilling single, which dropped in October 2019, was inspired by the weird, stress-induced lucid dreams she had during a time of grieving.
"I was stuck in sleep paralysis, and I saw a figure walk into the room and scream, and it freaked me out," she says. George became obsessed with the psychology of dreams; she started reading books on the subject, diving into the concepts of duality and shadow work—our unconscious and subconscious self-examination. "It was looking inwards and figuring out what I was suppressing that was probably negative, and that I didn't want to resolve," says George.
The Hampton University alumni, who met through the internet, have spent years honing an experimental sound that borrows from electronic, hip-hop, neo-soul, and rock, and is topped with George's vintage-jazz-style vocals. A few months after releasing "Every Void," April + VISTA were set to open for Swedish electronic mainstays Little Dragon on tour—a significant career boost for the duo who have been DIY since their debut Lanterns in 2015. The plan was to complete Pit of My Dreams in time for the live shows; but when Covid-19 arrived and the industry went on pause, they began re-examining the project, nixing six out of eight tracks and recording new songs. The final result is a snapshot of the rage, confusion, and anxiety that surfaced between 2018's You Are Here and the heightened angst of 2020. They were indie artists caught between worlds—on the verge of becoming full-time musicians, but not quite there yet.
.
00:10 / 00:58
Merch for this release:
Vinyl LP
"At that very moment, I was at the darkest part of the timeline so far," producer MattVISTA (née Matthew Thompson), says.
Those feelings turn up in the music. "Cooperators," which George wrote on the bus while going to work, is a personification of the voice of greed and capitalism. George was exhausted from the pressure of trying to balance being a full-time employee with being a full-time artist—and paying off student loans in the meantime. "Basically, the voice is telling you that you don't have control over your life," she says. "If you fall in line and you stay productive, everything that you need will be fulfilled."
Thompson built on this concept for the muffled, complex "Spite the Face," on which he speaks about envy. "I'm talking about my envy of my friends who were succeeding because they were able to lead regular lives with their jobs, and to do well, and not have any other conflicts. It's something that I associate with cooperating—something that I've never felt like I've been able to do, which ended up with me being in this dark spot," he says.
As a way to further commit his inner conflict to wax, Thompson incorporated the sound of screaming on "The Receiver"; the audible sound of static throughout the project is meant to represent aggression. He also blended field-recorded sounds—a spoon swirling in a cup, a phone call, snippets of his and George's speaking voices—into the songs. "I'm a big texture person," says Thompson. "It's really the foundation of all my beats. I put together textures and work them together and the heavier percussion, like kicks and snares, come later." The duo folded in acoustic strings to give the songs added layers; for the album's cinematic 3-D quality, they enlisted producer Christopher Willits to master the LP using his "immersive sound" approach.
.
00:10 / 00:58
Merch for this release:
Vinyl LP
When they were making You Are Here, a project rooted in relatability and optimism, George and Thompson had been focusing on breaking into the industry by elevating their singular sound. By the time they began recording Pit of My Dreams, they had abandoned any attempt to conform to what people wanted to hear. Instead, they deliver a profoundly personal record of their experiences
"My understanding of life was that as long as I kept my mind on the positives, the negatives wouldn't be that bad—I could keep them separated and away from each other," says George. "Now that I'm older, I'm realizing that they run parallel, and they never leave. They're both intertwined," she says.
Though a spirit of defiance runs throughout Pit of My Dreams, Thompson is quick to point out that isn't a "protest album," as there are no calls to action. As George puts it, the duo simply wanted to use the album to excavate difficult emotions. "My one goal for this project was that people truly connect with it," she says. "I think the only way that you can foster that kind of connection is by being totally vulnerable and honest yourself."