FEATURES
Anju Makes Intimate Folk-Pop for Herself and Her Communities
By Ruth Jiang · June 14, 2018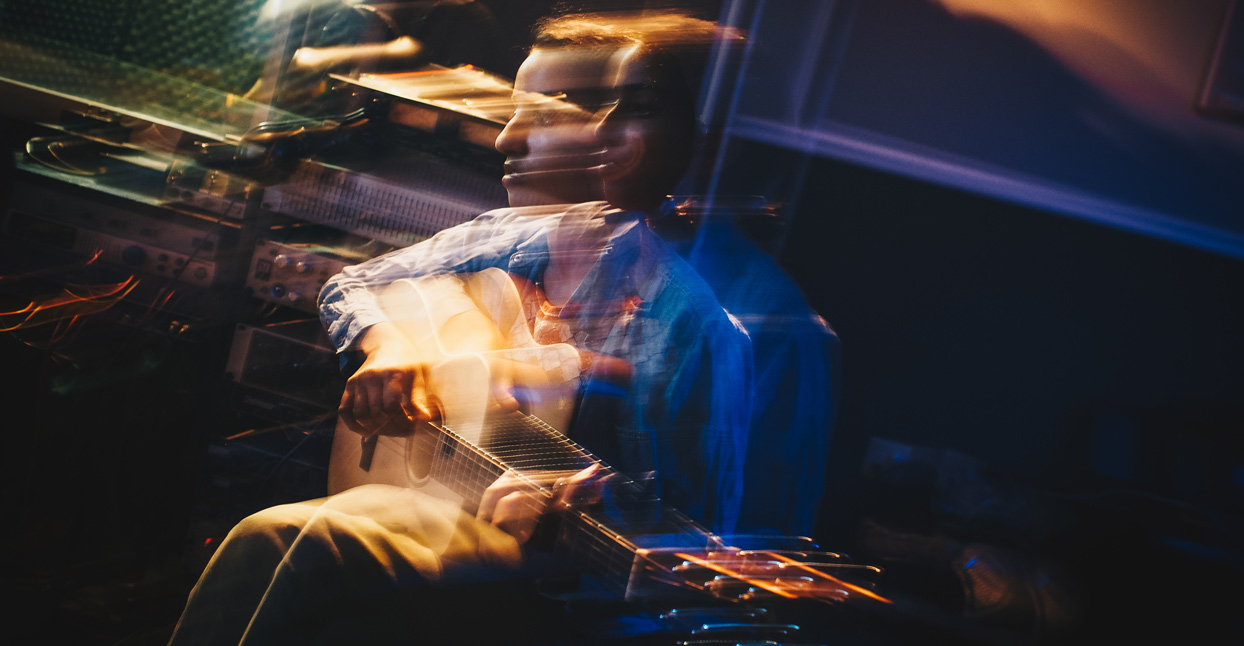 Someone once told singer-songwriter Anju that when they heard her music, they could feel their ancestors joining them in the room. Her songs often weave together autobiographical themes of love and identity, punctuated through gentle guitar chords and vivid lyrics that simultaneously express the emotion and imagery of her feelings. It makes perfect sense, then, that Anju's newest EP is titled Water Garden. "I just really like the idea of a world underwater," she says. "Isn't there something about how we know more about space than the ocean?" she ponders. "The ocean is vast and deep and there could be so much wild stuff down there."
.
00:10 / 00:58
Growing up in suburban Minnesota, Anju took piano lessons at a young age, an experience that gave her a fundamental understanding of the mechanical aspects of music. However, actually figuring out that it was possible to create music didn't strike her until a series of events in her later adolescent life. "I didn't really see music as something I could be creative with until one time, I remember I saw this video of Norah Jones on TV. I didn't realize until then that you could sing and play piano at the same time," she explains. It was in high school that she truly began to experiment with songwriting, recording songs onto her laptop.
Creating music is essential to Anju's well-being, as she explains that it's always something she does for herself to feel like a whole person. "I remember there was a stretch of weeks when I felt really weird and I was like why do I feel so weird, everything's fine and then I realized it's because I hadn't written a song or pulled my guitar out in a long time," she reflects. The motivation to create music is intrinsic, yet at the same time, Anju feels that being an artist is a radical act in and of itself for people with marginalized identities (she's Indian-American). Through music, she says, "I create a home in my work for myself that I cannot find elsewhere."
Much of Anju's music—both the creation process and the live performance aspect—are heavily shaped around the communities she is a part of. "The primary thing is to process my own reality and life through music, but I also hope that my listeners… will find a similar sense of solace in my sound," she says. The young artist discovered this through her own experiences, performing her music live; the first time she performed her original work was the summer after her first year at Wellesley College, back home at a coffeehouse in downtown Minneapolis. Since then, she's been actively performing shows all around Boston, where the impact of her shows has been felt deeply by those who are there. "One time a friend came to one of my shows and told me that after experiencing my music, it felt like she loved her partner more and differently, in a way she couldn't quite articulate," Anju says.
Community and new collaborations are also heavily present on her new Water Garden EP. Her friend Ayqa Khan created the artwork, and Anju excitedly mentions how "the art is a lot of how I feel about the EP," a project that is lush with flora and fauna imagery and themes of natural beauty. The influences in Anju's music stretch far and wide, oftentimes incorporating elements from her South Asian background. For example, "Jasmine," from her new EP Water Garden, features her friend Rayjna Swaninathan playing the kanjara, a handheld drum. The song is an ode to her family and childhood, and also contains a line of Hindi, something she has always wanted to do, being inspired by the highly memorable line of Japanese that Mitski sings in her song "First Love/Late Spring."
.
00:10 / 00:58
It's also important to Anju that she can find inspiration in others in her communities, in order for her artistry to progress. Lately, technology and production have felt like obstacles to Anju in terms of creating music, particularly while she was writing Water Garden. "I usually have very specific or personal musical ideas," she says. "and I often feel frustrated when trying to maneuver Logic, while in the past I've used GarageBand to bring those visions to life in the production process." Recently, she's found guidance from DJ Rekha, a NYC-based DJ and artist who runs Basement Bhangra, the longest-running New York club night dedicated to South Asian music in North America. "Her perspective on being creative feels really accessible and meaningful, and it's all the more amazing for me seeing this fearless outlook from a South Asian woman," Anju says. "Rekha recently invited me to a Women in Music event that focused on the intersection of technology and music, and after hearing from several driven yet down-to-earth producers, I feel like technology and production is something I can tackle."
The future is bright for an artist like Anju. Everything that could capture the right listener's attention is all bound into the free-flowing, honest lyrics that she sings. "My work demands that softness and strength can coexist," she explains when asked about how she would describe her sound. And that sound is authentically present in all her music, there to inspire and comfort listeners.