FEATURES
Anjimile's Bittersweet, Carefully Wrought Folk-Rock
By Sasha Geffen · September 18, 2020
Before Anjimile first called himself a man, he sang about himself as one. He wrote "Maker" in 2015, before he came out as trans, and in the song's chorus he vaults through a series of telescoping identities: "I'm not just a boy, I'm a man/ I'm not just a man, I'm a god/ I'm not just a god, I'm a maker," he sings, the vocal melody resolving in a joyful chord as he settles on the final title.
Merch for this release:
Vinyl LP, Compact Disc (CD)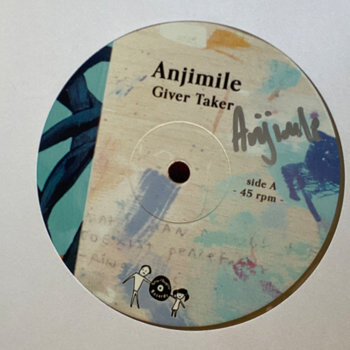 "It's surreal to think about that song, looking back," Anjimile says during a phone interview from his home in Boston's Jamaica Plain neighborhood. "It revealed something to me. Creating that tune helped me create myself in a lens that felt right. That's something that songwriting does for me, and that might be a huge part of why I do it."
Recorded with Justine Bowe of Photocomfort and producer Gabe Goodman, Anjimile's debut album Giver Taker orbits the thorny, nonlinear process of self-creation, and the painful growth that can arise from scarcity and loss. Many of its songs date back several years, and many were written while Anjimile was pursuing treatment for substance abuse and beginning medical transition—two profound endeavors that were ultimately intertwined. "When I got sober, I started to feel freedom for the first time," he says. "I saw the places in my life and heart where I wasn't free, and my trans identity was one of them."
Merch for this release:
Vinyl LP, Compact Disc (CD)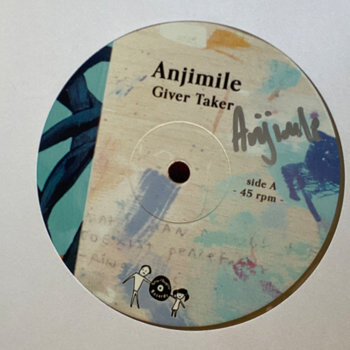 Anjimile worked with Goodman and Bowe on Giver Taker over the course of 10 months, funding the process in part with an arts grant from the Boston Foundation. The natural, unhurried collaboration gave his songs the opportunity to bloom over time into lushly textured forms. He and his co-producers fitted arrangements for instruments like flute and piano into tracks Anjimile had written solely for voice and guitar. They could hear new edges to his work, transforming a breakup song like "Baby No More" into a self-assured, upbeat romp, and accenting his rich lead vocals with feathery harmonies. "Working with Gabe and Justine was such a communally enriching experience," Anjimile says. "I learned so much from them about arrangements and musicianship, how details can bring out the best in a composition. I'm really proud to call them my friends and my collaborators."
Giver Taker's abundant beauty stems from its ability to curl hope inside elegy: to take the bittersweetness of life in full without dilution or deflection. On "1978," Anjimile considers both the absence and the far-reaching influence of his maternal grandmother, who died before he was born. "In the night, it's a miracle to be held by you," he sings, a line that has, for him, evolved to refer to the way he feels held not only by his family, but by himself and the world around him. The album's title track similarly floods the hollow of loss with yearning, interpolating lyrics from the Christmas carol "Silent Night" to grieve a friend's passing.
Biblical language tends to drift through Anjimile's delicately wrought lyrics. Raised in a Christian family in a suburb of Dallas, he spent his teen years resisting his parents' religion and its attendant homophobia. The summer before he moved to Boston for college, Anjimile's parents grounded him for drinking their supply of gin. They took him to church once a week, and while the sermons didn't overturn his rejection of Christianity, he found himself falling in love with the language of the King James Bible. "The Psalms are some of the most beautiful poems ever, just devotional expressions of love," he says. "I do relate to that deep and unyielding love. I feel it from my friends and my family, and I feel it for my friends and my family, and for so many folks and experiences in my life."
Merch for this release:
Vinyl LP, Compact Disc (CD)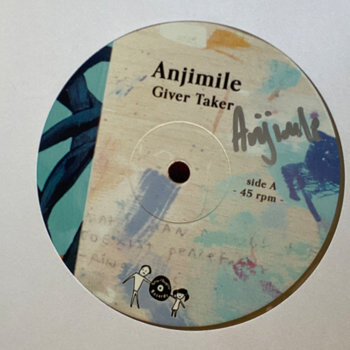 Over the past few years, Anjimile has cultivated a sense of spirituality that informs both his music-making and the way he moves through the world. Writing songs, for him, is a spiritual practice, a way to reach beyond the mundane. Giver Taker reflects the deep searching that has brought him here, the desolation and triumph that go hand in hand with learning how best to be human. "I feel very connected to spirituality because of the joy and peace that I feel: as someone who is living freely as a trans person, as a Black queer person, as a musician," he says. "I feel that sense of freedom is afforded to me by the goodness of the universe. I'm trying to do the right thing for myself. It feels like it's working out."