FEATURES
Alynda Segarra of Hurray for the Riff Raff on Navigating Identity and Exploring Her Puerto Rican Roots 
By Amaya Garcia · April 04, 2017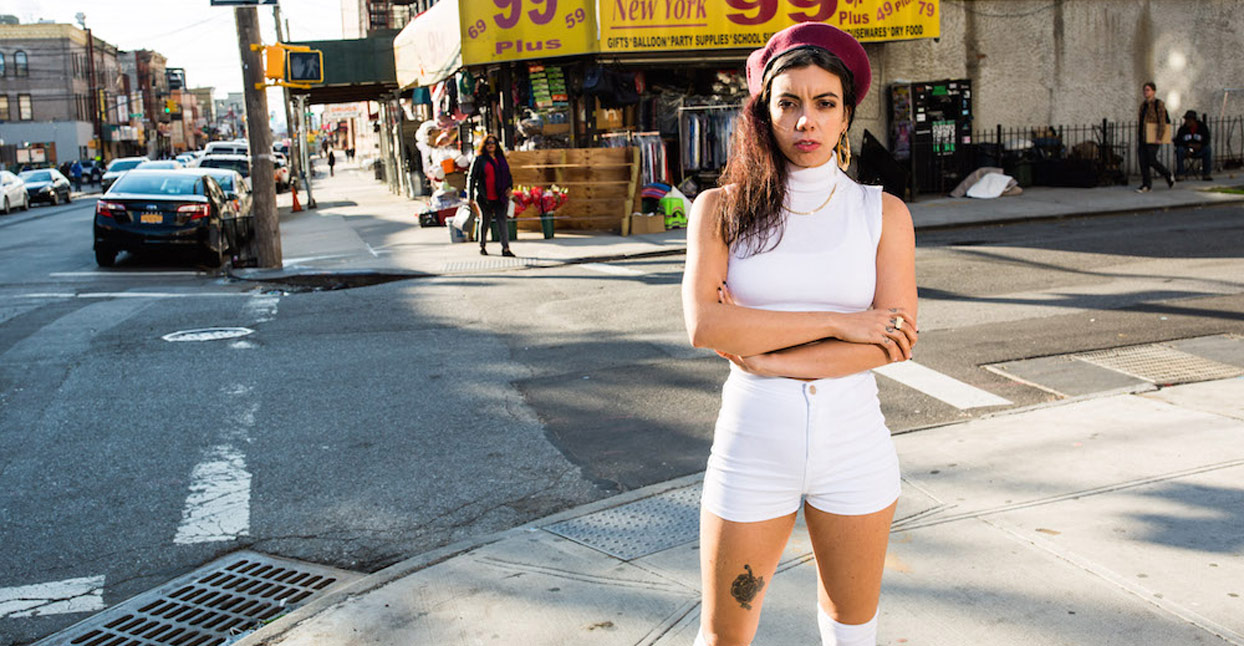 On the first three Hurray for the Riff Raff records, singer-songwriter and frontwoman Alynda Lee Segarra paired a freewheeling take on country and Americana with lyrics that swung from heartsick love songs to rollicking celebrations of community. But on "The Body Electric, " the stunning centerpiece of 2014's Small Town Heroes, her approach shifted. Instead of the all-join-hands spirit-rousing of songs like "Look Out Mama" and "Little Black Star," "The Body Electric" instead is deft subversion of the age-old murder ballad trope. In the song, Segarra sets her source material against itself, creating a cutting critique of the normalization of violence against women in the process. "Tell me what's a man with a rifle in his hand/ gonna do for a world that's just dying slow," she sings, "and tell me what's a man with a rifle in his hand/ gonna do for his daughter when it's her turn to go?"
.
00:10 / 00:58
That song topped a number of year-end lists, and gave birth to the Body Electric Fund, which benefits organizations that fight gendered violence. It also made explicit something that had been central to the band since its beginning: their desire to be a voice for those who are often marginalized by society—people of color, LGBTQ folks, and resilient women, like Segarra herself.
Yet despite her mission to give voice to the voiceless, Segarra's own story seldom surfaced in her lyrics. A teenage runaway from the Bronx who rode freight trains for years and eventually settled in New Orleans, Segarra struggled as a teenager to reconcile herself to her Puerto Rican heritage. Her search for meaning and identity eventually led her right back where she started: in New York, researching Puerto Rican and Nuyorican political and musical history, and grappling with the questions that had haunted her since she was young: Where do I come from? Where do I belong? How can I reclaim my identity and space in the world?
The product of Segarra's search is The Navigator, a concept record in which Segarra not only reclaims her own history, but also redefines Hurray for the Riff Raff's sound, breaking it free of its folk-music mooring and incorporating '70s rock and Latinx musical styles in equal measure.
.
00:10 / 00:58
Inspired by the hero archetype that often turns up in comic books, Segarra created The Navigator's central character, Navita Milagros Negrón with two goals in mind. One was to have Navita serve as an avatar—a way for Segarra to tell her own story. The other was to use Navita as a mouthpiece through which Segarra could tackle topics that were important to her as a member of the Latinx community—topics like displacement, gentrification, and erasure.
"A lot of The Navigator's concept is about navigating identity," she says over the phone from her home in New Orleans. "I often felt like I'm not 'this' enough—I don't fit into any of the boxes that I'm supposed to, I'm always in the middle. I just started to be OK with that, and to say, 'I'm not trying to speak for anyone. I'm just trying to speak about my experience, to shine light on my people, to do good work and stay in touch with my ancestry.' That's been a very healing experience."
On The Navigator Navita, a 17-year-old Puerto Rican girl living in the projects in New York City, suddenly finds herself in a dystopian future, fighting for the survival of the people, heritage and region she once took for granted. According to Segarra, the album is, "my life, put through a Wizard of Oz filter."
"Her story is similar to mine in the way that we both felt very trapped by, yet also very protective of, the city," Segarra says. "[Navita] decides she wants to leave it all behind—to be her own person, and have no attachment to family, ancestry or neighborhood. So she asks a wise woman, a bruja, to cause her to wake up the next day without being able to recognize anyone or anything around her. That's like me, when I ran away. Years and years later, visiting New York, going back to my family, I was like, 'I don't regret it, but how could I have taken this for granted? How could I have not seen the beauty in my family, and in my neighborhood?'"
Segarra made up for lost time by researching, learning not only about her own past, but also about what was happening in Puerto Rico in the present. She immersed herself in the history of the Young Lords, a New York Puerto Rican nationalist group in the 1960s, as well as the lives of the Ghetto Brothers, and activist Sylvia Rivera. She reached out to activists  fighting for different social causes on the island. She contacted the people of Peñuelas, a coastal town where residents are waging a battle against the government and a waste management corporation, trying to stop the dumping of toxic coal ash that would threaten their water supply. The story of Peñuelas became the subject of The Navigator's first single, "Rican Beach," a track that boasts steadily-percolating Afro-Puerto Rican bomba percussion, played by Juan Carlos Chaurand of the Kansas City, Missouri band, Making Movies.
.
00:10 / 00:58
Segarra's rediscovery of Nuyorican history is also the fuel that powers "Pa' Alante" –a Latin American nueva canción-influenced song that features samples of the late Nuyorican spoken-word poet Pedro Pietri reciting his poem "Puerto Rican Obituary." The song is a rallying cry against the colonization and erasure of Puerto Rican and Latinx identities, something Segarra has struggled with throughout her life. "I felt like what I was didn't fit into these tiny boxes that the television made for Latina women in general," she says. "I was like, 'I want to be a white poet guy. I want to be Allen Ginsberg,' instead of knowing that I could be an activist like Sylvia Rivera. If I didn't see [Latinx history] in mainstream media, [it] didn't really matter to me back then. It wasn't until I was older that I could do that research and let it sink in."
While The Navigator is Segarra's moment of reckoning with her roots and her ancestors, it also signals a shift in her songwriting, distancing herself from the bluegrass and Americana that characterized the group's early releases. In preparation for The Navigator, Chaurand encouraged Segarra to listen to Fania Records' salsa output in the '70s, as well as the music of Héctor Lavoe. Segarra also fell in love with the music of Detroit folk singer Rodríguez, as well as the R&B and hip-hop of Frank Ocean, Solange, and Kendrick Lamar. The album's opening track, "Entrance," is a reflection of all of these influences, featuring a doo-wop chorus and a Southern spiritual vibe.
While the first half of the album, especially tracks like "Living in the City," "Life to Save," and "Nothing's Gonna Change That Girl" scan as rock-oriented re-interpretations of the group's signature Americana, as soon as title track begins, Segarra's new musical reference points become apparent, as elements of tango and Latin jazz blend seamlessly with Afro-Caribbean drumming. The piano ballad "Fourteen Floors"—about apartment life in New York City and the rapid gentrification of a neighborhood—is accented by a recording of a Latino percussionists jamming on the street. "Pa' Alante" begins as a folk song in the style of Rodríguez, but ends as a traditional Puerto Rican bomba jam. It's a powerhouse protest song sung in Spanish and English, one that serves as a rallying cry and a wake up call, its repeated title phrase meaning simply—and powerfully: "Onwards."
Throughout the record, recordings Segarra made while traveling through the US, Mexico, and Puerto Rico give the album a cinematic quality and serve as an eerie reminder that, while The Navigator may have elements of science fiction, the struggle for survival of the people Segarra is singing about is very real. "I wanted certain scenes to be painted in your mind," she says. "The record is made to make you feel like you're on a journey. So as you're listening to the album, the sounds start to change—they start getting a little bit more psychedelic, cinematic, and dramatic. We played a lot with string parts, there's certain sound bites that I collected, there's a lot of coquís that I recorded in Puerto Rico, some people jamming in the park on the Lower East Side, voices in Mexico City. I wanted people to really feel like they were experiencing something."
At a time when Latinx and immigrant communities are being demonized, the message of The Navigator—and its inspiration—feels particularly urgent. "This is me making a claim for my identity," Segarra says. "I was in this music scene that was very much like, 'You're racially ambiguous, but you look white, so I'm just going to assume that you're white, because you're playing a country song.' I started feeling very uncomfortable with that. I wanted to talk about where I came from, and I want to talk about the people that I know and the experiences that my father had, that I had. So it just started to feel more important to me, in every way."
—Amaya Garcia