FEATURES
Alex Lahey's Rambunctious Rock Songs Make Sadness Sound Like Happiness
By Aly Comingore · November 01, 2017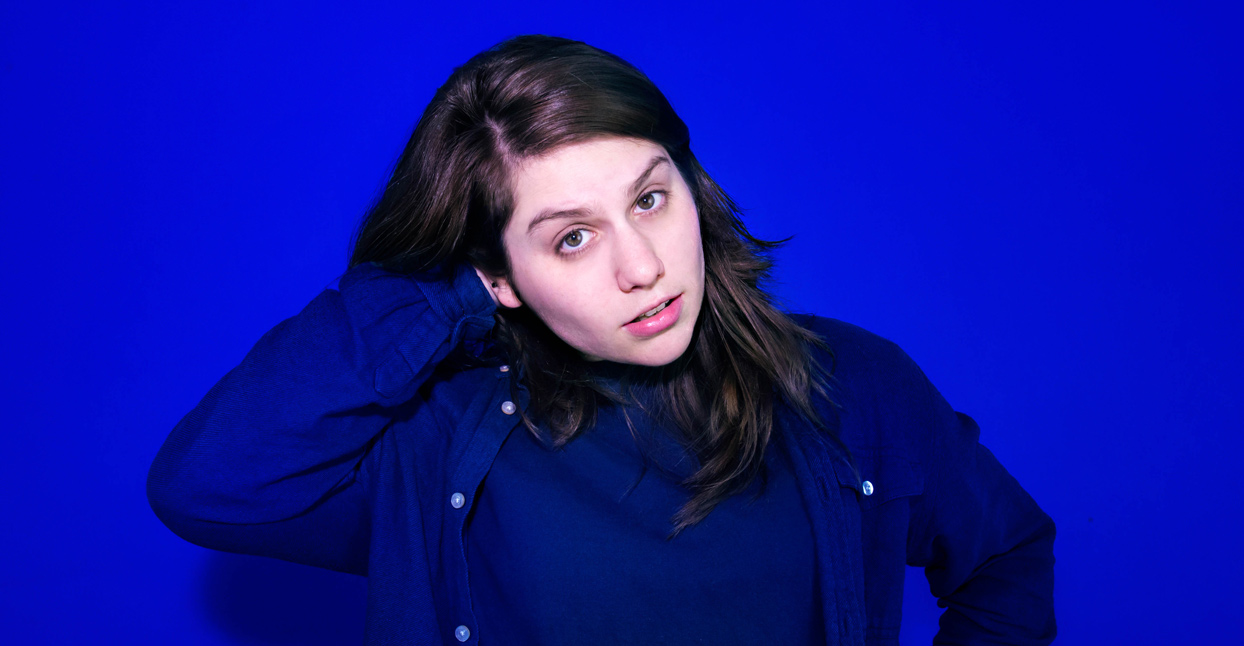 This past April, 25-year-old songwriter Alex Lahey found herself back in her high school's band practice room. There, alongside friend and producer Oscar Dawson, the Melbourne songwriter spent a day teaching herself how to play all manner of weird instruments, from tubular bells, timpani, and vibraphone, to marimbas, glockenspiel, and cymbals. After a few hours, the pair began recording some tracks.
Specifically, Lahey was looking to flesh out a song called "Backpack," a wistful piano ballad about dating someone who has one foot out the door. "I know life's too short to settle down, and you move faster than the world spins round," she sings on the song's chorus. "It's hard for me to put my arms around you when your backpack's on." "There's actually a very pertinent image in there, because it's physically very difficult to hug someone with a backpack on," Lahey says with a laugh. "But it's also kind of this existential question of 'Well, we're all going to die anyway and it's crazy to think we're going to be with just one person forever.'"
"Backpack" now sits at the center of Lahey's full-length debut, I Love You Like a Brother. The song is a poignant highlight on an album full of catchy standouts, built on a lush bed of instrumentation and filled with the kind of poignant visual storytelling Lahey excels at. It's one of the most intricate songs she's ever written, as well as one of the best, though the same could be said for many of the tracks on I Love You Like Brother. The album, which Dead Oceans released in October, is a catchy-as-hell mash-up of pop-punk hooks and emotional tenacity not unlike Lahey's fantastic 2016 EP, B-Grade University, which she wrote about dropping out of her college music program. "I have had people use the phrase 'happy-sad' to describe my music sometimes, which I kind of like," Lahey says. "It gives it a complexity, which is probably more generous than warranted!"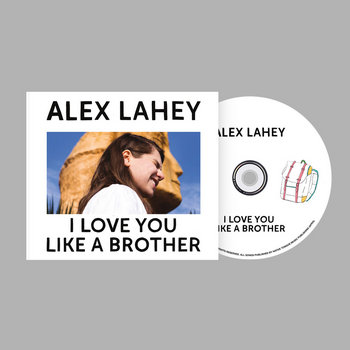 .
00:10 / 00:58
Merch for this release:
Vinyl LP, Compact Disc (CD)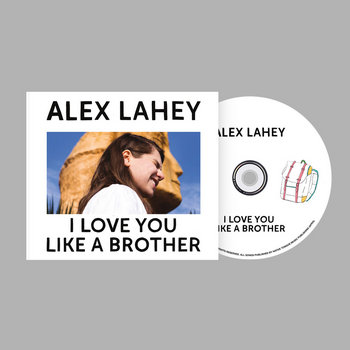 But it's not just her knack for making sad songs sound happy that sets Lahey apart from her peers. With I Love You Like a Brother, she renders her less glamorous experiences into songs that feel intimate and sound larger than life. "I have these moments when something happens and I'm like, 'I don't think I've heard this in a song before' and I want to try to do it," Lahey says. "I like writing about things like that—things that nobody talks about."
Such was the case with "You Don't Think You Like People Like Me," the first single off of B-Grade University. The song is an upbeat and fast-charging tale of rejection, arranged and delivered with so much self-assuredness you almost forget how vulnerable the lyrics are. "If you can't help it, then why doesn't this count?" she sings on the track's pre-chorus. "You're staying over long after my lights go out."  The underdog anthem ultimately became Lahey's first bonafide hit; after being picked up by Aussie radio giant Triple J, the song secured her a slot on last year's Splendour in the Grass Festival.
Before all that, though, Lahey had already established herself as a touring musician with Animaux, the seven-piece collective she formed with friend and fellow high school jazz band grad Ollie Whitehead. "Once we graduated, I knew that if we didn't start a band we'd never play together again," Lahey recalls. Animaux described themselves as what would happen "if jazz and pop had a lovechild, got divorced, remarried funk and soul, and then all raised said lovechild together." For Lahey, the band provided a welcome home to her more formal jazz training, as well as a place to experiment as a songwriter. "It taught me so much, but it also gave me the confidence and the network to get out and do it," she says. "I know that if we hadn't done that together I would have never been able to get to where I am now."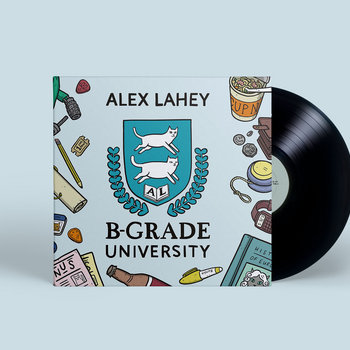 .
00:10 / 00:58
Merch for this release:
Vinyl LP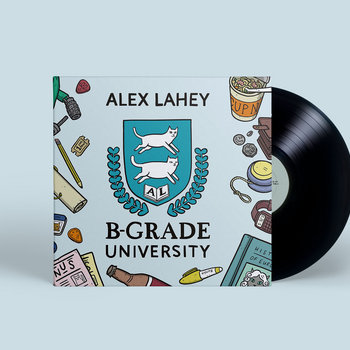 Though she's been playing saxophone since she was a kid, Lahey says she never really thought of herself as an aspiring musician growing up, but that "music was just something that was always very much a part of me." She began playing the guitar in her early teens, and taught herself chords while attending formal saxophone lessons. "I was doing the jazz thing, but I liked doing the pop stuff more," she recalls. "If you were looking at my teenage bedroom wall, I had a poster of the Ramones in front of CBGB. There was this Pearl Jam poster from a gig they did with Kings of Leon. There was Karen O—she was my hero. And there was a Simpsons poster. I'm a huge Simpsons enthusiast. I think I'm realizing now how much of my sense of humor is from The Simpsons. I was saying the other day, I think it even affected the way I talk."
The way Lahey talks is both hilarious and immediately relatable. She speaks quickly and thoughtfully, punctuating her quips and stories with more "likes" than a native Californian. In song, her energy is equally infectious, a brilliant mix of buoyant structures and sharp self-awareness. "I love a banger with a deeper meaning, for sure," she says. "I mean look at 'Born In The USA' or 'When You Were Mine' or 'Call Your Girlfriend'—all super deep and complex songs about various part of being human that are verified dance floor fillers. I don't think any of my songs are that brilliant, but I definitely aspire to maybe one day being able to have that much nuance in my music." Lahey credits her mum for turning her on to artists like Bruce Springsteen and Dolly Parton as a kid, as well as helping to inspire some of the lyrics on I Love You Like a Brother. The album was named, Lahey says, for her actual brother and the sometimes-complicated but always strong bond they share.
"Our parents got divorced when we were teens and you think something like that would bring you together, but it was really the opposite," she says. "I think we both needed to go off and figure ourselves out. And now that we're older and not attending the same school, we get along great and we've realized and appreciated how much we both have in common."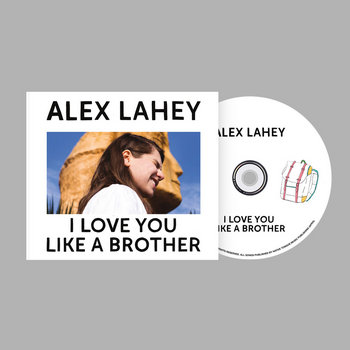 .
00:10 / 00:58
Merch for this release:
Vinyl LP, Compact Disc (CD)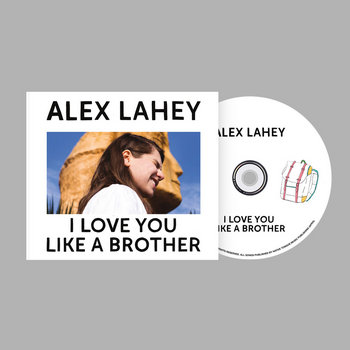 At its core, though, I Love You Like a Brother is an album about relationships—how great they are when they start, how gutting it is when they fall apart, and how the best ones always manage to come back around. The record opens with "Every Day's the Weekend," a three-minute rocker that captures the ecstatic high of young love amidst a relentless mix of surf-y guitars, crashing cymbals, and scream-sung lines like "Fuck work, you're here, every day's the weekend!" On "I Haven't Been Taking Care of Myself," Lahey turns a crumbling affair into an emphatic jam about unhealthy choices, and delivers some stinging self-reflections in the process. "I gained weight and I drink too much," she sings on the song's chorus, "Maybe that's why you don't love me as much." The album concludes with "There's No Money," a brilliantly gut-wrenching number that opens with, "My little brother's married at 22, my mother's seeing someone new, and I'm at home looking after our cats." Backed by a swish of percussion, Lahey's plainspoken voice rings crystal clear as she sings about living paycheck to paycheck and not being able to wed "even if we want to." The line is a not-so-subtle dig at Australia's ongoing battle over same-sex marriage laws, and one Lahey almost chose to keep out of the song's final cut. "I never came out of the closet, and I don't think talking about it is very interesting," she explains. "But what's going on politically opened up the floor for me to question what putting that in a song would mean. Ultimately I was like 'fuck it' and I put it in there."
While "There's No Money" may draw Lahey some extra attention, its unabashed vulnerability and "fuck it" mentality are central to I Love You Like a Brother's bigger message, which brazenly champions love despite the havoc it almost inevitably brings with it. "Present the norm that you believe should be and the norm will follow," says Lahey, citing something Sara Quinn (of Tegan and Sara) told her earlier this year. "[It's] general life advice that is pretty much my mantra now."
—Aly Comingore