FEATURES
Alan Lomax's Timeless American Recordings Find a New Audience
By Allison Hussey · July 14, 2017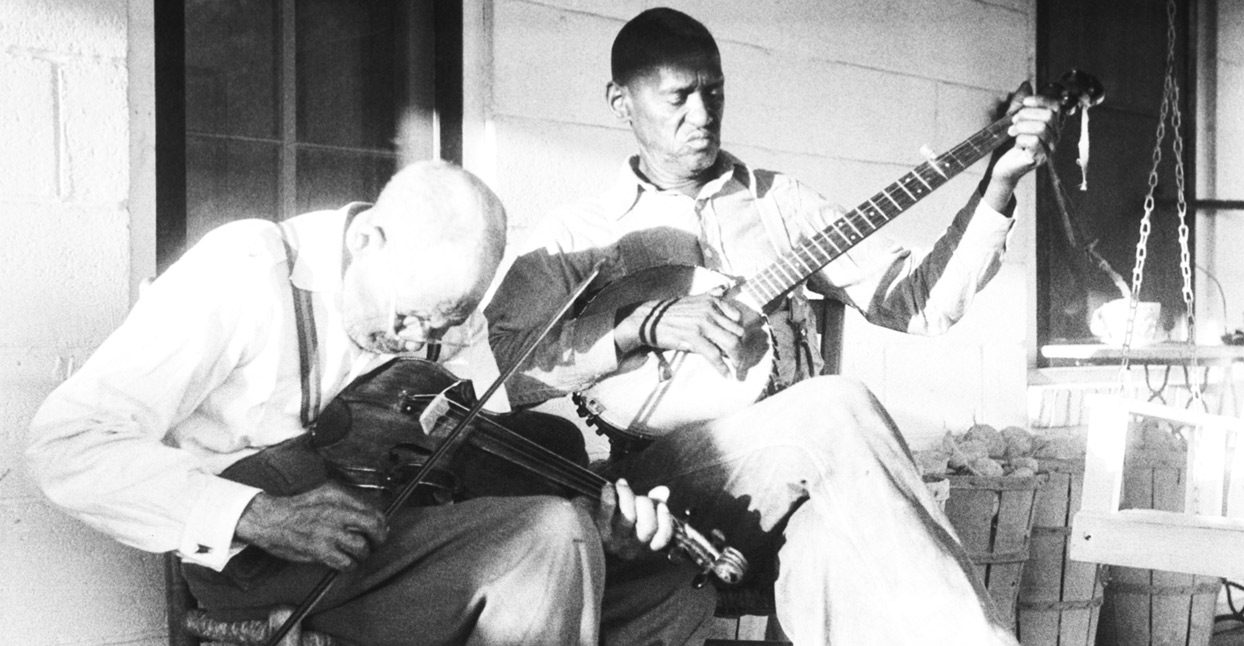 If you've heard of Alan Lomax, the man who spent his life traveling around the world and documenting as much of it as he possibly could, you've likely heard mention of the idea of "cultural equity." That idea was the guiding principle behind much of Lomax's work—his belief there should be a level playing field among all cultural expressions. To Lomax, no expression was more special, valuable, or truthful than any other. The songs, dances, interviews, and everything else that he committed to tape were all threads of the same fabric that makes us, us, and Lomax ardently believed that his recordings should be available to anyone who wished to access them.
In February, the Alan Lomax Archive, responsible for the care and keeping of Lomax's voluminous collections of his life's work of field recordings, took another step in expanding Lomax's mission of cultural equity: it put some of the music on Bandcamp.
Throughout the years, the Association for Cultural Equity, which oversees the Alan Lomax Archive, has struggled to find the best way to distribute many of Lomax's recordings. In the '90s, Rounder Records worked with the Archive to release several CD anthologies, but none were particularly big sellers. The advent of digital distribution through large outlets didn't help much, either. You had to know what you were looking for in order to find any of it.
"Those things are just geared to sell [large mainstream] records. If you were interested in field recordings, how would you even find that stuff on [a large platform]? Bandcamp seemed like a cool way to turn folks onto it," says Nathan Salsburg, curator of the Alan Lomax Archive.
Salsburg is himself a musician, playing guitar solo as well as with artists like James Elkington and Joan Shelley. When he realized that people frequently used Bandcamp to discover new music, he recognized that it could be a tool to facilitate even wider access to precious, if often hidden, gems in the Lomax vault. Not only that, the recordings would have the opportunity to reach an audience beyond a small-but-fervent coterie of record collectors and academics.
The largest of the archive's offerings is the Root Hog or Die set, a hundred songs that more or less cover Lomax's whole body of work, and was first released to celebrate what would have been the folklorist's 100th birthday. But another significant portion of the Lomax Archive that's now available through Bandcamp is the five-part Southern Journey LP series, which Salsburg curated, and which Mississippi Records released on vinyl in late 2010. The recordings were all culled from Lomax's famed trip through the South in 1959 and 1960, where he recorded all manner of music, from the blues to ballads and everything in between.
This swath of recordings was the one that Salsburg was already most familiar with through his work with the Lomax Archive, and he grew to adore its songs even more through listening to Rounder Records' 13-volume CD set, which organized the music thematically: "bad man" ballads, sacred harp singing, black spirituals, and others. "I listened to them into the ground. I loved them to their bottom," Salsburg says of that collection.
But the tidy, methodological organization of those CDs felt dry to Salsburg, who found it more fun to listen to these songs without the limiting academic themes or genres. He wanted to assemble a collection that was more along the lines of Harry Smith's Anthology of American Folk Music and Dust-to-Digital's Goodbye, Babylon, neither of which are bound with such strictures. At a 2009 music festival in Asheville, North Carolina, Salsburg was on a panel discussing reissues and archival recordings, and he pitched Mississippi Records' Eric Isaacson on putting out a handful of Lomax LPs to commemorate the 50th anniversary of the Lomax's trip through the South. Salsburg assembled five albums' worth of recordings, packaging them with fresh liner notes and previously unpublished photographs.
"For me, it was fun to start going back through the collection and listening to everything in the order that Lomax and Shirley [Collins, who assisted Lomax on the Southern trip] recorded them, picking out favorites on one hand, and then all manner of weird things here and there that would be a lot of fun to include," he says.
The resulting records are delightful mixed bags that are engrossing in their apparent disarray. One moment, you're listening to an a cappella trio of women singing a quick little ditty before a wobbly steel guitar blues lick kicks in on another number, which then yields to a haunting Christian ballad. Those selections aren't all musical—some are snippets of everyday life through radio recordings. One of Salsburg's favorite Southern Journey pieces appears at the end of Wave the Ocean, Wave the Sea, and is a 1959 recording of a radio DJ named Daddy Cool speaking on WEUP-FM in Huntsville, Alabama. After delivering an even-keeled news report about Nikita Khrushchev visiting the United States, Daddy Cool quickly shifts gears, peeling off into rapid-fire chatter; he reads off and obliges listeners' song requests and eagerly solicits fan mail. It's a fascinating peek into the DJ booth of a small Southern town.
But for all of the illuminating that Lomax's work has done, he's also been criticized for some of the approaches he took in his documentation. His search for authentic practitioners of some strains of music included visits to penitentiaries, including Mississippi's draconian Parchman Farm, to record inmates.
"By the very nature of the place, of course the prisoners were compelled—and I use that word loosely, we're not sure exactly to what extent they were compelled—to go and perform for these guys," Salsburg explains. He notes that Alan Lomax never demanded performances, but that overweening wardens often intervened. John A. Lomax, however, in at least one documented instance, welcomed official intervention in coercing an unwilling prisoner to sing.
In any case, "they probably didn't have a choice, and that's very problematic. Although I don't think Alan Lomax is the one who's necessarily to blame for that," Salsburg adds.
Even so, Lomax's intentions were always bent toward social justice, toward carving out a space for all cultures, and making them accessible to all people. On top of that, Lomax never saw his efforts as priggish academia; he never wanted his recordings to go up on library shelves, Salsburg says, but for people to engage with them. They exist just as much for communities to learn about themselves as they do to teach outsiders. And Lomax saw his efforts as activism in an era where mass production and cultural homogenization were quickly becoming the norm. He wanted to slow down the hastening destruction of small but vibrant cultural ecosystems.
"If you wipe that stuff out, you wipe out a whole evolutionary process that connected people to their place, and connected people to the people that came before them, both through time and space," Salsburg says.
"It wasn't just preservation, it was promotion of the real people who made the music, and grew up with the music, and nurtured the music, and their culture, and their understanding of the world and perspective."
Salsburg says he hopes the archive's online arm can continue to serve as an avenue of discovery for all kinds of music fans, be it by passionate devotees or those learning of the ethnomusicologist's legacy for the first time. The Alan Lomax Archive has the freedom to issue music, without the format or release cycle restrictions of CDs or vinyl, through an accessible outlet that's easy to navigate. The possibilities for this new, modern frontier seem endless—something that Lomax himself surely would've appreciated.
—Allison Hussey