FEATURES
A Spaghetti Dinner with Glamour Hotline
By Lorena Cupcake · August 02, 2016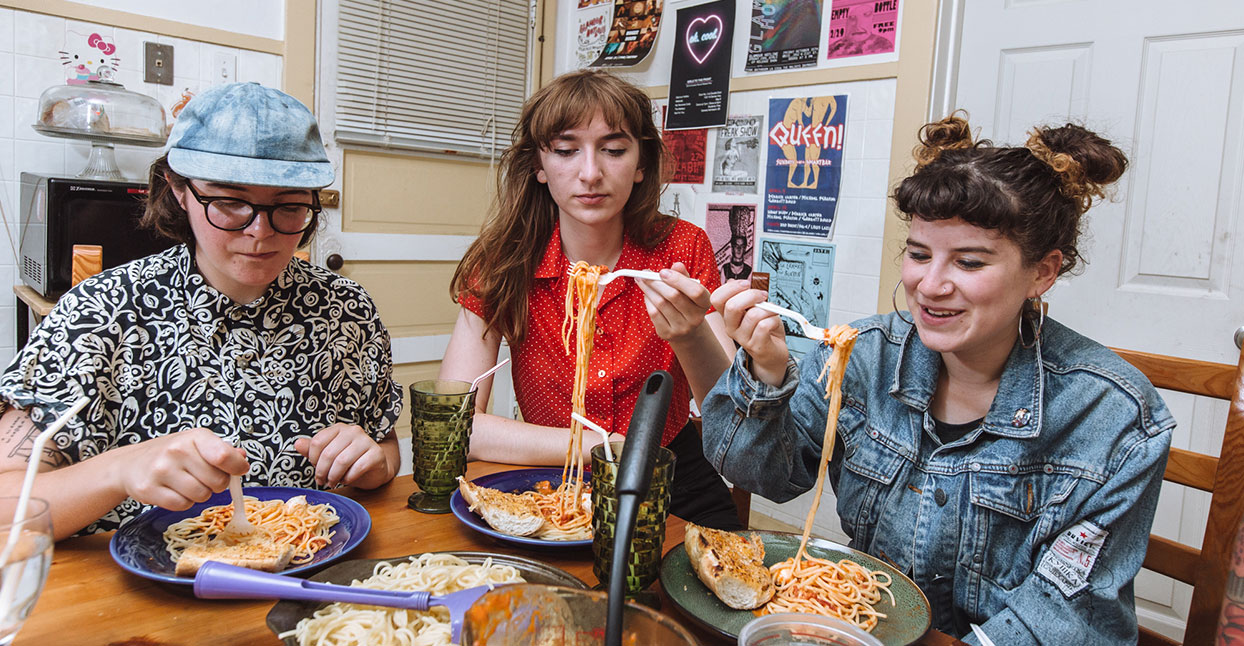 "Bandcamp's one of the first marketing tools I used when I was super young. It's the easiest way to put your music out."
I've been an avid champion of Chicago three-piece Glamour Hotline since I first stumbled across their demo, a six-song EP, Spooky Cool Girls, that lives up to its name with chockablock grrl power and skinned-knee Skate Witch vibes. I've booked them for a bake sale fundraiser, given their drummer a haircut in exchange for a six-pack, and long promised to sit them down for an interview.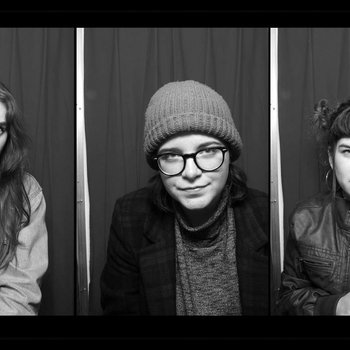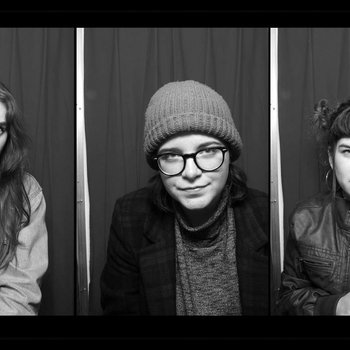 In honor of their new EP, Home, released on Grandpa Bay Records as part of a split with New York's Thanks for Coming called Thanks for Calling, I invited them into my kitchen to sit down to a spaghetti dinner and chat about crushing self-doubt by making art, and how to reach an audience with little more than a drum kit, a laptop, and your two best friends.
"I go to school for music business, and it's my true passion," says singer Hayley Jordanna over a plate of spaghetti topped with petite mozzarella balls. "There's no way any band is where they are today without a marketing team or a marketing person—someone who's taking care of it."
She's the most extroverted in the trio; when asked what her main contribution to the new EP was, she answered "sass." She's a natural talker who alternates between bursts of laughter and impassioned defenses of the Rihanna discography, and her voice slips into a sultry soul register that channels Janis Joplin's ghost when she sings.
"You've got to have the right picture that people are going to want to click or look at, you've got to be on every social media channel. You just constantly have to stay relevant. It helps when someone in your band loves doing it," she says. That line gets a laugh from the table: Jordanna loves handling the group's social media, and maintains their presence on every platform except Snapchat.
"Branding yourself is the hardest thing to do, because we want it to be perfect," guitarist Alex Lukawski explains. "Like, for our t-shirt, it's hard to think of one thing that's gonna signify everything we stand for." Lukawski graduated from the graphic design program at Columbia College in spring of 2016, the first member of the band to leave full-time school. "How does this one object that we're gonna draw on our shirt stand for all of our songs, and all of us, because we're all different people?"
"Making all those multimedia things is just like us creating music," says Jordanna "It's just heavy collaboration and discussion."
Drummer Riley Cavanaugh is quieter than the rest of the band, always dressed in truly aspirational dadcore: neatly-buttoned shirts in washed-out pastel tones, and a baseball cap with the perfect curved brim. "We all have a lot of different interests," Cavanaugh says. "I think Glamour Hotline's a space where we're doing music, but there's a lot of other things we're interested in. So it's kinda encouraging people to not just focus on one talent or skill, because I think a lot of times people think that they have to choose one thing and go with it. We're all kind of bouncing around between different things we like to do."
Despite disparate tastes and interests, every piece of ephemera Glamour Hotline produces, whether it's a lovingly-sketched flyer, or a video of Jordanna eating chocolate peanut butter ice cream while listening to Etta James, bears their unique collective imprint. They bond over the art they make, which has distinct traces of each of their styles. If you want to touch up your lipstick in the restroom at The Empty Bottle, you may have to peer around three different Glamour Hotline stickers, each one designed by a different member of the band.
Jordanna speaks reverentially of the Ukrainian Village music venue, which recently celebrated its 25th anniversary with a history tome published by Curbside Splendor. "We've played Empty Bottle four times," Jordanna says. "I counted. They basically run it like a DIY space, and the bands that play there are always great local bands."
"It's a home," Cavanaugh agrees. The rest of Glamour Hotline's early shows were in Chicago's underground, where they played house shows at venues like Dollhouse DIY and befriended bands like Daymaker, Not for You, and recently disbanded group The Malskys.
"The DIY community, I think it's a good spot [for a young band] to start. It's how we know everyone that we know today. They helped us book shows when we were first starting out and didn't know many people. That's how we met people—going to shows," says Lukawski.
"Playing DIY is way more fulfilling," Jordanna agrees. "To see people who show up who are there for the music. Sometimes at a big place, people don't really care about us."
"It's nice to be in an intimate setting, people being closer," Cavanaugh adds. "It's easier to put more effort in, I think, or feel more confident. We usually play better shows— or, not necessarily better, but we're just more ourselves."
And while there is a certain brand of austere punk for whom promotion consists of black-and-white photocopied collage flyers, despite their involvement in the DIY scene, Glamour Hotline has never been stridently noncommercial.
"Bandcamp's one of the first marketing tools I used when I was super young," says Jordanna. "It's the easiest way to put your music out, and it's a great way to start earning money—so easy, straight to your bank account."
With an imaginative streak a mile long, their ambitions spread far beyond their current home. When pressed on which projects they'd undertake, if they had unlimited funding, their list included baseball caps, Glamour Hotline-branded games, a web series, a daycare, and a brewery with a line of Glamour Hotline beers with names and labels designed by Lukawski: Rebel Girl, Betty Brew, & Space Babe.
"I don't know how to brew beer, though," Lukawski says.
The members of Glamour Hotline recently moved into a brownstone apartment together, happily settling into familial affection and hive-like productivity. (I attended its christening, a party titled "Hoe Depot Housewarming!!!!!" The rooms were already full of couches and succulents, and a laptop on the floor projected internet videos onto the wall.)
The four new tracks they've recorded with Nate Amos at Pallet Sound Studios are a love letter to that humble abode—a gritty testimonial to transcending bad situations to establish their own ground with chosen family. Entitled Home, it's a hopeful, sweet meditation on the intimacy of finding people who can do no wrong in your eyes, because you love them, and you're creating your own supportive environment.
The last song on the album, the climax of the EP's four-song arc, is the first they've ever written as a group. They collaborated on the lyrics and music from scratch (usually, someone brings the skeleton of the song into practice). They say that it's their happiest song to date, and it's also their most ambitious composition. It has a complex song structure, clever rhymes ("lampshades and lemonade/ cigarette butts on the neighbor's way")  and back-and-forth vocals between the two guitarists.  "We were just trying to make it more than four chords," Lukawski says.
Glamour Hotline has grown in so many ways since they started, and with such a supportive environment, there's a strong sense that growth will continue. Each member has an unmistakable personality, but their secret strength lies in their collectivity. Home is a manifestation of that bond, and the warmth that fills the rooms of their apartment, like sunlight on a summer day.
—Lorena Cupcake