FEATURES
A Look Back to Move Forward
By Hilary Hughes · November 11, 2014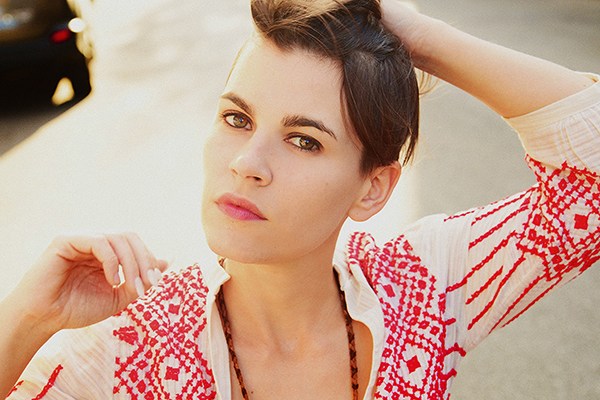 "I'm glad that even if that particular technique—when I use body percussion and all sorts of crazy guitar—drove my career to be on television, I have a body of work worth releasing that doesn't have anything to do with that."
Metallic, frenzied finger-picking may have become Kaki King's impressive trademark, but the guitarist and singer is quick to prove that the bulk of her catalog has nothing to do with the style that made her famous. Now a decade into her career, King is releasing Everybody Glows: B-Sides and Rarities, a collection of seemingly forgotten recordings gathered from various live shows across the world and numerous studio sessions. On the eve of its release, King took a minute to reflect on Everybody Glows, why she's thrilled about the buried treasure deep within the lyrics of these tracks, and what it says about her growth as an artist as she begins the next phase of her career.
Bandcamp: It's been two years since you dropped Glow, your last full-length. What led you to repackage your previous material with Everybody Glows?
Kaki King: You know, I found a lot of value in those songs over the years. I always wanted them to have some kind of home, whether playing them live or putting them on a vinyl-only collectors' thing. It was very personal for me, capping off a decade of making music. I actually put the compilation together around the 10-year anniversary of releasing Everybody Loves You, the first record. I think there's something about hitting a decade in music where you're like, "Wow, I'm still standing! Okay! What's next?" A lot of it had to do with me moving onto phase two, or the second decade. I wanted to let these songs finally see the light of day and give back to the fans who've supported me so much. There's a lot of value to everything I've put on the record. I feel like it tells a story. It marks a moment.
BC: I'm sure condensing a decade's worth of material to 16 tracks was a project in and of itself. Why are these the songs we're hearing?
KK: I don't have 80 songs lying around; I've always worked really economically. I've always valued my time in the studio and haven't really messed around too much. There wasn't a lot to pull from, I'll say that. This is just the best of what I had. I feel like the live, radio version of an acoustic guitar song sounds entirely different [from the released version]. Then there's a song like "Goby," which really evolved over time, the more the band played it live with intros, solos, and everything. I saw how that song didn't start out that way; it took touring for it to become what it is. "Tunnel" is another great example. I actually wrote a song about a physical thing—the Midtown Tunnel. I haven't really shared that before. The intention is to drive through a tunnel while playing this song and see how you feel—the slight amount of claustrophobia it induces. It's not been something I've done a lot of, saying "that was a thing I did that was interesting."
BC: The geographic sprawl of the record is notable, with Japanese singles, Australian radio cuts, and Belgian live recordings all in the fray. Was representing this mix of places on the record intentional?
KK: It's funny, you go to a radio station and you're early, and you feel weird and awkward. Then you play a song, and afterward, they just hand you a CD of it. Half the time I lose it or stick it somewhere, so I have a few live recordings where sometimes the sound guy was like, "I made a recording tonight, here it is! Keep it!" There are tons of fan recordings, too. There's a lot of live stuff to choose from. The geographical stuff, it just happened to be that I chose songs that were recorded in different parts of the world. I'm not an archivist, and I wish I had been! It's sort of funny how someone can hand you a recording of a song you just played and then all of a sudden you're like, "I am really happy that I have this."
BC: Your cover of The Cure's "Close to Me" is also on Everybody Glows. How did that particular recording come about?
KK: That's the weirdest, funniest story. A record label in L.A. was doing a charity-only vinyl record of Cure covers. They asked me if I wanted to cover a song, and I said I'd love to, but it wasn't a long, thought-out process. My friends and I recorded it, and we sent it in, and that was it. I didn't give it more thought than that, so it sounds very cute and lo-fi and not out of design, necessarily. It ended up being the music for this Nivea advertisement in the U.K., and it was everywhere! It was kind of a huge ad campaign. Robert Smith had been asked by someone at Nivea, "Hey, can we use 'Close to Me'?" and he said, "No. Actually, I just heard another version of this song, why don't you use that?" And it was my version! The song that I had spent the least amount of time and energy on became the most successful single I've ever done (laughs).
BC: Your dad wrote the liner notes for the record. What got him involved?
KK: My dad is the biggest music fan I've ever met. The way it affects him and the way he shapes his life around being able to listen to music is a profoundly beautiful thing. He plays a little guitar, but he's not a musician. He should've been a DJ or music historian in another life. He used to write reviews for Creative Loafing in Atlanta. A guy who worked for him (my dad's a lawyer) used to work for the paper, and so my dad wrote record reviews under a pseudonym. He's been my biggest supporter and biggest fan since day one, since I was a child. He's never been a stage dad or pushed me toward anything, but he's always seen something in me and found a way to tinder that fire without being pushy. I just thought it was so fitting to have him do this. It's been very sweet, very touching. My dad's great.
BC: Was there anything he said about the songs on Everybody Glows that surprised you?
KK: He did point out something. He basically said, "Kaki, the slapping, tapping hand technique is not on this record. This is a really beautiful record and it doesn't need any of that." It goes to show that there's only a handful of songs I wrote using that technique. I'm glad that even if that particular technique—when I use body percussion and all sorts of crazy guitar—drove my career to be on television, I have a body of work worth releasing that doesn't have anything to do with that. People are interested in me outside of all that stuff. The 95 percent of my music that has nothing to do with that is what's represented on this record.