ESSENTIAL RELEASES
Essential Releases, May 12, 2023
By Bandcamp Daily Staff · May 12, 2023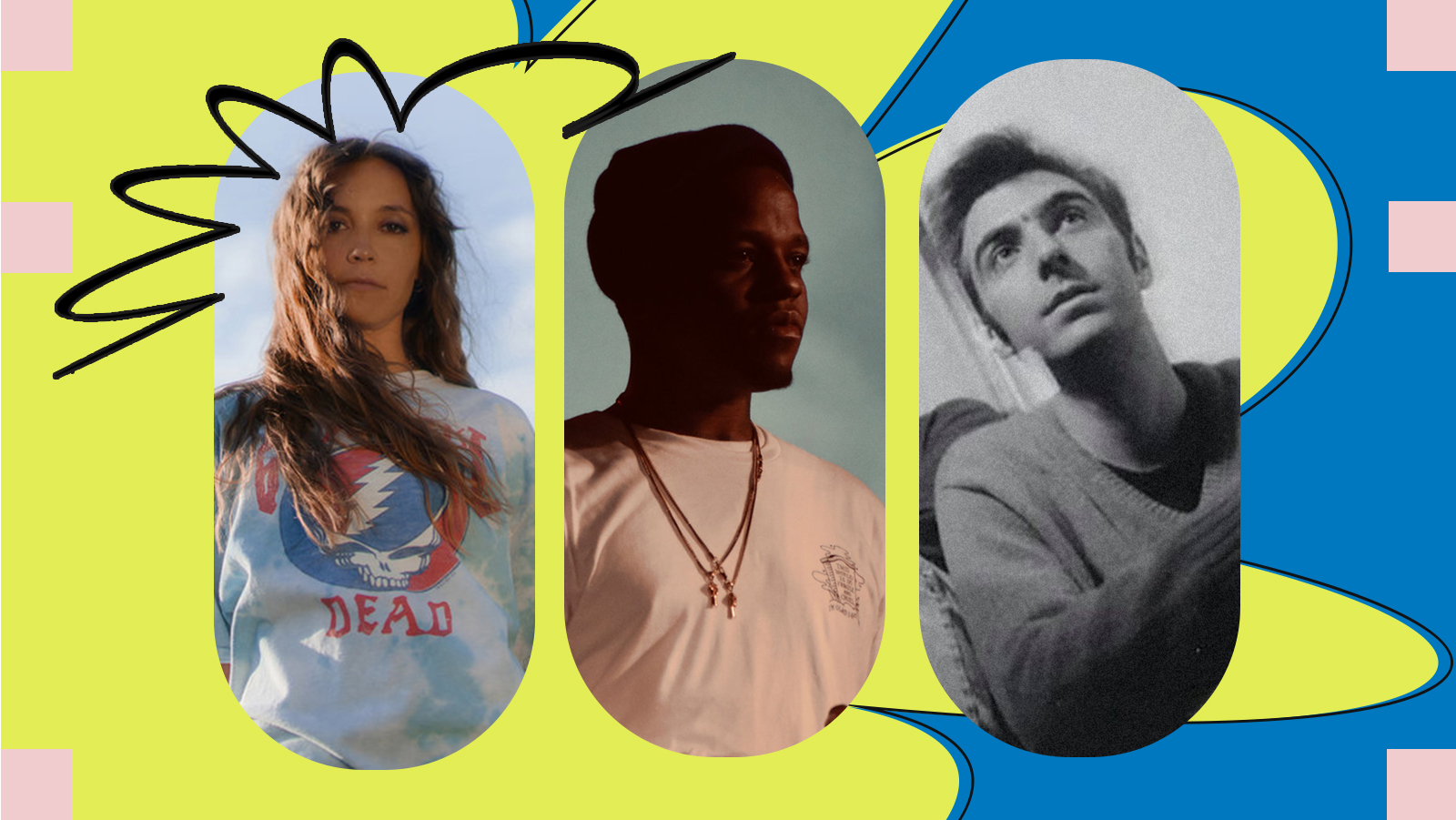 What the Bandcamp Daily editors are listening to right now.
Annahstasia's debut album is a delicate folk mediation on self-determination. Recorded live, each song was recorded in a single take. Nearly all of the songs on Revival begin with sparse guitar notes before swelling into larger-than-life worlds of their own. On the opener, "Midas," she sings, "If I had a ray of sunshine for each time I had to worry about my life/ I'd have a star in the daytime," against a simple guitar melody before the song ends with spectacular strings. The crown jewel of the album is "While You Were Sleeping," which features Raveena. Their respective silvery voices are swimmingly paired with lush guitar. The closing track, "Evergreen," uses adventurous synths and percussion to drive lyrics like "I'll be gentle and kind/ Just give me all the worries on your mind." The final track departs a bit from the album's initial soundscape but feels fitting for an album about revival and restoration. While Annahstasia began the album with a whisper, she made sure to end it on a loud and powerful note.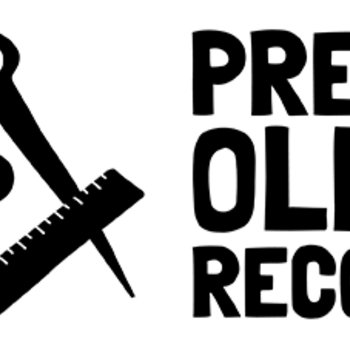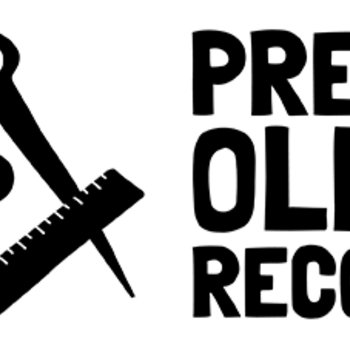 Merch for this release:
2 x Vinyl LP
The REM of Cork, Ireland, but nearly unknown outside of the confines of 1980s UK music industry, the entire oeuvre of the punctuationally creative Cypress, mine! is collected here on this double LP from Spain's Pretty Olivia Records, who certainly know good jangle when they hear it. But despite its rarity (only 1,000 copies of the band's first record were ever pressed)  Exit Trashtown / In Pieces doesn't sound like a novelty—it sounds as modern as anything that ever came out of Athens (Georgia) and should appeal the people who have already spent their retirement on Sarah Records 7-inches. But despite the tunes living in that happy American-friendly zone between the Byrds and Hüsker Dü, the music does have some left-field Irish absurdity to it—for example, the song about a pile of beets left on a street in Cork or the one that really can't be interpreted as anything other than one long incest joke.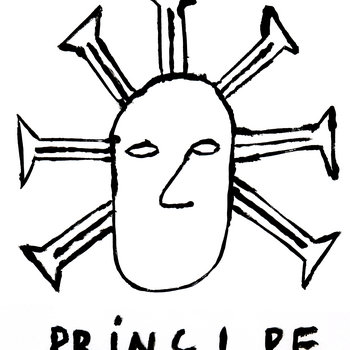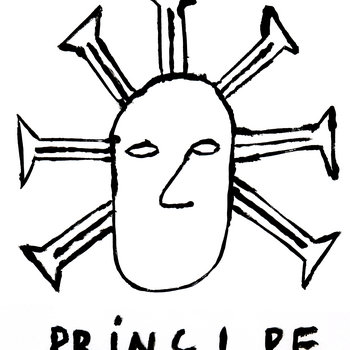 Merch for this release:
Vinyl LP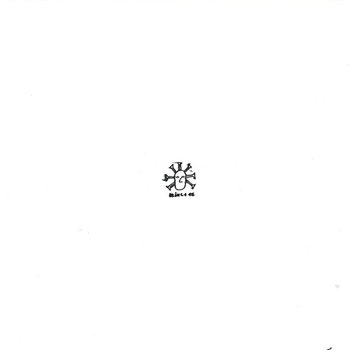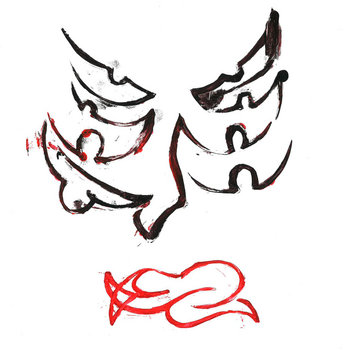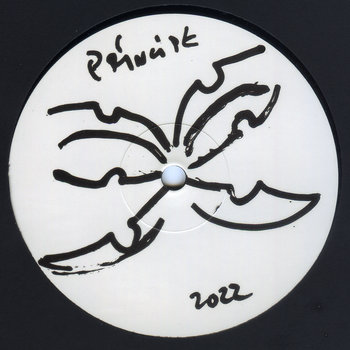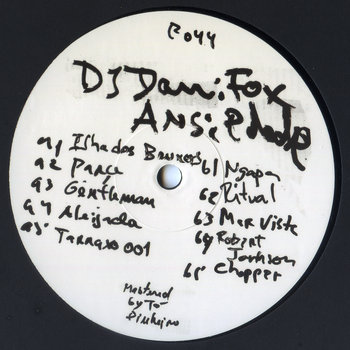 Twenty-two-year-old producer Daniel Veige—better known as DJ Danifox—is not just new to the roster of Lisbon label Príncipe, he's new to production in general. He only started making music seriously four short years ago, but has wasted no time since then, relocating from the UK to Portugal and quickly making connections with Príncipe mainstays like Tia Maria Crew and DJ Lycox. A pair of EPs—one on 2020, another two years later—showed promise, and his first full-length, Ansiedade, delivers on it. One of the fascinating things about closely tracking the arc of Príncipe is the way they've gradually roamed further and further from straight-ahead dance music and into more diffuse terrain, and Ansiedade marks another step on that journey. "Ilha dos Bruxos" opens the album with a mournful piano chord that repeats over and over, like a lonely church bell in a deserted town at midnight; the electronic elements, when they appear, feel supernatural—suspended tones that hover over the track like UFOs. The rest of the album maintains this eerie sense of drift: on "Aleijada," tight clusters of minor-key synths twinkle in and out of view over a soft, shuffling rhythm; "Tarraxo 001" slows the familiar dembow rhythm to a crawl, topping it with sporadic smears of electronics; and "Robert Johnson" is a weird wonder, snatches of vocals and cartwheeling notes. Like NÍDIA before him, Danifox seems more interested in unraveling than winding up, and Ansiedade is one fascinating experiment after another.
Merch for this release:
2 x Vinyl LP, Vinyl, Button/Pin/Patch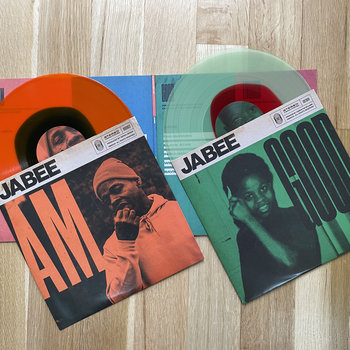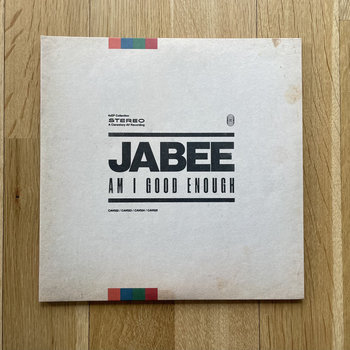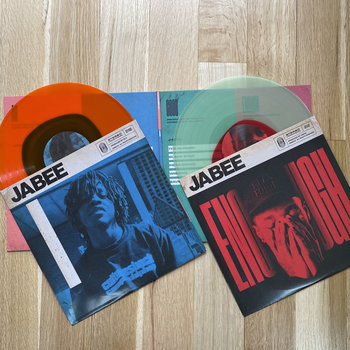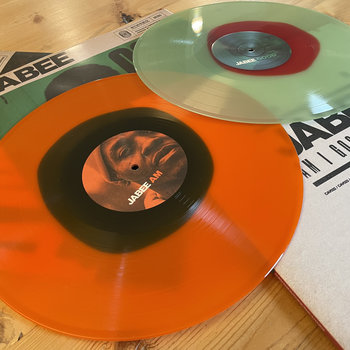 Look: I could go on and on about Am I Good Enough, the new compilation of EPs from Jabee, but the Oklahoma City rapper's resume speaks for itself. Chuck D tweeted that Jabee's music "has the power to change the world"; Am I Good Enough boasts features from Boldy James, Blu, Che Noir, Mistah F.A.B., Murs, and production work from Mobb Deep's Havoc and Griselda mainstay Conductor Williams. He was tapped to be an honorary professor at The University of Central Oklahoma, where he taught a course on the history of hip-hop. All that alone should be persuasive enough to prompt you to press play. Though it was originally released as four discrete EPs, Am I Good Enough plays like a single winding narrative, Jabee wrestling with relationships, self-doubt, and false friends as well as reveling in the joy of being alive and seeking communion with a higher power. He's got a loose, freewheeling flow, dishing out intricately crafted bars with a casualness that makes it sound like he's coming up with the dense couplets in real-time, and production that mines songs from Otis Redding and Louis Armstrong for hooks and breaks serve as the perfect window dressing. It's a deep, absorbing listen—the kind of album that instantly justifies the accolades Jabee has received from his peers.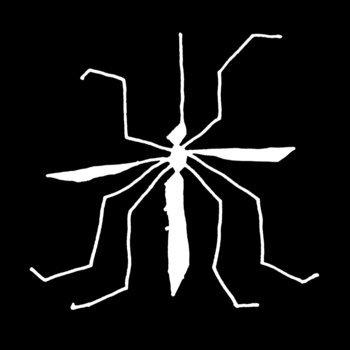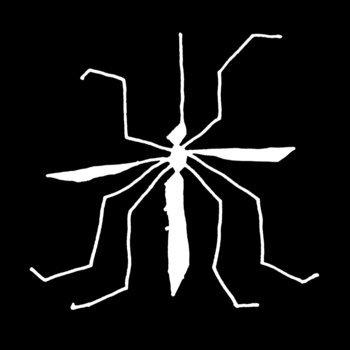 Merch for this release:
Vinyl LP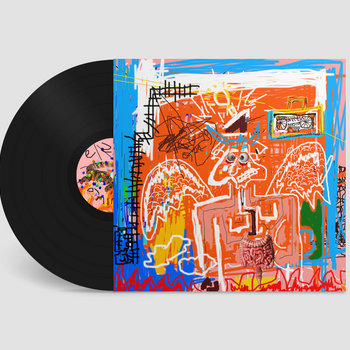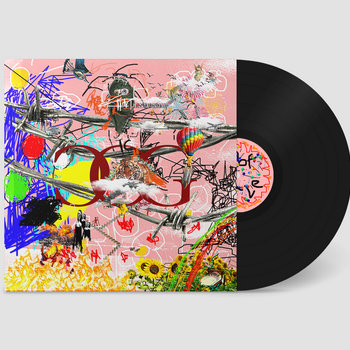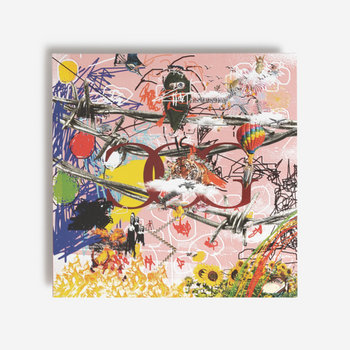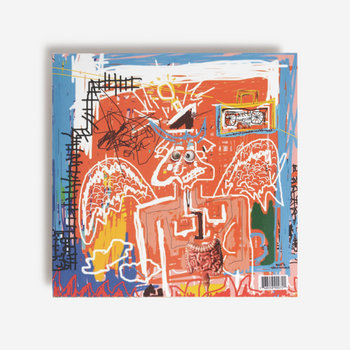 I haven't heard an album that opens as boldly as Kabeaushé's The Comming of Gaze in a while. "ANDNOWORD" begins a cappella, the Kenyan experimental pop artist accompanying themself with snaps and doo-wop counterpoint. In essentially any other hands, it'd be terminally uncool, the provenance of glee clubs the world over. But what Kabeaushé' is building here is a fascinating electro-R&B song with an earworm hook, and when their pitched-up rap and a slash of effects-heavy synth enter, turning it into a legit stomper, it feels almost cathartic. Rather than rest there, it trails off into scrambled manipulated vocal territory, leading into the next track. This is an artist combining a ton of different worldwide influences—contemporary Western hip-hop and African pop, experimental electronics, club music, R&B through the decades and across continents—into music that is as instantly charming as it is carefully and smartly put together. On repeated listens, I kept thinking of OutKast—in particular that legendary duo's ability to create crowd-pleasing music that's also for the heads, playfully boundary-pushing hits that still sound contemporary all these decades later. I do not make this comparison lightly! Just listen to "Caracas," which bends Latin club music's interpretation of Miami bass back onto itself and includes a clap-along bridge sure to get any crowd moving, or "Unidentified Sock Holes," which, contrary to its name, is sleek and sexy and spacious in a way that feels remarkably effortless. In an interview with 15 Questions, Kabeaushé indicates they've been studying generation-defining pop production masters—Prince, Pharrell, the old Kanye. If The Comming of Gaze is any indication, they very well could stand toe to toe with their inspirations someday.
Merch for this release:
2 x Vinyl LP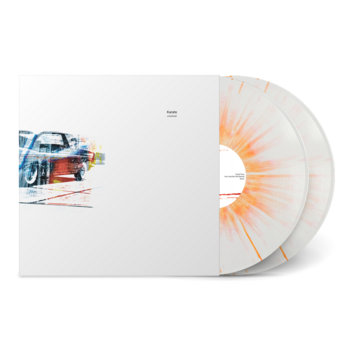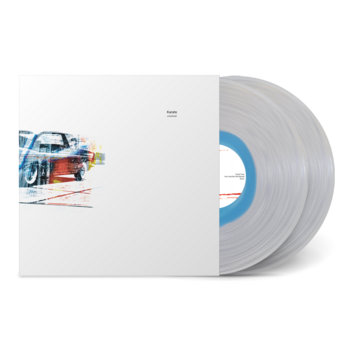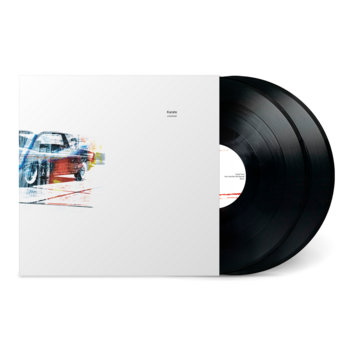 Numero Group's been on quite the Karate kick over the past year. Last March, the beloved label honored the foundational (and recently reunited) post-hardcore band with a reissue of 1998's album The Bed Is in the Ocean, followed by September's Time Expired: a 5xLP, discography-spanning box set released as part of a broader reissues campaign devoted to "influential strains of North American Indie & Emo." The Bostonians' importance as a transitional act cannot be understated; their borderless sound, combining elements of slowcore, jazz hardcore, and indie rock, effectively predicted post-hardcore as we know it, up to and including math rock and emo. Bearing that history in mind, 2000's Unsolved, which Numero Group reissued last week, testifies to those punk bonafides in spirit, rather than sound. The sonics and sentiments might skew DIY on a broader level, but the details and execution — soul-jazz guitar melodies, plaintive vocals, contoured percussion — instill these songs with the contemplative intensity of a coffeeshop performance, rather than the raw abandon of the pit. But that subversion of expectations is also what makes Unsolved a key (and sorely overlooked) album in the '90s underground rock canon: is there anything more punk, really, than going full Steely Dan? Before you answer no, just give it a listen. Do it for me.
Merch for this release:
Vinyl LP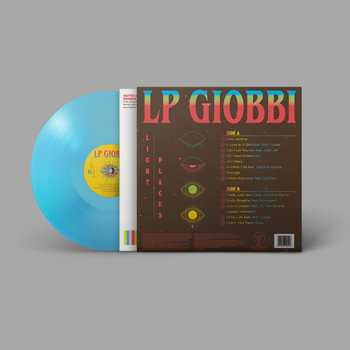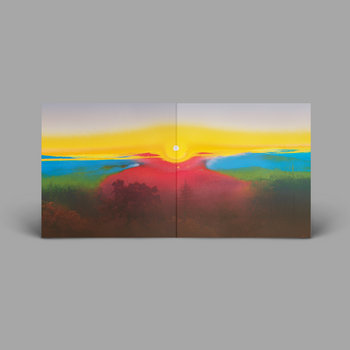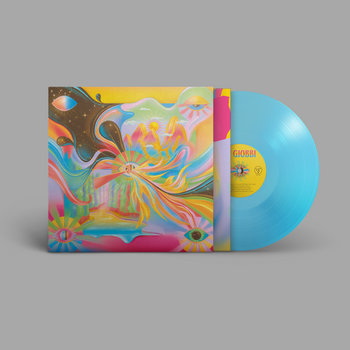 In a sense, DJs are one-person jam bands. Their equipment and technique might be miles apart, but their creative philosophies are one and the same, especially when it comes to the broader relationship between artist and audience. Touring isn't just about earning a livelihood, but forging lasting connections with audiences, in person, for hours at a time, for years on end, growing a local fanbase into a global family. (I'm assuming the mind-altering substances play a role in this as well, but for the purposes of this conversation, let's just chalk it up to good vibes.) Perhaps no current artist is more attuned to this overlap than Leah Chisholm, otherwise known as LP Giobbi. The up-and-coming DJ, an avowed Deadhead, broke waves earlier this year with a remix album built around Jerry Garcia's 1972 solo debut, which captivated her idols so much that they brought her along on a recent tour, an accomplishment that has basically rendered her the heir apparent to jamtronica. Across her debut album, Light Places, Chisholm bottles up that Dead-approved magic and scales it up for mass consumption, it's the rare album that gives the Ultra Festival set the hooks they want (don't miss "Grogia" and "Follow the Loop") without dishing out the low-hanging fruit that plagues so much of big-tent electronica; a world free of predictable drops, xeroxed song structures, phoned-in vocal performances, and bro-y machismo. Assuming she keeps on truckin' like this, LP Giobbi may very well go all the way. EDM will be all the better for it.