COLLEGE RADIO STATION
Better Know a College Radio Station: West Virginia University's WWVU
By Ally-Jane Grossan · May 29, 2017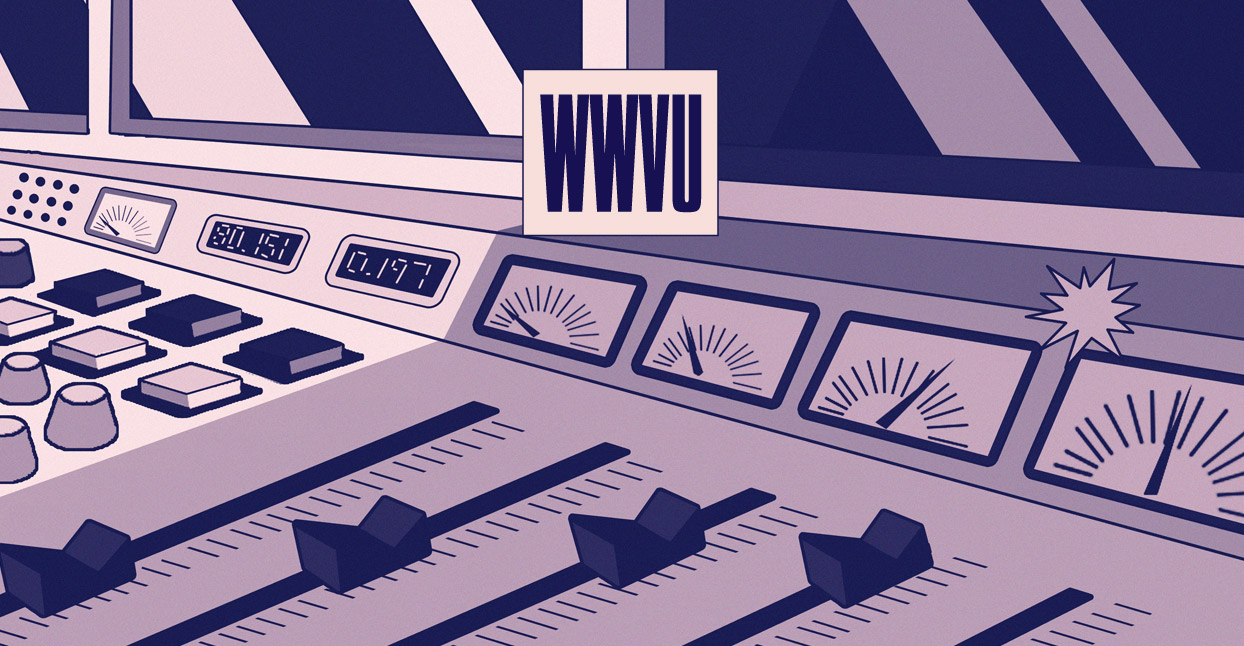 For many obsessive fans who grew up in the pre-Internet era, a passion for music was sparked in the dingy basements and dark booths of college radio stations. Despite sound boards that are decades out of date and rapidly-changing tastes, that tradition has endured. The best college stations remain dedicated to delivering music that falls outside the purview of Billboard-charting mainstream radio.
If anything, the shifting climate has caused student station managers and music directors to work harder at keeping their stations relevant. And with good reason: at the radio station, they find comrades with whom they can trade mixtapes and stay up late into the night raving about life-changing B-sides. Bandcamp speaks from personal experience: even if our first shows were at 4am on Tuesday nights, they were the best two hours of our entire week.
In this feature called Better Know a College Radio Station, we spotlight the programmers, music directors, and general managers who make sure the "On-Air" light never burns out. This month, we chat with the staff at West Virginia University's U-92: Media Director Jackson Montgomery (DJ Montbummery); Music Director Nick Koban-Hogue (DJ Kobes); Program Director Emmi McIntyre (DJ Emmi or Lance Jr., from the great Courtney Barnett song); General Manager Matt Fouty; Marketing Director David Kessler; and Hip-Hop Director/DJ Daniel Robbins.
Tell us about the history of your station. When did you start broadcasting? 
Fouty: U-92 has been on the air since 1982. Our signal can be heard within a 60-mile radius of Morgantown. We also stream online at our website and our app, meaning we can be heard anywhere around the world (with an Internet connection, of course). We are the best source of new music, giveaways, University sports coverage, and news that's happening both around campus and in the Morgantown area. We're found at 91.7FM, running on 2600 watts of power.
What are the most popular shows?  
Koban-Hogue: No Remorse is the longest running show on our airwaves, and runs from 10pm to midnight every Wednesday and Friday. This show has a curated library of the best in new metal that was made by our metal director, but the format is not enforced, and No Remorse DJs are encouraged to take liberties with the show and make a setlist that they enjoy. Metal is possibly the most diverse genre of music, and the tastes of the No Remorse DJs reflects that. From thrash to death to black, all types of metal are represented on No Remorse as long as it's heavy.
Kessler: Urban Diner is our CMJ Award-winning program that features hip-hop and rap. This show runs from 10pm to midnight every Tuesday and Thursday.
Robbins: The greatest thing about Urban Diner to me is that all of the DJs have very specific taste in hip-hop, and have the freedom to play whatever. This allows us to cover everything in a diverse genre of music, and it keeps the show fresh. It also personalizes the show, because every DJ does the show their own way.
What's playing on the air Tuesday at 4:30am?
Koban-Hogue: Most midnight to 6am shifts at the station are reserved for rookies. We operate 24 hours a day with live DJs, so some seniority comes into play when deciding who has the cushy noon to 3pm shifts, and who has to 'wake up at 2am for a 3 to 6am' shift. The graveyard shifts have been a rite of passage at U-92 for as long as anyone can remember. They're a great opportunity for a DJ to learn the ropes of operating the board while on the air, with slightly less stress. These DJs are expected to follow rotation formatting 100% of the time, but a certain 'don't ask, don't tell' policy applies to shifts during the wee hours of the night. My policy as music director is that as long as it is legal and I don't hear complaints, then I don't have to complain.
How do first-time DJs get trained at WWVU? Any sage wisdom you offer first-timers?
Koban-Hogue: Our DJs are put through 12 hours of training with a veteran DJ who shows them the ropes, and then they have to do a three-hour board op session on their own during the day before they're allowed to have their own shifts. Sage wisdom is a hard thing to pin down, as all of the DJs and trainers do things differently. Personally, I tell people that planning too far ahead makes a shift sound stale. I encourage every DJ to not know what they're going to be playing 10 minutes from now. Having the ability to feel out the current song and pick based on the feeling the monitors are giving allows shifts to be more fluid and feel more authentic. Some DJs are uncomfortable not having all three hours planned out before they come in, and that's all right, too. One piece of advice I give to all DJs is to never play a song that they hate. Once you start feeling 'forced' to play music, it becomes less fun to DJ—it becomes a chore. We don't want workers here at the moose, we want passionate DJs who see their shift as an opportunity.
McIntyre: The wisdom I offer is that you should always have fun. If you don't like the music in rotation, complain about it. If you love it, praise it. We give you the tools to be a good DJ, news, or sports broadcaster. Now, go make the most out of it.
Fouty: The DJing style at the station is different from a lot of current college and commercial radio stations. We pride ourselves on mixing together music and production from multiple sources. We utilize a local digital music player known as MegaSeg. Many stations use this to fully automate their station, but we use it as a tool to play production, as well as our massive music library, which is becoming digitized. We also use CDs as a primary form of music delivery because that gives us the flexibility to cue up and explore music for mixing with whatever is currently playing. Same with the turntables—we still have those metal platters that play what matters! We still have a massive vinyl collection that we use for older selections and specialty shows. We also have a system that allows us to utilize online content from Bandcamp and one-off requests that might not be available to us in the physical form.
We take all these sources, along with a program log, or script, where the DJs have to hit certain points on the clock that's laid out for every hour of programming throughout each day. What all of this does is set every person who DJs at U-92 apart from other current-day DJs, and makes them more flexible and versatile when faced with a high-pressure situation where you have to simultaneously pay attention to multiple things—sometimes while even speaking live, on air.
Montgomery: Don't fucking play 'Buddy Holly' by Weezer, or you're spending 24 hours in the hole in the ceiling above the CD closet.
What are some local bands in heavy rotation at the moment?
Montgomery: False Pterodactyl are one of our absolute favorite local acts. Two-piece lo-fi grooviness. They're playing in a new project right now that's sort of a local supergroup, with the producer of our live local music show and a few other folks. It's called Golden Horseshoe.
Then there's Captain Catfeesh. The band started with their frontman Colby White playing solo acoustic sets and gradually grew into a full-on punk band. They've got this sort of backwoods weirdo vibe that reminds me a lot of bands like the Melvins or Tad, and they sing about awesome local legends like the Mothman and Sasquatch and UFOs.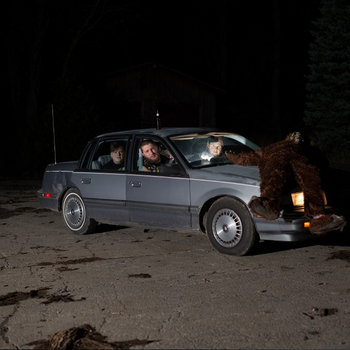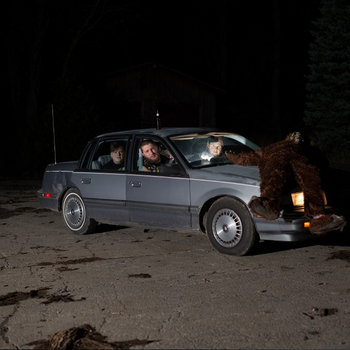 McIntyre: The Furr was formed in Motown a few years ago. I believe they are currently separated after the drummer and another member moved away. These guys were one of my favorite local bands to see live, because it was weird and just really high energy. They played a lot of punk venues and always gave it everything. Great group. Authentic as hell. When they first started recording stuff, their frontman Eli used to call in and request it all the time. Once they had a full-length in our rotation, he called in and I told him he didn't have to do that anymore—we love it, and we're automatically gonna play it. I think he still calls every now and then. He let me play with his theremin after a show once and that was really cool.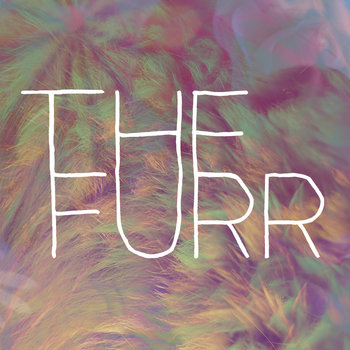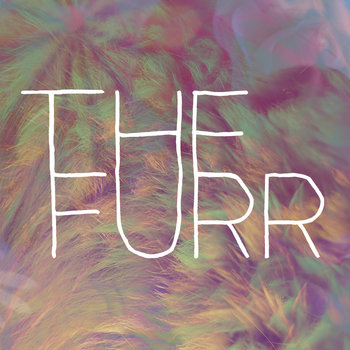 Merch for this release:
Compact Disc (CD), Cassette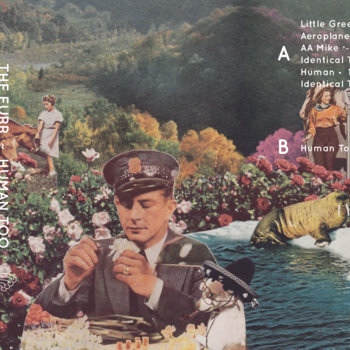 Koban-Hogue: What's Missing? are U-92's own pop-punk darlings. These guys started here at WVU in Morgantown. They're heavily inspired by Rozwell Kid and old-school emo bands. The lead guitarist for this band used to be our program director as well, and their bass player was a DJ for a bit.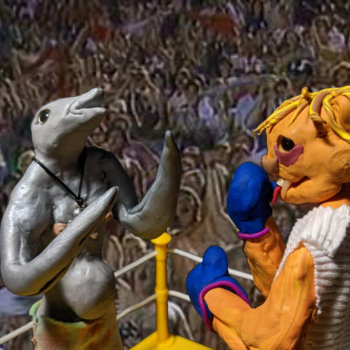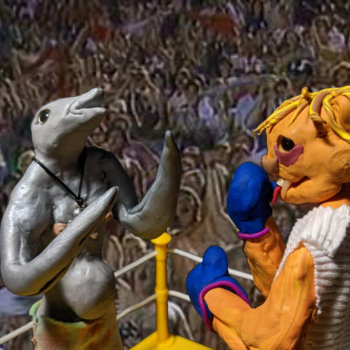 Merch for this release:
Compact Disc (CD)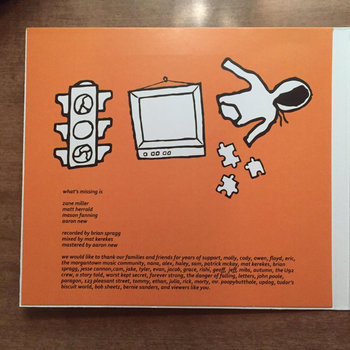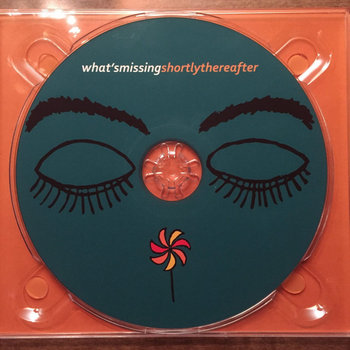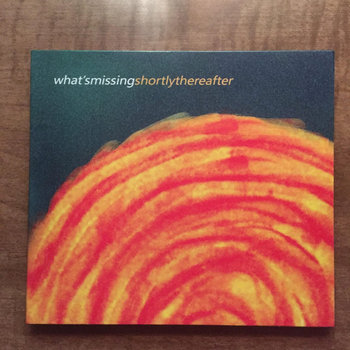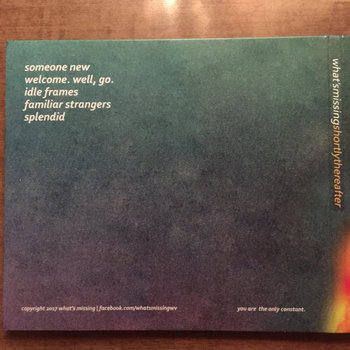 What will you miss most about working at the radio station after you graduate? What are your plans after graduation, and do they involve music? 
Montgomery: I'm definitely going to miss the people I've worked with the most. They were my family all throughout college. I seriously would have dropped out if it wasn't for the station. I'm trying to find a job in town for the next year, then I'm applying to grad school. I plan to keep recording my own stuff and mixing for other people, as well as writing freelance. When I eventually get to a big city I'm going to join IATSE as a sound tech and try to work for a promotion company as well. I'd love to have my own studio and venue space one day.
McIntyre: I am going to miss the people and the music. I'll miss being able to head into the station in the middle of the day and talk to my friends about their favorite songs in rotation, or what cool things are happening around town. U-92 has a such a family culture. I've been at the station for four years, and the whole time I knew I had people looking out for me. It made college the best years of my life. After graduation, I'll be studying abroad in Europe for some of the summer, then heading back to Morgantown and hopefully finding a job. I'd like to work for a radio station locally or work on building my own business.
—Ally-Jane Grossan