COLLEGE RADIO STATION
Better Know a College Radio Station: Calgary's CJSW
By Ally-Jane Grossan · September 21, 2016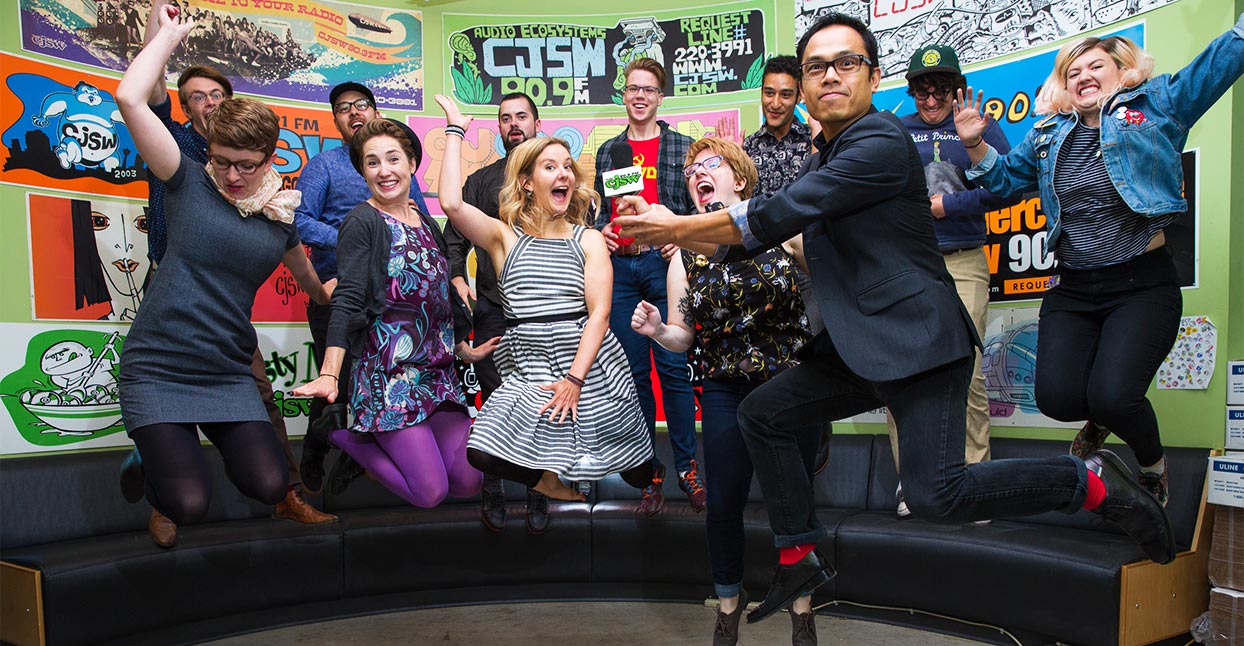 For many obsessive fans who grew up in the pre-Internet era, a passion for music was sparked in the dingy basements and dark booths of college radio stations. Despite sound boards that are decades out of date and rapidly-changing tastes, that tradition has endured. The best college stations remain dedicated to delivering music that falls outside the purview of Billboard-charting mainstream radio.
If anything, the shifting climate has caused student station managers and music directors to work harder at keeping their stations relevant. And with good reason: at the radio station, they found comrades with whom they could trade mixtapes and stay up late into the night raving about life-changing B-sides.
Bandcamp speaks from personal experience: even if our first shows were at 4am on Tuesday nights, they were the best two hours of our entire week. In this feature called Better Know a College Radio Station, we spotlight the programmers, music directors and general managers who make sure the "On-Air" light never burns out.
Last month, we chatted with Madi Pignetti and Iman Salty of KSPC Claremont, 88.7 FM, THE SPACE. This month we chatted with Marta Ligocki, program director at CJSW 90.9 FM in Calgary.
Tell us about the history of your station. When did you start broadcasting?
CJSW started as a closed-circuit broadcast system that played to residence buildings at the University of Calgary. We first came on the FM dial in 1985 and have been going strong since. In 2014 we upped our wattage to 18,000 watts so now we have a clear signal across Calgary and into surrounding towns. We didn't anticipate the signal to reach as far as it did.
What is your name, station title/job, DJ name and major?
I'm Marta, I'm the Program Director! I take care of all the hosts and ensure they're producing the best radio possible. I host MAPL Syrup, a program dedicated to Canadian music. I graduated with a degree in English in 2013 from the University of Victoria.
What's your call number, tag, logo, etc?
CJSW 90.9 FM in Calgary.
What is your station's online presence like? Do you have a blog?
Last year we launched a website that archives every program on the station. Each show has 12 weeks of archives, making it accessible to folks who might not be beside the radio during their favorite program. Listeners can also subscribe to their favorite program on iTunes and receive shows automatically after they broadcast.
Tell us about how you run your station…
Our tireless Music Director Whitney Ota and a team of volunteers review every album that arrives at the station. From there, they narrow it down and give a brief description of each album and come to the new music playlist. Each show plays a minimum of 4 new playlist songs per episode, so you're always bound to hear new music on the airwaves. Our hosts learn about new music from our weekly newsletter, and from a printed list of new music that lives in the booth.
Where can we listen online?
CJSW.com! You can also subscribe to your favourite show via iTunes.
Describe your two most popular shows:
Dirty Needles is our city's best and most consistent resource for rap and hip-hop on the radio, period. Rob and Irwin take great care in selecting their playlists and ensuring listeners are only hearing the best of the best every week. The show is syndicated on a number of other Canadian campus stations.
Big Friday is one of our crown jewels. You won't find anyone else who has thought about and perfected the medium of radio quite like Myke. He's always looking for new ways to engage listeners with interesting segments and interviews. Beyond that, his selection of electronic music is next level. An entire city's weekend begins with Big Friday.
What's playing on the air Tuesday at 4:30am?
Tha Gospel Ov Fire! it's a program that incorporates metal, hardcore, electronic and experimental music along with philosophical readings and science news.
What's the most popular genre on your station?
We have a good representation of all genres on-air right now, but our electronic shows have become a real staple in the city. Every Friday from 6PM-3AM we have hosts spinning some of the craziest mixes. DNA is our hardcore techno show and Lucie (the DJ) is a guru. We once had someone comment that they've been listening to her since they were 14, and they're 34 now. According to the subscriber numbers on iTunes, our electronic shows are the most popular.
What are some local bands in heavy rotation at the moment?
On the rock side of things, we can't get enough of Juice Box, Feel Alright, The Shiverettes, Lab Coast, and Melted Mirror. If you want to get into some electronic tunes then Valiska, Monroeville Music Center, Untrained Animals and Dominic Pierce are your best bets. Hosts of all genres have been playing Aleem Khan; his new release is a mind-melting jazz odyssey (he even got a shout out in The Fader, which we were all stoked to see!)
What were the two best concerts or live events your station sponsored during your time at the station?
We're always supporting live acts on-air through our live sessions. A band will come into the station and play live on-air followed by an interview with the host. More often than not, they're playing a show that night. In that way, we have a ton of shows we sponsor every week!
In terms of parties we throw ourselves, we throw a killer Halloween party to conclude our Funding Drive every year. It started with the idea to have 17 bands covering one song each from Big Shiny Tunes 2. Now, we choose a theme with our friends at Sled Island and use the same concept. This year 15 bands will cover songs from classic 80s movies. It's a way for us to celebrate the local music community in a huge way.
What are 5 albums that you're really excited about right now?
Bataille Solaire, Dolby's On—One of my favorite Montreal-based musicians, on one of the best underground labels of all time, Orange Milk. The results are bizarre, otherworldly, yet familiar all at once.
Bing & Ruth, City Lake—An absolutely stunning album from this brilliant minimalist band (actually this is the solo outfit of David Moore leading an eleven piece ensemble).
Second Woman, Second Woman—Always expect the unexpected from Spectrum Spools Records. This album came out of left field for me, and is pretty much unclassifiable. I can't figure out how this music is being made and there are things going on that mess with my brain in ways that I can't describe.
Sean McCann, The Capital—A bit of an oldie, but a stone cold classic. This is some of the most stunning ambient music ever made. Truly transcendent.
Matt Carlson, The View From Nowhere—Matt Carlson is one of the most original synth musicians around these days and these new works from him are among the strangest, most awe-inspiring sounds I've heard in a long time. Be sure to check out his work with Golden Retriever whose work is also well documented on Bandcamp as well.
—Ally-Jane Grossan