CERTIFIED
Hail MHYSA, Electronic Music's Very Own Mother of Dragons
By Diamond Sharp · February 14, 2020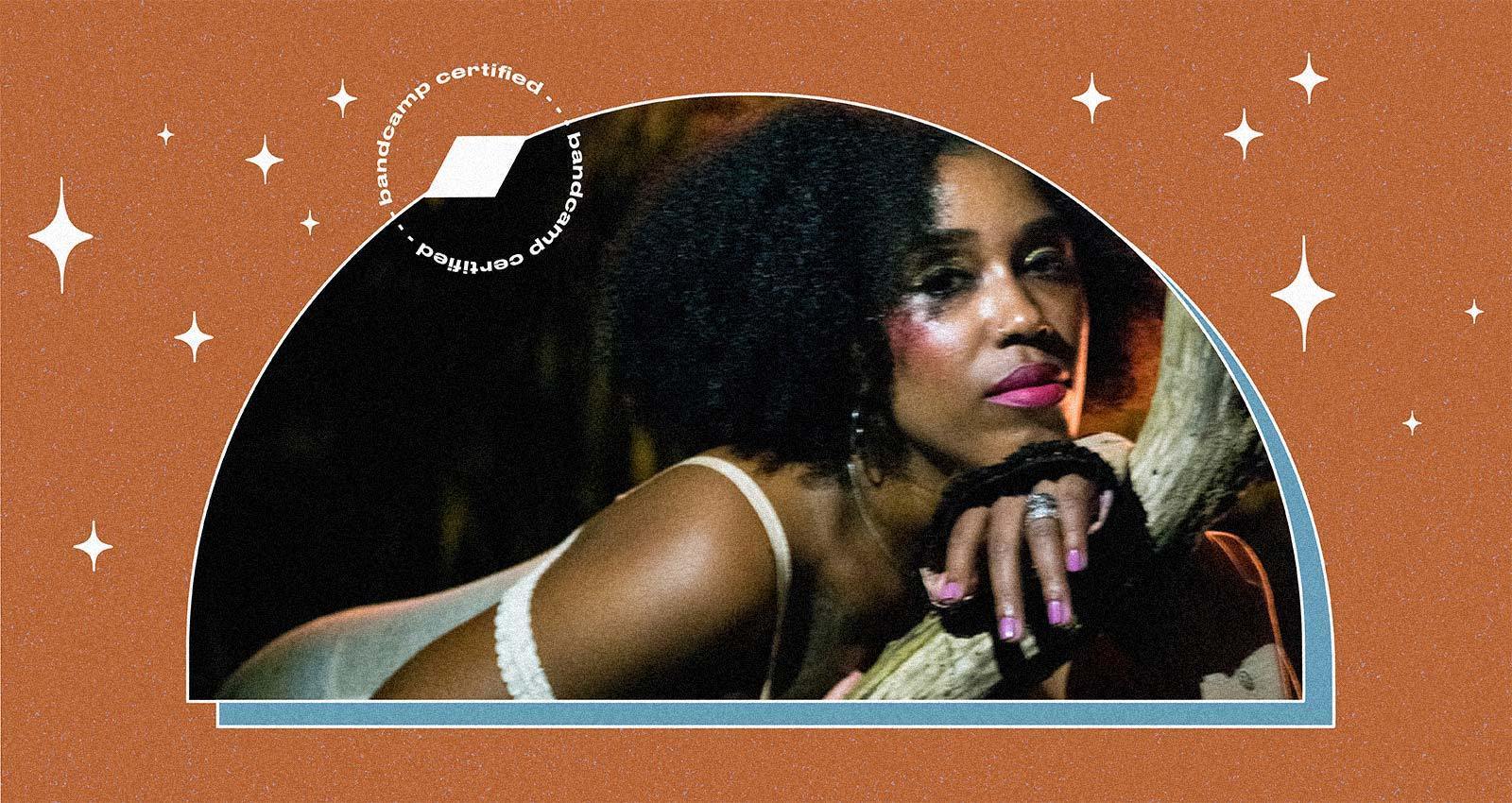 "In queer club spaces, sci-fi fantasy is welcomed: it's a space that's pro-cosplay. I'm trying to get into my own cosplay and my own superhero ego. I guess in some ways all pop stars have a little bit of that," MYHSA tells me in their Brooklyn apartment. By day, MHYSA is E. Jane, a visual and performance artist currently on fellowship at the storied Harlem Studio Museum. By night, though, E. Jane morphs into their alter ego, MHYSA, an electronic music artist. Jane—a native of Prince George's County, Maryland—has been performing as MHYSA for four years. After the success of MHYSA's 2017 debut album, fantasii, they have returned with NEVAEH, an ecstatic and exalted exploration of the Black femme experience using experimental electronic music. 
Merch for this release:
Vinyl LP
The beginnings of Jane's music career began while they were attending the University of Pennsylvania for an MFA in Fine Arts. "MHYSA came into being while I was at grad school, thinking about making more space for me to experiment with music and noticing that a lot of people in the underground scenes in New York had stage names or club names and thought about what my club name be," says Jane. From there, Jane landed on MHYSA: an epithet bestowed upon the Game of Thrones heroine Daenerys by her supporters, who affectionately call her "mother." (Jane, it should be noted, personally identifies as non-binary, although their musical alter ego is female.) That most of the world (even those without an HBO subscription) know Daenerys as "the Mother of Dragons," made the reference too good for Jane to pass up.
"I thought that would really go in the club," says Jane. "No one's fucking with the unburnt mother of dragons."
Jane began working on NEVAEH shortly after the release of fantasii, amid a period of introspection and personal healing. The artist, who lives with bipolar disorder, was hospitalized for three days before going on the fantasii tour; old-school gospel music, and the transcendent joy attached, proved essential in getting them into a better headspace for the ensuing trek, and more importantly, shaped their vision of what was to come. "I was listening to a lot of OG gospel music trying to keep my head together and thinking a lot about some sort of salvation or ecstatic. It just sounds so ecstatic to me—even the way NEVAEH sounds so dramatic, ecstatic and joyful." Gospel music fuels the album's aesthetic spirit as well, from the title (heaven spelled backward) to the epistemological themes (the nature of divinity, the specter of apocalypse). "I do make music from a sacred place. I'm trying to answer what sometimes does feel like a calling," says Jane.
Merch for this release:
Vinyl LP
Keeping all this world-building in mind, NEVAEH represents what Jane calls a "Negro heaven," inaccessible but ever-felt: "There's a lot of songs about boundaries and establishing boundaries. Even Nevaeh is a boundary because it's a space outside of this [world]." But Jane also pushes the boundaries of these liminal confines, interspersing poetry and old Black revival songs with declarative tracks about Black femmehood, sexuality, self-love, and self-discovery. On the first track, "Opening Skit," Jane sets the tone over electro pings while reading Lucille Clifton's poem, "Won't You Celebrate With Me," which ends with the line, "Come celebrate with me that everyday something has tried to kill me and has failed." The ending track, "when the saints (reprise)," is similarly defiant—an apocalyptic gospel rendition of Louis Armstrong's song of the same name, loaded deep with relatable references to class disparity like, "When the rich go out to work." Taken in tandem with the production's unsettling calm—fading, futuristic chimes aren't exactly the first thing that comes to mind at the mention of certain doom—makes the end of the world sound almost comforting: an urgent opportunity for people to begin new again, rather than a grim finality.
Spiritual backdrop notwithstanding, Jane's ultimate goal with NEVAEH much like fantasii, is a practical one: Creating space for Black women and femmes in music. Consider lead single, "Sanaa Lathan," an anthem that celebrates Black femme bodies over a hard beat with a refrain that declares, "Brickhouse stacked thick bitch/ Sanaa Lathan hips bitch/ Built like I'm from the South 'cause I'm from the South." The track came to them moments before a recent show, when they tried on an ill-fitting pair of pants their stylist had picked out; instead of taking the incident as a blow to their identity and personhood—it was, after all, a reminder of how high fashion often leaves Black bodies out of the conversation—they galvanized it into an unflinching display of pride. Ultimately, that's Jane (and MHYSA) in a nutshell: unburnt and unapologetic, hellfire repurposed as positivity.
"My favorite music at this point gives me the space to talk about things that I don't have the energy to talk about myself, and I think I try to do that with my music too. Some of it I made so you can feel good at home before the club," says Jane. "And I hope you feel good after the club even if no one talked to you at the club."