CERTIFIED
Artist of the Week: Helena Hauff's Unplanned Rise Through the Ranks
By Adam Badí Donoval · August 06, 2018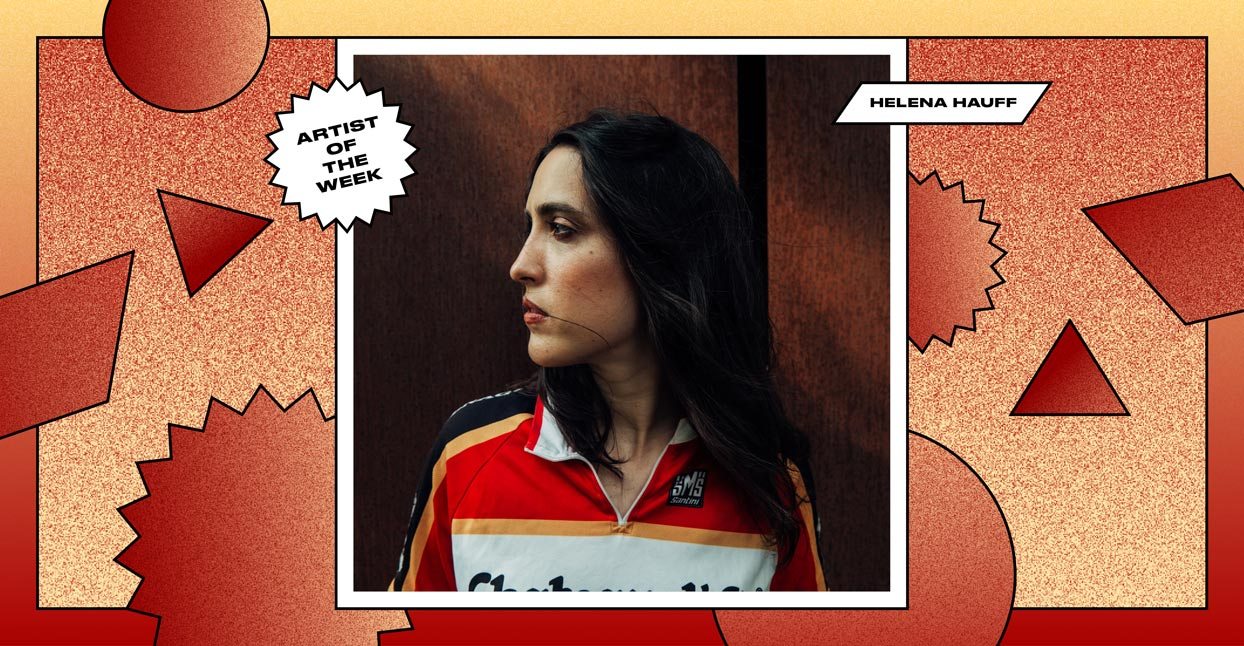 "I don't plan things. If I plan things, I always end up somewhere else anyway," says Germany-based DJ and producer Helena Hauff. "I don't think much about the future, and I don't think much about the past, either." Hauff may never have deliberately planned to have a successful career in music and yet, here we are: she has released her second full-length album Qualm via Ninja Tune, her mix for BBC was named Essential Mix of Year 2017, and she recently headlined festivals like Dekmantel and Sónar.
Merch for this release:
Vinyl LP, Cassette, Compact Disc (CD), Vinyl
And while it may be unplanned, Hauff's success is no coincidence—it's the result of an unparalleled dedication and love for what she does. Several years ago, Hauff abandoned her university studies to focus on a full-time career in music. At that time, she was almost exclusively DJing, practicing daily in Hamburg's Golden Pudel club, eventually working her way up to a resident DJ spot. Not long after establishing herself as a fantastic selector and DJ, she started discovering the beauty of using hardware to produce music. "I was friends with a DJ and producer from Hamburg called Meta.83. He had a studio and he invited me around to try and work with the machines, and that's how I first got in touch with working with hardware. I actually bought my first machine off him—a 303. That's how it started." Soon, an Akai MPC2000 followed and Hauff started jamming.
From the very beginning, jamming was at the core of Hauff's material. Actio Reactio, Hauff's first EP from 2013 recorded in a single take, introduced her vision of raw, distorted, and immediate techno music. Less than two years and a few releases later, her debut album Discreet Desires expanded on that vision, adding more melody and planning into the mix. "I worked more with melodies and layers, and it was way more structured. I had a very clear idea of what I wanted it to sound like," she says. Last year's Have You Been There, Have You Seen It EP was a little rougher and more off-kilter, and with Qualm, her latest album, Hauff harkens back "to jamming and working with fewer elements and layers," returning with songs more powerful than ever before. The tracks are sparser, too; the massive opening track "Barrow Boot Boys" consists of only two drum machines and synth noise, and the thumping "Lifestyle Guru" is just a drum machine and a synthesizer.
Merch for this release:
Vinyl LP, Cassette, Compact Disc (CD), Vinyl
The title of the album has a duality that Hauff thoroughly enjoys. The German "qualm" (kvalm) translates to "smoke" or "fumes," whereas the English version is defined as "an uneasy feeling of doubt, worry, or fear, especially about one's own conduct." "I liked the idea of having a word that means different things, because I don't really want to tell people what they have to think about the whole thing," says Hauff. Both definitions suit the album perfectly. The title track feels both uncomfortable and vaporous; the melody line is melancholy, but soon drowned out by whooshing noise that sounds like one hundred smoke machines. "No Qualms" which follows the title track, utilizes the same melody, putting it into more characteristically rhythmic context.
Musically, Qualm feels varied, but cohesive. On "btdr-revisited," Hauff evokes uneasiness using wonky melody lines and unpredictable beats. "Entropy Created You And Me" is more gentle and less substantial, the melody cascading up and down over a gentle drone backdrop. Perhaps the most futuristic and industrial track is "Hyper-Intelligent Genetically Enriched Cyborg"; sludgy, shiny, and fast-paced, it's bound to captivate audiences on dancefloors all over the globe. Hauff labels the closing "It Was All Fields Around Here When I Was A Kid" the "most cheesy" track on the record, and jokingly admits that there seems to be some confusion regarding the name. "I'm not a very nostalgic person. The last title is kind of funny because I didn't mean it in a nostalgic way at all, I meant it more like when old people are really grumpy and they say those kind of things," she says, laughing.
Merch for this release:
Vinyl LP, Cassette, Compact Disc (CD), Vinyl
All of the tracks which appear on Qualm were created in the past year in Hauff's home studio in Hamburg. "Working with machines definitely helps [me] to be a bit more focused and to have a starting point, to have the sound of the machine," she says. Where others think, Hauff relies on instinct. She works completely alone, her ideas bouncing off the machines, which in turn often spark new inspiration within her. This is how all of the songs on Qualm came about.
Assembling what are essentially hours of jam sessions into a wholesome album can pose quite a challenge, but this is where Hauff's expertise as a DJ comes into play. "When I finish a record, I approach it as a DJ. I think of the flow of the tracks, almost like I think of a DJ set. So in a way, this is where the two worlds come together. I just think, 'What would I play next, if this were a DJ mix?'" she says. This is why Qualm doesn't feel tiring or boring at any point. Its sequencing and curation pull you from one track into the next without any jarring or unpleasant transitions. It's a truly fantastic album: it's focused, yet varied; vaporous, yet hard-hitting; melancholy, yet euphoric.
If Hauff had to choose to be either a DJ or a producer, she says she would choose DJing. Fortunately though, she's never had to make that choice.