CERTIFIED
Artist of the Week: Matchess's Experimental Healing Sigils
By Jordan Reyes · July 30, 2018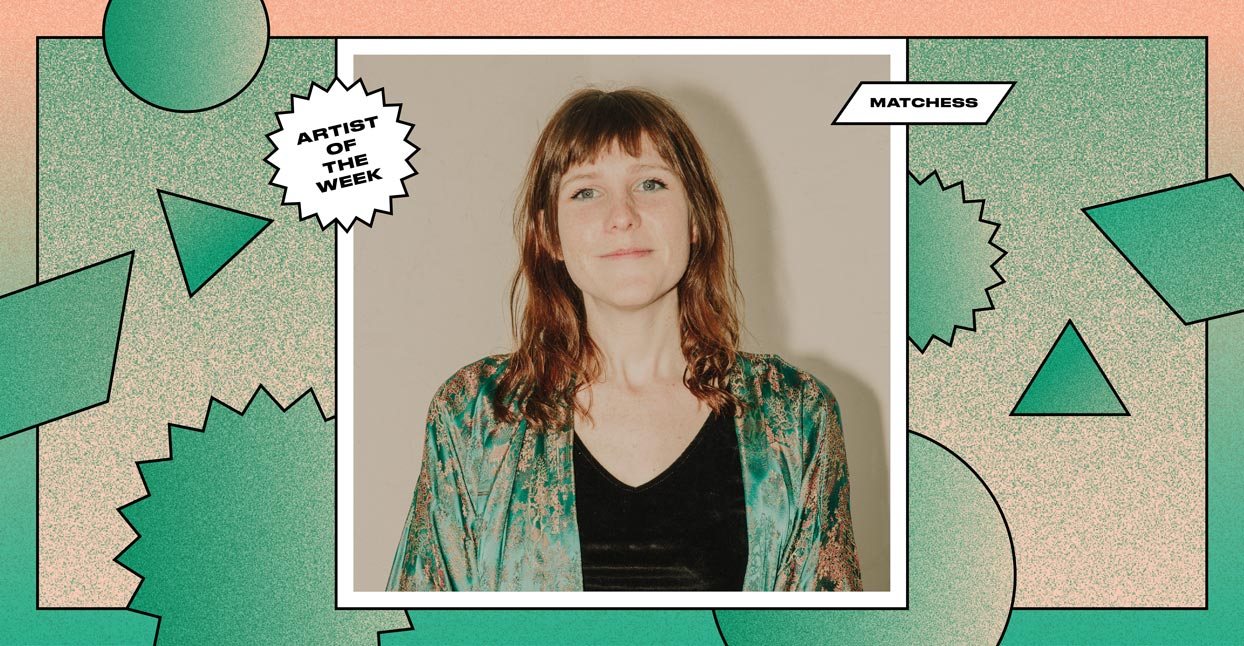 For Whitney Johnson, aka Matchess, the spiritual, the fantastic, and the academic are all sources of inspiration. In the months following the defense of her dissertation "Learning to Listen: Knowledge of Value in Auditory Culture," she has been embracing lighter reading, forgoing the dense philosophy and social research that colored her stint as a PhD candidate in the University of Chicago's sociology department. "Anything that's otherworldly has been my jam," she says over food and drinks at Chicago vegetarian restaurant Handlebar, noting that she's currently reading Dan Simmons's Hyperion.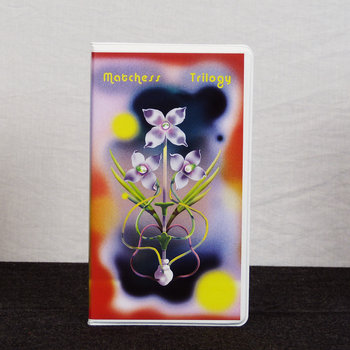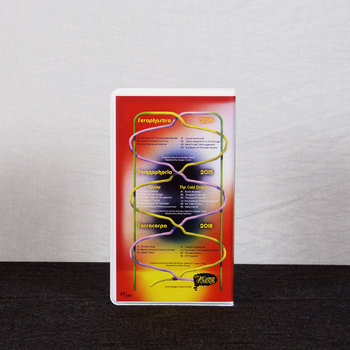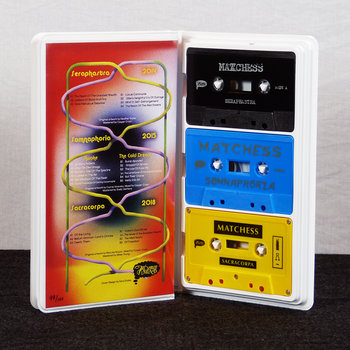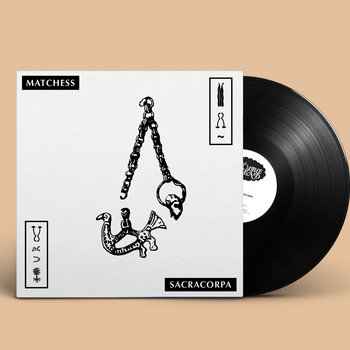 .
00:10 / 00:58
Merch for this release:
Cassette, Vinyl LP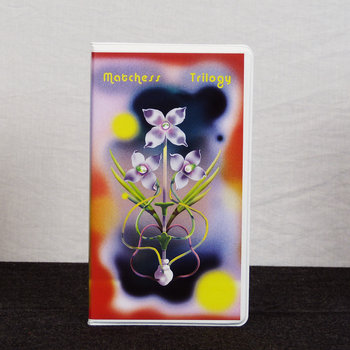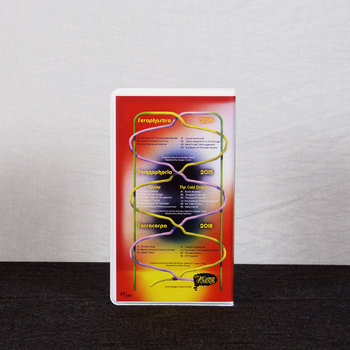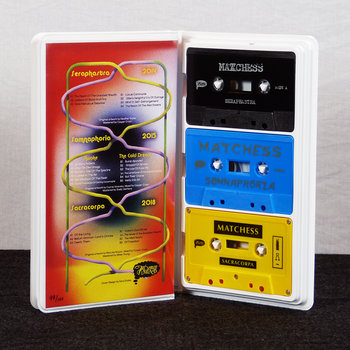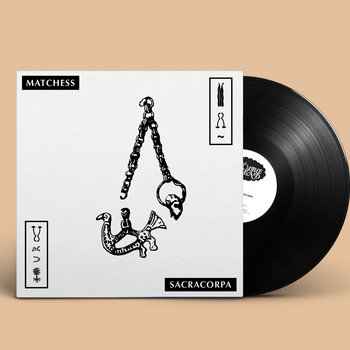 Johnson has lived in Chicago for more than a decade, first arriving in 2003, spending 2004 in Boston, and returning in 2005. Since then, she's received Master's degrees in Public Policy and Sociology in 2009 and 2012, respectively. Music and art figure strongly in her work, in terms of research and teaching. She's also a program assistant at Chicago experimental arts foundation Lampo. Creatively, Johnson has always made music—"I played piano as a little kid," she says. "We didn't have a piano, though, so I had to play on a two-octave keyboard, which was duophonic. I quit when I got beyond playing two notes at a time, but in school I started viola early on, in fourth grade or so."
Along with maintaining a rigorous academic schedule, Johnson's tenure in the Windy City has been marked by playing in bands like psych-pop band The 1900s, indie pop band The Notes & Scratches, and contributing as violist to Via Tania, Dave Fischoff's work, and more. It was her space rock band Verma, which began in 2009, that saw Johnson first taking the role of frontperson.
In Verma, Johnson played organ, viola, and sang, three of the four components that make up the Matchess project (as Matchess, she also uses an Ace Tone Rhythm Ace drum machine). Matchess eschews Verma's krautrock-inspired sound for a psychedelic ambience that can haunt—see the arresting, crunchy "Aweh" from The Rafter, her 2016 EP on Monofonus—or pacify, like on "Of Freedom," the nearly pop-like first single on her new album Sacracorpa.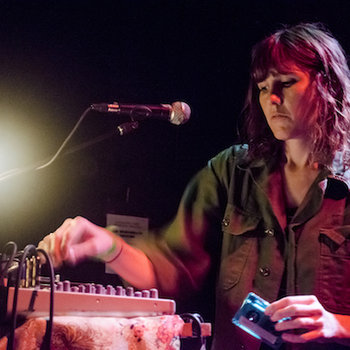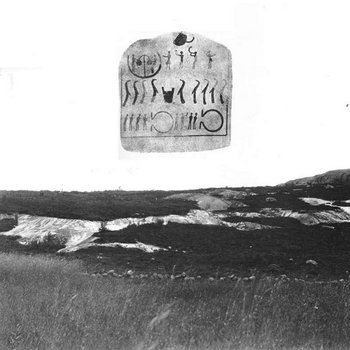 .
00:10 / 00:58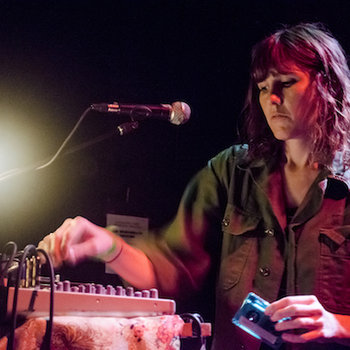 Merch for this release:
Vinyl LP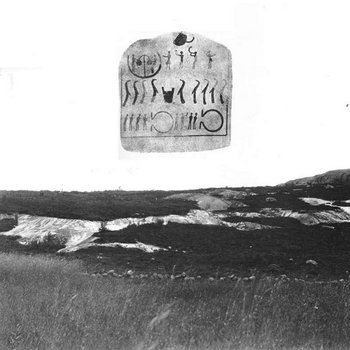 It turns out that pacification is at the root of a lot of Sacracorpa. "This was a really calming and healing record for me to make," Johnson says. "At the end of 2015, I had a medical emergency, and I made this record as I was healing from this life-threatening event. It's literally healing. I [also] had some emotional relationship stuff that I was healing from before that. [Creating Sacracorpa] calmed me. I'd listen to mixes [of the record] a lot, and be calm. The previous material was a bit more chaotic, bringing an intense energy. This lets it dissipate."
Matchess is often a conduit for Johnson, a spiritual practice of sorts; the project also incorporates Johnson's interest in the occult. When discussing ritual on Sacracorpa, she invokes an eminent chaos magician—"You know how Austin Osman Spare has the idea of the sigil?" she asks. "The sigil is a visual thing, and this was about making that a verbal or linguistic thing. Saying a phrase that comes to mind, then taking out a few syllables of that. The same way of taking lines from something else that maybe doesn't signify anything to someone else, but it does to the maker, and it becomes powerful that way, infused with energy. So I can create something that is a collection of syllables that are powerful to me from the phrase itself." The linguistic sigil idea explains the names of songs like "Ossify Them" or "Bellum Omnium Contra Omnes."
.
00:10 / 00:58
Merch for this release:
Vinyl LP
Sacracorpa finishes what Johnson thought would be a trilogy of albums for Trouble in Mind, but metamorphosed into another narrative form, the kishōtenketsu, a four-part trajectory used by Chinese, Korean, and Japanese cultures. "This is my third LP," begins Johnson, explaining the parallel, "but The Rafter [EP] came in between, so it was the two Trouble in Mind Records, then The Rafter, then this record. When I told my friend Grace Tran that, she told me about the kishōtenketsu. The kishōtenketsu is four parts—an introduction, a character development, then a third that's a non sequitur, and then the fourth returns to the first two but tying in the third. I didn't know it at the time, but Grace was like, 'That's exactly what you did!'"

Even though it's part of a new narrative structure, Sacracorpa is still a bookend. "The entire Matchess project is [the viola, the organ, the drum machine,] and then voice. I'm ready to—for the next phase—start something new, now that this trilogy, or kishōtenketsu, is done," she says, laughing. Clearly, Johnson's curiosity and imagination are still restless, and there are still many, many arcs to discover and work through.