CERTIFIED
Artist of the Week: Ava Luna Regroup For Their Strongest Project Yet
By Max Savage Levenson · September 10, 2018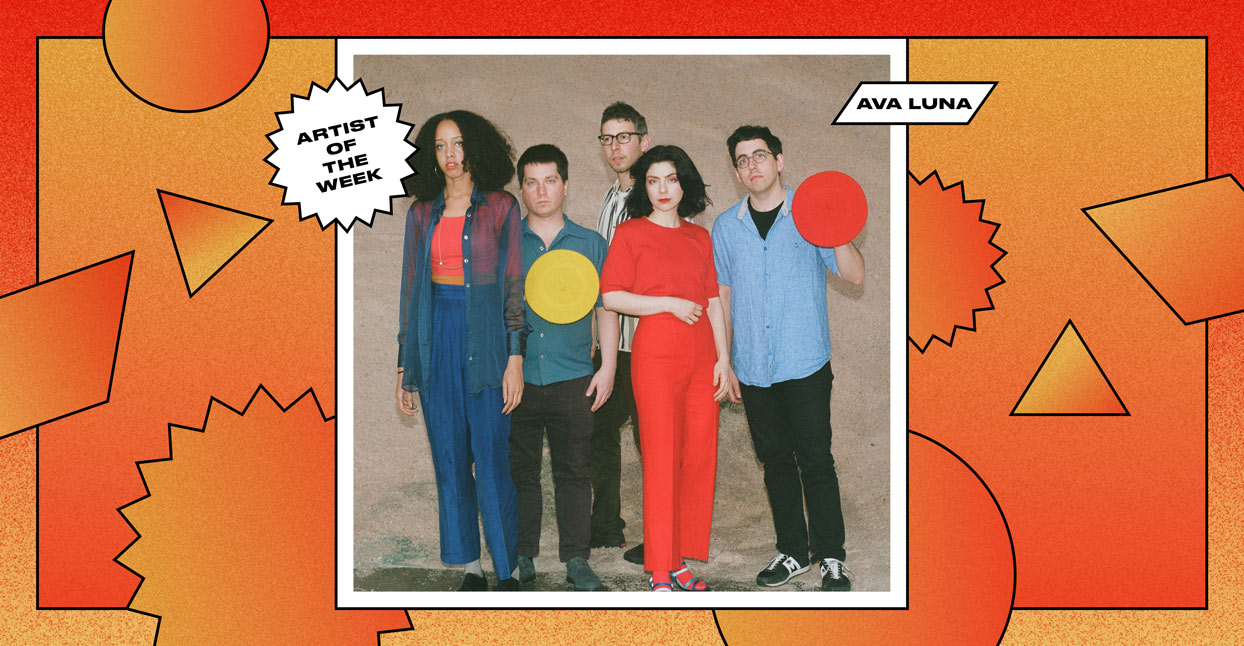 Sitting around a table with Ava Luna is an enthralling and overwhelming experience—not unlike the band's music. On a recent evening at Gottscheer, a cheery German beer hall in Ridgewood, Queens, the band is sitting at a table crowded with steins of Spaten beer, wrestling with topics that range from the personal to the ridiculous: giggly recollections of illicit high school romance, questions about what happens when you start opening random doors in Times Square, opinions on the band's new merch designs. Every topic is discussed with the kind of playfulness that's the result of years of friendship.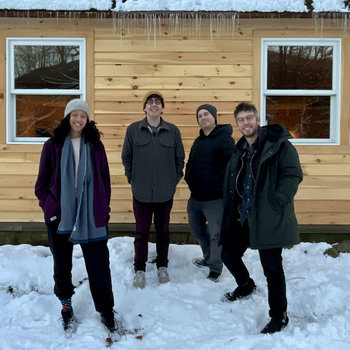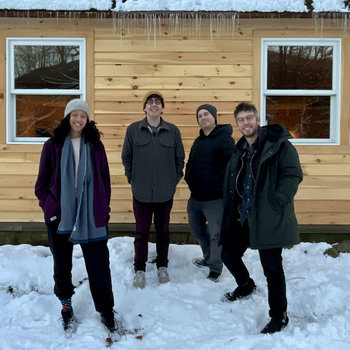 Merch for this release:
Compact Disc (CD), Vinyl LP
Even though the band, long beloved for their smart combinations of abrasive krautrock, twisted R&B, and warped pop ("Ava Luna are back, thank God" ran a recent headline in The Fader), have remained close since their last tour in 2015, it still feels like they're reuniting after a long separation. Moon 2, their dazzling fifth LP, comes in the midst of its members diving into separate projects, and finds principal songwriter Carlos Hernandez stepping back from that role in favor of a democratic and open-ended songwriting process. "It felt like we were landing on a new planet," says vocalist and multi-instrumentalist Becca Kauffman.
A few years ago, Ava Luna's future was far less sunny. On a U.S. tour behind 2015's Infinite House, their van broke down, and they spent weeks traveling the country in two rented cars, hemorrhaging money all the way. "We sold the van to a guy standing next to me at a urinal," explains bassist Ethan Bassford (real name), still sounding astonished by that bizarre turn of events. Upon returning to New York at the end of the tour, Hernandez split for South Carolina, where he worked as a stagehand at the 2016 Democratic presidential debates, and his bandmates became invested in other projects. Drummer Julian Fader hunkered down at Gravesend Recordings—the studio that he and Hernandez built near Coney Island, which relocated to Bushwick's now-defunct Silent Barn and has since moved to a rented space in Tribeca—and produced albums for Frankie Cosmos and Mr. Twin Sister, among others. Kauffman launched her outre performance art act Jennifer Vanilla and Felicia Douglass (accompanied by Bassford) recorded a sumptuous pop album as Gemma before heading out on a world tour as a vocalist in Dirty Projectors.
Fortunately, Hernandez wasn't away long—he returned to New York for a gig in which Ava Luna performed Serge Gainsbourg's cult classic Histoire de Melody Nelson in its entirety (with Kauffman in the role of Serge, no less)—and in the summer of 2016, the band rented a cozy house in rural Vermont for two weeks with no particular goal in mind. "That was when we got the band back together," says Kauffman. The sessions in Vermont, and later at a house on the Massachusetts shore, found Hernandez largely relinquishing his leadership role in favor of operating as a "ghost producer."
"Ava Luna is about stepping into the unknown," he says. "I already know what it's like to write songs… I also wanted to center Becca and Felicia as vocalists. [I wanted to] abolish the ego, redistribute power, and upend traditional hierarchies." All five musicians knew how to engineer a recording session in Logic, and they would disappear into the basement, alone or in small groups, to tinker with the tracks. "It was like making the White Album, but without the fighting," Fader says with a laugh. The mantra-like "On Its Side the Fallen Fire," held together by Kauffman's magnetic vocals and originally demoed in a bathroom, went through at least eight separate iterations before the band was satisfied.
Merch for this release:
Compact Disc (CD), Vinyl LP
Even though this songwriting process allowed for unlimited input, Moon 2 showcases some of Ava Luna's most pared-down and spacious songs to date. "There aren't any chords," Fader points out. The simmering opening track "Accessible" and "Leaf" (the only track to feature Hernandez on lead vocals, with none of his trademark throat-shredding howls) are the sparest the group has ever written; sparse percussion and rusty skronks of noise bring to mind the skeletal beauty of Spoon's Kill the Moonlight. But much of the album is uptempo: on "Set it Off" and the playful lead single "Deli Run," Bassford riffs like a less flashy Thundercat as Fader's crisp drums clatter, and Douglass and Kauffman sing with the same gravitas they employed on one of the band's most gripping songs, Electric Balloon's "PRPL," but delivered with fresh levity and kinetic energy.
That whimsy extends to many of the songs' narratives as well. Back at the beer hall, Kauffman quips that the members of the band, now in their early 30s, have entered the realm of being "upper-limit millennials," and a similar light-hearted malaise threads its way through Moon 2. Addressing "Deli Run," Douglass, who's in the midst of the Dirty Projectors tour, writes: "It's a quick recap of a fun weekend, but can also be interpreted as an immature way to long for someone's company, [like], 'I had the best time but I guess you had better things to do.'" Later, on "Walking with an Enemy," caught off-guard by a creep, Douglass can only deadpan: "Oh, fudge." There are more abstract observations, too—"What's louder than loud?" Kauffman intones on "Accessible," for instance—that sync perfectly with the more downtempo and impressionistic songs. Each of Ava Luna's albums celebrates variety; Moon 2 is no exception. What's different this time around is that the ideas are being generated by everyone; finally, as Kauffman puts it, "each voice stands alone."