BIG UPS
Hayden Menzies of METZ Picks His Bandcamp Favorites
By Mariana Timony · October 07, 2020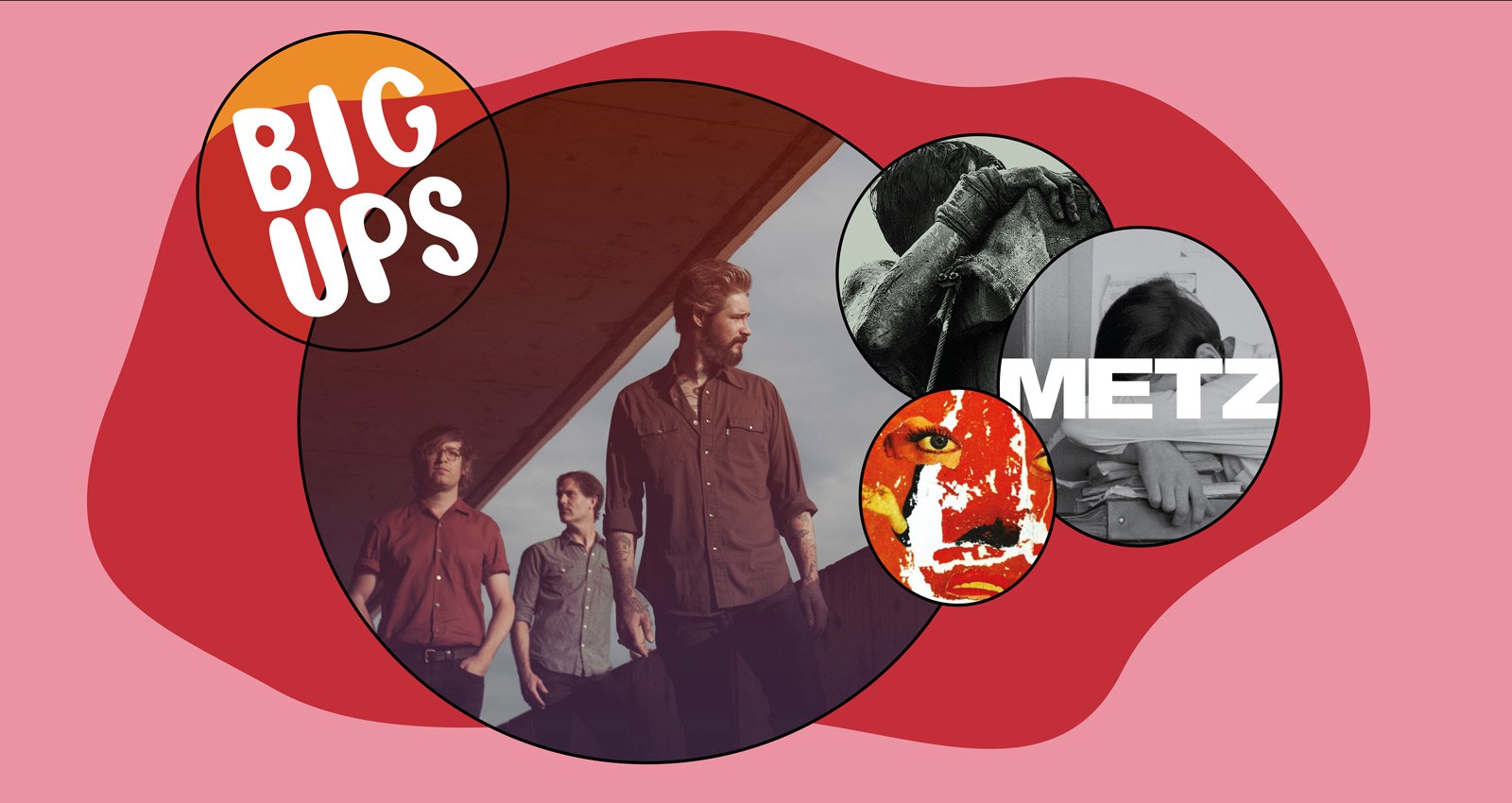 METZ were in the middle of a West Coast tour with Swedish hardcore band Refused early last March, just as the beginnings of pandemic-related panic began to ripple through the country. 
"We started in Seattle and as we went south, there would be a different kind of vibe to the way people were handling it," remembers drummer Hayden Menzies. "Every time we went somewhere else, we didn't know what it was going to be like. The shows were still good, but you could tell people were kind of reading the room, trying to accumulate as much information as possible."
That tour ended up being the last time in a long time that METZ would play any of the songs off their new record, Atlas Vending—or play together at all. They've only just recently been able to reconvene in-person again after spending lockdown in Toronto "doing phone calls and Zoom chats, not even to talk about the band or business, just to catch up because we're still very close and that's extremely important to us." 
Merch for this release:
Vinyl LP, Compact Disc (CD), Cassette, T-Shirt/Apparel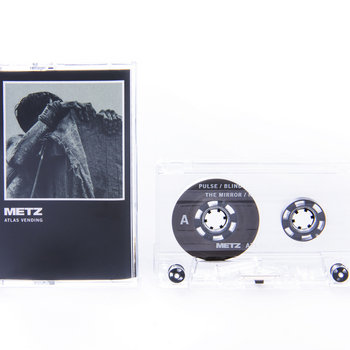 Things are obviously a bit different than before the pandemic. Now when METZ rehearses, everyone is wearing masks, and Menzies is drumming behind a huge sheet of plastic he likens to "a little spaceship." But it's still fun, Menzies says, and a welcome escape from the world. "If you're lucky enough to lose yourself in the song when you're playing, you forget what's happening outside that little room that you're in," he says. "You're wearing a weird costume and there's a few extra steps, but it doesn't really change the dynamic in any way. It still feels like us."
Atlas Vending also feels like METZ, but a more nuanced version of a band that's known for being one of the most punishing rock acts around. They haven't forsaken the bone-shaking sonic attack upon which they built their well-earned reputation. Still, for this record, their fourth, the band wanted to "make it sound bigger where it needed to be bigger and softer where it needed to be softer and achieve something that didn't give the same amount of ear fatigue as out other records," says Menzies. "I love all our other records, but some of them are on the abrasive side where there's a bit of extra effort required from the listener to make it from start to finish. We wanted this one to be more upfront." 
METZ had some help in achieving their goal for the record from two heavy music scene stalwarts. They chose to make Atlas Vending at Machines with Magnets in Pawtucket, Rhode Island after hearing about the studio for years from friends in bands like Daughters who had recorded there and raved about the space, the drum sound, and engineer Seth Manchester, who is "an incredible engineer and mixer and just really fun to be around," says Menzies. Ben Greenberg of Uniform, a longtime friend of the band, was brought on to co-produce. "We all lived in the studio for two weeks and it was a collective group effort," says Menzies. "Just the camaraderie, living that whole process every day for two weeks, it was just a joyous occasion. That whole team made it an enjoyable experience."
Merch for this release:
Vinyl LP, Compact Disc (CD), Cassette, T-Shirt/Apparel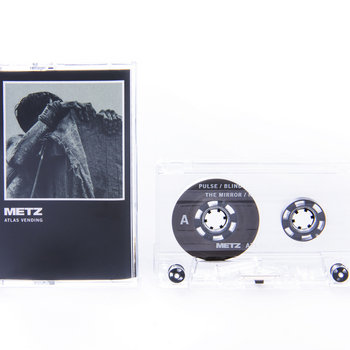 That sense of joy is palpable on Atlas Vending, which really does feel like a band hitting a new peak in their musical development and cracking open their sound in a way that might not have been possible in the past when, as Menzies puts it, they "were always revving pretty high" in order to make their songs as big as possible even if "it all seemed to be balanced between 6 and 10, there was no 1 and 5." A more conscientious approach to levels has brought METZ's talent for drawing huge hooks out of noisy chaos to the forefront—think the grimmest bits of Bleach blown-up to a massive scale—and the pay-off is that their already visceral sound has become even more dramatic. Atlas Vending is "a new level of crafting the songs and not being afraid to embrace some melody and some quiet parts from time to time that sets up the bigger hits to hit even harder," says Menzies.
For any established fans of the band reading this and balking at the idea of a more melodically-inclined METZ, don't worry: Atlas Vending is still loud as shit, and the band appreciates you taking a chance on them as they take a chance on themselves. "You don't want to alienate people who've been along for the ride, but it makes it that much more grateful for the people who do stick out with you and let you try different things," says Menzies. "What's important to us is to stay in motion and not get stuck in some formulaic approach about what kind of band we're listed as. It was important for that to truly come across in the sound of the record."
In celebration of the release of Atlas Vending, Menzies recommends some records from his Bandcamp fan collection that are similarly shaded in tone and approach, ranging from the Caretaker's ambient exploration of mental decline to goofball party anthems from Sweden's Viagra Boys to wordless synthwave from Pittsburgh and a big love letter to the latest from Uniform along the way.
"This was recommended to me by a good friend. I'd never heard it and I didn't know what to expect when I first started dabbling with it. It has almost this film texture, almost like background music. It's obviously very nostalgic, down to the gramophone crackles of an old vinyl record. Then the longer you listen, the more disturbing it gets. It takes you on this journey from feeling calm and content to this really haunting feeling.
"Digging in more about the project and the ideas behind it, it is kind of a disturbing journey because it's this exploration of nostalgia and memory and dementia and aging and loss of self, which I think is kind of terrifying for a lot of people and understandably so. Whether it's a family member or someone else you know, this kind of thing touches everyone and it's a scary thing. To find the appropriate musical companion to that idea is brave and interesting. I'm definitely not drawn to it for the morbid side of it. I think it's a beautiful record, but it is emotional. It goes from one side of the spectrum to the other. It's worth a listen, but don't be prepared to come out feeling very good after."
Viagra Boys
"Sports"
"We played Desert Daze last year and we had a really early flight so we were packing up to leave. Viagra Boys were about to play and we were able to catch a few songs. I had just met up with an old old friend from Virginia who at the time was living in L.A. and his wife is a huge fan of the band. Then a few weeks ago I was texting with him and for some reason that memory popped back into my mind. I was like, I'm going to see what Viagra Boys have released recently.
"This is in some ways the antithesis of the Caretaker approach to music. It's dumbed down and I want to make sure to say that it's not dumb or that no thought goes into it. These guys can play and it's fun, it's not funny music—they're just fucking good. We've seen them a few times at festivals and they've always been really good. I thought this was a really catchy song. I listened to it three or four times in a row in the car one day and was like, 'Yeah, I love this song.'"
Merch for this release:
Vinyl LP, Compact Disc (CD)
"We are very good friends with this band and they're just phenomenal live. I love watching them play. I remember seeing FACS for the first time and just being gobsmacked by the drummer. I think the term minimalism can come across either pretentious or lazy, but somehow they master this approach where it's engaging from the first minute to the last. There's these dynamic shifts—from a really major way where's this flood of something new coming down the pipe when you're listening to the most subtle shifts, but it keeps you engaged as you go. To be able achieve that dynamic and showcase that restraint and just unleash when it's necessary, that kind of patience, very few bands that can do that successfully and powerfully. FACS are one of those bands. They're just firing on all cylinders every time and their songwriting and production sound is inspiring."
"This is turning into me just listing all my friends. Evan Patterson who is Jaye Jayle has been a friend of ours for an extremely long time. He was also in the band Young Widows, who we all love dearly. When Evan started doing Jaye Jayle, I was interested to see what he'd get into. Everything he's done is slightly different than the last thing he's done. Evan is a very soulful guy, so I love that he has elements of Italian Spaghetti Western soundtracks in some stuff right up to something that sounds like a synthed-out ELO song, but with a darkness to it. I love how he can adapt so easily and he just sees it through. It's one thing to pine over details and over-work things, which is sometimes necessary to get the best possible result. Other times if it sounds good and it's simple, just go with it. I'm not saying that his stuff is simple by any stretch, but I think he has one of those creative minds that accepts it for what it is and it doesn't matter how it was achieved. It matters how it sounds, how it feels, how it's presented. I think he's one of those people who observes the whole picture. He can spread himself evenly over all aspects of what he does as a musician and I think that's really inspiring and interesting. I always love hearing what he gets up to. I respect that guy very much."
Merch for this release:
Compact Disc (CD), T-Shirt/Apparel, Vinyl LP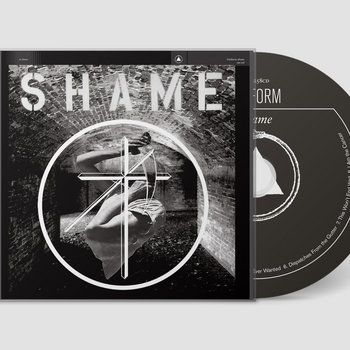 "Uniform is an all-or-nothing band and I respect the hell out of them for it. I think this new record has taken what they do really well to a new level where it's… I don't want to say it's enjoyable to listen to, because I think part of the point is that it shouldn't be enjoyable all the time, but in that way they make you feel something. Some of the sounds and production choices are really abrasive and I think Uniform does a really good job of curating them to push that envelope a little bit more on listeners or themselves. I think that comes along with the familiarity of studio stuff, but I also think it comes across in the songwriting too. They just want to come across in a certain way and they nail it. 
"I don't have specific examples, but it is possible for bands to just say, 'We'll just turn it up really loud and we'll look scary for 30 minutes while we're playing.' They wear a certain hat onstage, but they don't really live it and it's not really important to them. It can be very transparent when it's not done sincerely. Michael [Berdan] is a really sincere, heartfelt guy and I love that when people can embrace that instead of trying to cover it up. He's one of the most sincere people I've ever met. You believe that look in his eye when they play and I can picture that when I'm listening to the record. Uniform aren't posers, man, that's what I'm trying to say."
Merch for this release:
Vinyl LP, Compact Disc (CD), T-Shirt/Apparel
"I think I remember seeing Zombi at a house show when I lived in Ottawa. It had to be them because I think they existed at that time. It was just a two-piece, a drummer and one person playing bass and synth. It was amazing. It's hard to do a band without lyrics. It's really difficult because you're choosing to omit an extra layer that usually connects with people. So if you're going to pull it off without singing, you have to be able to do it well. 
"On the last European tour we did, I was reading more just to get off my phone all the time. I have such an anxious brain that if I'm listening to music that has singing in it and trying to read a book at the same time and dealing with my own personal demons, I'll read the same line over and over again 50 times. I needed something in the background to zone out to, but I wanted it to be music and not wave sounds. I was looking through my phone for records I had saved and Zombi was one of them. I remembered going to that show and remembered that they had no vocals. I really sunk into it and it kind of made for a really pleasurable experience to have this soundtrack. I don't want to say background music, because it really was the forefront of what I was experiencing as we were driving and I was engaging in two different mediums at the same time. I think they do the ode to Goblin, the old Italian band that they've been vocal about being inspired by, and the John Carpenter-esque film score thing, they do it very well. They're a cool band. There's not a lot of bands like them."