BIG UPS
Big Ups: Priests Pick Their Favorite Bands on Bandcamp
By Isabela Raygoza · June 15, 2017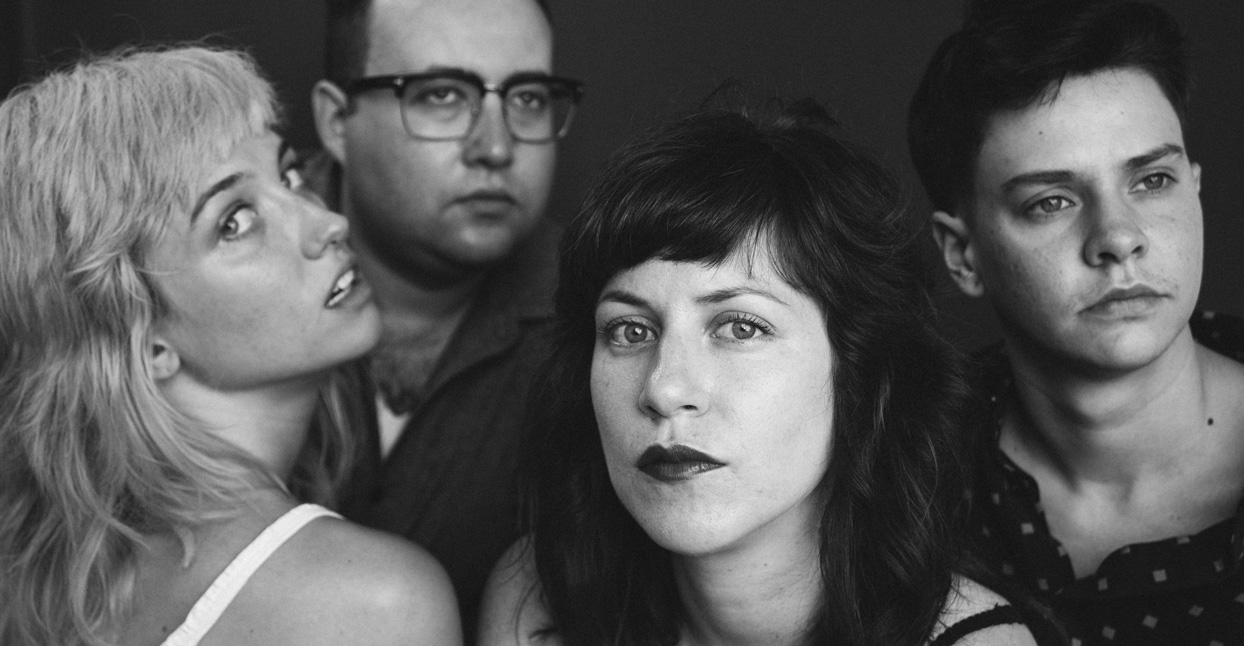 When Priests emerged from the D.C. underground, they were quickly characterized as no wave-inspired noisemakers. But singer Katie Alice Greer is hesitant to embrace that description: "I'm usually pretty wary of people using that signifier for musicianship," she says. "It's more of a historical reference point." Indeed, with each new release, the fiery foursome have subtly honed and refined their sound, while also becoming one of the most inspiring activist-punk agitators around.
We recently caught up with the band—Greer, drummer Daniele Daniele, guitarist G.L. Jaguar, and bassist Taylor Mulitz—via FaceTime while they were at an Airbnb in Carcassonne, France. "We just finished off 10 shows in a row and this is our first night off," says Daniele. "It's nice to have a night to relax."
Listening to tapes together is one of the group's favorite leisure activities, especially while on the road driving from gig to gig. So asking them to choose their five favorite Bandcamp releases was an easy task. "All of these are albums were in heavy rotation four or five years ago, when we were first figuring out what we were doing," says Greer. "Most of our picks are bands that didn't really pursue music as a profession, exactly. They all do other stuff, they just happen to be really gifted musicians at the same time."
From raunchy provocateurs to humorous, ballsy lyricists, here are five acts that fuel Priests' creative energies, the latest edition in our Big Ups series.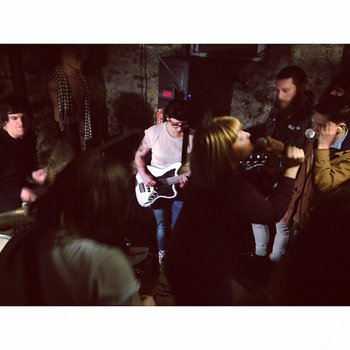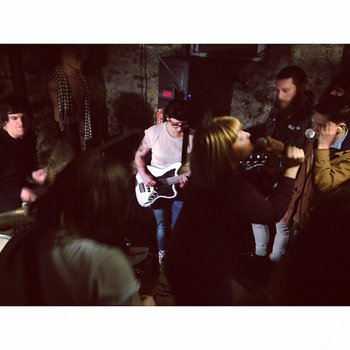 Katie Alice Greer: Good Throb put out a 7″ [in 2012], which I bought from someone who was distributing it in the States. We all heard it and thought it was amazing, so we wrote them a fan email while on tour in Texas. We were shocked when they wrote back because our letter basically just said, 'You guys are the best band! We're touring Texas!' They wrote back, 'Hey, cool! We're in London. That's where we live. We're gonna tour the U.S.A. Do you guys wanna tour with us?' I think I peed my pants when they said that. We never had that experience before, where a band we didn't know personally wanted to tour with us.
They're a big influence on us because of how raw and exciting they are. Everyone plays their instruments in such a simple manner, but also in a very visceral, severe, and direct way. Both Good Throb and Stickers [one of our other picks] have lyricists who are humorous and witty. I don't think that there's enough modern underground music with people saying really pointed but amusing things. 'Bag,' one of my favorite songs from this release, is a good example of that.
Daniele Daniele: 'Bag' is about having a nervous breakdown over the choice of taking a plastic bag when you're leaving a grocery store—which I've seen happen! It's mundane, but powerful.
G.L. Jaguar: After we went on tour with Good Throb, I went to London for a cousin's wedding. I was staying with one of the members of Good Throb, and we were just hanging out. They were giving me suggestions of bands to check out, and one of them was Primetime. I was fortunate to see them live and get their record. It's such a solid 7"— all killer, no filler. The main hit on there is 'Tied Down,' it's really excellent. There's a really wonderful video to accompany it by Roxanne [Clifford] from Veronica Falls.
Daniele: We played with Primetime and Oomancy at Brighton on our first U.K. tour [in 2015], which was amazing. They were great live.
Greer: Some of our first shows out of D.C. were in New York, and a couple of those were with Household. We were all so impressed with their musicianship and songwriting. Talya [Cooper], who's in that band, is also in a hardcore band called In School, who are equally incredible. Each group showcases her versatility. A lot of people who come from that scene have really astute taste in music, and you can hear that in their many different projects. The lyrics in Household are so direct. They do this awesome thing where there's a song that's chill and sparse musically, but there's some anger behind it. There's some really good digs on that album.
Daniele: There's this single called 'Go Away.' It's sly in the way that it gets at its point. It has this very cool exterior, but there's a very pointed, personal critique in a lot of the songs.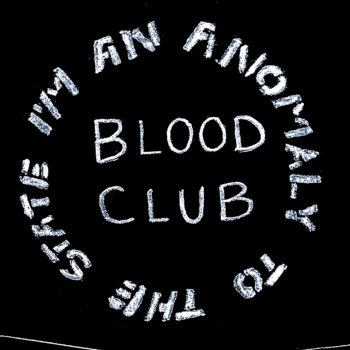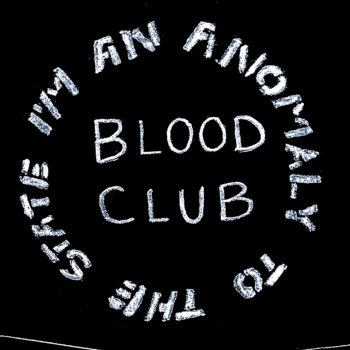 Merch for this release:
Cassette
Daniele: Blood Club is a person named Liana [Hell Lean] who we met at one of the first Priests U.S. tours in Boston. I was so impressed by their embrace of the weird. I think they got into music super young, so the idea of doing it in a traditional way was boring. They always try to push the envelope by being super creative. They have an ethical approach to what a music community could be that's different from the mainstream. We met Liana a long time ago, and have seen and experienced their past three releases, watching them evolve over time. This last one, A Wood With Knots, really just caught us with its beauty, subtlety, and texture.
Greer: Their two other releases are called Unattack and Chrysalis; I love those tapes so much. The first time we played together in 2013, they were like 13 or 14 years old. I still have a Liana's Fire [their first music project] patch sewed on to my backpack.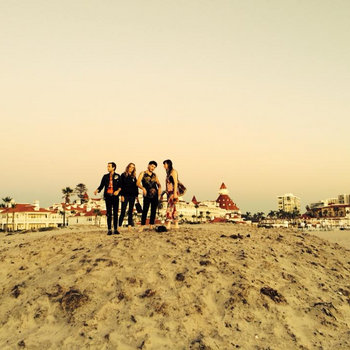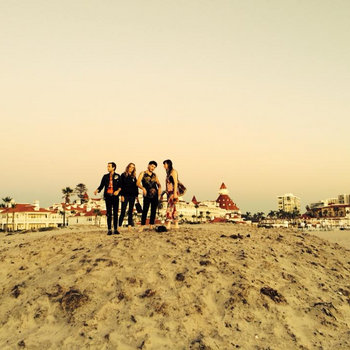 Greer: I found out about them right around the time we started Priests. I was playing in a band called Chain and the Gang who had members in the Pacific Northwest, so I spent some time up there recording a record. K Records is out there, and they have always been really big on distributing different band releases, especially from the area. Stickers are from the Pacific Northwest too. I got their tape and thought it was the best thing I've ever heard. I brought it on tour and all of us got really into it. The lyrics are very funny, but also explicitly sexual. They're a really fun band, and have a cool take on no wave as a genre.
Daniele: It also has a very personal space in our band. It was one of those things that wasn't necessarily [a musical] homebase for any of us, but we all got really into it. I remember jamming that tape so much on that tour. They really influenced a lot of how we were thinking about music while we were writing our EP. Their music is a grey area between the perverse and absurd.
Greer: The song 'Twin Peaks' on Buy My Nightmares is about making out under the altar in a church in a sanctuary. It's really gritty.
[All members collectively sing] 'I'm gonna fuck you right there on the carpet floor before the Lord.'
Jaguar: Stickers broke up, but if they're reading this: Get back together and go on tour with us.
—Isabela Raygoza