BEST PUNK
The Best Punk on Bandcamp: August 2021
By Kerry Cardoza · August 27, 2021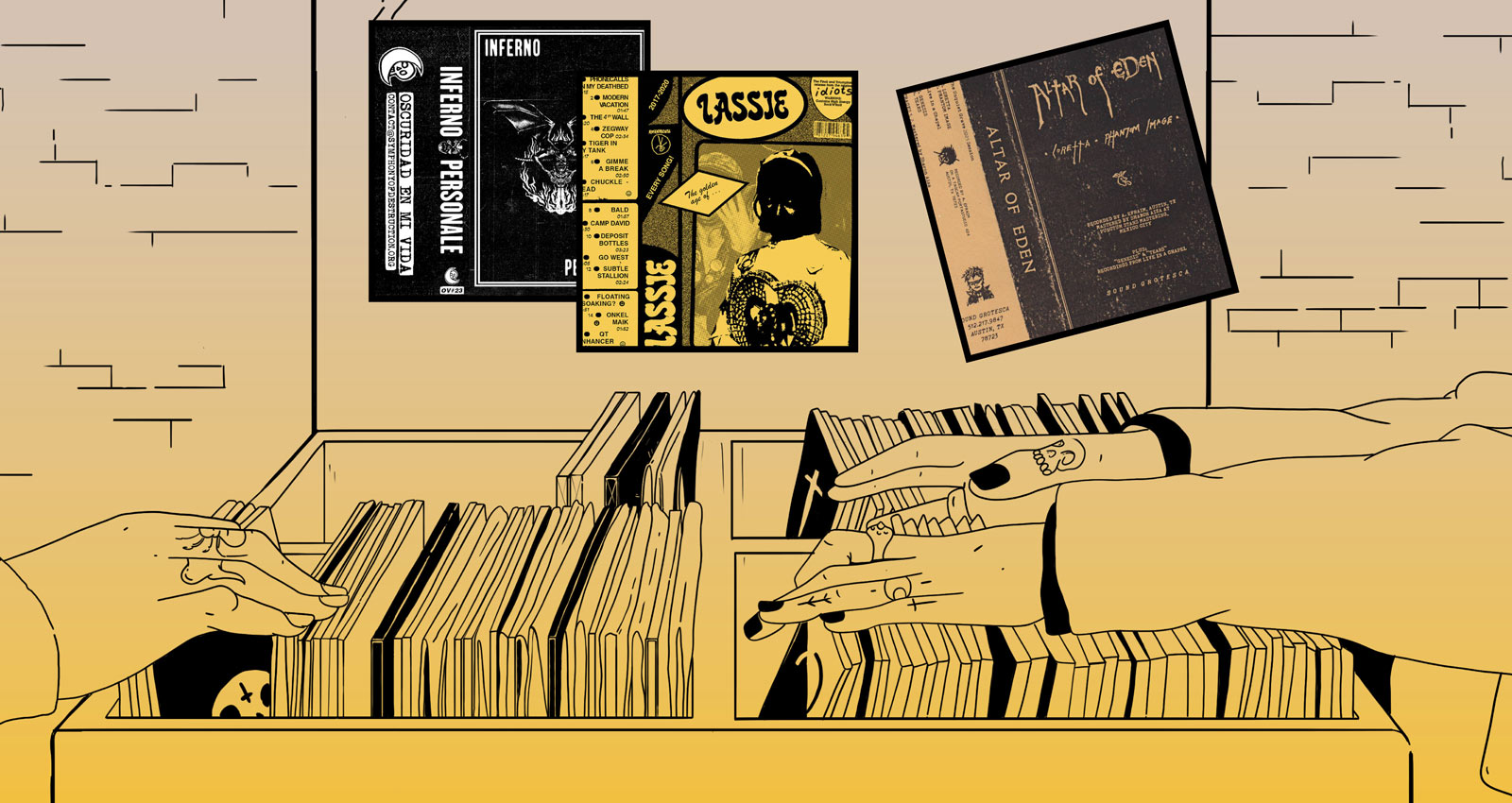 Bandcamp has long been a home for DIY punk and hardcore from around the world, touching all of the myriad subgenre styles and helping to translate the simple effectiveness of cut-and-paste to the digital age. For August's edition of the best punk releases on Bandcamp, Kerry Cardoza features the jittery post-punk of Germany's Lassie, the propulsive dark punk of Austin's Altar of Eden, the raw glam punk of Toronto's The Imploders, and much more.
Merch for this release:
Cassette
On this 15-song LP, Leipzig five-piece Lassie provides cutting commentary on the absurdity of modern life. In jittery bursts of energy, the band jeers about everything from cops on Segways to the inanity of having to go about business as usual while climate collapse has us on a collision course with the end of days. With jagged guitars, '80s synths, and bleeping sci-fi sounds that would sound at home in an alien-invasion video game, Lassie's musical leanings mimic the absurdity as well as the hamster-in-a-wheel vibe of late capitalism. Conjuring the frenzy of Gen Pop, Lassie plays post-punk through an egg punk filter, and even gets a little poppy on "Subtle Stallion." "Zegway Cop" takes the cake here, though it doesn't quite embody their supposed goal of sounding like "the Beatles on steroids"—maybe more like the Beatles on Quaaludes.
Merch for this release:
7" Vinyl, T-Shirt/Shirt
This new Toronto band has produced a killer, raw-sounding EP—impressive considering the band formed during the pandemic. A gritty, rock 'n' roll vibe comes through the rollicking guitar riffs, while the vocals are delivered in snotty, scratchy shouts. They sort of recall a faster, grittier Dead Boys. The harder offerings here, like the straightforward "Shoot to Kill" or the SoCal hardcore-influenced "Rip Em Off," are impossible not to groove to. Closing track "Vertagogo" is tightly-wound and bursting with aggression—a great end to this tight debut.
Merch for this release:
Vinyl LP
This full-length from The Lipschitz was engineered and mixed by The Funs's Phillip Lesicko, and shares a bit of his band's spirited, avant-garde attitude towards music-making. Opening track "Ventilator," though less than two minutes in length, veers from a repetitive, disjointed guitar jam to something more off-kilter, the guitar sounding like it's gone out of tune, and lead vocals transferred from drummer Rachael Boswell to guitarist Daniel Brady Lynch. The artsy punk duo, based in Chicago by way of Savannah, sound more polished and sonically focused on this release. The sound ranges from a grungy sort of egg punk, as on "Squabble," to a more laid-back garage punk (think Beat Happening) on "Laclion." I really dig the poppy dissonance of "Baby Sherri" and the downer closing track "Pip Pip."
Merch for this release:
Cassette
The only bad thing about this release is its length—it's hard not to want a lot more than four songs from this Austin dark punk trio. Lo-fi production adds to the foreboding tension of these tracks, which are full of low, doomy bass lines, phasered-out guitar, and rapid-fire drum machine beats. Lots of bands are going the gothic post-punk route these days, but Altar of Eden is surely one of the strongest contenders. Vocalist Albert Efraim croons deeply and longingly, the mostly unintelligible lyrics seem full of pain. These tracks have a haunting, spiritual quality, and in fact, the last two songs were recorded secretly in a church. Yet it's the opening track "Loretta" that's the most propulsive, the instruments ascending and descending in volume in an almost industrial tone—I recommend listening through headphones.
Merch for this release:
Cassette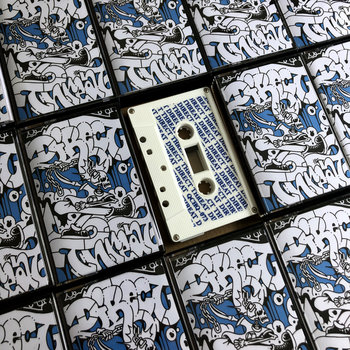 This is furious, full-on hardcore out of Denver. The noisy production quality is an indication that this band doesn't give a fuck about perfection or polish. The Oi!-influenced, garbled vocals are delivered in pissed-off rants; the absolutely brutal "Pressure" opens in a pained growl. Many of these tracks, like the slow-burning "Alone in this World" and the lightning-speed "The Victim" are stomping and infectious, hence the alternate album artwork of a boot ready to slam someone's head. Each song scorches in its own way, but "Blood Pact" is particularly hard; any chaff has been cut away, leaving a raging inferno.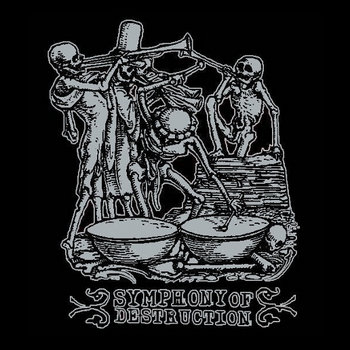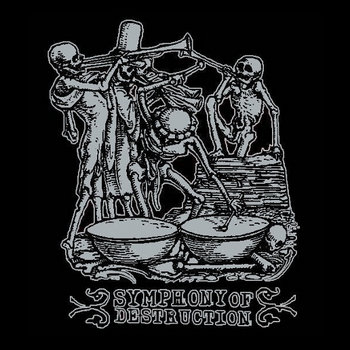 Featuring members from Germany, Italy, Colombia, and Argentina, this globally-minded, Bremen-based band shreds in multiple languages. With intense D-beat drumming and passionately spewed vocals, this brand of hardcore seems deeply influenced by Scandinavian punks like Wolfbrigade. The four-piece drenches every moment in sound, like the overwhelmingly loud "Tomorrow," though the more pared-down "Comodidad" is equally chaotic, emitting, as the liner notes state, "significant distress." The EP closes with the noisy, raw "Monologue," with several band members contributing their own howls of torment.
Merch for this release:
Vinyl Box Set, Vinyl LP, Compact Disc (CD),
Miss Kell, the vocalist of Oakland quintet ESSES, is here to haunt your dreams. On each track of this LP, a follow-up to the 2018 EP OFFERING, she has full command, delivering her lines with snotty gusto or drawing them out in slow howls. ESSES, formed in 2014, combine horror punk, as on the snappy "Infinite Void," with dark post-punk, as on the eerie opening track, the guitar creeping along at a deliberately tense pace. Set to a soundtrack of doomy bass, penetrating drums, and clashing, reverb-heavy guitars, Miss Kell's vocals provide a witchy vibe. They captivate especially on their faster tracks, such as the bass-driven "Pierce the Feeling," with the chattering guitar and Miss Kell's desperate vocals fit to set anyone on edge.