BEST PUNK
Terminal Consumption: The Best Punk on Bandcamp, March 2017
By Sam Lefebvre · April 05, 2017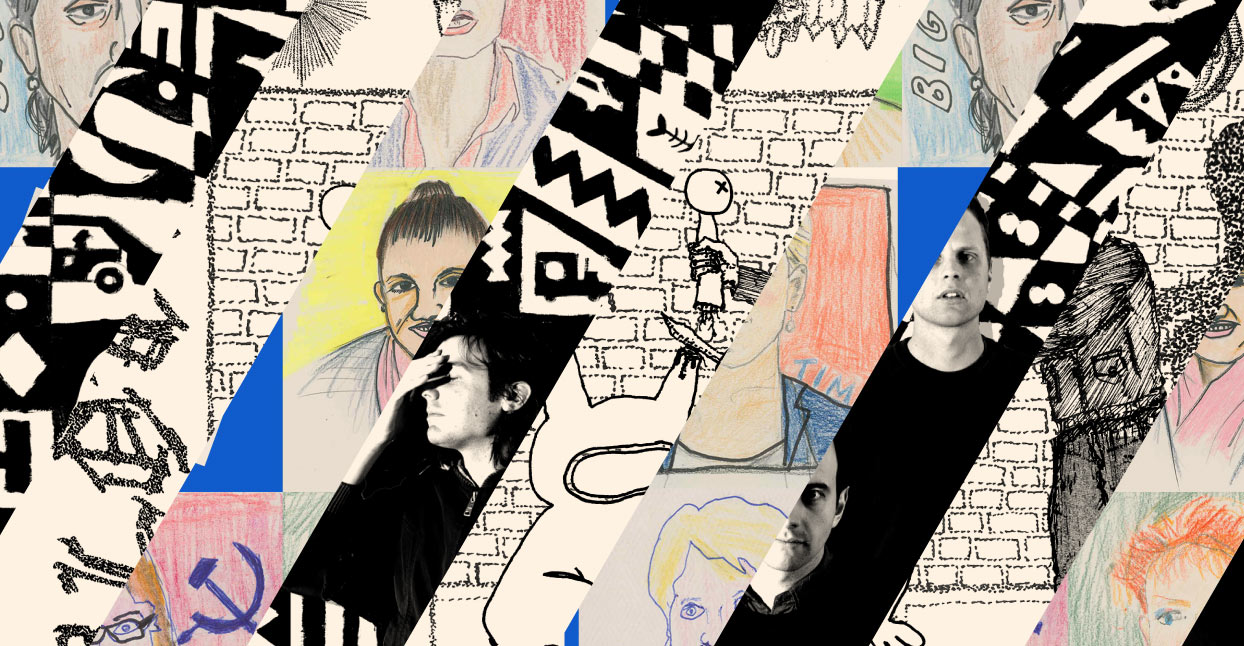 In this installment of Terminal Consumption, our monthly column focused on the margins of punk and hardcore, Sam Lefebvre interviews Daniel Stewart (Total Control, UV Race) about the latest full-length by long-running Australian foursome Straightjacket Nation.
Straightjacket Nation, Straightjacket Nation LP [La Vida Es Un Mus/Cool Death]
Straightjacket Nation are bitterly critical of hardcore—especially what they consider the sedentary politics of the genre's unthinking flock of fans. One of the band's first songs, "Herdcore," goes, "Unity/fuck unity." Instead, they prize asceticism; early in their career, they rehearsed a 20-minute set for six hours at a time and, in interviews, half-jokingly styled the band as a fanatical, separatist cult.
"We are not kids and we were never playing for 'kids,'" said vocalist Daniel Stewart, before disparaging "SSD-style unity raps and feel-good bullshit" in a 2008 Maximum Rocknroll interview. "Our music is written and performed almost entirely without concern of how the audience feels about it."
Principled selfishness helps explain Straightjacket Nation's haphazard release schedule. They're also just preoccupied: Stewart, writer and longtime publisher of Distort fanzine, fronts Total Control and drums in The UV Race; bassist Al Montfort, also of Total Control and The UV Race, plays in Dick Diver, Terry, and Lower Plenty, among other projects. Perfunctory hardcore isn't an option; they're too busy. Straightjacket Nation activates out of need, not habit.
This accounts for the concentrated fury of Straightjacket Nation, their second full-length since they formed in 2004. It's a scabrous record, all monosyllabic bark and pugilistic rhythm shrouded in dour feedback. Opener "The Wreck" makes their musical priorities plain: strangulated leads and lockstep feel, caustic vocals and relentless lurch. The players don't let personal character obstruct their cumulative might. Straightjacket Nation, like much of the best hardcore, derives satisfaction from its refusal to innovate. Execution, as Stewart reckons, is paramount.
"I like the idea that hardcore bands are playing at the best of their ability," he explains to us via email. "We have always attempted to write songs that are hard to play and that sound good because they require us to be resilient and tough on ourselves."
Stewart's complimentary reviews of other hardcore records, in Distort, are good signposts for Straightjacket Nation: "crude and spiteful and hostile to laziness" (Blotter), "artwork is not easy to digest, their music lacks conventional hooks" (Cult Ritual). His lyrics have a similarly halting cadence: "Traitors /turncoats /dropout /sellout." That song, "Power It Up," he says, "is specifically against weak people who praise domination and exploitation as a means to alienate the people around them, preventing them from being confronted about their shitty behavior."
Another, "(J.S.S.)," is inspired by a dark joke Montfort made about the Australian punk band Scab Eater's desecration of a war memorial, and the massacre at the office of French satirical publication Charlie Hebdo. "When I picture any time spent together with SJN, we are laughing at something or someone, often very malicious, cruel laughter," Stewart says. "Ultimately, a band is a group of people with a common taste in songs, and maybe a song is just a way to get a bunch of instruments laughing at the system."
Stewart acknowledges Straightjacket Nation's debt to Japanese hardcore groups such as Systematic Death and Lip Cream (the working title of the "The Wreck" was "Rip Cream"), the sort of homage that betrays his infatuation with the same style that he sometimes pillories. Before, the band's professed reference-points skewed toward Cleveland: specifically, H-100's and Inmates. Montfort was welcomed into the band with a mix of USHC staples The Fix, Jerry's Kids, and Void. References, though, don't equal nostalgia: "I think that hardcore is often split between those who celebrate youth (either in the sense of young people celebrating their experience, or old people looking back to youth with myopic nostalgia hoping to invigorate their flaccidity and perpetual hangover) and those who deprive youth of value," Stewart explains. "The former usually produces empty optimistic statements that would fit on the kind of calendars you'd expect in a sterile office, images of windsurfers or puppy dogs frolicking under the words 'YOU CAN DO IT or NEVER BE AFRAID TO START LIVING THE LIFE YOU DESERVE.'
"You got no choice to stay young," Stewart continues. "You either grow old or you die. Youth is an empty concept used to sell calendars to cop lovers and hippies. I don't like extreme underground music that falls into nostalgia, either in the sense of glorifying youth, or glorifying a particular time or era of the underground as an idyllic lost paradise."
Stewart and Montfort recorded Straightjacket Nation's demo within days of meeting each other in 2004 (charmingly, a special issue of Distort specifically commemorates their friendship). Guitarist Dave Kovess and drummer Emily Jans, who lived in the Melbourne punk warehouse Pink Palace, assembled the original foursome, which remains intact. Montfort, then 17, reportedly wore a hoodie over his high-school uniform at their first show. Jans told it better in 2008: "Eventually [Stewart] found [Montfort] at a show fucked up on spray paint, pulled the plastic bag off his head, and asked him if he'd like… to play bass in a band called Straightjacket Nation."
"I feel like early SJN was an attempt to exist as a hardcore band without a scene," Stewart recalls. "Our ambition was infection. One week we would play a crust festival in a squatted warehouse, and the next a seedy nightclub on the south side with [Eddy Current Suppression Ring], the next with a power electronics band in some other pub. No scene, no genre purity. Ultimately, this is what hardcore in Australia became, and the crossover between the extreme metal, electronic, punk and rock 'n roll scenes with hardcore has really made the coherent, isolated scene a thing of the past."
—Sam Lefebvre