BEST OF 2020
Bandcamp Daily Staffers on Their Favorite Albums of 2020
By Bandcamp Daily Staff · Illustration by Josie Keefe · December 18, 2020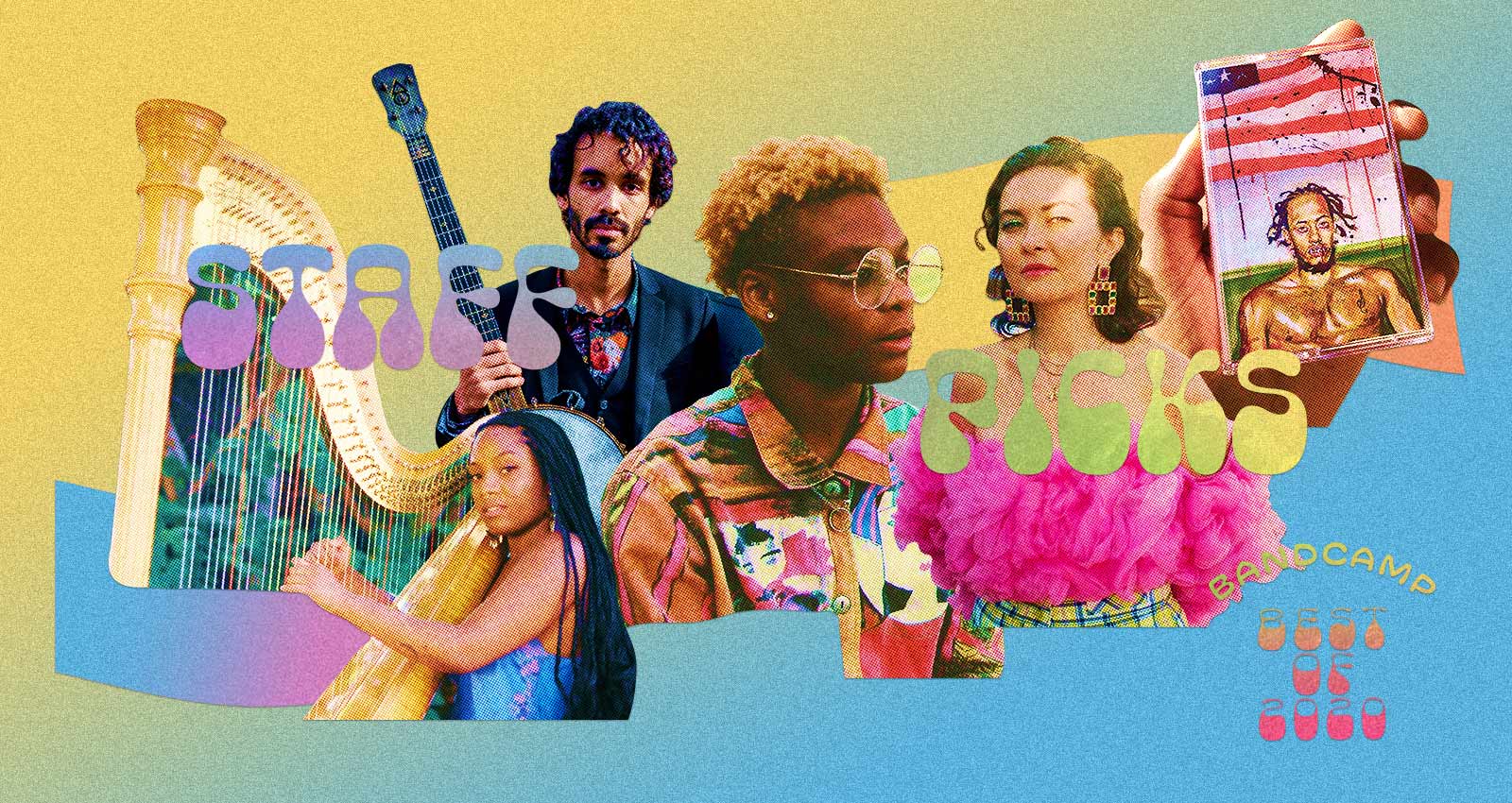 J. Edward Keyes
Editorial Director
Holy shit, we made it. (That's all.)
Rian Treanor, File Under UK Metaplasm
Various Artists, Alterity
Nídia, Não Fales Nela Que A Mentes
Armand Hammer, Shrines
The Koreatown Oddity, Little Dominique's Nosebleed
Neptunian Maximalism, Éons
Kelly Lee Owens, Inner Song
Spirit Adrift, Enlightened in Eternity
Waxahatchee, Saint Cloud
Pink Siifu, NEGRO
Pallbearer, Forgotten Days
Eartheater, Phoenix: Flames Are Dew Upon My Skin
Actress, Karma & Desire
Killah Priest, Rocket to Nebula
Preservation, Eastern Medicine, Western Illness
Against All Logic, 2017 – 2019
…too many more to name.
Jes Skolnik
Senior Editor
Look, this year sucked. I spent the year pretty much holed up in my apartment because I'm immunocompromised, and it hasn't been good for my already bad brain. Using all that extra time to write? Pffft, who can focus? I've read like… half of the books I would in a year without a pandemic.
This year took a number of friends from me, and a pet I had a special bond with too (RIP Frankie Teardrop, a true blue bud). Some of my friends are worried about eviction; most of them are worried about getting COVID-19 from their workplaces because they work in the service industry (there but for the grace of this job, honestly), and there has been only small, arbitrary help from governments federal and local if at all. People keep talking like we're back to "normal," whatever that is, when stability was a fiction to start with, the structural ills of the U.S. are foundational, and, uh, the pandemic is still happening.
I will say that working with the fine people whose observations also appear here is a continued joy. We've been there for one another as genuine friends throughout this thing, and I know we'll continue to be. Getting to do things differently this year in terms of our end of year means a lot to me, too. I've always hated the concept of ranked lists and trying to force the way I respond to music into that framework is really, really difficult for me. (Please do not ever ask me what my favorite song is, who my favorite artists are, etc.)
Being in a band is also still great. We put out two benefit singles this year, both of which I am immensely proud of. (Watching artists—who have no money themselves—raise money in record amounts for other people this year has been both wonderful as a show of mutual support and terrible in terms of, like, how broken is the system that we have to do this?) I have a lot of terrific people in my life, even if we barely see one another and much of that is mediated by phone or (ugh) videoconference. (Please do not perceive my physical form!!!)
I hope your holidays are as warm and good as possible, and that music genuinely speaking to you is something that helps. Here are some records that don't appear in our larger staff Best Albums collection that cut through the depressive haze for me.
Jasmine Infiniti, BXTCH SLÄP
A Culture of Killing, The Feast of Vultures, The Cry of a Dove
Astaron, Astaron
Maral, Push
Es, Less of Everything
No Home, Fucking Hell
Fielded, Demisexual Lovelace
Josh Johnson, Freedom Exercise
Accidente, Canibal
Seeming, The Birdwatcher's Guide to Atrocity
Lauren Bousfield, Palimpsest
OXZ, Along Ago: 1981-1989
Ganser, Just Look At That Sky
Markus Floats, Third Album
Futuro, Os Segredos Do Espaço e Tempo
Zoe Camp
Editor
Like many of you, I spent the vast majority of 2020 with my bloodshot eyes glued to a screen, trapped in an endless cycle of doom-scrolling, frantic tag hopping, anime marathons, Five Nights At Freddy's lore videos (God please have mercy on my soul), and of course, gaming. That I was able to spend hours in this brain-numbing state of boredom was, in fact, an immense privilege, given all the suffering facing the world today, and the structural inequities that force marginalized communities to bear the brunt of it. We've been told that our self-imposed solitude is a vehicle for solidarity, a collective gesture in the interest of public health; that's certainly true to some extent, but let's not forget the real heroes of 2020: the first responders and essential workers, the activists and the protestors, the strangers performing random acts of kindness for their neighbors—and as per the theme of this list—the artists who helped make the hellscape just a little easier to manage, and all those who supported them (including you, dear readers—we love you!). With all of this in mind, here are ten albums that helped get me through the year.
Ichiko Aoba, Windswept Adan
Clipping., Visions of Bodies Being Burned
End, Splinters From An Ever-Changing Face
Mason Lindroth & Chuck Salamone, Hylics 2 Original Soundtrack
Nothing, The Great Dismal
No Joy, Motherhood
Lamp of Murmuur, Heir of Epiliptical Romanticism
Oranssi Pazuzu, Mestarin Kynsi
Of Sulfur and Bone, Sulfuric Disintegration
Svalbard, When We Die, Will I Get Better?
Diamond Sharp
Editor
This has been an annus horribilis for me, like others. There's not much to say. I lost a friend to Covid-19 and it was surreal to watch her life as a private citizen become a very public death. I feel a lot of rage when I think about the circumstances around the last two months of her life and how our society is much poorer for her loss. My grandmother told me that time will heal the pain I feel, but I think it's going to take longer than I've accepted. That's all I've got. There have been a few bright spots this year, and moments of joy, but mostly sadness. I think that's OK. Here's what I've been listening to in order to get by.
Serena Isioma, Sensitive
Veda Black, Sad Girls Club
Ego Ella May, Honey For Wounds
Kareem Ali, Black Utopic Future
Cleo Sol, Rose in the Dark
Nailah Hunter, Spells
Orion Sun, Hold Space For Me
Natalie Gardiner, 6
Angel Bat Dawid, Transition East
Yazmin Lacey, Morning Matters
Mariana Timony
Social Media Producer
As the person who reads all the tweets, I just want to say that seeing the Bandcamp community come together so strongly to support musicians in a challenging year has been the greatest of joys. Let's keep it going in 2021 and beyond. All power to the people, especially the artists.
Jake Blount, Spider Tales
Cut Worms, Nobody Lives Here Anymore
Exploding Flowers, Stumbling Blocks
Grrrl Gang, Here To Stay
Angelica Garcia, Cha Cha Palace
Mary Latttimore, Silver Ladders
Melenas, Dias Raros
Mo Dotti, Blurring EP
Peggy Sue, Vices
Ranil, Ranil Y Su Cojunto Tropical
Sufjan Stevens, The Ascension
Svitlana Nianio & Oleksandr Yurchenko, Znayesh Yak? Rozkazhy
Throwing Muses, Sun Racket
Marcus J. Moore
Contributing Editor
This is the part where I'm supposed to sink into despair. I'm supposed to wallow in the hopelessness of 2020 and maybe throw in a Tr*mp jab for good measure. The truth is I'm tired. Hell, we're all tired. At this point, with a new year just around the corner, I'm not the only person dragging themselves to the finish line, hoping for a semblance of release in 2021.
It hasn't been all bad; in fact, 2020 marked a turning point in my career. After almost two years of writing, research, and mounting expectations, my first book, The Butterfly Effect: How Kendrick Lamar Ignited the Soul of Black America, was published to widespread critical acclaim. (I don't type that as a flex; I've been told that I'm modest to a fault, so I'm acknowledging my victories). After several years of covering everyone else's music, I decided to release my own musical project, a collection of obscure Black Liberation jazz and soul, on Paxico Records. And I'm already working on my next book, a biography of hip-hop group De La Soul, called High and Rising. I have a lot for which to be thankful. And while my natural inclination is to run to another project, I'm learning* to chill and be fully present in the moment.
(*By learning I mean quite literally everyone in my life is telling me to go sit down somewhere.)
Here are the 10 albums, in no particular order, that helped me do that. If you didn't make this list, don't trip. There were at least 10 more I could've included. But, y'know, rules.
Pink Siifu, NEGRO
Nick Hakim, WILL THIS MAKE ME GOOD
Nubya Garcia, Source
Aquiles Navarro & Tcheser Holmes, Heritage of the Invisible II
James Tillman, Modern Desires
Sault, UNTITLED (Black Is)
Demae, Life Works Out… Usually
(Liv.)e, Couldn't Wait To Tell You…
Armand Hammer, Shrines
KeiyaA, Forever, Ya Girl
Emma Shore
Editorial Art Director
On a personal tip, this year would have been one of upheaval even without a global pandemic ripping up our entire way of living. In March, two weeks after London went into its first lockdown, I found out I was pregnant. The nine months since have been, let's say, unpredictable. Amid all that death and dissonance, something new was coming. And it turned out he had great taste.
On car rides, he would start kicking as soon as the bass rolled in on Kelly Lee Owens's "Melt!". He'd wriggle in time with Zebra Katz's wig-outs. When he finally arrived, I had to go to hospital solo, Covid-safe, and horribly lonely, but Sault in my ears made me feel like I wasn't completely alone. Which, I guess, I wasn't. Because now he's here, finally, tiny and human and physically a real thing. Now, I cure his crying by bundling him up and moving round the room to "I Just Wanna Dance." It turns out, that's all he wants, too.
Even when things are awful, we still create—music, art, people. It's powerful and it's inspiring. The many traumas of this year have been sobering, but we fight on and create noise. Incredible voices have emerged and cut through the madness. A year of contrasts, then. Of sun and shadow. But as Leonard Cohen put it: "There is a crack in everything. That's how the light gets in."
Kelly Lee Owens, Inner Song
Rian Treanor, File Under UK Metaplasm
Demae, Life Works Out… Usually
Sault, UNTITLED (Rise)
Kahil El'Zabar, Kahil El'Zabar's America the Beautiful
Moses Boyd, Dark Matter
Mary Latttimore, Silver Ladders
Nubya Garcia, Source
Zebra Katz, Less is Moor
Duma, Duma
Josie Keefe
Interim Editorial Art Director
As the world scrapes by for a clinical cure to the deadly threat of basic human interaction, I've found music to be the most powerful curative force in my life. I used to have a vibrant social life, going to friend's houses, staying up late seeing live music, sometimes touching sweaty strangers in sweaty basements… You know, New York. Besides my dog and boyfriend, the internet is now my only legally allowed friend. Working for Bandcamp is a true joy and a constant source of positivity, community, and inspiration. I'm grateful to all the artists and humans that have put their love, music, and support into this site and into the world.
Ana Roxanne, Because of a Flower
Bing & Ruth, Species
Black Devil Disco Club, Lucifer is a Flower
CMON, Confusing Mix of Nations
Drew Citron, Free Now
Kate NV, Room for the Moon
Kelly Lee Owens, Inner Song
Oneohtrix Point Never, Magic
P.E., Person
Yaeji, What We Drew