BEST OF 2019
Bandcamp Daily Staffers on Their Favorite Albums of 2019
By Bandcamp Daily Staff · December 18, 2019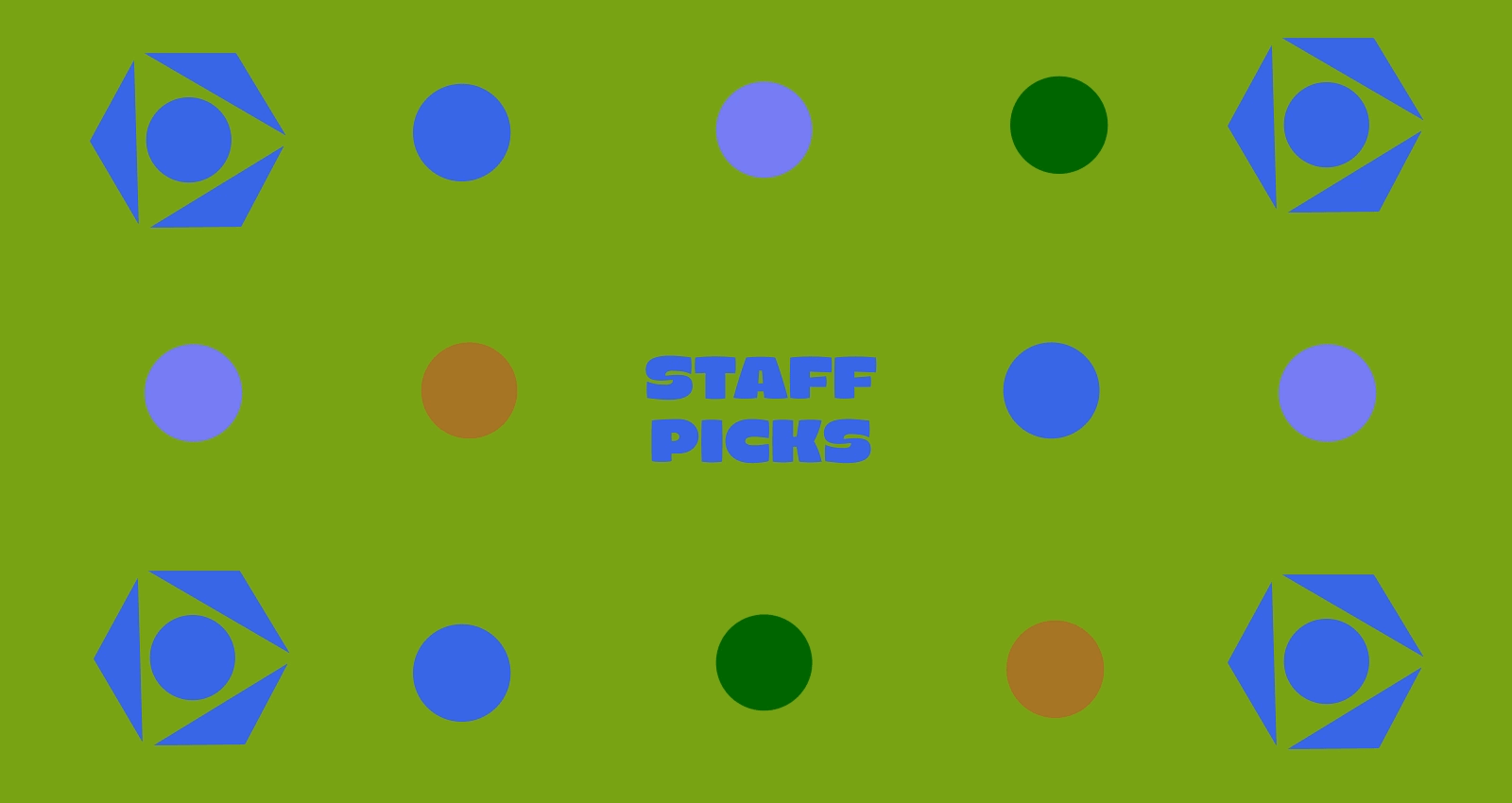 J. Edward Keyes
Editorial Director
My favorite song of the year—the one that choked me up more than any other—was Sharon Van Etten's "Seventeen." (Doubly so for the music video, in which Van Etten stood in front of the New York venues where she used to perform, all of which are now closed.) There's probably a reason for this: I spent much of 2019 looking back over my life. I started a personal project that involved nightly journal entries where I'd examine things that happened to me, or decisions I'd made, and try to evaluate them and see how I could learn from them, grow from them, or make sure they never happened again. I'm mentioning this here because the project is pinned to music—specifically, photographing a few records from my collection every day and appending the journal entries to them. It's made me realize a lot of things, most of which isn't really relevant to this space. But what it made me notice more than anything is how central music has been in my life—how various highs and lows, personal breakthroughs and moments I wish I could erase entirely, all have a kind of mirror image in the grooves of specific LPs. I realized that—and whether this is good or bad, I dunno—music has become the filter through which I interpret life. Which might in part explain why, as other folks in my age bracket start tapping out of music discovery, I find myself leaning further in. It's become a cliché to say that the world has become dark and terrifying and confusing, but that doesn't make that statement any less true. And so in 2019, I was thrilled to see that I got the same rush of endorphins when I heard Sault's "Up All Night" that I did when I heard "Do It For Love" by The 77s thirty years ago, or that the brain-breaking sound of Kedr Livanskiy's Your Need could challenge me to think differently about music in the same way Einstürzende Neubauten had when I was in my early 20s. As always, Bandcamp was a vital part of that—discovering a great LP only to follow the breadcrumb trail back to the label to be confronted with 20 more just as incredible. I need music because it challenges me, comforts me, inspires me, and ultimately helps me grow. These are the 10 records that soundtracked my year.
Sampa the Great, The Return
Sault, 5 and 7
Damon Locks – Black Monument Ensemble, Where Future Unfolds
Jayda G, Significant Changes
Spellling, Mazy Fly
Quelle Chris, Guns
Kedr Livanskiy, Your Need
Hatchie, Keepsake
Tomb Mold, Planetary Clairvoyance
Billy Woods & Kenny Segal, Hiding Places

Jes Skolnik
Senior Editor
I turned 40 this year, which is weird to me, because I never expected to make it past 21. It has also been one of the longest years of my life, with an unreal amount of personal stress and fluctuation, a fitting end to a decade of the same. Honestly, though units of time don't have any inherent meaning beyond ordering our lives, it feels like a relief to shut the door on the '10s. High highs, low lows. I am ready to move forward into the unknown, and I am trying to have hope against all odds. This last week, I took in a kitten who was about to be euthanized as a foster; four days ago, she was hissing, spitting, and hiding, not letting anyone touch her. As of right now, she's curled up in my arms while I write this, purring and kneading biscuits on my legs. If this tiny little abandoned and mistreated creature can open up given just a little care and patience, I can't lose faith. I've found a lot of inspiration in the people I'm close to, too, and in youth activism. And in music, of course; despite struggling with one of the worst cases of ear burnout I've ever had this year, there were so many records that brought me back to that teenage feeling, when the world narrows to just you and music and it's coursing through you and you feel, for a second, in a world that does its best to alienate you in every way, home.
(I also made a record with my band this year; should you want to listen, it is here. Yelling in a band is one of the best therapies outside of actual therapy that there is, and this is the most fun I've ever had doing so, largely because it is a project with little ambition; we're all friends, we all get along, songwriting is easy, and nobody is trying to make a career out of it. We do it in our spare time, because we enjoy it and we like spending time with one another.)
Here are 10 records I loved this year that don't appear in our Top 100:
Comfort, Not Passing
Junius Paul, -Ism
Pixel Grip, Heavy Handed
Khiis, Bezoar
The Bedroom Witch, Diaspora
Jubilee, Call For Location
Protocol, Bloodsport
Sólveig Matthildur, Constantly In Love
Ifriqiyya Electrique, Laylet et Booree
Terra Soror, Revenge

Zoe Camp
Editor
For most folks, the end of the year is a time for reflection, re-discovery, and re-evaluation—exponentially more so when there's a new decade on the horizon. Having spent the past decade leveling up from a awkward teenage music nerd to a slightly-less-awkward, twenty-something music nerd (albeit a professional one!), I'm by no means immune from this seasonal nostalgia, or the wistful after-the-fact FOMO it brings. After all, there's something bittersweet about listening to a new or old favorite for the second or thirtieth or one thousandth and thirty-second time; for all the predictable, personally-felt power of a lasting classic, nothing compares to that magical first listen. Such moments of self-pity also remind me, though, of what makes the Bandcamp Daily, and Bandcamp in general, so special: there's an untouched musical universe out there, and thanks to artists, labels—and most vitally—fans like you, we've got the means to take that fleeting joy and make it last. So, yes, 2019 was fine and dandy, and the records I've listened to below are keepers I'll come back to and again and again, but why opine when you can tag surf?
100 gecs, 1000 gecs
Bad Breeding, Exiled
Black midi, Schlagenheim
The Callous Daoboys, Die on Mars
Fury, Failed Entertainment
Ithaca, The Language Of Injury
Takafumi Matsubara, Strange, Beautiful and Fast
Pom Poko, Birthday
Tropical Fuck Storm, Braindrops
Yellow Eyes, Rare Field Ceiling

Diamond Sharp
Editor
My first year at Bandcamp is coming to an end! This has been a year of transitions for me: I started this job, turned 30(!), signed a book deal for my poetry collection, sold my childhood home, and went through a host of other life milestones. I often felt like a chicken running around with its head cut off—always coming or going or on deadline (or really, missing a deadline). It seems fitting that much of the music I gravitated towards this year is preoccupied with transition, evolution, and transformation.
Jamila Woods, LEGACY! LEGACY!
Christelle Bofale, Swim Team
KAINA, Next to the Sun
Sampa the Great, The Return
Brijean, Walkie Talkie
avery r. young, tubman.
Dexter Story, Bahir
Loraine James, For You and I
NÉRIJA, Blume
Christian Scott aTunde Adjuah, Ancestral Recall 

Mariana Timony
Social Media Producer
Time is a construct, everything's terrible and we're all going to die, but music is good, music is good, music is good.
Ex Hex, It's Real
Shana Cleveland, Night of the Worm Moon
Gauche, A People's History of Gauche
The Gotobeds, Debt Begins at 30
Aldous Harding, Designer
Leggy, Let Me Know Your Moon
Wet Fruit, Wet Fruit
Tourist Activities, Off My Mind
Peel Dream Magazine, Up and Up EP
The Paranoyds, Carnage Bargain
Say Sue Me, We've Sobered Up/Big Summer Night (Reissues)

Emma Shore
Editorial Art Director
Oof, what a year. What a decade. Blurgh. So let's not dwell, eh? As we head into the 2020s – which, based on the groundwork society's put in over the last four years, are going to make the 2010s seem Edenic – I'm at least content knowing that there's a whole bunch of weird music being made. You could argue that my picks, in their abstract, angry glory, are symptomatic of something. That they're a a howl into the darkness, or a reaction to a world that's sliding inexorably into the abyss. But I prefer not to get too analytical. All I know is that I listened to each of these records a lot this year, and they are all amazing.
Show Me The Body, Dog Whistle
96 Back, Excitable, Girl
Sega Bodega, U Suck
More Time Records, R&S Presents: More Time Records V1
Haram, وين كنيت بي ١١​/​٩؟? "Where Were You on 9​/​11​?​"
Lee Gamble, Exhaust
Special Request, Offworld
Binker Golding & Elliot Galvin, Ex Nihilo
Georgia Anne Muldow, VWETO II
God Colony, Girls