BEST METAL
The Best Metal on Bandcamp: November 2021
By Brad Sanders · December 02, 2021
The final regular Bandcamp metal column of 2021 includes lachrymose death-doom, anti-imperialist black metal, Teutonic thrash played by Swedish teenagers, and much more.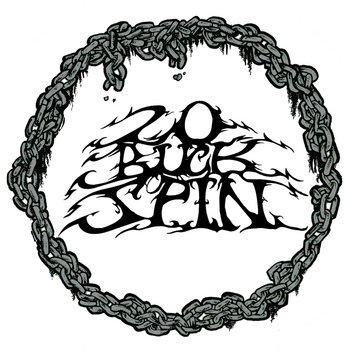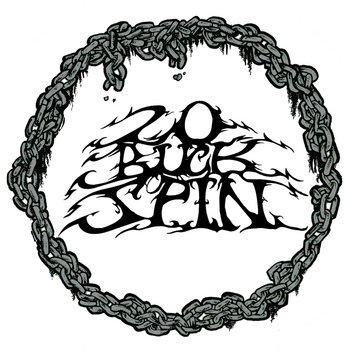 Merch for this release:
Vinyl LP, Cassette, Compact Disc (CD)
In their primary bands, Derrick Vella of techy death metal explorers Tomb Mold and Justin DeTore of the punishing Innumerable Forms rarely play anything that's explicitly beautiful. Dream Unending, a new collaboration inspired by the oneiric melancholy of the Peaceville Three, is their chance to lean into aching, stately melodicism. On Tide Turns Eternal, Vella and DeTore build brilliantly layered death-doom epics out of shimmering guitar and reverb-soaked vocals, leaving plenty of negative space to allow the emotions of the songs to hit with full force. They're at their best when they chase a musical idea all the way to its logical endpoint; the 11-minute "Dream Unending" and 10-minute title track are easily the strongest songs on the album, introducing new motifs at will even as they cannily use repetition to drive them home. Despite its deep roots in doom, Tide Turns Eternal isn't a dour or depressing listen. Thanks largely to Vella's soaring guitar work, which bears traces of his avowed Pink Floyd fandom, the album invites us to take in the scope of the world's gloom but cast our gaze heavenward anyway.
Merch for this release:
Compact Disc (CD), Vinyl LP, Cassette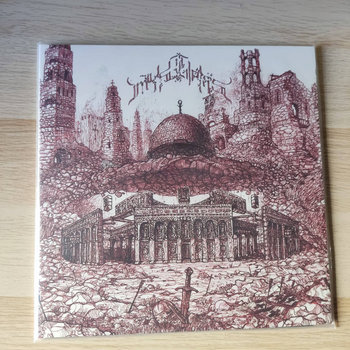 The Greek multi-instrumentalist Ayloss lives at the nexus of two of black metal's bleeding edges. He's a luminary of cosmic black metal, a sound he helped define with his long-running project Spectral Lore. He's also an avowed leftist, and a spiritual peer of antifascist acts like Dawn Ray'd and Underdark. With Mystras, Ayloss articulates the ideology of anti-imperialism by evoking the class struggles of the medieval era. The specifics of the history he writes about on Empires Vanquished and Dismantled can occasionally feel esoteric, but his perspective cuts to the bone. It's impossible to misinterpret a verse like this one, from "In the Company of Heretics": "We are the anguish of Alexander's feverish nightmares/ The knife in Caesar's bloody corpse/ The tear that falls on Constantine's cheek." The propulsive black metal songs on Empires are constructed out of churning riffs and nimble lead work, while interludes utilizing Turkish ney flute, santoor, violin, and operatic vocals anchor the album to its medieval setting. The 14-minute epic "The Fall of the Kingdom of Jerusalem" and the blistering "To the Builders" both rank among the best songs Ayloss has ever written, and the conviction of their righteousness is matched only by the vividness of his world-building. Close your eyes and you're back in the Middle Ages, straining at the chains of a wealthy tyrant. Mystras brings you there to ask a question: Which side are you on?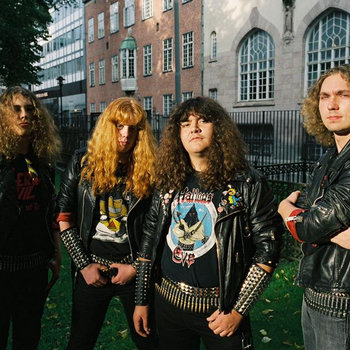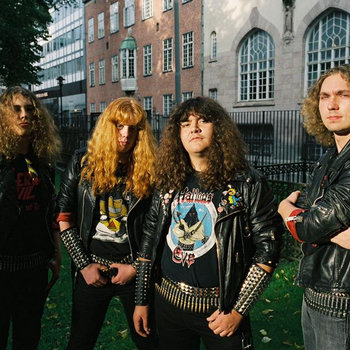 Merch for this release:
Vinyl LP, Compact Disc (CD), Cassette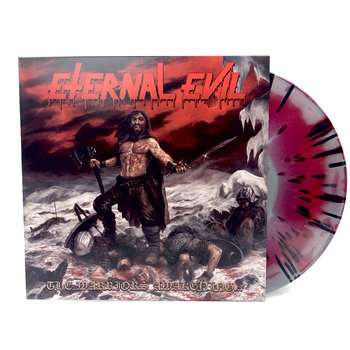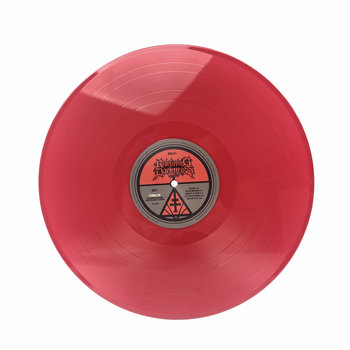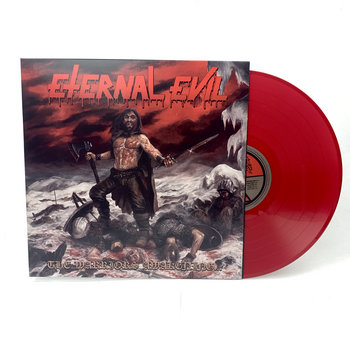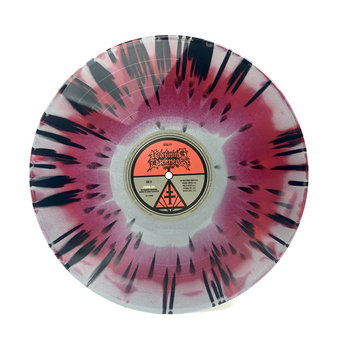 Aging heshers, rejoice—the kids are alright. All four members of Stockholm's Eternal Evil are still teenagers, but their rowdy, ripping thrash is straight out of the '80s. The young Swedes seem most inspired by the bands of Germany's Teutonic thrash movement on their debut album, The Warriors Awakening Brings the Unholy Slaughter. Unlike American acts like Metallica and Megadeth, who ultimately reshaped metal's mainstream in their own image, German bands like Sodom and Destruction were too doggedly raw—too extreme—to move beyond its fringes. These are the bands whose DNA you'll hear in Eternal Evil songs like "Bestial Fornication" and "Minotaur of Evil," adrenaline-pumping anthems that blast forward with reckless abandon, grafting warped, chromatic melodies onto their palm-muted riffs. There's nothing particularly innovative happening on The Warriors Awakening, but Eternal Evil deserve a lot of credit for so compellingly reconstructing a sound that peaked 20 years before they were born.
Merch for this release:
Compact Disc (CD), Vinyl LP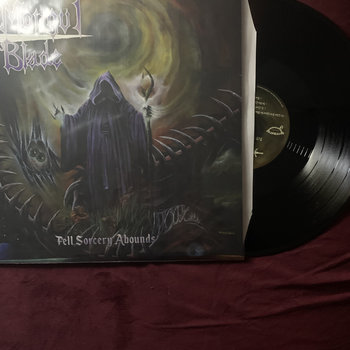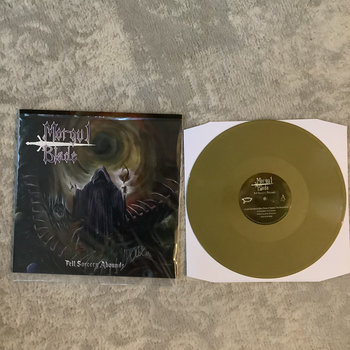 The Middle-earth of J.R.R. Tolkien's work is a place where illimitable goodness exists alongside all-devouring evil. Most metal artists who sing about Middle-earth tend to sound most comfortable evoking one or the other—the valor of Aragorn or the malevolence of Sauron. Philadelphia's Morgul Blade are one of the few bands who can do both. That's partly because of the novel way they augment their power metal-derived core with more extreme sounds. On Fell Sorcery Abounds, the band's debut, they conjure soaring melodies and bombastic arrangements that wouldn't be out of place on a Blind Guardian record. Quasi-black metal shrieks, lugubrious doom riffs, and dungeon synth passages round out the album's sound and help make it the rare piece of Lord of the Rings-inspired art that truly feels like The Lord of the Rings.
Over the past decade, Providence, Rhode Island's Churchburn have quietly amassed one of the most formidable and adventurous discographies in doom metal. Principally the project of drummer Ray McCaffrey (ex-Sin of Angels) and guitarist/vocalist Dave Suzuki (ex-Vital Remains), the band play a maximalist form of sludge that invites squalls of frenetic death metal soloing, ghostly black metal atmospherics, dark ambient dirges, and delicate nylon-stringed guitar work into its hellish fray. Genocidal Rite is their third and best full-length, and real-life circumstances within the band made it particularly poignant. Suzuki's father passed away shortly before the completion of the album, and his death inspired the luminous "Unmendable Absence" as well as the crushing "Scarred." Anyone familiar with Suzuki's work in Vital Remains knows that he's a technically brilliant lead player, but on Genocidal Rite, his solos feel more expressive than usual. Suzuki has spoken about how he went into the studio without solos prepared, opting to improvise them on the spot while thinking about his father. The spirit that moved through him that day yielded some of the finest guitar work of his career.
Listen to an interview with Churchburn on the Bandcamp Metal Show.
Merch for this release:
Compact Disc (CD), Vinyl LP, T-Shirt/Apparel,
Death metal reigns supreme in the Indian underground. Bands like Gutslit and Moral Collapse are pushing the genre to exciting new places, and new acts seem to pop up in hubs like Mumbai and Bangalore every week. One of the most promising young Indian bands is Hyderabad's GODLESS, who play death metal like they have an appointment they don't want to be late for. The nine songs on States of Chaos, the band's debut LP, zip by in just 29 minutes. GODLESS favor tempos that allow them to operate at warp speed. If a lot of today's death metal seems to be cross-pollinated by doom, States of Chaos sounds more like the mid-'80s death metal that was slowly shaping itself into a proper genre rather than an extra-fast, extra-fucked-up permutation of thrash. There's some canny, off-speed stuff here, too—check that mosh-starter of a verse riff on "Orbits of Decay"—but for the most part, GODLESS want you to sprint to keep up.
Merch for this release:
Compact Disc (CD), Vinyl LP, Cassette
On their sophomore LP, Shock to the System, Tower play a gruff, streetwise brand of heavy metal that befits their New York City roots. No matter how complex a song gets, the band always find their way back to its rowdy, rock 'n' roll center. That's thanks in part to the loose-but-locked-in interplay between the band's two guitarists and their rhythm section, and thanks in part to the gritty delivery of frontwoman Sarabeth Linden. You can practically hear the tissue of her larynx fraying when she screeches through some of her more daring vocal lines. There's also a rich melodicism to her voice, and even when she leans into a line that draws out her growl, she never misses a note. Behind Linden, guitarists James Danzo and Zak Penley trade NWOBHM-inspired licks, sometimes racing through short neck-snappers, and sometimes layering them into, erm, towering arrangements, like the seven-minute "In Dreams."
Merch for this release:
2 x Vinyl LP, Compact Disc (CD)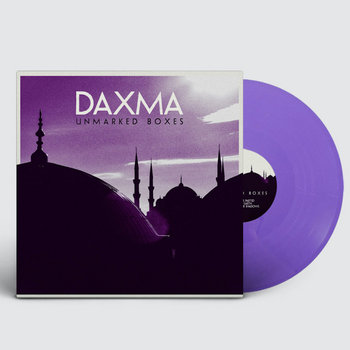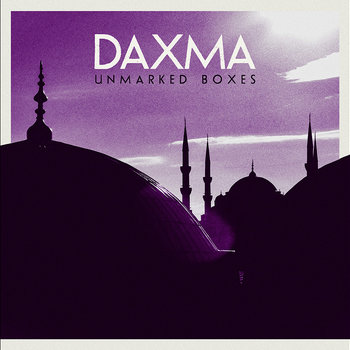 Daxma play the kind of dramatic, swelling post-metal that can seem lab-engineered to induce emotional catharsis. The Oakland band writes songs that routinely cross the 10-minute mark, building soul-stirring crescendos that erupt right when they're supposed to. There is a formula at work here, but when the formula is executed as well as it is on Unmarked Boxes, it's hard to argue with it. In contrast to previous Daxma releases, which were more abstract in their lyrical focus, Unmarked Boxes deals with grief and hope as embodied in a line by the 13th century poet Rumi: "Don't grieve, anything you lose comes back in another form." Perhaps that more introspective approach is what helps make these songs come so brilliantly to life. Every passage of densely layered guitar and violin sweeps you up in its embrace, and every purifying release of musical tension feels like an exhalation of held breath.