BEST EXPERIMENTAL
The Best Experimental Music on Bandcamp: June 2022
By Marc Masters · July 01, 2022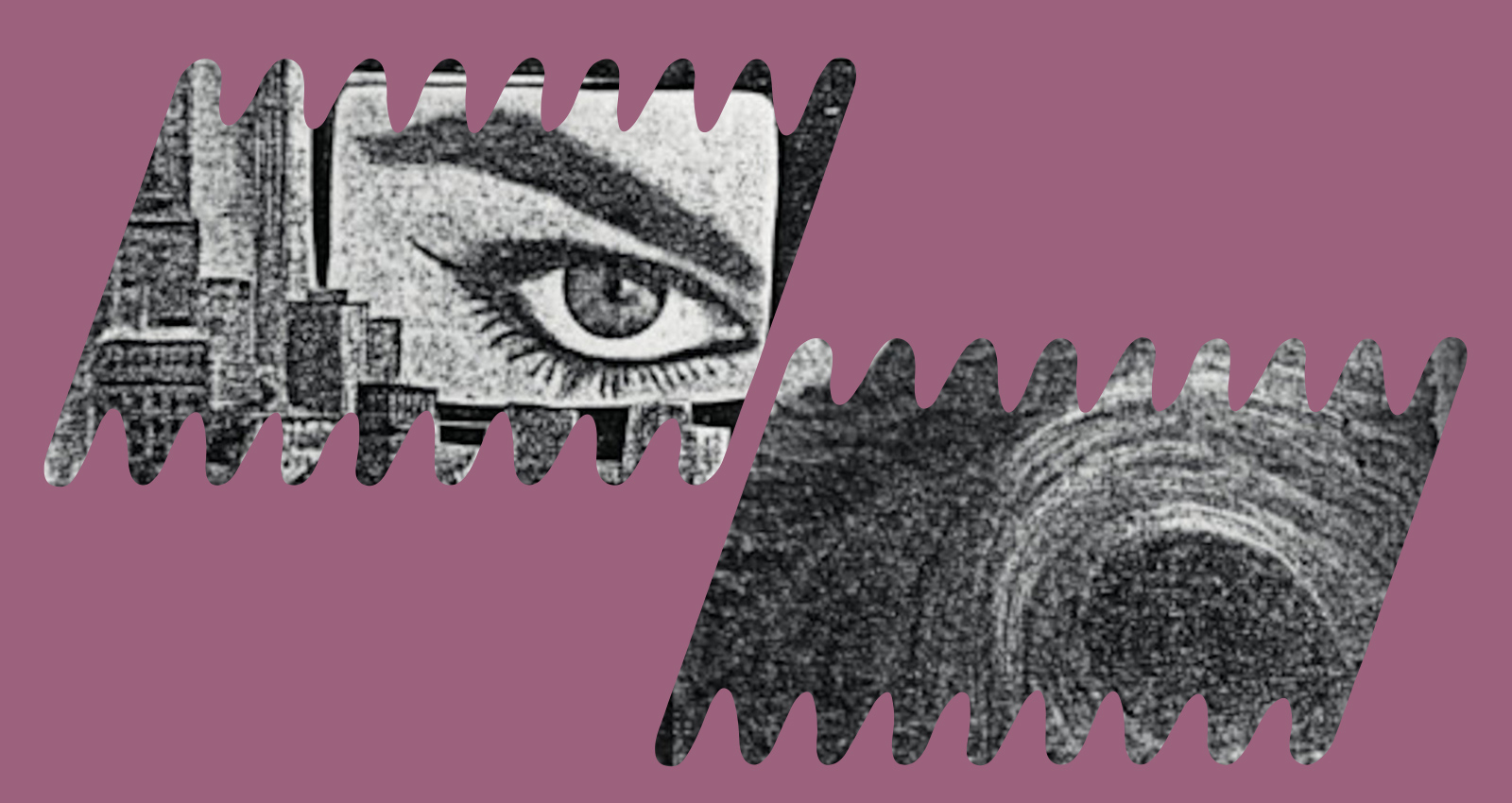 All kinds of experimental music can be found on Bandcamp: free jazz, avant-rock, dense noise, outer-limits electronics, deconstructed folk, abstract spoken word, and so much more. If an artist is trying something new with an established form or inventing a new one completely, there's a good chance they're doing it on Bandcamp. Each month, Marc Masters picks some of the best releases from across this wide, exploratory spectrum. June's selection includes late '70s experimental punk, mid-'80s sound collage, water-based soundscapes, and 300 tenor saxes in one song.
Merch for this release:
Vinyl LP
Neil "Cloaca" Young's percussion in Massachusetts experimental collective Fat Worm of Error was something like its driving force, if you can call swerving all over the road "driving." His solo work as Bromp Treb has a similar kitchen-sink vibe, but he's also adept at more meditative music. Take "First Light," a mix of layered horn sounds from his latest album, Bald Eagle Over Food City. The juxtaposition of that solemn aura with the cartoonish electronics of "Across the Parking Lot" and the Raymond Scott futurism of "Theme For Bald Eagle Over Food City" sum up the idiosyncratic aesthetics of Young, who seems to see humor and gravity as two sides of the same spinning coin. Most of the album tends toward the fun side, though, and riding it like a roller coaster is a great way to experience Bromp Treb's mayhem.
Merch for this release:
Cassette
The guitar work of D.C.'s Davis Salisbury feels like a diary, as if each release on his Bandcamp page is a creative status update. You could even call his latest tape I live here a musical memoir. For these 11 tracks, Salisbury sorted through his memories by recording some improvisation, then recording more improvisation over that without listening to the first pass. "Any track I used is unedited and used in full," he explains. "This was meant to be analogous to moments of the past/history that you can't change." The result is a patient album that feels awed by the passage of time. At times Salisbury evokes Loren Connors, brushing stark colors through his amp. Most of I live here melts into the air gradually, making the moments of abandon—like the grinding "Splitting Time"—all the more thrilling.
Merch for this release:
Compact Disc (CD)
The seven-piece outfit Microkingdom call themselves "Baltimore's greatest no-jazz band of all time in the world." Their latest album Undevelopmental Arrestment, actually does kinda sound like jazz, but mostly it bears the band's patented swirl of energy, dexterity, humor, and precision. All five tracks are versions of a composition by Microkingdom dummer Will Redman, a graphic score described as "a game of expanding and contracting melodies and rhythms." Sounds dart in and out of belching horns, rumbling syncopation, looping guitars, and percussion that ties it all together like a lasso around a cow's hooves. Microkingdom can turn from blasting to austere on a dime, and at their peak—the album's climaxing closer "UUUUUAAAAA"—they do both at once.
The work of Joseph Nechvatal encompasses tape-based sound art, writing, editing, archiving, and much more. (Check out Selected Sound Works (1981​-​2021) for a sampling of his career.) One of his earliest audio projects, TRUE and FALSE contains two side-long collages of pop culture debris and ambient societal sounds that swirled around him in the mid-'80s. Part of the fun of this reissue is seeing what snippets you can recognize, but more compelling is the way Nechvatal weaves his sources together, chopping up sentences and repeating sounds to build a narrative. In that sense, TRUE and FALSE is less like a period piece than a mental map of post-industrial society, and a mirror of the way information flies through our brains faster and faster.
Merch for this release:
Cassette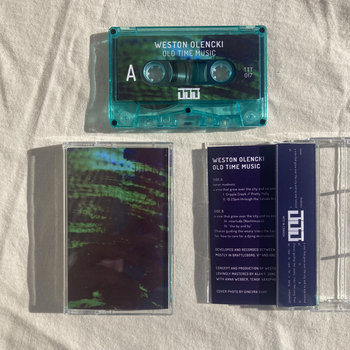 The processes behind Weston Olencki's Old Time Music are fascinatingly complicated. One samples from over 300 albums of tenor sax music; another teaches artificial intelligence to sing a Carter Family song using the virtual voices of legendary country singers. But those are just parts of the methods Olencki uses (go to the album's page to find out more). The music is even more fascinating than the backstories: "Tenor Madness" is a cascading wall of horn sounds that feel like three-dimensional objects; "Cripple Creek" is a bumping banjo loop that's instantly hypnotic; "Charon guiding the weary 'cross the Long River (or, how to care for a dying instrument)" alternates between frighteningly loud waves and Zen-like tones. Throughout, Olencki conveys how musical history is more a crooked web than a straight line, creating new forms that reflect its ongoing mutation.
Merch for this release:
Cassette
Multi-instrumentalist Ashley Paul started playing with bassist Otto Willberg and clarinetist Yoni Silver in 2020. Quickly, the trio created a strange, stirring combination of sad melodies, chamber-jazz tones, and sparse, thoughtful improvisation, landing somewhere between dreamy nursery rhymes and surreal funeral dirges. On her new tape I Am Fog, they conjure ghosts with their winding horns and deliberate rhythms. Nearly every piece is guided by a simple beat, from which Paul's humming voice rises like steam emanating from asphalt. Within the group's well-defined sound there's a lot of sonic variety, but what impresses most about I Am Fog is the unique feeling it evokes, a skin-tingling mix of fear, comfort, and disorientation.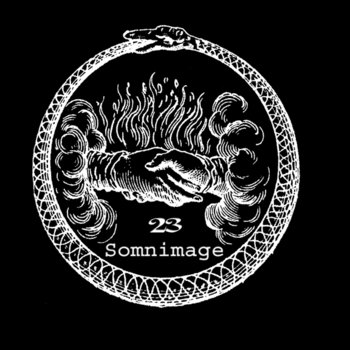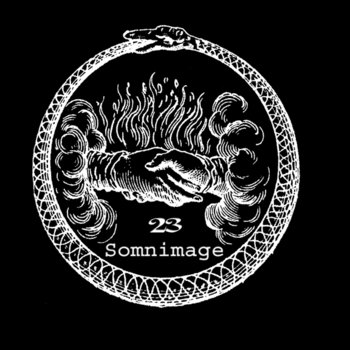 Merch for this release:
Compact Disc (CD), Book/Magazine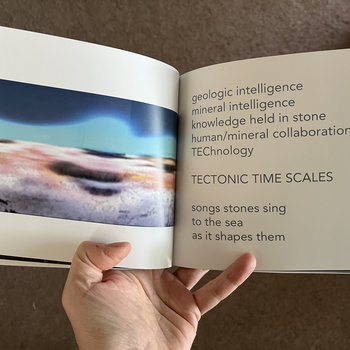 Water is the lifeforce of the new album by seah, aka sound artist Chelsea Heikes. Over the course of a decade, Heikes recorded bodies of water around the world, sifting and massaging the results into five tracks of heavy, cavernous atmospheres. The weight of these pieces seem to match that of the globe, as Heikes forges a sonic density that's gravitational but never oppressive. "songs stones sing to the sea" crafts a wordless narrative out of echoes, while "asteroidal origin of water" posits a wind tunnel filled with animalistic bangs and cries. The 18-minute closer "dinosaur piss runs through our veins" shows Heikes has a sense of humor too, but conduits of the hydrosphere's daunting sonics are no joke.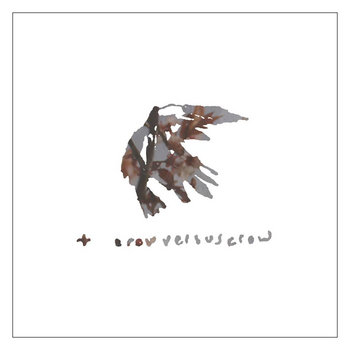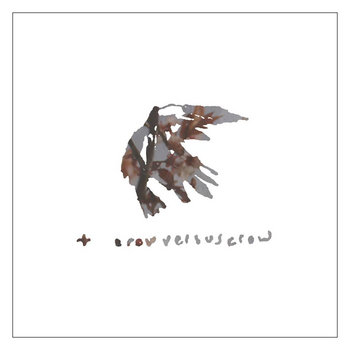 Merch for this release:
Cassette
The audio collages of Sophie Sleigh-Johnson are more like documentary than music. Yet every track on her new tape Nuncio Ref! establishes a distinct rhythm. Sometimes that's from the repetition of a looped sample, but just as often it's due to shifts in momentum that her cuts and fades create. "I Cairn Get Enough Of It," for example, is on the surface basically noise and words, but Sleigh-Johnson slowly turns those sounds into patterns. Similar undulations course through "R.I.P. Gentlemen," an abrasive mix of blasts and speech, and "Napoleon's Violet," a nightmarish montage. Some of Nuncio Ref! is fully abstract, too, but the best points hit a note even when it sounds like Sleigh-Johnson is just making noise.
Merch for this release:
Compact Disc (CD)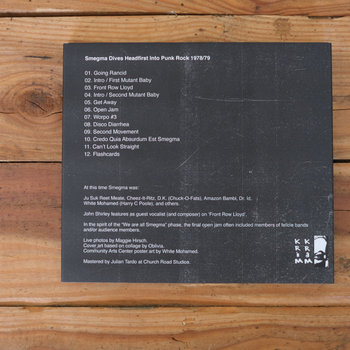 Singular icons of the American experimental underground since the early '70s, Smegma have seemingly made every noise imaginable. Born in L.A.—a precursor to the soon-to-be-named Los Angeles Free Music Society—the band moved to Portland in the mid-'70s and found a burgeoning punk movement there. Dives Headfirst Into Punk Rock 1978​/​79 documents some of the results, collecting early live recordings along with two 7-inch singles. Some tracks are truly punk rock, in parallel to what was happening in Cleveland at the same time, particularly the splatter of Electric Eels. Other pieces are murkier, with odd voices and dissonant sounds that live up to titles like "Disco Diarrhea (Cheez-It-Ritz)." Dives Headfirst exudes the chaos that Smegma has always played with, happy to lean into songs and then blow them up with whatever they had handy.