BANDCAMP NAVIGATOR
Bandcamp Navigator, June 2023
By Robert Newsome · June 28, 2023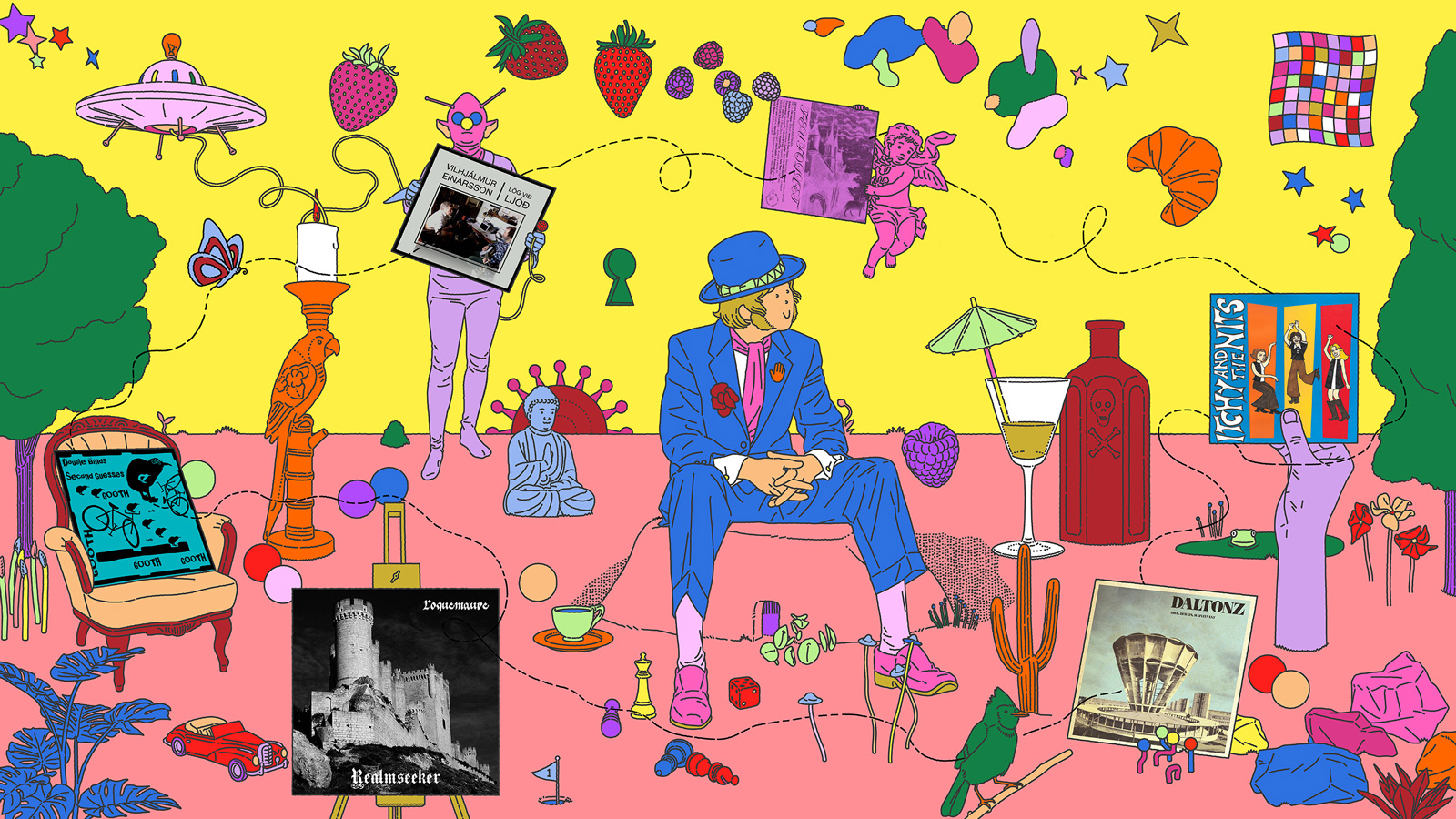 How many people do you "follow" on Bandcamp—not artists, but other users? I have a few, some of whom I don't even know personally, whose purchasing activities I watch pretty closely; users who have, through their past purchases, proven to me that their taste is such that when they open up the PayPal wallet for a release, it's something I should probably check out for myself. Our first release is one that I learned about this way.
The sound of French Oi! / "Street Rock" has become, if you'll forgive me, somewhat en vogue lately. Groups like DALTONZ (from Nantes), Brest's syndrome 81, or Lyon's Claimed Choice are carrying on in the tradition established by bands like Camera Silens or L'Infanterie Sauvage. But it wouldn't be terribly interesting if DALTONZ were just aping these sounds without doing anything else with it. Luckily, that's not the case here. Check out the driving rhythm and shout-along choruses on display on, well, every track here. The bounce and swagger of that classic street rock sound are certainly present, but they're paired with a guitar tone that's almost straight out of the repertoire of Dick Dale. This surf influence is felt mostly in the album's solos (the opening of "Sur le fil du rasoir" or the one about a minute into "Rive droite" are shining examples), but you can hear it in the rhythm, too, churning away, steady as the tides, providing a solid foundation for everything DALTONZ has to offer.
Geographical tags often yield great results, and the #Nantes tag allows us to jump quickly from rough-edged punk to forward-thinking electronic experimentation.
Merch for this release:
Cassette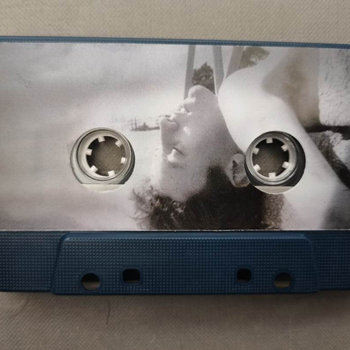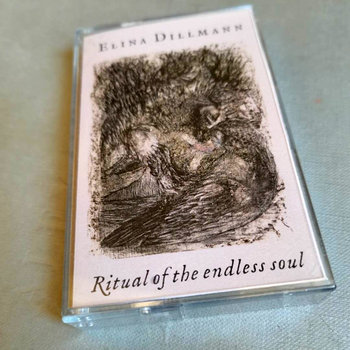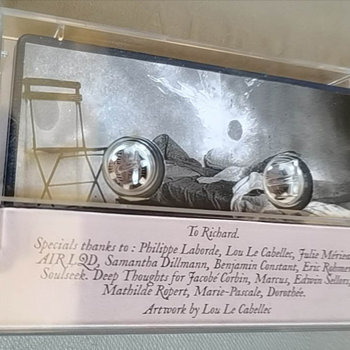 This experimental electronic work is filled with surprises. After a languid, sinuous start, featuring processed vocal samples and towering, slowly shifting synth monoliths, a joyous syncopated beat shows up. You've got to wait for it, as it happens about 12 or 13 minutes into the first track (or "side," since the tracks here are simply the music on each side of the cassette release). This beat hops along for a couple of minutes before bringing in forest sounds, more vocal samples—spoken and sung—and the sound of splashing water, eventually resolving into a flute solo and wooden percussion. Although the track continues to evolve in a variety of unexpected directions (opera, folk, IDM… there's not really space here to go into all of them), this progression is representative of what you'll find throughout this fascinating, sometimes challenging, but always captivating release from French sound artist Elina Dillman. I had hoped to provide a bit of background on the artist, but a couple of searches turned up this Bandcamp page and a German wedding planner. I'm almost positive the two are unrelated. Somehow, though, not knowing who's behind these sounds makes them more curious and engrossing. Ritual of the Endless Soul is a nearly hypnotic release, filled with unexpected moments that continue to entrance even after repeated listens.
The #radio art tag is a new one, and if you're into experimentation, sound collage, and challenges to the definitions of what "music" is and can be, then it's one you may want to make a note of to return to on your own. I know I definitely will.
Merch for this release:
Cassette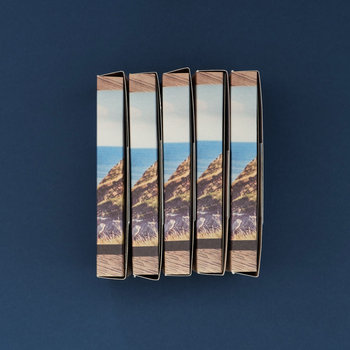 Using field recordings, minimal synthesizer embellishment, and recordings of one side of a voicemail conversation between two friends, Oslo's Jenny Berger Myhre has created an intimate, revealing document that is both an examination of and a love letter to the creative process. Through voicemails left for her friend Camila De Laborde, Berger Myhre has created a document of once facet of those never-ending, free flowing conversations many of us have with our distant friends, conversations that are made possible by technology and take place through an amalgam of text, voicemail, and any number of online chat/messaging systems. As strong and engaging as the overarching idea behind this work is, the music itself is just as interesting. It's calm and meditative, bubbling synths slowly churning under the aforementioned voicemails as well as the sounds of cattle in a field or a person walking along an outdoor path. On "Growing up is for trees," for example, an effervescent synth arpeggio creates a sonic space into which one of the many voicemails on this album is introduced. Spoken thoughts of the power of mindfulness and social activism flow, mixing with field recordings of children at play, which emphasize sentiments from the central conversation. As the album progresses, you come to know not just the person speaking but also the person she's speaking to. It's a bold statement, gently made, about the power of creativity and relationships in the modern world.
Although it's hidden beneath some avant-garde elements, the #alternative pop influence is definitely present in Jenny Berger Myhre's work. We're going to use it to jump into something with a little more literal application of that description.
Sun-kissed and dreamy, Saccharine Sun from Latch takes elements from shoegaze and early '90s pop as its main influence. Don't come in expecting a My Bloody Valentine-style wall of guitars, though. Latch's approach is more gentle. The shimmering "Chaotic World," for example, uses the guitar as more of an ornament, providing an opening statement and shrinking into the background during the verses, content to let the bass handle the song's forward momentum while the guitar bubbles and shines quietly in the background. Later, on "Breath Rythm," the same formula is used but the bass is more kinetic, giving the track a bouncy, playful quality while still maintaining Latch's overall dreamlike qualities. The glue holding these tracks together is Rahmawati Dwi Andini's voice, which lands in a style in the middle of an imaginary continuum with Cocteau Twins on one end and Tiger Trap on the other. Saccharine Sun would fit right into the early '90s 4AD catalog. Be sure to check out their single "Tenggelam" from earlier this year as well. It's a perfect compliment to this release.
You may be surprised to learn how many black metal bands there are in #Indonesia. I know I was. Luckily, there's a label there releasing compilations that allow listeners to sample a huge number of them in one collection.
Various Artists
Indonesian Black Metal Vol. XI
[Since publication of this article, this album has been removed by its publisher —Ed.]
Volume 11? That can't be right, can it? Friends, there is a lot of black metal in Indonesia, and the latest volume of this compilation series from Ritual Darkness Promotions is packed with 30 tracks. What's immediately striking on listening to this album is the breadth of styles that now fall under the "black metal" banner, including (but not limited to) the D-beat influences heard in 1984's "To the Vulture", the mid-tempo gallop of Alam Kubur's two tracks, the more "classic" black metal sound of Kala's "Barra Edinnazu" (a whirlwind of frantic blast beats and screaming guitars), and the raw production of Mantahungal's "Paardrijder," which reaches back to the sound and spirit of early Darkthrone. Because of the wide variety of styles (and production techniques) represented here, it's not easy to pick a favorite, but luckily you don't have to! Art's not a competition anyway. Whether you've been tapped in since the first volume or this is your initial exposure to the Indonesian black metal scene, if you like heavy music at all, you're sure to find something you like here.
Seeing the #atmospheric black metal tag at the bottom of a black metal compilation should be no surprise, and for those of you who have been on these travels with me before, it also not be a shock to see that we're using it to jump to something that isn't really black metal at all.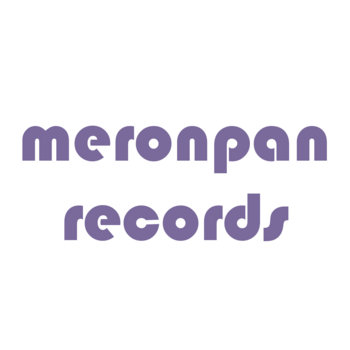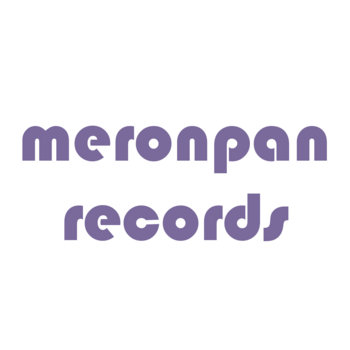 This music is magical. It's very simple on its face—just one or two synth voices, mostly replicating flutes and strings, though some other sounds do make appearances. But this simplicity belies some pretty powerful magic. Roquemaure's music slowly reveals its intricacies, melodies winding together, unfurling, and interlocking, transporting the listener to another time and place—one that may never have existed but is conjured into existence here. Take the short, flowing "Dreamscapes of Old." It's just a simple exercise with harp-like tones, but the way the two melodic lines work together suggests a conversation, a musical give and take hinting at a fuller, unseen world in which this interaction takes place. It's all you need to let your imagination run wild. There's no backstory given in the album's notes, as is often the case with fantasy synth music. It's just presented as-is, providing an inspirational structure on which the listener is free to impose their own ideas.
It's our old friend the #fantasy tag. Applicable to a wide variety of genres, we're using it to make our way to a compilation of French synth sounds.
Merch for this release:
Cassette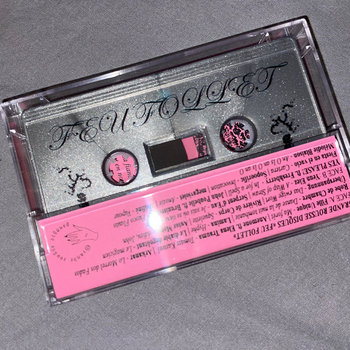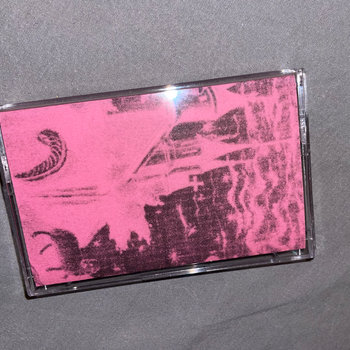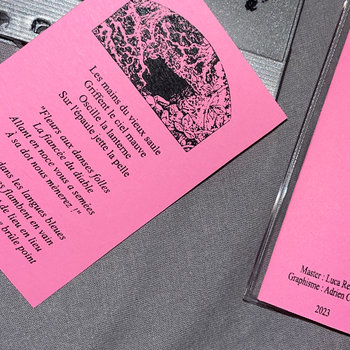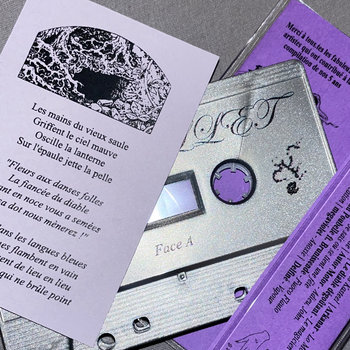 This compilation's cover, formatted for its limited cassette release, is formatted like a J-card and features a monochromatic image of a castle. Dungeon synth, then, right? Not really! Though some of the atmospheric tracks here are somewhat adjacent to that subgenre, there's nothing here that really conforms to its hallmarks. Instead, here are 18 tracks of electronic music, all of which were by artists new to me, and none of which I felt the desire to skip. Standouts here include Sopoorific's "Invocation," with twisting drum lines and breathy, distorted vocals, Rivière de Corps' blown-out, driving "Squelette,"and megaviolet's frantic "Anoxie," which takes the sound of the "ambient" end of '90s IDM and makes it more frantic (think Orbital's In Sides on its 12th cup of black coffee).Those are the three that made an initial impression on my first listen, but as I type this, I'm halfway through my third listen and already new favorites are emerging.
Speaking of variety, the #diy tag (I prefer the all-caps "DIY" but we're staying true to the tag as used) is applicable to all sorts of good stuff. We could probably get lost here for hours, but we have to forge ahead. You can double back and get lost on your own time. It's worth the effort.
The notes for this one proclaim it as Gooth's "Midwestern Emo" album. "Midwest Emo" isn't necessarily from the midwest at this point—the touchpoints of the sound are lifted from midwestern bands of the '90s and early '00s, though. Sometime around late 2022, it became a somewhat popular meme, launching a fair number of parody "Midwest Emo" intros played in the glow of ring lights on TikTok and Instagram. But Gooth (who are from the UK) don't appear to be engaging in parody, or, if they are, it's coming from a place of familiarity and love. The cascading intro to "Cavitation" takes the kinetic guitar lines of genre stalwarts like American Football as inspiration, setting the tone for what's to come. Straightforward genre pastiche wouldn't make for a terribly interesting record, though, and Gooth seem to realize this, keeping the inspiration of "Midwestern Emo" close to the heart but branching out into harmony-laden pop ("Essexville") and even the occasional laid-back acoustic number ("A Bauble Amid the Rooks"). Don't worry, though, those jumpy guitar lines show up again here and there, especially under the multi-layered vocal rounds of "Toleraterer."
I love the #weirdo tag. There's always something in there that's new, fun, and (obviously) weird.
Merch for this release:
Cassette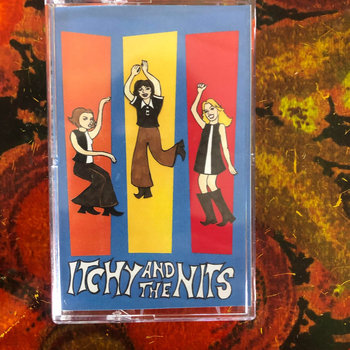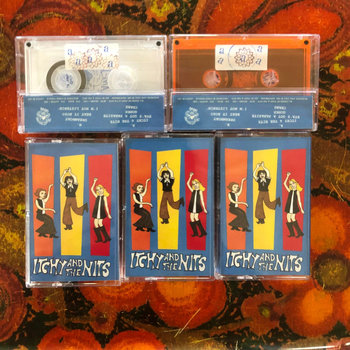 Right from the start, I have to admit to a bias. I unquestionably love it when a band writes a theme song for themselves, and "Itchy & The Nits," by Itchy & The Nits from the album Itchy & The Nits, is the best band theme song I have heard since "Captain Groovy and His Bubblegum Army" by Captain Groovy and His Bubblegum Army.After it's done, though, the fun continues. Itchy & The Nits run through six more scratchy, high-energy, short-length garage punk tunes about universal subjects like having a parasite, having crabs, telling jerks to buzz off, not listening to people when they talk to you, and the joys of shoplifting. Sure, we could talk about influences if you want—there's a decent helping of Thee Headcoatees here, more than a little Helen Love, some Judy & The Loadies—but all you need to do is listen to that theme song. You'll know inside the first 20 seconds whether or not this one's for you.
The #label tag is, I think, a new one. I like finding strange small tags like this at the bottom of a release's page. It makes it easier to jump from Australian garage punk to Icelandic folk.
I will admit here my ignorance of Icelandic folk music, its traditions, and its major contributors, but clicking play on "Heim​þ​rá" here tells me all I need to know. It's a slow song, sad without ever becoming a dirge, and its simple instrumentation is augmented with sounds of surf and sea birds. I can't understand a word that's being sung, but it doesn't matter. The sense of longing and heartache conveyed by this song carries through any language barrier. There's not a lot of information about Vilhjálmur Einarsson readily available, and what there is is confused by others who share the same name, but one listen to this record had me exhausting every resource I could to find out more. The joyous "F​á​kar," for example… what's that all about? They sure sound happy to be playing it. I've got to know more. As of this writing, of course, I don't. All I know is that I've listened to this collection of folk music maybe three times today and as soon as I'm done writing this sentence, I'm going back for number four.
We'll end here, on the shores of Iceland. You're free to forge your own path until we meet again, but as for me, I really was serious about going back for another listen to Vilhjálmur Einarsson's record.