BANDCAMP NAVIGATOR
Bandcamp Navigator, July 2023
By Robert Newsome · Illustration by Jim Stoten · August 02, 2023
Hello again. As we get set to take off on another journey through the tags, I'm thinking about how I interact with new music in general. I'm lucky to have the ability to listen to music most of the time, and a significant percentage of that time is taken up by things that are familiar to me. I've been thinking about things that cross that "new" to "familiar" boundary to become a part of the regular rotation, and when I first heard about them. It's nice to think back to the initial moment of discovery with something that you regularly revisit. Maybe there's something on this list that'll become a part of your (or my) regular listening with time. Let's find out.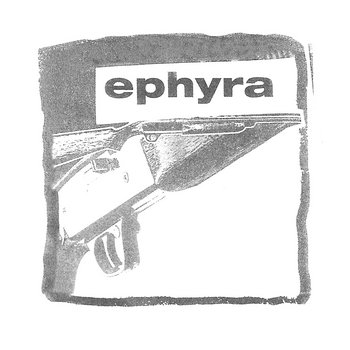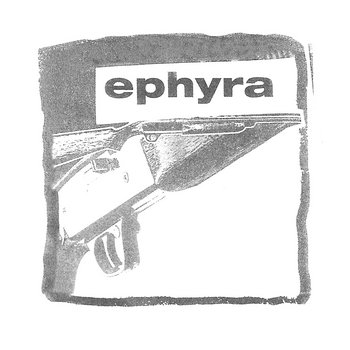 When my friend sent me a link to this, my initial response was "I've never heard this before." Surely this was either a late '90s metallic hardcore or an early '00s metalcore release that I'd just missed the first time around. Imagine my surprise when I saw that release date. Imagine my excitement with the dreamy piano intro subsided and "Under the Weight of a Blackened Sky" kicked in with full throttle galloping drums and tremolo picking. Balmora has riffs, y'all, and they're good ones. This is a perfect synthesis of the aforementioned styles—a blend of the H8000 sound with 7 Angels 7 Plagues–style metalcore and just a tiny pinch of black metal thrown in to spice things up. It's a formula that makes Balmora instantly recognizable as a hardcore band, but metal enough to get them an entry on Metal Archives. It's obvious that the math wizards in Balmora have spent some time considering the essential "fast-part-to-breakdown" ratio, because the balance between the two is absolutely perfect here. There's a palm-muted juggernaut about a minute and 45 seconds into "July, Unending" that's utterly transcendent.
Both Balmora and Ephyra Records, the label that released With Thorns of Glass and Petals of Grief are from #Connecticut, a state with a deep history of harcdore and metal. We're going to stick around there for a bit longer, but move into somewhat less aggressive sounds.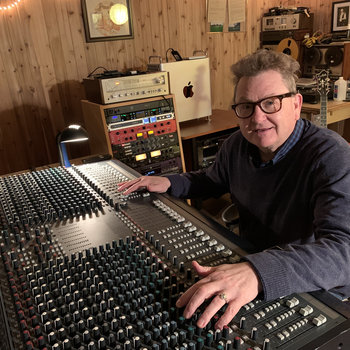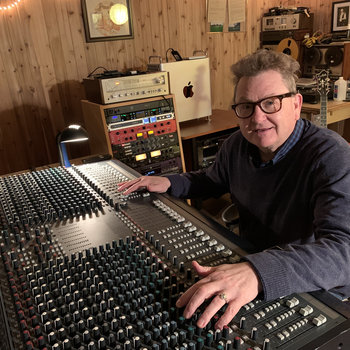 Sometimes, as I'm writing these columns, I find something that opens up a whole new territory for me. It's one of my favorite things about doing this. I don't know anything about the punk/power pop scene in Connecticut in the early '80s, but this single sure makes me wish I did. The A-side is a harmony-packed, keyboard-driven slice of pop that updates the late '60s Buddah Records–style bubblegum sound for the time when the initial wave of punk was subsiding and its influence was getting mixed in with all sorts of other genres. Call it the dawning, I guess, of the "post-punk" sound, although The Astrobeats are definitely not what you might think of when you hear that descriptor today. The two shorter B-side tracks are a little less polished, but no less infectious. "Tight Jeans" has the feel of a stripped-down Ron Dante composition, built around a chunky guitar riff and steam-train percussion. Closing track "Some Sun" cranks up the reverb, showing a side of The Astrobeats that sounds like an alternate universe This is the Voice-era Agent Orange.
The #punk influence on The Astrobeats is obvious. "Punk" as a descriptor is so vast now that there's no one ideal sound that satisfies the description. Our next featured artist doesn't sound a whole lot like The Astrobeats, but there's no denying that they both have a legitimate claim to the tag.
Merch for this release:
Vinyl LP, Cassette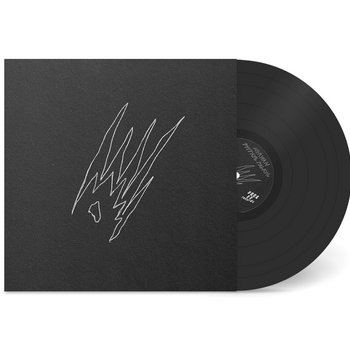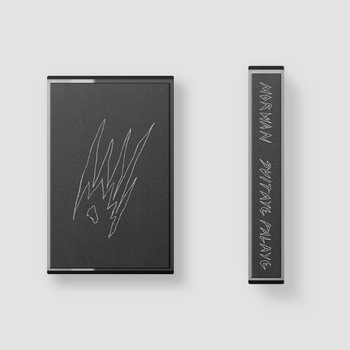 I've been a fan of Morwan since their first release, 2019's Ubila Mogila. The band, a one-person project from Kiev-based musician Alex Ashtaui, has steadily evolved, from that first release to 2020's Zola-Zemlya, and now to this. There are no radical departures here. Morwan still provides the same folk-influenced post-punk as always, but there's an extra edge to these songs. As Ashtaui writes in the album's notes, "The main theme of the album is the war." This should come as no surprise to anyone with an even cursory knowledge of current events. But don't expect a literal dissection of political issues. Instead, Ashtaui focuses on "pain of loss, sadness, fear, hatred, anger, and aggression." All of these are threads woven deeply through the album. In one of the more chilling and impactful moments on the album, at the end of "Тополі," Ashtaui repeats "Так багато тіл, Так багато тіл" (So many bodies, so many bodies). The pain and anger are palpable throughout, even if you don't understand the language. That Morwan was able to convey these dark, desperate emotions in a compelling album that advances their musical evolution and stays true to their established sound is a testament to the immense talent on display here.
The #ethno tag is one that I don't have a lot of familiarity with. When I see something slightly unfamiliar hanging out in the tags, I almost always jump right into it. As usual, the exploration did not disappoint.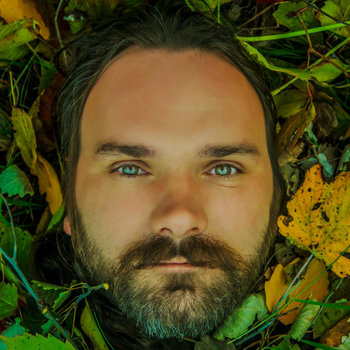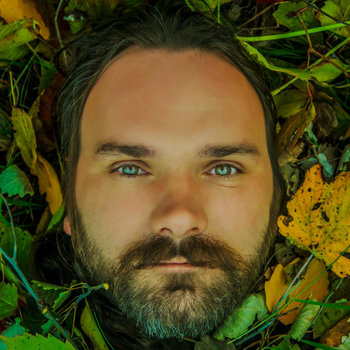 A dense and richly layered work, Heinczinger Mika's 2017 album ÉgIg​é​z​ő​k combines Hungarian folk tradition with influences selected from other folk musics from around the world. There's the mandolin-driven "Mindenek Szerelme," which weaves in harmonica and a low brass horn for a blend of the sounds of Appalachia, Ireland, and Bavaria. Then, there's the acoustic strummed drones and massive vocal choruses of "Himnusz Gyümölcsöltó Boldogasszonyhoz," one of the album's more hypnotic pieces. "Szellemtánc" features a high, piercing flute, paired with rattling percussion, a piece that moves effortlessly from a tranquil, pastoral mood to a high-spirited, driven march. There is, frankly, a lot going on on this record, and all of it is great. At the center of it all is Mika's warm, resonant voice, a grounding element at the center of all of these disparate sounds. Familiarity is not a prerequisite here. Heinczinger Mika has created a work that is firmly rooted in tradition but is allowed ample room to grow, to explore its surroundings and weave in whatever best serves the music.
We're moving now to a folk-based work with some occasional #country influences to an excellent release that's more in line with what you may traditionally think of when someone mentions it.
Merch for this release:
Compact Disc (CD)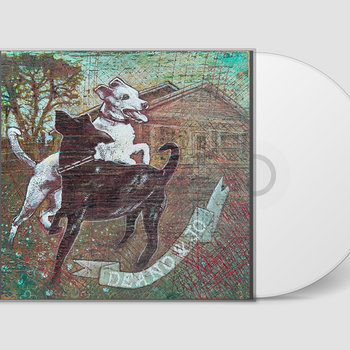 Memory is a funny thing. It's hard to tell, through the distance of years, what your mind has idealized and what actually happened. Whether it's completely true or not, I remember nights at my grandmother's house in rural north Georgia. She'd turn on the local country station and we'd clean up the kitchen after dinner. The music on Deano & Jo's self-titled album obviously wasn't what we'd listen to, but it sure feels like it could have been. Okay, some of the songs here are covers, so maybe we did hear the originals. The songs on this album, new or old, just feel good. Whether it's the prisoner's lament of the Stanley Brothers' "Stone Walls and Steel Bars," the boisterous good-time version of Jimmy Martin's "Hold Whatcha Got" or the drinker's regret expressed in the original "My Evil Twin," country fans will find a lot to love on this record. Open the windows or sit on the porch, look up at the night sky, and listen to the fiddle and steel guitar as they waft out into the atmosphere. It just feels right.
Country music and #bluegrass, though different genres, are tightly connected. Rather than try to explain the difference with words, just listen to that Deano & Jo record immediately followed by this next one. You'll pick up on it.
Merch for this release:
Compact Disc (CD)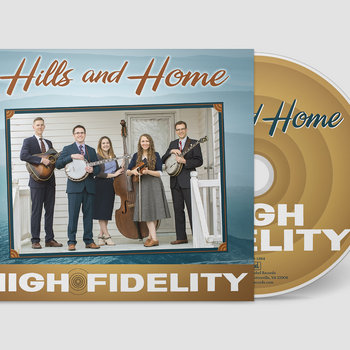 If you release a bluegrass record and you kick it off with the Monroe Brothers' hillbilly gospel classic "My Savior's Train," it's like you're creating a record specifically tailored to my tastes. This is an incredible record. It's pure bluegrass to the core. There are no reinterpretations or modern reimaginations of the format. Those things in and of themselves are not bad; I like lots of music that approaches the genre from that perspective, but this, this is the pure essence. Every performer on this record is at the absolute top of their game. The vocal harmonies are electric, making the little hairs on the back of your neck stand up. The secret weapon here, though, has to be Corrina Rose Logston Stephens's fiddle playing. It's perfectly utilized. Take the album's title track, for example; it's a sweet remembrance of home, the kind that bluegrass records so often feature, and it's great, and then out of nowhere that fiddle pops up, lays down an absolutely scorching little solo, and then fades away to wait for the next turn. This happens on multiple songs throughout the record. It's thrilling stuff. If you've ever even kind of liked a bluegrass song, this record is for you; an absolutely wonderful experience from start to finish.
A few months ago, I drove through #Virginia twice, from south to north and then from north to south. There's a whole lot of it. There's a whole lot of music from there, too. We're moving on from bluegrass sounds now and heading toward some throwback hip-hop.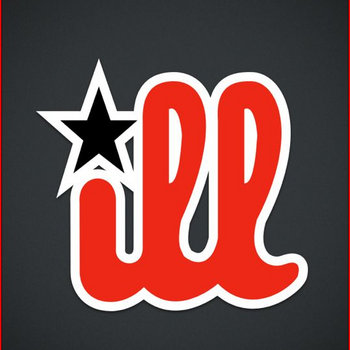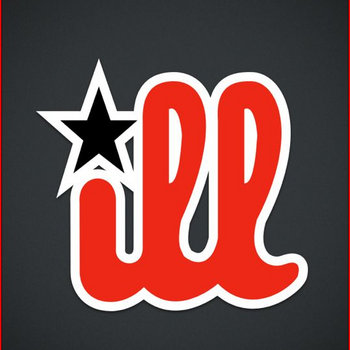 The release date says 2023, but the title has a parenthetical "2007" stuck on the end, so I'm going to assume this is a re-release of earlier material. It's somewhat important to nail these things down, temporally, but ultimately it doesn't matter. What matters is the content, and this is a hard-hitting record of mid-to-late '00s-style hip-hop featuring a rapper (Richmond's Illa Styles) with an energetic and acrobatic flow. Check out "Movin'," a track built around a floating, breezy flute loop. On "Drank Ova Tha Ice," a wobbly, unsteady beat with slightly distorted bass and a digitally-slowed vocal line musically replicate the feeling of being, as the opening line describes, "high as a Georgia pine." "Trying to Kill Me" uses ominous string loops and ringing chimes for instrumentation that perfectly echoes the lyrical themes of hyper-vigilance and paranoia. We're talking, of course, about this one release, but while you're here, it's well worth your time to check out some of Illa Styles's other releases. You'll see that G4 Edition is just one facet of an extremely talented artist.
I live in Georgia, so I'm more familiar with #Richmond, Virginia than with Richmond, California. This release uses both the "Richmond VA" tag and the city name by itself, and that city name is enough to let us jump from one side of the country to the other.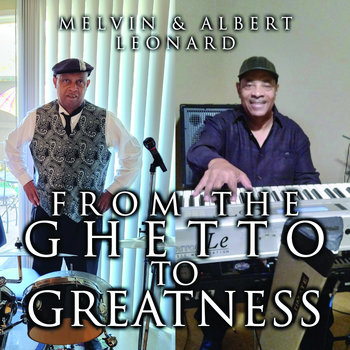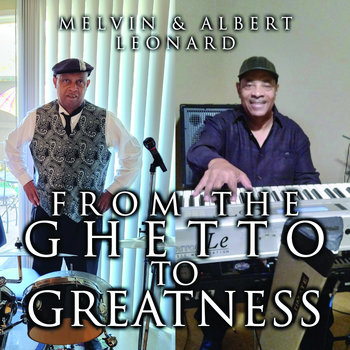 Merch for this release:
Compact Disc (CD)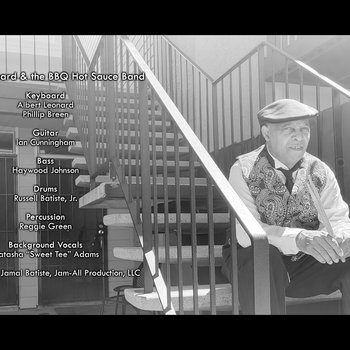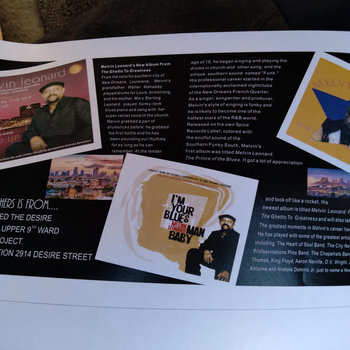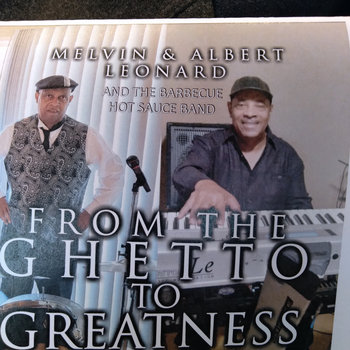 The first time I listened to this record, I was having a bad day—nothing terrible or traumatic, just a sequence of difficulties and annoyances that built up to more than the sum of their parts. As soon as I clicked "play," though, I was greeted with Melvin Leonard's voice saying "People just don't wanna do right/ I don't know why they don't wanna do right." Reader, I was instantly on board. This record turned my whole day around. It's 10 tracks of relentless positivity. It's not all platitudes, though. Real social issues and struggles are addressed here, too ("People Need Money" and "You Putting Pressure on the People" specifically) but even when the band is tackling heavy issues, they do it with an easygoing, funky sound that is almost guaranteed to put a smile on your face. Melvin Leonard's vocals and Albert Leonard's keyboards are the focal point here, but Haywood Johnson's bass playing also deserves recognition. His skillful, soulful playing propels every song to a higher level. From start to finish, From the Ghetto to Greatness is an absolute joy.
We're sticking with #r&b/soul sounds for just a bit longer, but moving into a more futuristic and synthetic presentation of the concept with our next feature.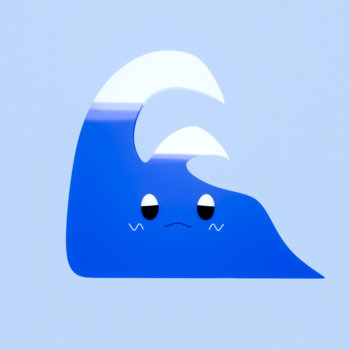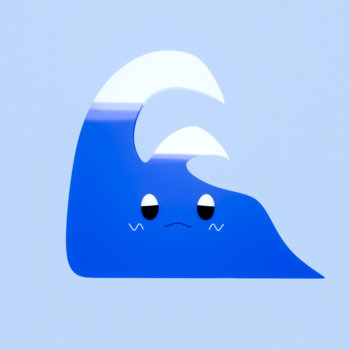 Much of my fandom of synthesized music can be boiled down to the extremely simple concept of "cool noises." Of course I appreciate skillful musicianship and artful arrangements, but there's something about a sound in and of itself that can hook me just as deeply as a clever melody. The Vocaloid vocal synthesizer is one of those sounds. There's something about it that's intensely appealing. It's paired here with open, bright, sunny arrangements that are tailor made to be played loudly in a car while driving with the windows down (preferably this is happening inside a video game) or maybe on a tropical beach somewhere while a volleyball tournament is going on. The music here achieves the admirable feat of being both uptempo and laid back at the same time. Check out the mid-song breakdown in "なみぐる,ずんだもん,初音ミク – ウニクラゲ"—it gives you just enough time to catch your breath before the tempo ramps up again. Combining the flavors of several styles of electronic music (along with, obviously, copious amounts of vocal synths) have yielded a unique blend, one that maintains its strong appeal after numerous listens.
It shouldn't come as a surprise to see the #Japan tag here. We're going to use it to jump from Vocaloid dance music to a Japanese label's release of some Spanish grindcore.
Merch for this release:
Cassette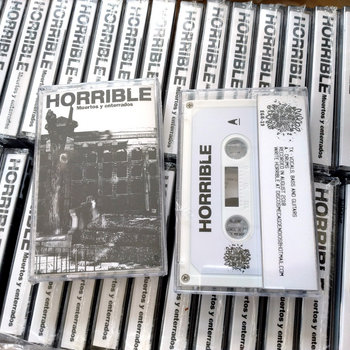 Everyone likes to talk about Napalm Death's "You Suffer," but what, you may be wondering, are the recent advances in songs that are shorter than two seconds? Madrid's Horrible are the vanguards of this important research. Muertos Y Enterrados features a total of eight tracks clocking in at five seconds or less, two of which are only a single second in length. If you want something a bit longer, they're happy to oblige. Several tracks have a double-digit (in seconds) length, and album closer "Fin Del Mundo, Gracias" is a relative epic, flirting with the three minute mark. This all sounds like fun, but another important question is whether or not it's any good. I'm happy to report that yes, it is. It's a grindcore album (released on cassette by and living here on the Bandcamp page of Tokyo's Esagoya Records), so you know what you're getting into, but Horrible is careful enough with their arrangements (such as they are) to realize that even a half-minute song needs hooks. Check out "Bien Dirigido," which alternates between an all-out frenzy and a chugging little riff creating, even within the framework of a few seconds, a varied sonic experience.
And there's our latest trip around the world. Bookended by "yelling music," as denoted in previous columns, with some (I hope) new surprises in between. Maybe, as we discussed in the introduction, there was something in there that will stick in your permanent musical rotation for a while. Maybe you used this list as a map to chart your own explorations. Either way, there's a lot of music out there we haven't heard yet. We've got a long way to go before we get to all of it.