ALBUM OF THE DAY
Album of the Day: The Doppelgangaz, "Dopp Hopp"
By Jay Balfour · July 26, 2017
​
​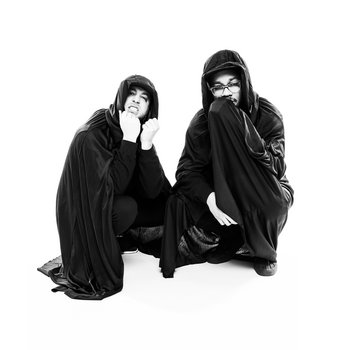 .
00:10 / 00:58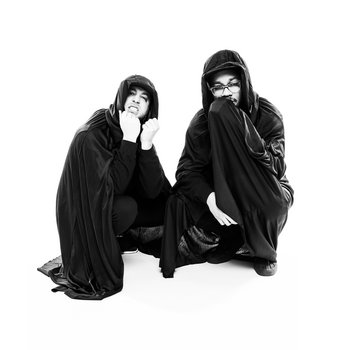 Over the course of their career, New York rapper-producers Matter Ov Fact and EP—aka The Doppelgangaz—have spun their discography into an inside joke of sorts. Within their verses, Fact and EP conjure up dingy, non sequitur vignettes, taking close-ups of demented deadbeats on benders, holed up in roach motels and decrepit nursing homes. The rappers wear black cloaks for no apparent reason, other than to conjure up a cultish flair.
On Dopp Hopp, their recently-released sixth full-length album (excluding a handful of instrumental LPs), Fact and EP have turned this bewildering barrage into a massive manifesto, but it's also just another chapter in their long-running gag. That the Doppelgangaz don't take themselves too seriously is obvious; that they never let up on their bit is the real accomplishment.
Until recently, the Doppelgangaz pushed a smooth-around-the-edges style of boom-bap, using dusty beats as the backdrop for tortuous plots. Dopp Hopp confirms a recent and still developing turn in which they lean nostalgically into smooth R&B and G-funk without sacrificing the shock value of their tongue-in-cheek horrorcore. "Strong Ankles," with its pristine synths and bubbling bass, might be a sultry banger in another MC's hands, and while Fact and EP turn it into a love song of sorts, their barometers for attraction are morsels of lovey-dovey repulsion. "Shorty sneeze guacamole and when she's bleeding it's ragu," Fact quips at one point, never letting on that a joke has been told. "Rapamycin," named for a non-recreational pharmaceutical you won't hear anyone else in the rap game brag about, is a mission statement on debauchery and gourmet tastes alike.
Then on "Roll Flee," EP strings together enough exotic rarities to trigger a dozen new Google searches. That skin condition of his you can't stop looking at? It's not mites, it's a form of herpes called zoster. His four-legged companion? A Madagascan mammal called a fossa. The dinner bill they're dashing from? An extravagant sushi lineup from New York's famous Masa. All this in a few grinning, spectacular bars. It sounds random because, well, it is, but the Doppelgangaz revel in this type of weirdo world-building.
Baffling vocabulary and clever lyricism allow both rappers to say a lot with a little. Then again, even once you've sussed out a meaning, you might still wonder what the hell these guys are talking about. There's no setup or post-joke wink in a Doppelgangaz verse. There's no punchline at all. They're just shining their spotlight into the darker crevices of a shared imagination.
—Jay Balfour