ALBUM OF THE DAY
Richard Dawson & Circle, "Henki"
By Jim Allen · November 23, 2021
​
​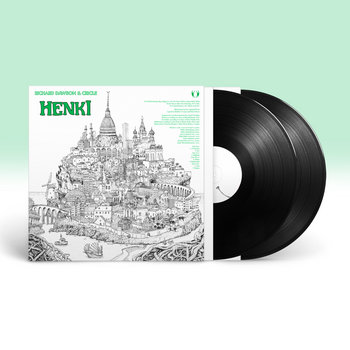 .
00:10 / 00:58
Merch for this release:
2 x Vinyl LP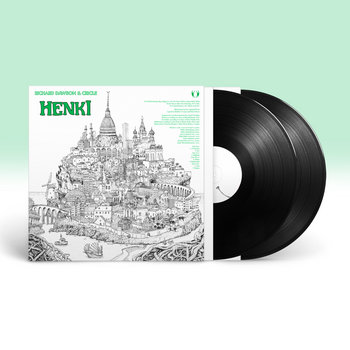 You know you the music you're making is "outside the box" when you team up with a bunch of spandex-wearing Finnish art-metal oddballs for a concept album full of songs about extinct plant life…and it turns out to be the most "normal"-sounding record you've made. Such is the case with British singer/songwriter Richard Dawson, who allies himself with freaky Finland pranksters Circle for Henki.
Dawson's been delivering his weird-uncle missives from the UK avant-folk underground since 2005, mostly framing his eccentric observations with Cubist acoustic guitar accompaniment, like an unplugged Captain Beefheart with a Kingsley Amis preoccupation. He tried out some rock band arrangements on his previous album, 2020, but Henki (loosely, Finnish for "spirit"), is a full-on collaboration between Dawson and Circle.
Their chief commonality seems to be a passion for messing with people's heads. The whimsical Finns currently call themselves a metal band, but their twisty history includes everything from psychedelia to electro-experimentalism, and they don't confine themselves to headbanging here.
Circle works up an ominous art-rock waltz on "Cooksonia," where Dawson gives a first-person account of the life of Australian botanist Isabel Clifton Cookson, for whom the extinct plant of the song's title is named. The singer's sandpapery tone and freewheeling phrasing suggest Robert Wyatt smoking a blunt while poring over a biology encyclopedia.
The band works its way up to a Judas Priest-worthy frenzy on tracks like "Methuselah" while Dawson sings of geographic researcher Donald Currey's 1960s work with bristlecone pines. But across Henki, Circle dips into pulsing, sequencer-friendly post-rock ("Silene"), a Neu-indebted krautrock feel ("Silphium"), and more. And as eccentric as the subjects may seem, Dawson manages to make it all grist for his potent poetic mill.
Whatever the musical mode, the band mostly locks Dawson into relatively conventional structures and rhythms—a drastic change from earlier albums where the band-less troubadour was free to wander unfettered. Add in the prevalence of crashing power chords and Henki has Dawson punching in a whole new weight class.