ALBUM OF THE DAY
Album of the Day: Queen of Jeans, "If you're not afraid, I'm not afraid"
By Max Savage Levenson · August 20, 2019
​
​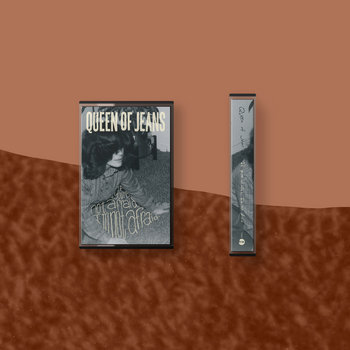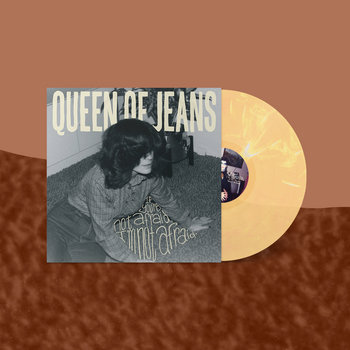 .
00:10 / 00:58
Merch for this release:
Compact Disc (CD), Vinyl LP, Cassette
Until its removal in 2015, an enormous sign for the store King Of Jeans—depicting a towering, shirtless man bending over to kiss a kneeling woman—loomed large in South Philadelphia. It's no coincidence that the band Queen of Jeans, who also hail from South Philly, took their name from the sign's egalitarian-minded replacement. Since releasing their eponymous EP in 2016, the group has made a point of celebrating queer female identity, in both their music and their public persona. That message is amplified on their dazzling sophomore album, If you're not afraid, I'm not afraid. While the group previously incorporated elements of doo-wop into their indie rock anthems, here they pull from a wide swath of rock history, embracing a sumptuous hi-fi sound, to deliver a resounding message of resilience in the face of dissolving relationships. It also addresses the death of frontwoman Miriam Devora's mother (whose photograph graces the album's cover), and the challenges of being a queer woman in fraught times.
Devora doesn't merely process these traumas individually—she identifies situations in which they intertwine. "Tell Me," for instance, turns an account of gaslighting ("You can't sign away my rights on a dotted line") into a testament to Devora's resolve: "I'm a woman / And a woman knows her mind." In "Rum Cheeks," which channels the stately melancholy of Leonard Cohen, she searches for herself in the context of a tense relationship: "At your place / At our place?" she asks deftly.
Instead of shying away from these moments of conflict, Queen of Jeans confront them with bombast. The epic kiss-off "Get Lost" evolves into a euphoric pop anthem in the vein of the B-52's "Roam" or Fleetwood Mac at their most grandiose. Fueled by Patrick Wall's thunderous drums and Mattie Glass's vivid guitar figures, tracks like "Tell Me" and "Centuries" evoke the smart arena-rock of The Bends-era Radiohead. The album ends with "Take It All Away," a cleansing, cathartic tidal wave of sound. "Break down that sorrow," Devora cries alongside the tempestuous arrangement, summing up the album's mission statement, "Rebuild things tomorrow."