ALBUM OF THE DAY
Pyrkagion, "The Katechon and the Unending Fire"
By Colin Williams · August 14, 2023
​
​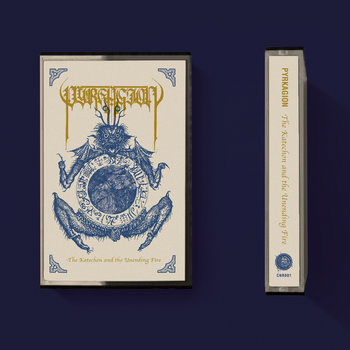 .
00:10 / 00:58
Merch for this release:
Cassette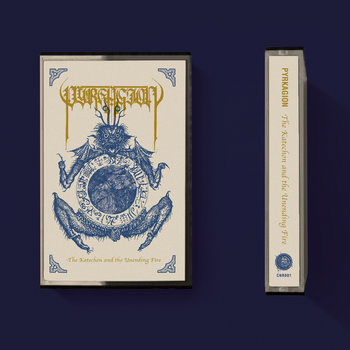 Looking at a band's pedigree can be misleading. What would you even get if you took, say, the bassists on Hissing's Hypervirulence Architecture and Bell Witch's Future Shadow Part 1 and stuck them together in a lineup?
It turns out the answer, at least in this particular lineup, is scalding black metal. In 2019, Bell Witch's Dylan Desmond and Hissing's Zach Wise formed Pyrkagion, ditching bass for guitar and enlisting ex-Human Effluence's Brennan Butler on drums. Their debut EP The Katechon and the Unending Fire marks a thunderous entry into the genre. It does contain trace elements of its members' other projects—Hissing's noisiness, Bell Witch's emotive melodies—but sounds new and arresting nonetheless. 
"The Unending Fire," the EP's back half, combines several black metal modes in one composition. There are hornet's-nest passages reminiscent of West Coasters such as Ash Borer, as well as martial riffs that split the difference between second-wave and atmospheric approaches. Far from being collagists, though, Pyrkagion manages to braid these moments together into a cohesive whole. The EP's buzzing rhythm section provides a sturdy trellis for Desmond and Wise's intertwining guitar work.
The muggy production plays a key role in the album's success. Rather than evoking Nordic chill, these two songs are wrapped in oppressive warmth, the vocals echoing and wobbling like heat mirages. Butler's fluid drumming further reinforces this EP's organic qualities; while not quite "raw," per se, Pyrkagion's brand of black metal is rough-hewn rather than varnished. This quality makes the record interesting from multiple angles of approach and rewards repeated listens.
The Katechon and the Unending Fire was apparently the product of several years' work. The transitions in "Red Rays of the Starless Eclipse" reflect that attention to detail, with several deft shifts between blast beat-powered churn and more expansive guitar. This sense of pacing makes the EP's 25-minute run time satisfying without the need for interludes. One wonders what the band could do over the course of a longer release. Clearly Pyrkagion has benefitted from ignoring the hard boundaries of stylistic convention: these makers of the slowest, scariest, and grossest forms of metal have combined to write a truly haunting novella.