ALBUM OF THE DAY
Album of the Day: Protomartyr, "Relatives in Descent"
By J. Edward Keyes · September 29, 2017
​
​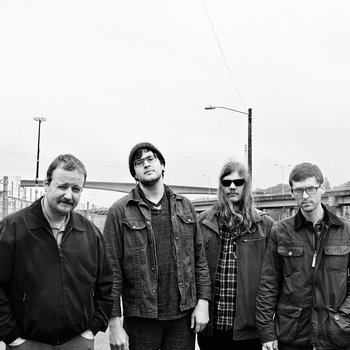 .
00:10 / 00:58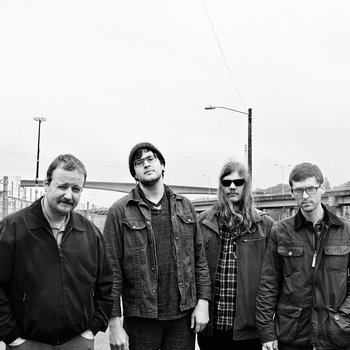 On their first two albums, Protomartyr turned a jaundiced eye toward their immediate surroundings, documenting nasty displays of violence—both interpersonal and systemic—that cropped up throughout their home city of Detroit. On their third album, The Agent Intellect, they expanded their scope, trying to dig up the roots of that violence in religion, philosophy, and biology. On Relatives in Descent, their focus has become even more diffuse.
Early in the haunting opener "A Private Understanding," frontman and lyricist Joe Casey declares: "Not by my own hand / Automatic writing by phantom limb," and much of Descent seems to follow that M.O. Gone are the "hawks ripping out liars' eyes" and "dogs eating their young." In its place is language that's looser and even more stream-of-consciousness. The grinding "Here is the Thing" feels like a bleak MadLib of contemporary catastrophes, Casey itemizing, "New face loves surveillance, comic sans, parroting an ape" as the band kicks and grunts behind him. On the tumbling "The Chuckler" Casey balefully sings, "War and rumors of war / Clouds of poison in the sky and poison in the soil," before delivering the kicker: "Lord, how I wish there was a better ending to this joke." The pensive "Up the Tower" condenses the album's entire thematic thrust into one microcosm: it begins with Casey sharing a cigarette with a man on a corner, but as the song goes on, the lens widens: Protesters burst through police blockades and storm a mansion until they reach "the golden door"—the entire song shifting from the personal to the political to, arguably, the theological in the space of 90 seconds.
Throughout Descent, the band scales outward to match the lyrics' wide grasp. On their first two albums, they felt feral and unglued, but on Intellect they began softening the edges of their sound. They continue that expansion on Descent to spectacular effect. The opening of "My Children" is chilling in its spareness, just a few icicle-like guitars from Greg Ahee dripping slowly in the background as bassist Scott Davidson and drummer Alex Leonard stalk the song's edges. Even when it gains speed, it still feels open and harrowing, Ahee preferring bent-wire post-punk leads over brick-like riffing. "Night-Blooming Cereus" is the closest thing to a ballad the band has written yet, floating along on an eerily-serene synth line, Ahee's guitar appearing only in lightning-flashes. Casey has grown exponentially as a vocalist in the short five years since No Passion All Technique; for much of Descent, he adopts a kind of weather-beaten croon, all the better to serve the band's increasing fondness for empty spaces.
If Protomartyr have a clear antecedent, it's The Fall, another band who paired knotty guitar work with declamatory vocals and lyrics that are, by turn, cutting and obscure. But where The Fall seemed content to submerge themselves in the acid of cynicism, Protomartyr have always looked for opportunities to come up for air. At the end of "The Chuckler," Casey seeks solace in a phone call with "A direct-marketer from Bangalore." They talk about life and the weather and the fact that the person on the other end of the phone shares a name with a friend of Casey's. It's a small detail, but on an album preoccupied with global ruin, it also offers a few seconds of hope. Even now, in an age lit by burning cities, surviving on polluted water and expired food, human connection—even between a rock singer and a customer service representative—is still possible. All you have to do is want it badly enough.
—J. Edward Keyes