ALBUM OF THE DAY
Moth Cock, "Whipped Stream and Other Earthly Delights"
By Leah B. Levinson · September 07, 2022
​
​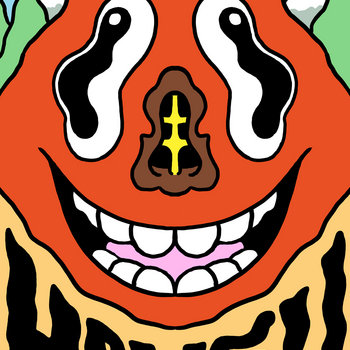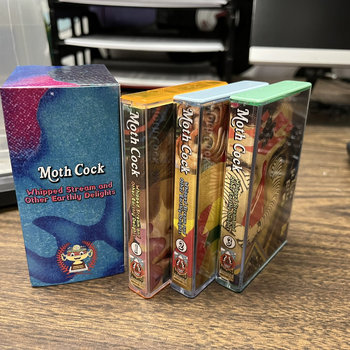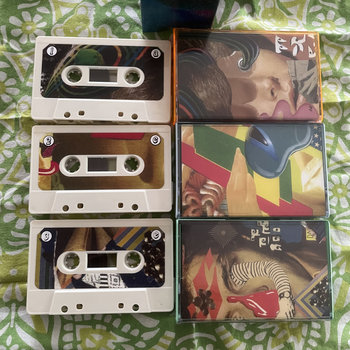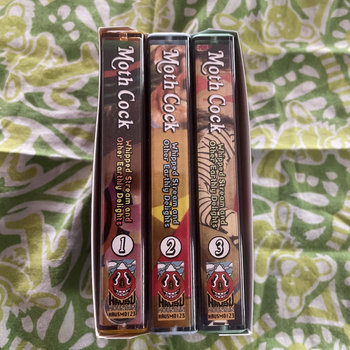 .
00:10 / 00:58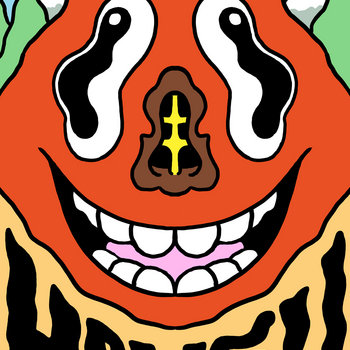 Merch for this release:
Cassette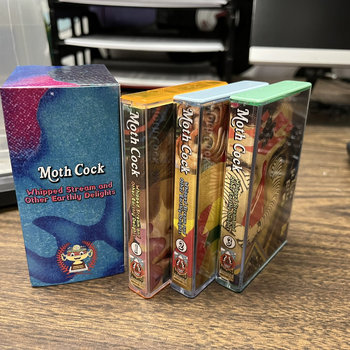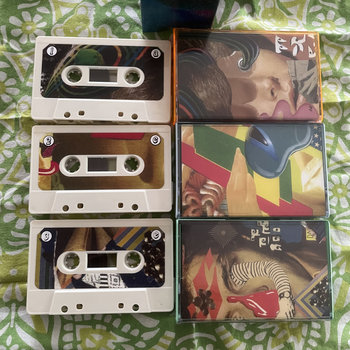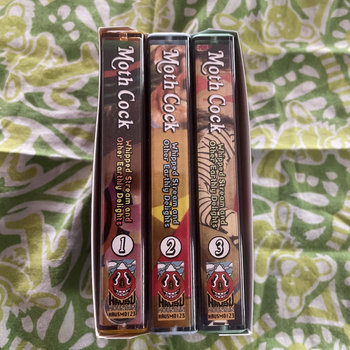 If you're curious about how moths reproduce, here's a quick summary: First, a female moth secretes pheromones to attract a mate, who then attaches himself at her abdomen using his "claspers" (don't ask). The male moth then delivers a "spermatophore" (a small sack containing spermatozoa and nutrients for the larvae-to-be) to the female via his aedeagus. The female moth then carries the spermatophore in her abdomen, remaining capable of mating with several more males before laying the sum total of her fertilized eggs.
And that may or may not be beside the point. On Whipped Stream and Other Earthly Delights, Moth Cock deliver not a spermatophore but otherwise hefty and nutritious three-and-a-half hours of electroacoustic improvisations that frequently conjure worlds as wonderful, alien, graceless, and confounding as insect mating. This three-cassette collection compiles livestream performances by the Kent, Ohio-based duo (consisting of saxophonist Doug Gent and electronics improviser Pat Modugno) created for two separate Twitch series: Hausu Mountain's Fun One and evenings curated by Pizza Night founder Sam Goldberg. Reminiscent in form to an hours-long Grateful Dead bootleg, the album is oriented toward the long-form jam, evoking trancelike effects through patterns and drones. The duo consistently excels, however, in going beyond the sum of their parts.
Extended groove-based jams like "Invisible Pranks," "Mineshaft Full of Caspers," and "Sprawl Battles" exhibit the duo's uncanny ability to change on a dime as well as present a stunning array of ideas and textures in a limited live duo format. Meanwhile, album opener "Castles Off Jersey" presents them at their most subdued: a droning introduction in which the live-processed saxophone seems to arrive from another world (perhaps benefitting from the always-somewhat-alien format of the livestream.) By combining an audibly palpable sense of humor with a predilection for exploratory sounds, Moth Cock concoct a live album like no other.
As a durational work, it's clear that much care went into sequencing and curation. Frequently, transitions from track to track seem to provide subtle jokes, and the whole album is paced with moderate peaks and valleys, allowing the ears (and vibe) to recover from its more abrasive offerings. And while the album shares very little with its primary namesake, it seems likely it was at least in part structured after a triptych (like itself) that its name references: Hieronymus Bosch's The Garden of Earthly Delights.
The duo's sixth release for Hausu Mountain, Whipped Stream and Other Earthly Delights serves as a celebration, marking the label's ten years of existence and, likewise, Moth Cock's ten-year anniversary with the label. As such, it's an ample summary of what both the label and duo have come to be known for. For a more direct introduction to the duo, one might consider their bitesize 2016 split with Form A Log or their more polished 2019 release If Beggars Were Horses Wishes Would Ride. But if one wants to get straight to the heart of Moth Cock they needn't look further. Whipped Stream and Other Earthly Delights gives more than the full picture.