ALBUM OF THE DAY
Mock Execution, "Killed By Mock Execution"
By Kerry Cardoza · July 01, 2022
​
​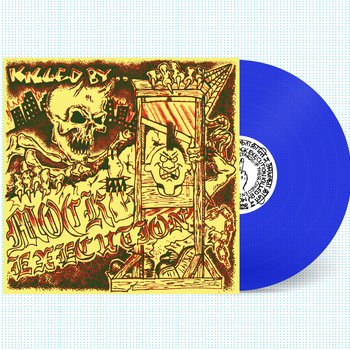 .
00:10 / 00:58
Merch for this release:
Vinyl LP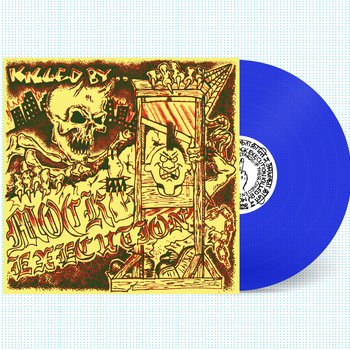 Mock Execution is the sort of band that's best enjoyed live. The volatile Chicago quartet's overpowering volume, palpable ferocity, and infectious energy tend to inspire slam dancing within the first 60 seconds of their set. Fortunately, this debut LP, out via La Vida Es Un Mus Discos, deftly captures the spirit of those raucous live shows. While slightly more polished than their previous offerings, Killed by Mock Execution maintains a lo-fi production approach; the band recorded the album using an 8-track tape recorder in their practice space. The unpretentious, raw sound is a perfect fit for this crust-infused hardcore act, which features veterans of Kuu-Jaat, Snaggletooth, and Charged C.B.H., among other bands.
Album opener "Apocalypse Now" is a doomy ripper, with thick guitar textures and an almost surfy riff; dejected background howling makes you feel like you might be in hell. There's plenty of variety on the tracks here, with the band delving into aggressive, NYC-style mid-tempo hardcore, as on "Calm In The Chaos," and blisteringly fast, Japanese noise-punk, as on "Shanti Ra Surakxya (Peace & Security)." Mock Execution is frequently compared to Finnish hardcore legends Kaaos, and for good reason—both seem intent on defying any hardcore conventions, focusing instead on communicating pure disgust for the rotting world around them. Here grunts, harsh screams, heavy, uneasy drumming, and piercing guitar become sonic embodiments of failing states, authoritarian violence, and social dis-ease.
To that end, "Stagnant Fools" is a standout track featuring a dramatically drawn-out opening, where a slow, rock 'n' roll guitar riff trades off with bursts of drum-filled noise as if mocking the impotence of rock. Then almost halfway through the two-minute song, lead vocalist Spawn cuts in with a strangled howl, and unhinged belligerence ensues. Epic closer "Enough is Enough" is another tense offering, with a dominant bass line juxtaposed by shrill guitar notes. Here, as on several other songs—from "Insanity" to "American Dream"—the flanger effect lends a wobbly, psychedelic air. It's the only song that nears the three-minute mark, moving at a steady, ominous pace and gradually building a dissonant atmosphere of frustration. Recorded during the height of the pandemic, the album seems to evoke the crushing weight and fraught anxiety of those days, which haven't been eased as much as ignored by our inept government. Seen in that light, "apocalypse now" could be either a prediction or a prayer.