ALBUM OF THE DAY
Koenjihyakkei, "Nivraym (Revisited)"
By Jim Allen · February 16, 2023
​
​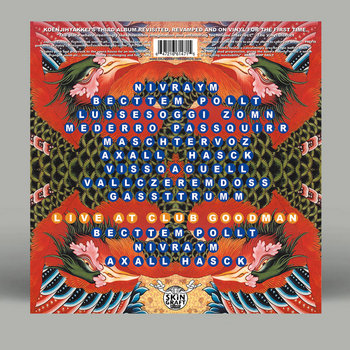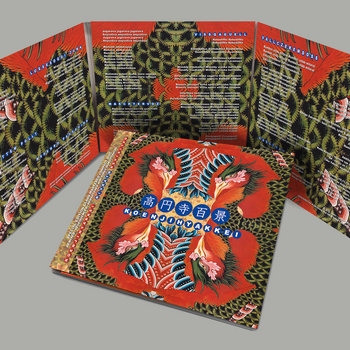 .
00:10 / 00:58
Merch for this release:
2 x Vinyl LP, Compact Disc (CD)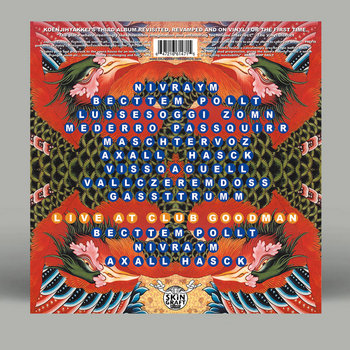 Arriving in the world of Koenjihyakkei unprepared is like leaping into a tornado that spins you dizzy and spits you into the midst of a meteor shower that deposits you underneath an avalanche. But the tornado is made of fire, the meteors have started a band, and the avalanche is bellowing at you in a made-up language.
Drumming mastermind Tatsuya Yoshida of radical art/noise duo Ruins founded Koenjihyakkei in early '90s Tokyo. Ever since, they've been among the premier practitioners of zeuhl, the utterly singular blend of prog, jazz, and Wagnerian opera that originated in the early '70s by French freaks Magma and eventually disseminated worldwide.
The band's third album Nivraym came barreling into being in 2001, and was tweaked in 2009 with overdubs by the latest lineup. Now a newly revisited Nivraym has been remixed, remastered, re-sequenced, and given its first-ever vinyl version. What emerges is a beast that bears the original release's blend of maniacal precision and brute force but adds some new mojo all its own.
With Yoshida as its fulcrum and only constant, Koenjihyakkei has always taken the first-gen vision of zeuhl—a genre synonymous with visceral power—and intensified it a thousandfold into an unrelenting assault on the senses. While Nivraym doesn't quite bear the demonic, sulfur-infused vibe of vintage Magma, it quadruples down on the knuckle-busting, prog/fusion side of things. From the breakneck frenzy of "Lussesoggi Zomn" and "Vissqguell" to the knotty, Zappa-like twists and turns of "Vallczeremdoss" and the merciless slam of "Maschtervoz" and "Gassitrumm," the band executes death-defying riffs and time changes with such intensity, it's a wonder the players survived the sessions.
As their spellcheck-immune song titles attest, Koenjihyakkei emulates Magma by singing in a self-invented language, frequently in strident, sinister choral arrangements that make it sound like a phalanx of Valkyries on winged serpents descending from the sky. In between all the punishing rhythms and dizzying riffs, the band sometimes switches things up by adding some wild avant-jazz progressions, but nowhere on Nivraym will you encounter anything like a respite from the sonic carnage.
The remastering makes it seem like the whole album has gone from black and white to blazing, retina-searing Technicolor, and the remix goes far beyond topping off the treble or bulking up the bottom end. It brings in elements that were completely absent before, like the foreboding guitar riffs on the title track's chaotic coda or the vocals leading into the cataclysmic climax of "Gassttrumm."
If that's not enough, we get live 2020 bonus versions of three tracks, which add a whole new perspective. The live take on "Nivraym," for instance, shifts the focus from keyboards to angry guitar and expands things considerably with a spacy, almost Gong-like middle section.
Like the rest of Koenjihyakkei's catalog, Nivraym isn't for the faint of heart, but it's got a lot to offer zeuhl zealots and anyone else with a taste for extremes. Even those who've internalized the album's earlier versions may find this go-round to be something of a revelation.