ALBUM OF THE DAY
King Woman, "Celestial Blues"
By Jeff Terich · July 29, 2021
​
​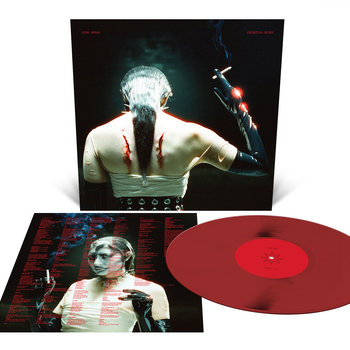 .
00:10 / 00:58
Merch for this release:
T-Shirt/Apparel, Vinyl LP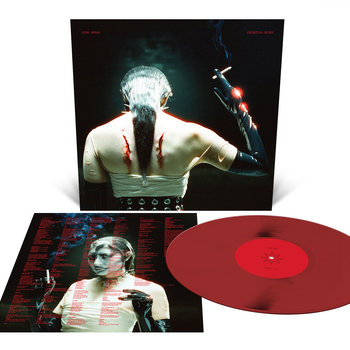 Kristina Esfandiari has made a lot of music under a lot of different names—shoegaze as Miserable, noise/industrial as NGHTCRWLR, trap as Dalmatian—but King Woman is the California songwriter's primary—and her most deeply personal—songwriting outlet. King Woman is ostensibly a doom metal band, but even here, Esfandiari draws from a broader spectrum of aesthetic influences, utilizing the melody-heavy language of grunge, the shadowy aesthetics of goth, and the graceful spaciousness of dream-pop. Riffs and despair are at the heart of King Woman, but they don't define it.
Even when plumbing the depths of trauma, shame, and transgression, King Woman displays a level of immediacy and showmanship—and even a wry sense of humor—that's less common in doom circles. King Woman's second album Celestial Blues uses the Biblical allegory of Lucifer as a framing device for songs about her own harrowing personal metamorphosis. Esfandiari is depicted on the album's cover as the fallen angel, showing her dorsal wounds and holding a smoldering cigarette with a leather glove. She even declaratively sings, "My name is Lucifer" on "Morning Star," a bombastic slow-burn anthem that feels like an epic saga within its relatively brief four minutes.
Where King Woman's debut delved heavily into Esfandiari's traumatic childhood raised in a cult-like religion, she takes ownership of her heathenism, putting a more interesting spin on heavy music's relationship with the devil on Celestial Blues. The demons here are all personal ones, with Esfandiari exploring toxic sexual obsession through songs like the visceral, ripping "Boghz" and the swirling psychedelia of "Psychic Wound." But in a song like standout ass-kicker "Coil," with its tom-tom-driven rumble and ferocious roar, the flames rise ever higher, solidifying King Woman's transformation as lord of the underworld.