ALBUM OF THE DAY
Jeff Rosenstock, "HELLMODE"
By Arielle Gordon · September 01, 2023
​
​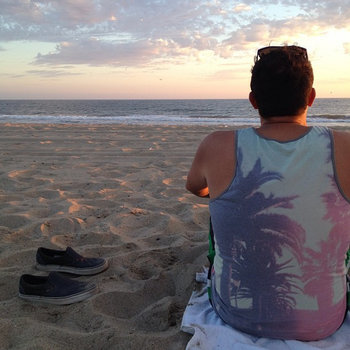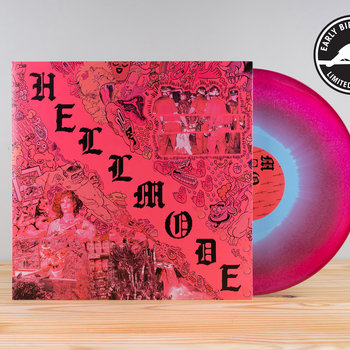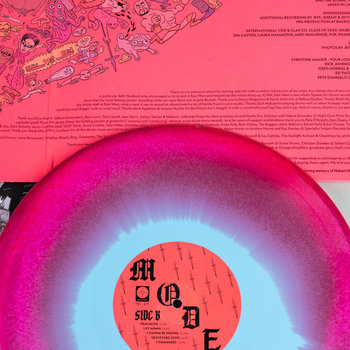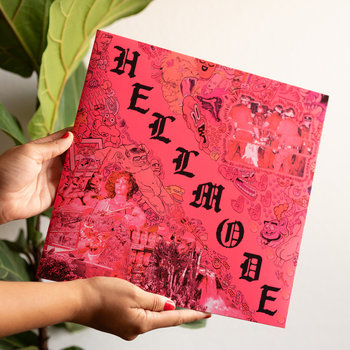 .
00:10 / 00:58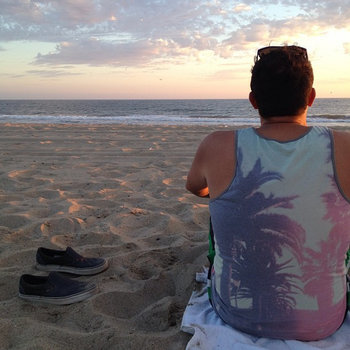 Merch for this release:
Vinyl LP, Compact Disc (CD), Cassette, T-Shirt/Shirt,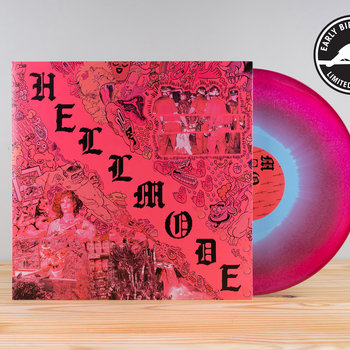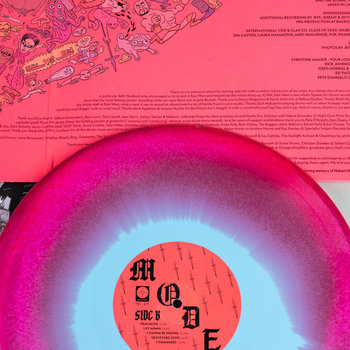 California is a strange place for a lifelong New Yorker. My boyfriend and I, both native Long Islanders, found ourselves caught in Southern California's first tropical storm since 1939 on a recent trip to Los Angeles. Driving down the empty freeways and seeing Teslas spin out as their hapless drivers, new to the whole rain thing, lost control at 65 miles per hour, we felt like we were witness to an eerie alternate universe. On his new album HELLMODE, relatively recent New York transplant Jeff Rosenstock sees the rain in Los Angeles and, in typical Rosenstock fashion, finds beauty in its bleary destruction. "I never thought I'd say it/ But it's hard to hate the rain in California," he sings on "HEALMODE." Watching cars careen into trees, he takes a puff from his one-hitter and wonders if the local coyotes have found shelter from the storm. 
HELLMODE isn't Rosenstock's first album since moving to the Best Coast; that would be 2020's NO DREAM, recorded just after Rosenstock relocated to Highland Park and just before pandemic lockdowns at Jack Shirley's Oakland studio. But HELLMODE is the first of his to reckon with the contradictions inherent in his new life: What will the king of righteous anxiety write about now that he has endless sunshine, a porch, and in-unit laundry? It only makes sense he'd find inspiration in the rainy days. 
Rosenstock also grapples with success—not only from his solo career, but from his work as a composer for Cartoon Network's Craig of the Creek—and his discomfort at living such an idyllic existence while his neighbors suffer. On "LIFE ADMIN," he can't even treat himself without self-reflexively self-flagellating: "Might go to the desert/ 'Cause I make enough to fuck off to the desert," he sings with a twinge of disgust. It's this brutal honesty about his own insecurities that has made his previous work so endlessly empathetic, but here, the regrettable beers have turned into bubble tea. He doesn't stop at self-loathing though—he turns his ire, as always, to those who deserve to hear it most: "When this song comes on, burn a police car," he directs his loyal listeners on "SOFT LIVING." And then there's Rosenstock, the motivational speaker: "Scream/ Louder than you need to," he sings, his vocals clean and somber, as he talks his way out of his own depression. 
HELLMODE is Rosenstock's most robust and musically diverse record yet. Recorded, like NO DREAM, with longtime collaborator Shirley, the record hones in on Rosenstock's singing voice, pushing the limits of genre and stretching riffs into full-on jam sessions. "I WANNA BE WRONG" combines the "Oi! Oi!" shouts of ska punk with jangling, Sundays-esque arpeggios—and yet, thanks to Rosenstock's camp counselor enthusiasm, it all works. "SOFT LIVING" layers pedals atop each other until they create a towering shrine to fuzzed-out love songs, recalling Weezer's "Buddy Holly" and early Swearin' as Laura Stevenson's vocals harmonize with Rosenstock. "FUTURE IS DUMB" would be right at home on blink-182's self-titled record, all taut drums and twinkling guitar. "3 SUMMERS" is both the album closer and its magnum opus. At seven minutes, it's by far his longest song, and he doesn't waste a second: "I want the banks and schools to close/ I want the universe to glow for you," he sings before a shimmering guitar riff kicks the song into the stratosphere. And just in case you forgot who you were listening to, it ends, fittingly, with a triumphant group sing-along. Rosenstock, as always, finds the strange collectivism in battling loneliness.