ALBUM OF THE DAY
Album of the Day: Guerilla Toss, "GT ULTRA"
By Mo Wilson · July 07, 2017
​
​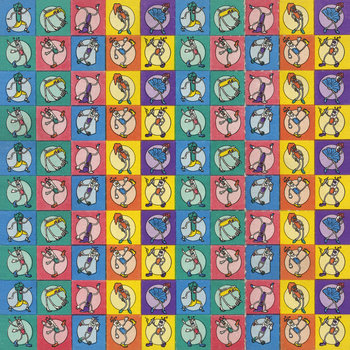 .
00:10 / 00:58
Merch for this release:
Vinyl LP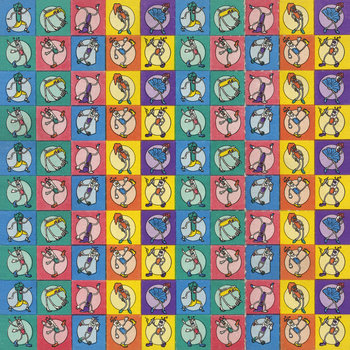 For a band that started with naked shows and shuddering noise freak-outs on songs like "Be the Breeder" or "Gay Disco," Guerilla Toss have gone a lot further than those volatile antics suggested. On their new album GT ULTRA, the band keeps this experimental spirit alive—but this is music to get people dancing.
GT ULTRA's jumble of ambient, funk, and post-punk isn't exactly what anyone would call "poppy," though, or "accessible," which implies it's somehow unchallenging. "Crystal Run" opens up with vocalist Kassie Carlson warbling "Change the frequencyyyyy" over murky synths and buzzing background chatter that makes good on GT ULTRA's blotter acid cover art, hurtling headlong into a weird trip.
Still, the songs on GT ULTRA are bright and catchy, and Guerilla Toss' fringe styles here are fueled by a genuine desire for exploration rather than cheap shock value. "Can I Get the Real Stuff" gives us the purest hooks of the sort they teased on their previous LP release, Eraser Stargazer. "TV Do Tell" is a neon-hued punk song in the tradition of X-Ray Spex, complete with tongue-in-cheek lyrics about media consumption. On past albums, Carlson's lyrics were buried in the mix, but here they're pushed up to the front: "Personal persona, can I get the real stuff / Swimming in the makeup"; "My eyes were on the screen of my own interests," and lead single "The String Game" and the hectic "Dose Rate" pack in enough spoken word sections, scorched-Earth guitars, and sci-fi synth histrionics for plenty of repeat listens. Let others have their predictable poolside days and starry nights; this is the soundtrack to a strange sun-baked summer full of unhinged adventure.
—Mo Wilson