ALBUM OF THE DAY
Aesop Rock, "Integrated Tech Solutions"
By Phillip Mlynar · November 10, 2023
​
​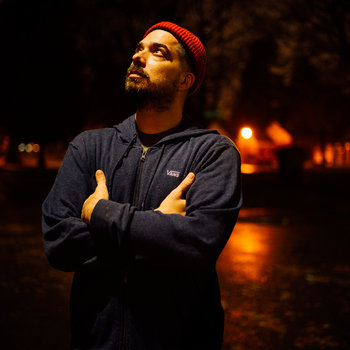 .
00:10 / 00:58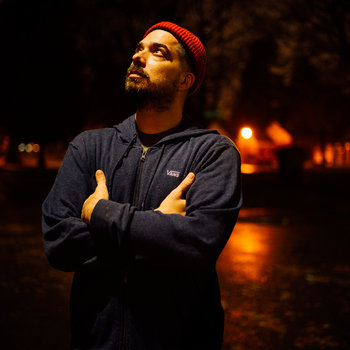 "Integrated Tech Solutions: Building a bridge to a better tomorrow," announces an AI-sounding voice at the outset of MC and producer Aesop Rock's 10th album. Over a peppy '80s infomercial–style backing track, the digital voice sketches out a corporate goal focused on persuading an unsuspecting populace to buy into "a system of lifestyle and industry applications designed to curate a desired multi-experience." Then the voice speeds up so it can babble out a disclaimer that absolves the company of any and all potential liability.
Against this backdrop of a fictional capitalist monster corporation, Aesop Rock explores the ways technology—and humankind's predictable abuse of it—shapes both the world and the individual. "Two point five million years ago/ A friend of mine made a tool from a stone and defended his tribe," raps the MC over the wormy funk of agenda-setting cut "Mindful Solutionism." The track, a nod to vintage Run-DMC rhyme patterns, goes on to itemize a sarcastic list of developments that sprung from that first invention, including weaponized atom splitting, automated workforces, and chemistry-facilitated genocide. "Cameras in your favorite corners, plastic in the wilderness," continues Aesop Rock, reaching the crux of the tirade: "We can not be trusted with the stuff that we come up with/ The machinery could eat us—we just really love our buttons."
Aesop Rock displays a hefty dose of skepticism emanates across the 18-track album, on which the MC's bars are laid atop a selection of mostly self-produced backdrops that often strike a bluesy note thanks to judicious use of prowling basslines and deliberately downcast guitar. On "Pigeonometry," the MC describes the way Leonardo Da Vinci's inventions and theories have been twisted and exploited. Four songs into the album, billy woods graces "Living Curfew" with a guest verse that casts him as a lonesome observer of eerie times: "I remember when nights was ambulance sirens/ Watching 'em put bodies inside 'em/ Sometimes somebody outside whylin' on empty streets dead silent/ Half-empty stores, scared to breathe," raps woods, flashing back to the early days of the pandemic over a backdrop of murmuring blues.
As the album nears its conclusion, a more hopeful environmental vision emerges. Aesop casts his gaze towards nature as an escape route from the capitalist tech grind on "By The River." An ode to the nourishing power of bodies of water, Aesop sketches a portrait of the Hudson, Susquehanna, and Willamette rivers that's shot through with childlike wonder. "I wonder what could possibly be lurking on the bottom," he raps over gently undulating funk. "I look into the water and imagine all the options." In the end, it's the ideal of discovery and imagination that becomes the antidote to the relentless march for profit.