THE MERCH TABLE
The Stories Behind Big Crown Records' Soulful Singles
By Mariana Timony · July 08, 2020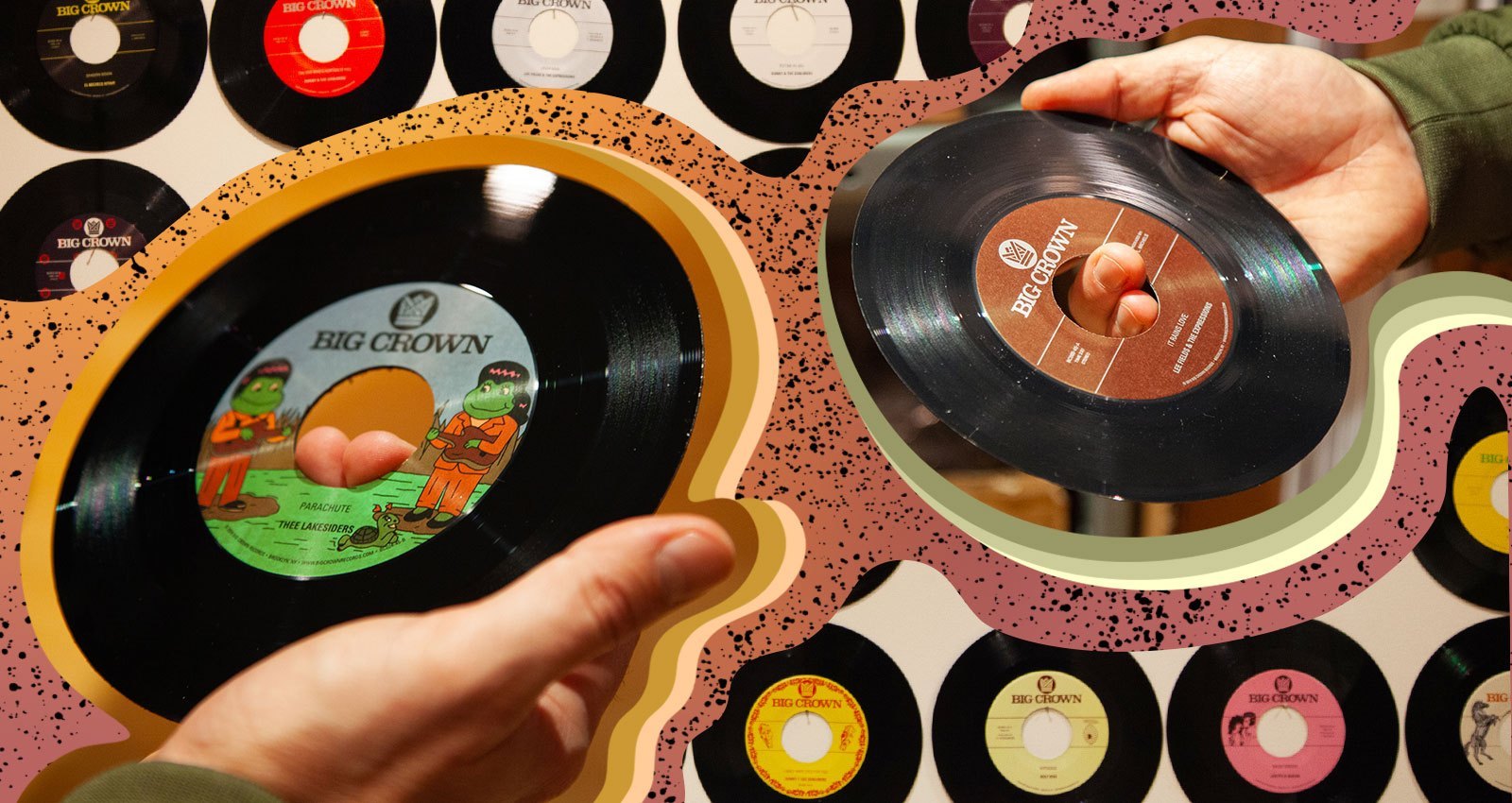 It's a brisk, pre-pandemic March evening in Greenpoint, Brooklyn, and I'm at Big Crown Records headquarters in a back room lined with shelves full of neatly filed records from the label's catalogue. Label co-founder Danny Akelepse is pulling out various 7" singles from their bins, sharing stories about how they came to be, and prefacing each one with exclamations like: "This one is sick. This is so sick," or, "It's real tune, a big tune" or, "Now this is killer." The 7"s don't come in picture sleeves (too expensive) so each individual bin is labeled with the release number. I ask Akalepse if he knows them all by heart.
"I do. Is this a pop quiz? That's fun," he replies. "I do that to the new people who work here."
Big Crown was founded five years ago by Akalepse and producer and musician Leon Michels. Since then, the label has has put out dozens of releases and reissues that spin merrily at the intersection of soul, reggae, hip-hop, jazz, and dance music, with notable full-lengths from Lee Fields, Lady Wray, Michels' own project El Michels' Affair, and most recently, Holy Hive. But we are here to talk about the 7"s.
A selection of singles have been pinned to a side wall in tidy rows, each one sporting a colorful label that winks at the music contained therein—cascading steel drums for Bacao Rhythm & Steel Band, a pair of podao on El Michels' Affair's cover of GZA's "4th Chamber" (off of, naturally, Liquid Swords), a frog couple strumming guitars on a wistful single from L.A. boy and girl duo Thee Lakesiders. Altogether, Big Crown's 7" releases might be the best expression of the label's adventurous but always lightly retro sonic aesthetic. Re-mixed or stylistically revamped versions of songs from full-lengths sit alongside steel drum covers of classic hip-hop tracks, reissues of obscure Chicano soul 45s from the '60s, and one-offs from studio bands formed on the fly who, nevertheless, have managed to sell out one, two, and even three pressings—some of which are fetching big prices on Discogs these days. "We crush it," says Akalepse about Big Crown's success with the 7"s. "And we do a lot of them, so it's a kind of a 'thing' for us."
The Big Crown office occupies the downstairs apartment of a brownstone while Akalepse lives upstairs with, he guesses, around 15,000 records he's picked up over a 25 year career as a DJ. Despite his enthusiasm for record collecting ("I remember always digging for records, like digging, not what people call digging today in the store. I mean like finding spots and they lock you in overnight type of place.") Akalepse didn't think much about 7"s until a trip to the 45 & 78 Record Show in Allentown, Pennsylvania changed his attitude.
"I remember being in the car and saying, 'Yeah, 45s are cool, but it's not really my thing." And the dude in the front seat turned around and looked at me and said, 'Well, that's over," Akalepse says with a laugh. "This was on the way there, too. Dude knew. After that, forget it. I found so much killer stuff for cheap. I'd see so many of the same record brand new, old records that today are very expensive. I'd be cleaning up in there, cleaning up."
"It's a different high," he continues. "And there's a lot of music on 45 that isn't on albums, especially in the soul world. Just different takes, different recordings."
As we talk through the singles and the tales behind each of them, it becomes clear that there's a real family element to Big Crown. Many of the label's artists will play on each other's records and record each other's songs. Whole new projects serendipitously spring up when they guest on each other's tracks, as is the case with Synthia, a group that came about when Nicole Wray, aka Lady Wray, contributed vocals to a boogie track put together by Michels and drummer Homer Steinweiss. Michels often produces and writes songs for acts on the label, which helps maintain a certain artistic cohesion to their overall output. But Akalepse rejects the idea that Big Crown's sound is a one-trick pony. While talking about the unique qualities of UK singer Liam Bailey's "Champion," Akalepse takes a moment to note that the single is evidence of their borderless approach.
"One thing about Big Crown that I would love to say on the record is that a lot of people associate it with a certain sound or genre, and they liken it to other labels that they consider to be similar. But when you really get down to it and really look at it, it's not. Stuff like this is evidence of that. There's a lot of stuff we do that other people wouldn't even do. Maybe it wouldn't even fit in their little bucket. What we do here is what we like. It fits into an aesthetic, but it's pushing the boundaries."
Below you will find highlights from our visit to Big Crown's "45-ville," as Akalepse puts it, featuring an array of new groups, old gems, and musical experiments that exemplify the soulful spirit and familial vibe they put into every release—each one accompanied by a story from Akalepse.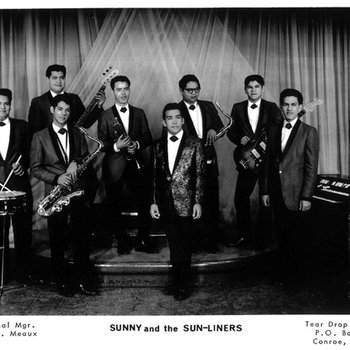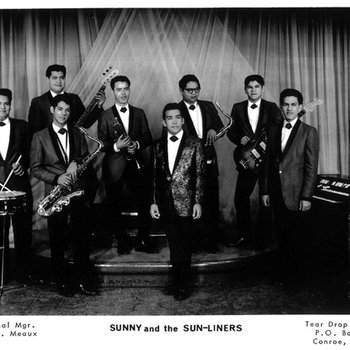 Merch for this release:
7" Vinyl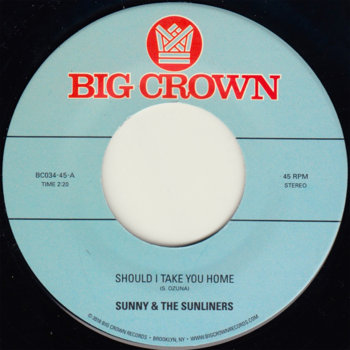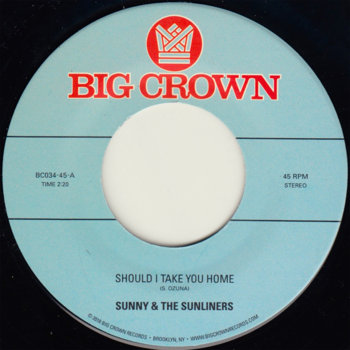 Let's talk about our friend Sunny. People credit Sunny with being one of the founding fathers of what's called Chicano soul, and definitely Tejano music as well. Actually, going back to Allentown, I heard this on my homie Classy Chris's mixtape, and I was like, "Yo, what the fuck is that record?" He brought me to a room in the hotel and this dude had a bunch of the singles. You cannot find a real copy of this record nowhere, not no more. Back then I think I paid $25 for it and it was in perfect shape.
Then I started calling Sunny—really, his son David. It took me, like, three or four years to get them to agree to do a deal with us. I went to his house in Texas, sat down with him and talked to him. Finally they signed a deal and this is the first thing that we dropped, which is two of my very favorite songs from them: "Should I Take You Home" and "My Dream." Two different 45's in real life, but we put them on the same A & B-side here. This is the bomb.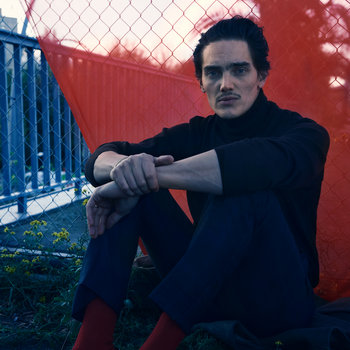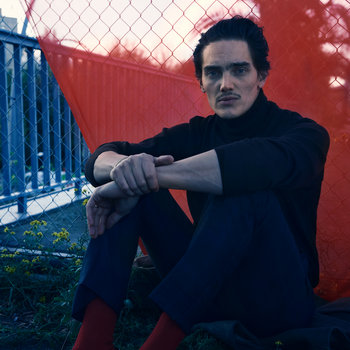 Merch for this release:
7" Vinyl
This is a dope record. "This Love" is a big tune. It went crazy right off the bat. It had already gone crazy. This is a second pressing because Timmion Records in Finland had done a pressing, but they wanted to get Bobby to a bigger audience, in America especially, so they were open to looking at labels here. We changed the B-Side. Before we signed Bobby, I asked him to cover Sunny & the Sunliners's "Should I Take You Home" and he did. It's a tough one, but he killed it. We took their super dope first single and put their super dope cover of that super dope record on the b-side. These things do feed off each other.
Merch for this release:
7" Vinyl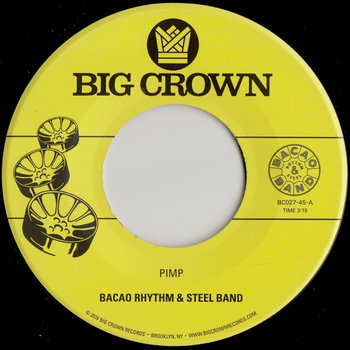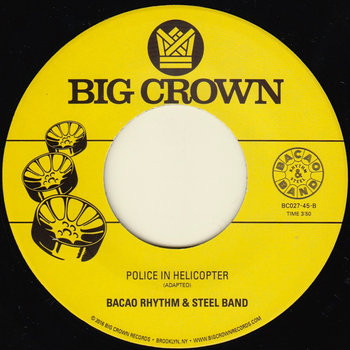 This is similar to the Bobby story. Bacao are a steel band, and they had a version of 50 Cent's "Pimp" that was out on [band leader] Björn Wagner's own label, Mocambo. That shit is so fire. I was DJing it all the time and everybody thought it was a sample they used, but it was a cover. I was on tour DJing in Europe and I hit these guys up and wound up doing three or four gigs with them, driving around in a van playing the same venues.
Merch for this release:
7" Vinyl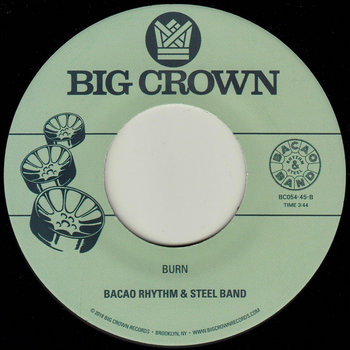 We got to talking about a full length and then they signed up. We reissued "Pimp" with an original on the flipside, and then we reissued it again with a reggae cover. They also covered Dr. Dre's "Xxxplosive" and the Mobb Deep song "Burn." This has been dope because me and Bjorn will talk, and I'll send him songs I think they should cover and he'll send me back these banging ass steel drum versions of songs you know.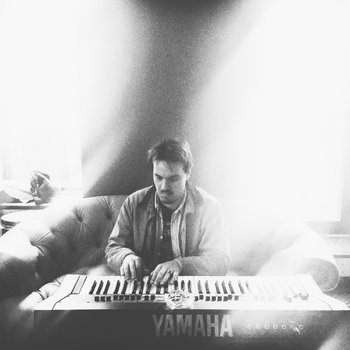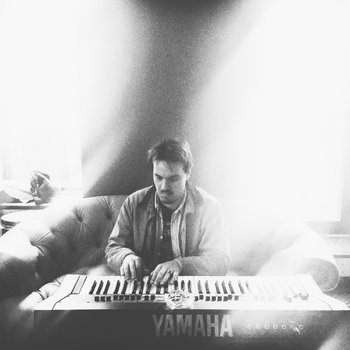 Merch for this release:
7" Vinyl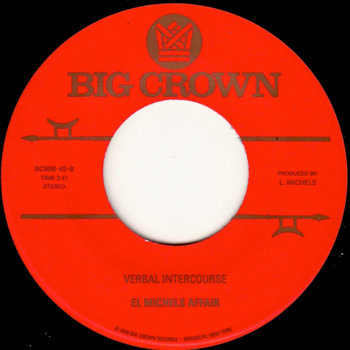 This is the single that El Michaels Affair did off the Wu-Tang covers record Return To The 37th Chamber. This is killer. Me and Leon were talking about him doing a 7" and he chose to do "Tearz." He put Shannon from the Shacks on there singing the hook in the beginning before he'd even heard a Shacks song. Lee Fields sings a little piece at the end of it.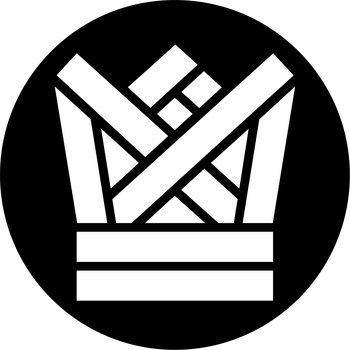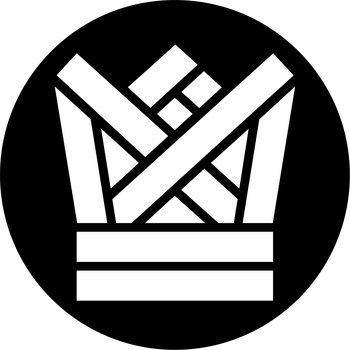 Merch for this release:
7" Vinyl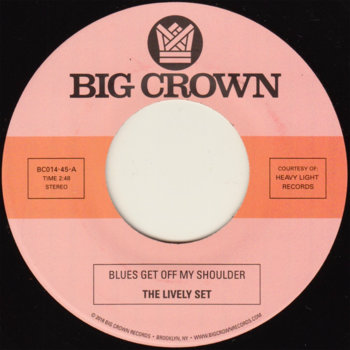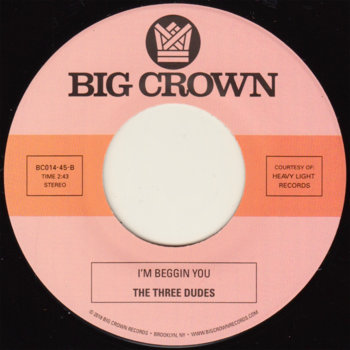 The Lively Set is a reissue that we got from somebody else who had gotten the rights. The original version of this record is four figures, if you can find it. It's a really rare record.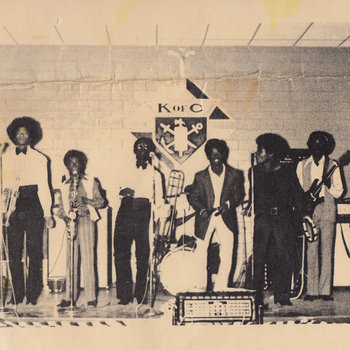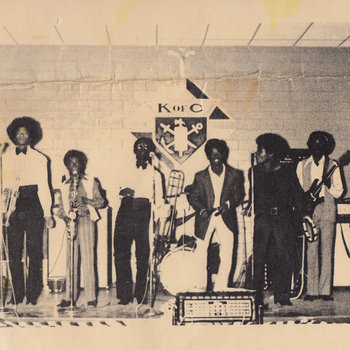 Merch for this release:
7" Vinyl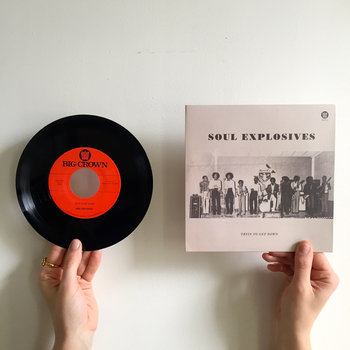 Soul Explosives is another reissue. I bought a real one of these from my homie with the intention of getting the rights to it. This is a killer version of Bill Withers's "Ain't No Sunshine." As soon as my homie played it I was like, "Fuck." Then he told me how much it cost, and I was like, "Fuck!" But I copped it anyway, and I'm glad I did. And we actually got to do this, so that makes me feel better about buying some bighead records, because sometimes we get to reissue them.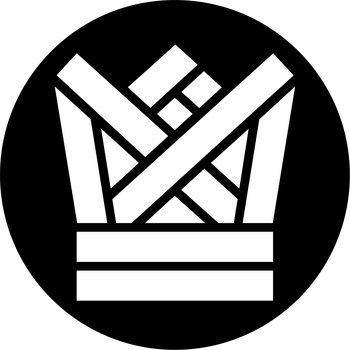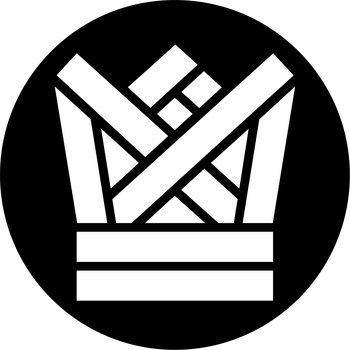 Merch for this release:
7" Vinyl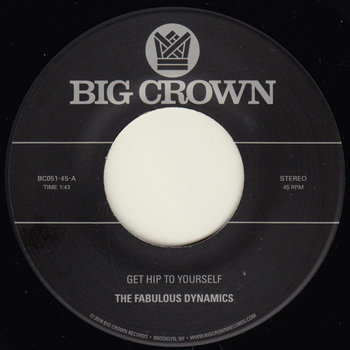 This is technically not a reissue because it came off of an acetate, which was very likely the only one in the world. We ripped it and cleaned it up as good as we could, but this is like a demo basically. It's just voices and guitar. Really lo-fi, but gorgeous and so gangster.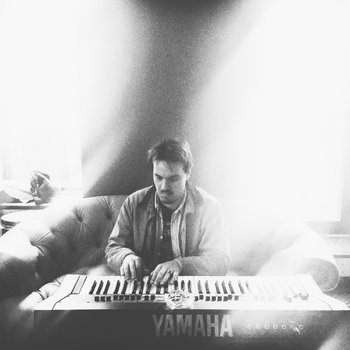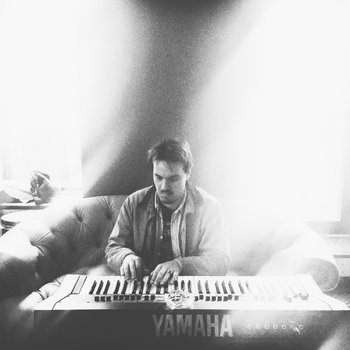 Merch for this release:
7" Vinyl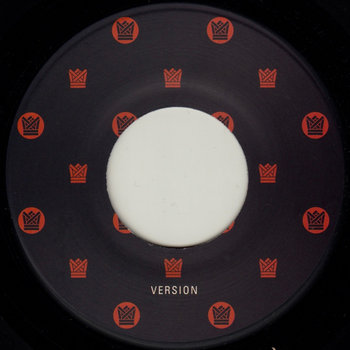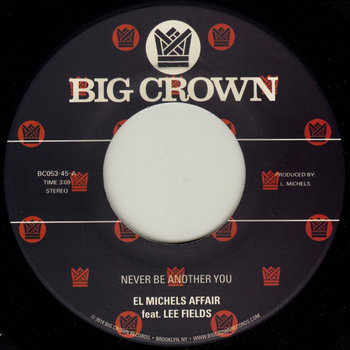 Leon produces a lot of the stuff on the label, whether it's under his own band name or not. This song is from Lee Fields's Special Night that Leon co-produced. Then Leon did a reggae version of "Never Be Another You," which is one of the really dope songs off that record. At first we were going to look for a reggae artist to do the vocals on it, but then I was like, "Yo, why don't you just get Lee to do it?" So he just got Lee back on it and it came out so sick. I know a couple of proper reggae selectors, and they really fuck with this record on a reggae level. It's a tune, it's definitely a tune.
Merch for this release:
7" Vinyl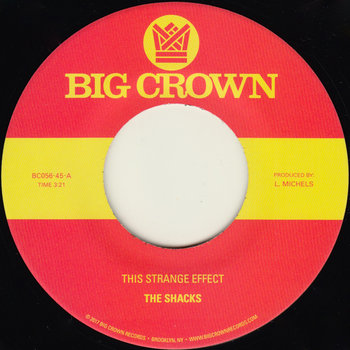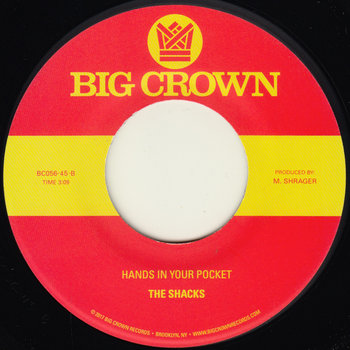 This is the first 45 by the Shacks, and it's dope. "Hands In Your Pockets" is a reggae rhythm with Shannon Wise singing on it. It's actually the Frighteners rhythm section on here. The cover they did of "This Strange Effect" became a worldwide Apple ad. Shannon was in the commercial, so this record went pretty far and it really made the Shacks famous. This is a killer two sider and these are two really dope songs.
Merch for this release:
7" Vinyl
This one is sick—this is so sick! This is "Dead End" and "Mnemophobia," which means fear of memories which is an awesome concept for an awesome tune. Brainstory were reaching out to us when we first started up and sent some demos through that were very cool. They really wanted to be on Big Crown—which is super flattering, because they're such talented, wonderful people. We were brand new and had a lot going on, but then they went into the studio and got with this dude Eduardo Arenas from Chicano Batman. They cut another round of demos, like a little more pro, and sent those and I was like man, "This shit is dope." So we got to talking, we signed them, flew them out to New York. These guys are like genre-benders a little bit. It's hard to put it in one place. They're a rock band, but they have a really soulful edge. And, you know, like what happens to jazz when it gets to the '70s—they got that kind of that psych jazz in them. They're jazz cats, that's how they came up, but they have a lot of influences and it shows in the music.
Merch for this release:
7" Vinyl
Nicole! Lady Wray is the best. Her story in a nutshell is: She was 17 years old when Missy Elliot was huge and Timbaland was huge and Ginuwine and Aaliyah and all that. She was part of that crew, the Superfriends. She did a bunch of stuff and dropped a single called "Make It Hot" that a lot of hip-hop and R&B people definitely know about. She then got signed to Roc-A-Fella, but Roc-A-Fella fell apart right before her record came out. We met her like 10 years ago. When we started Big Crown, she came with us and rebranded herself as Lady Wray. We dropped this record called Queen Alone, which is fire. It is such a dope record. So time passes and she gets up here with Leon in the studio, eight months pregnant, sitting in a chair, and knocks out these two songs. When I heard them I was like, "Wow, wow, wow." There's a forthcoming album of hers due out in October of this year and it's going to be so fire. Nicole is the best. She's one of those people who's a perfect singer with no effort.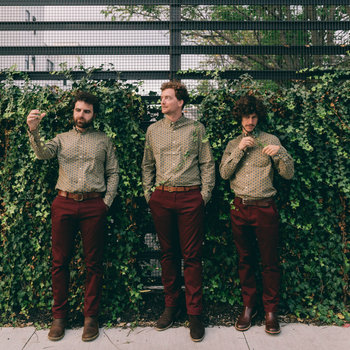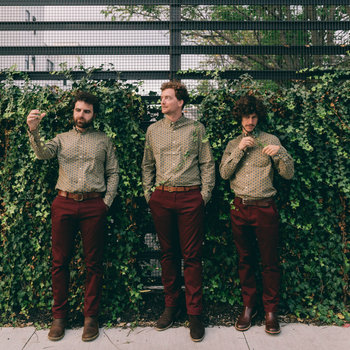 Merch for this release:
7" Vinyl
This is Holy Hive, Homer Steinweiss and Paul Spring's band. Homer is the drummer and Paul is the singer and guitar player. Homer is the drummer to the stars. He drums on Bruno Mars records, Lady Gaga records, he's the drummer on the Amy Winehouse record, he's on the Jonas Brothers's Sucker, all that. That's the stuff people go "Wow" about, but he's also the drummer on Sharon Jones records, Lee Fields, Charles Bradley. He toured with all three of those people at some points.
This is the first time he's really got a band of his own. It's a little more of their personalities, him and Paul—who, through marriage, are now cousins, which is hysterical. This is the first 45 we dropped when we signed them. "Blue Light" is very much their thing and their style. I don't know what you would call it. "This is My Story" is a cover of an Invincibles song, which is a really dope soul 45 that we were playing. Homer heard it and was like, "We can kill that," and they did.
Merch for this release:
7" Vinyl
They turned in an album pretty quick after we signed them, but they hadn't really done much yet. I really loved their album, but I was like, "This is too dope to put out right now, because you don't have the amount of listeners that you deserve yet." I didn't want to put out this really great record and push it up hill. Homer's like, "Bet." Then I saw these little Instagram videos of these fools in the studio with Mary Lattimore playing the harp, and I was like "Damn, that sounds killer." Then these fools called me up when it was over and were like, "We wanna come see you and play you something." That's never happened. You gotta come see me to play me something? But they come over and play me this song, "Oh I Miss Her So," which is a smash—this is such a smash. Then I was like, "Oh I get it. I see why you came here." This record is so fire. This tune is taking off for them too. You can't put this in a box, either. This single is actually resonating with the sweet soul folks, because Paul's got a falsetto and it's got a sweetness to it, but it's also got really crazy arrangements. It's an unorthodox song but gorgeous too. You gotta hear it. The other side of this is their cover of "If I Could See You Now," the Sunny song. This is a monster of a two sider.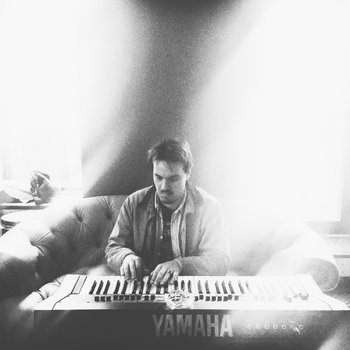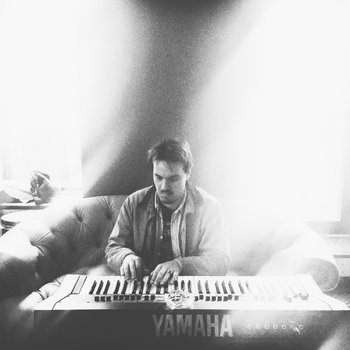 Merch for this release:
7" Vinyl
This actually is the first thing we did with the Shacks on it. Leon had written this song "Strange Boy," but didn't have a singer. He brought Max Shrager over to the studio to play some guitar on it and Max brought his girlfriend Shannon. Leon was like, "Why don't you sing it?" Here we are, the rest is history. This is a killer two-sider of stuff, really cool music.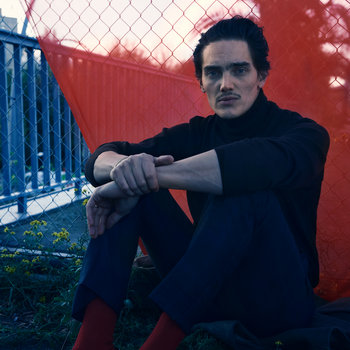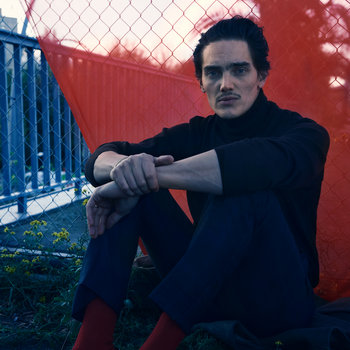 Merch for this release:
7" Vinyl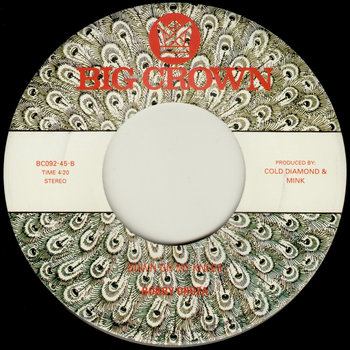 I called up Bobby Oroza after their record came out and sent them "Strange Boy," and I was like, "Can you cover this and flip it into 'Strange Girl'?" So he covered the Shacks, which came out killer too. To kind of bring it all together, I told Leon to do horn arrangements on it. So Bobby cut it, sent it over, and Leon did horn and flute arrangements. Now we have this.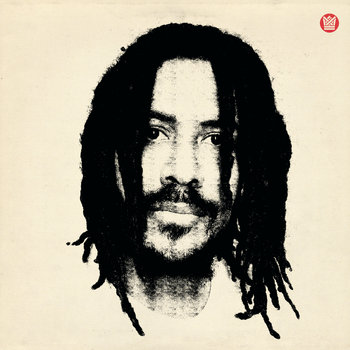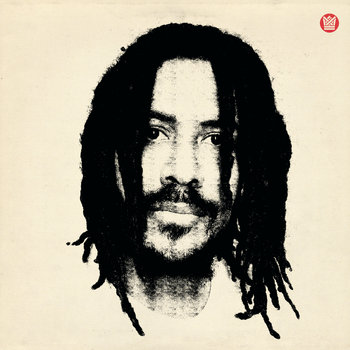 Merch for this release:
7" Vinyl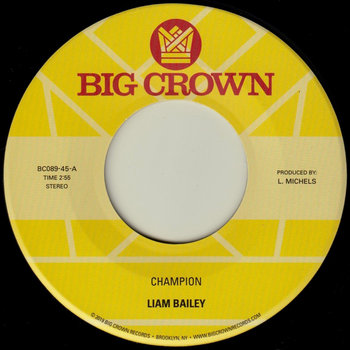 This dude is the man right here, this is Liam Bailey. We met Liam like 10 or 12 years ago. Leon had cut some records with him back then and those records got Liam some major label deals, but he's out of all that now and on a different path. This is the first tune we put out, "Champion." This is like a heavy-duty reggae tune, not even a typical reggae tune. "Champion" could be a dance song.
The B-Side "Please Love Me" was one of the first tunes that Leon cut with Liam, but it was very produced and orchestrated. This version is him just sitting down with a guitar and crushing it. This is so good. I put this on a mix I did years ago. People would hit me up about it, like "What is that song at the end?" It was the closer. So it's dope to put this on a 45 and make it available to everybody.
Merch for this release:
7" Vinyl
This is a cool record, too. I'd love to tell you about this. Quevin is one of the dudes from Brainstory. He came out there to visit with his girl, Lizette, to check out New York for her birthday. They stayed in the back room here. Then they went upstate to Leon's to visit him, and they got into the studio to do something. I don't know how it happened, because Lizette had never sung in her life, apparently, but Leon talked her into singing and they cut this tune called "Grow Forever." Lizette and Quevin is the group name because that's what it is. It's this beautiful ballad and happened on the fly. Apparently, Lizette wrote the chorus and the whole notion of the song. And this is a dope move: the b-side is the instrumental version of the song and it's called "Now It's Your Turn To Sing."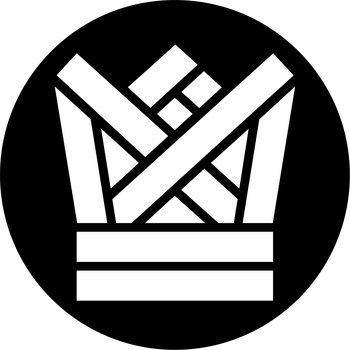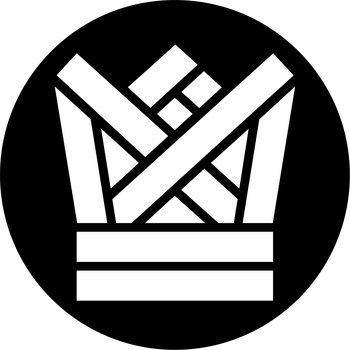 Merch for this release:
7" Vinyl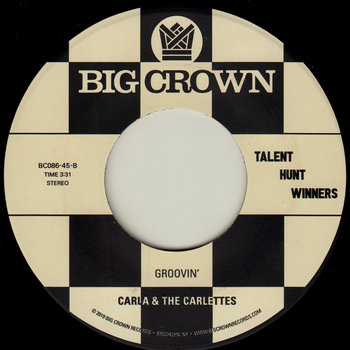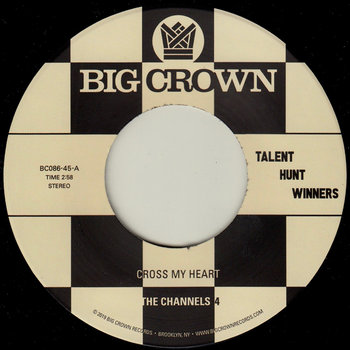 This is stupid dope. This single comes from a record that we reissued in full, YIA Talent Hunt Winners. It's the Bedford-Stuyvesant Youth in Action talent contest. YIA was a really important federally-funded community group in the '60s in Bed-Stuy. They did a lot to uplift the kids and give them a chance. They had hardships in Bed-Stuy with crime and poverty, so YIA would do things like fashion shows, art shows. There's a huge archive of this stuff at the National Museum of African American History and Culture and the Brooklyn Public Library.
Merch for this release:
Vinyl LP
YIA did this talent show where they had a house band called The Thrillers, and there were kids who came up and did cover songs. It must have been a hell of a day in Brooklyn when that happened. The winners of the talent show got invited into the studio to do recorded versions with the band, but they're pumping in clapping and fake screams to make it seem like it was recorded on the day. It's really fucking dope, and they're doing such sick covers. They do "Grooving," "Cross My Heart," a bunch of Motown stuff. This is a really rare record in real life, because it was never sold. They pressed them up to hand out to TV stations and radio stations, trying to get these kids exposure and a record deal. The intro is this guy Reverend Horace Tyler, and he's saying, "When you become the stars, don't forget Youth in Action!" This 45 comes from that and it's killer. We put this out a while ago now and I still hope so bad that someone will be like, "Yo, that's my aunt!" But so far, nothing.
Merch for this release:
7" Vinyl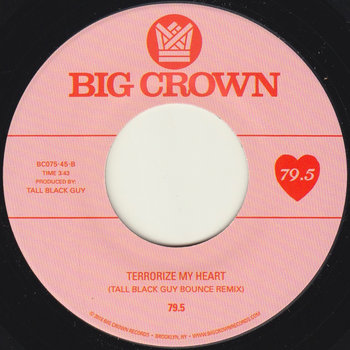 This is a cool record for us. It was a cool angle for us. It's a different mix of the original single with a different element. We got the homie Tall Black Guy to do a remix of it for the B-side and he killed it. This is one of the big movers in the catalogue.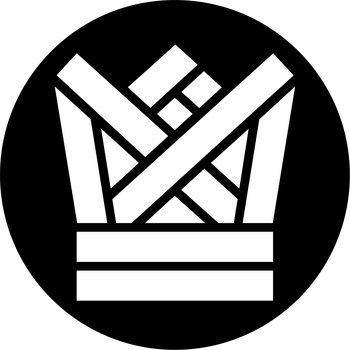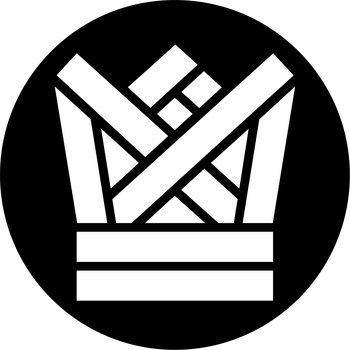 Merch for this release:
7" Vinyl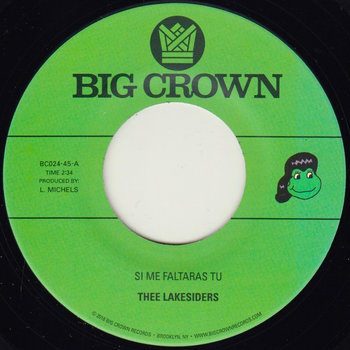 So this is Thee Lakesiders. Our friend Omar, who has done some art for us, is a really dope artist from California. He knew these two kids, they were like 20 years old I think, and he was like, "Leon you should meet them and cut records with them." So they flew out and got in the studio. I think it was their first time ever being in a studio. The B-Side was the first original song they ever wrote. The backing band is the Shacks, and Marie is singing. This is a really popular song—it's the biggest selling 45 in the catalog. The first pressing sold out real quick. We didn't see that coming at all. It's a cool record, but then it just blew out. The distributor didn't even get copies at the time. So we did a second pressing with a new label and again, sold out. So we pressed it again. This is the only thing they've ever recorded and I believe this is the only thing they ever will record. As far as I know, they've now broken up as a group. But I bet you that Marie will continue to do more stuff because she's really dope. She's really dope.
Merch for this release:
7" Vinyl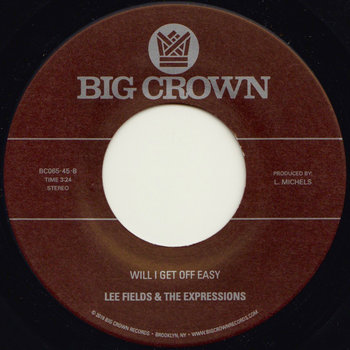 Lee Fields! Leon's been dealing with Lee forever. I met Leon because of a Lee Fields 45. They'd done four or five records together before we started Big Crown and then we did Special Night. When it was time to do his next record, Leon sent me this song and I was like, "There it is. Now we got a record because this is fire." Lee's the best. This guy is as much of a living legend as you can get, and he's still tearing it up. He's got a crazy story compared to other people that we would call living legends, because his career never took off in his younger days. He's not like a guy who's doing it now, but really did it before. He's been singing since he was like 14, but he never caught on, it never worked out for him. At this point in his life, though, the dude's smashing it, so that's like a different trajectory for a career. It's wonderful to see. He's a great dude and an incredible talent.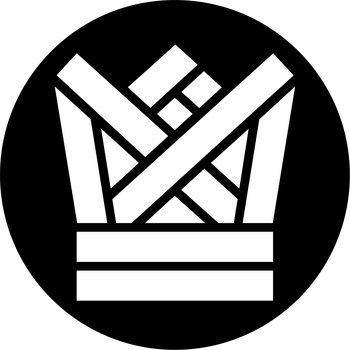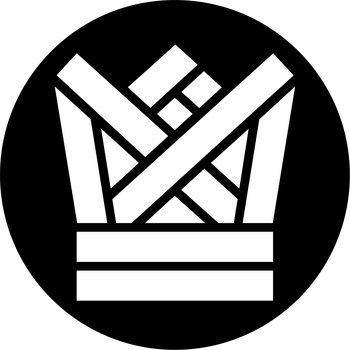 Merch for this release:
7" Vinyl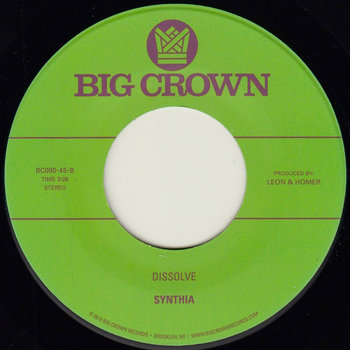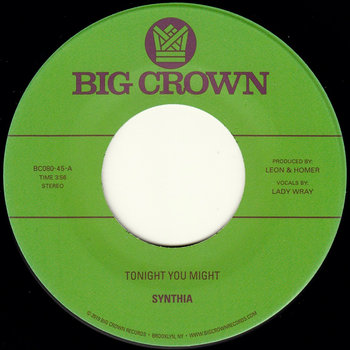 Homer and Leon had been doing what the kids are calling boogie tracks, like really synth and bass heavy. They had these really dope tracks that they had Nicole Wray sing on. It was sick, but it couldn't be on a Lady Wray record because it's too left-field. We decided to name this band Synthia and this is the first single. There's a full-length in the works. It'll probably take a while because it's like an oddball thing, but this is another cool record that really pushes the boundaries of what we do here. This doesn't really go next to any of these records sonically. The team is really talented so it's just stuff happens, this just happened.