TAPE LABEL REPORT
The Tape Label Report, March 2022
By Bandcamp Daily Staff · March 28, 2022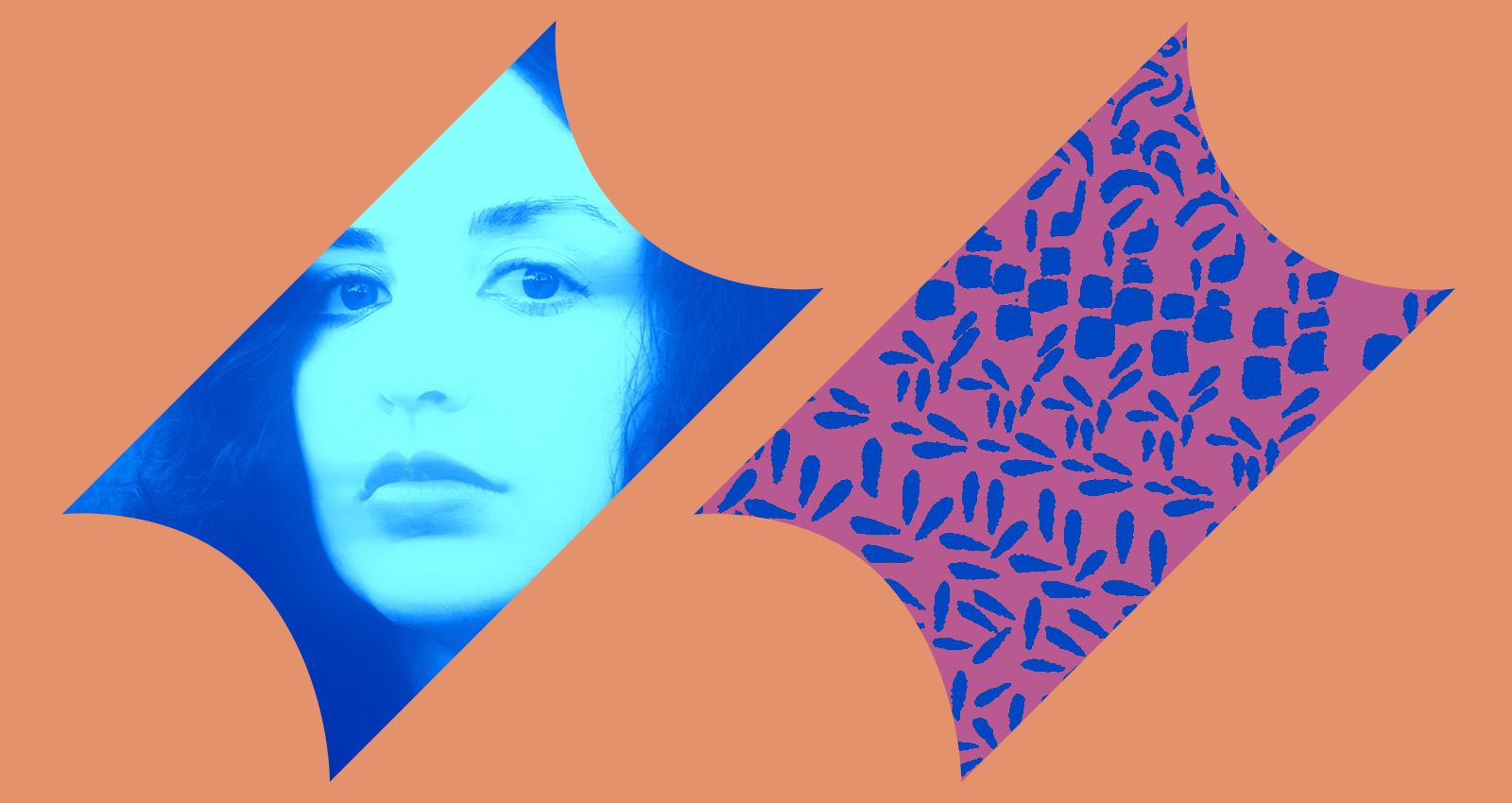 Welcome to The Tape Label Report, where we introduce you to five cassette-focused labels you should know about and highlight key releases from each.
---
Merch for this release:
Cassette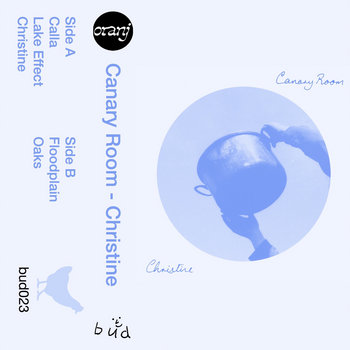 Emmet Martin grew up in Seattle surrounded by DIY bands, DIY concert venues, and support for DIY culture. But when it came time to release their first album, it never even occurred to Martin to just…DIY it.
"I had emailed it around to all my favorite labels and I got ghosted or rejected by all of them," Martin says. "But I did get a really nice response from one of them—Off Tempo in Seattle—that was like, 'Uh, this is just a glorified label for me and my friends's stuff. You should just do the same thing. Just make a couple of tapes and call it a label.'"
"I thought there was some sort of barrier you had to break to be a label," says Martin, who has lived in Portland since 2014. "Then I realized, like, 'Oh, people are just kind of making it up as they go along.'"
In late 2017, Martin set up a Bandcamp profile for their new label, which they named Bud Tapes. It sputtered for a couple of years until COVID-19 came along, shutting down live shows and sending everyone home to their computers. In the spring of 2020, Martin organized a couple of live-streamed concerts presented by Bud Tapes and told the participating bands the label would release their albums if they wanted.
"I just started framing it as a real thing," they say, "and people started paying attention to us."
Bud Tapes's next release, an EP by the band Flipchuck, sold out two small cassette pressings. Since then, the label has put out a few dozen releases by artists like Babytooth, Surcarilita, Amigos Imaginarios, Phone Voice, Boreen, and Balloon Club. Sonically, the catalog tends toward lo- to mid-fi pop-rock and indie folk, though Martin doesn't choose the label's releases based on what a band sounds like. In fact, Martin sees Bud Tapes as less a label with a defined aesthetic and a roster full of bands than as a creative collaboration between friends: one friend who deserves amplification and one willing to dedicate their resources to doing the amplifying.
"I try to keep it fun and organic," Martin says. "I'm not commercially minded, so for me, this is not about genre or potential. The line that runs through all Bud Tapes stuff is usually it's a band that's making something for themselves, and even if nobody was listening, they'd still be making this record. Or it's someone who is just home alone recording music and they just need an extra boost."
And if Martin can't or won't, for some reason, make a run of tapes for someone? They tell them the same thing they were told years ago: "I'll say, 'Hey, I just made this label because nobody wanted to put out my music. Just do that.'"
Release to Start With
Merch for this release:
Cassette
Bud Tapes has released two albums by Portland's Balloon Club in the past year. The most recent is a cassette reissue of a set of songs originally released on the Balloon Club Bandcamp.
"That's my friend Aaron [Liu.] He's one of my favorite guys," Martin says. "He's insanely prolific. He has something like five different band names that are all just him. He puts out many records every year and he can't toot his own horn for the life of him. He just puts it up on the internet and he won't even tell his friends about it."
Liu burst onto the Portland scene with his band Two Moons and his Ghost Pop project is a treasure trove of pop perfection. As Balloon Club, he plays laid-back, grown-up pop-rock that just oozes charm, both through Liu's memorable vocal melodies and his impressive guitar playing.
"Aaron has the power to write a Beach Boys melody but then sometimes he'll bury it deep in these crazy ambient soundscapes," Martin says. "I really think he's a master at mixing sound and song."
–Ben Salmon
---
Merch for this release:
Cassette
Despite receiving the most attention from the music press in recent years via their Mourning [A] BLKstar project, siblings LaToya Kent and RA Washington have been running Cleveland Tapes for over two decades. The label, which acts as an "incubator for futurist art, media, and music," began when Kent moved back to Cleveland after living in L.A. for years. Kent, Washington, and many of their friends dating back to their teen years, started recording a lot of material. Since it was not mainstream and very experimental, it made the most sense to circulate the work themselves.
"We feel strongly about the idea of artist-first business models," Washington explains. Kent says that "as the music industry began to shift in artist support, many artists began creating new ways to put their art in the world. A lot of independent endeavors. We were already ahead of the game in that way: not needing to wait on anyone to support our craft and we can put out a record every month if we want to. That continues to be appealing."
Cleveland Tapes was in some jeopardy in the mid-2010s due to the burnout that can result from "doing it all yourself: creating the tapes, artwork, shows and content," Kent says. "We were touring and doing other projects and weren't in town as much anymore to deliver how we wanted to. 2020 gave us some time and space to pump out a lot of material that we had been holding and put some projects out that other artists had ready to go." Other indie label friends they reached out to also encouraged them to keep working because their label was special. They are committed to supporting artists and giving them a place to be themselves, where their work is respected and their weirdness is embraced "in a dope way that is innovative and pushes back," Kent explains. In addition to circulating music, they also publish literature and prints.
Release to Start With
Merch for this release:
Cassette
The latest release on Cleveland Tapes is a collaboration between multimedia artist Chris Szajbert, LaToya Kent, and RA Washington called Children of Artists. Recorded in Washington's home studio, these songs are subdued, subliminal, and cinematic. There is a bareness to the lyrics and instrumentation that gives the whole thing a seductive and inviting vibe, like we are being invited into the artists's subconscious minds and living room at the same time.
–Erin Margaret Day
---
For Louis Golding, founding Regional Bears was a logical extension of his intense interest in noise, field recordings, and non-music. "The majority of releases come about by me approaching artists whose work I love," he says. "It provides a way to reach out and make contact with people and be part of something larger than just being a fan."
Golding was inspired by the cassette networks of the 1980s and '90s, populated by labels like Sound of Pig, Banned Production, and Korm Plastics. Artists from this scene including Yeast Culture, blackhumour, and Small Cruel Party have already been enlisted for Regional Bears releases since its start in 2017. The label forms a bridge between these acts and a newer generation of musicians who question the boundaries between noise and musique concrète—or even the boundaries between sound and music—including Dan Gilmore and Shots. The link between these artists is that "the editing and presentation of the sounds is often as important as the sounds themselves," Golding notes.
Golding's approach to commissioning new releases is based on his respect for the artists's intentions for their work. "If I approach someone for a release, I will virtually always put out what they send me," he explains. "If I'm making that request in the first place, I trust them and I'm very happy for them to determine exactly what material they want to release, which I think has led to some of the releases being quite surprising." This implicit trust makes each Regional Bears batch an event, as even established artists use the opportunity to make turns toward the unexpected.
It was never a question what format Regional Bears would specialize in. According to Golding, "Tapes are the perfect format for experimental music." Cassettes allow him to take risks that would be prohibitively expensive in other formats. More importantly though, they allow Regional Bears to continue the tradition of the underground tape labels that inspired him, one spool at a time.
Release to Start With
Merch for this release:
Cassette
For the A-side "Kenmore Exchange," Evan Lindorff-Ellery and Joe Shriner made field recordings in and around the DePaul University campus in Chicago, including of Shriner playing a repeated F-minor chord on the music department's practice piano. They then combined and manipulated these recordings into a piece that evolves from static to distant, reverbed voices to thundering noise to shambolic clattering and back to static. The B-side "Lindorff Exchange" finds Lindorff-Ellery and Gary Lindorff in a Vermont cabin, making electro-acoustic improvisations in different rooms as the sun sets and they are slowly left in darkness. Each of these pieces pushes against the traditional expectations of field recording by inviting the noise in, letting the process of recording and editing take precedence over the content itself.
– Matthew Blackwell
---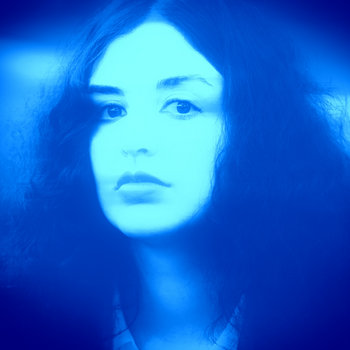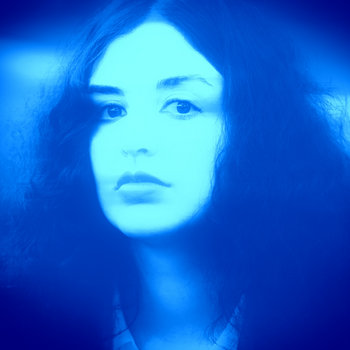 Merch for this release:
Cassette
Sound as language, based out of Oak Island, North Carolina, is a very new label that has amassed an exciting discography in its short existence. The label is beholden to no sound although it was "maybe a bit anti-rock when we started, but I've relaxed that a little bit," says founder Will Miller. Founding sound as language in early 2020, right before the pandemic ("Not great timing!"), with the intent of releasing music that moved him, Miller was especially driven to "to give voice to artists that I felt were being overlooked for whatever reason."
Releases range from the jazz fusion of Euglossine and the dream pop of Taranoya, to the rural drones of Amy Reid and the urban intensity of Big Liquid. Much of the music Miller releases feels like it's made on a metaphorical island—be it in a dome, an apartment in New York City, or just indoors during a pandemic.
Release to Start With
Merch for this release:
Cassette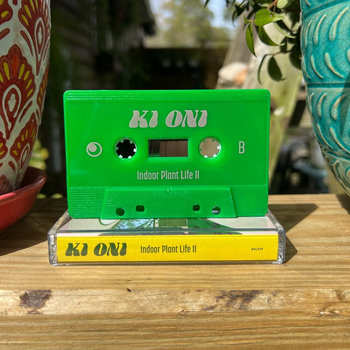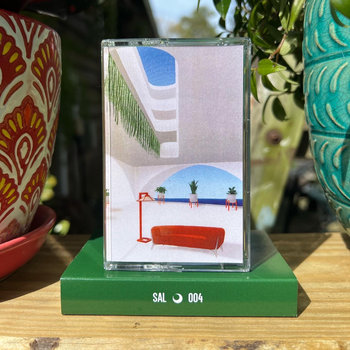 Los Angeles-based Chuck Soo-Hoo, who releases music under the moniker Ki Oni, seems to be somewhat a flagship artist for sound as language, with three releases on the label. The artist makes beautiful soundscapes perfect for hiding from the world while still wanting to create worlds inside. Made with the intent to calm the internal while outside still felt scary, Indoor Plant Life II feels like floating in and out of reality.
–Joe Trainor
---
Merch for this release:
Cassette
Nearly thirty years removed from its heyday, the legend of Memphis, Tennessee's "horrorcore" rap scene lives on through the internet, where obsessives trade rips of warped mixtapes and share massive, intertwining flowcharts that'd impress even the most dedicated conspiracy theorist. Save for the few artists—mostly Three 6 Mafia affiliates—that managed to make waves in the mainstream, many of the scene's key players are remembered today thanks to these archivists, who've spread their work through mp3 blogs and dedicated YouTube channels. Though this digital preservation has maintained the legacy of the artists in question, it also operated without their authorization. Chicago's Tape House USA is helping to bridge this gap. Founded in early 2020 by Colin Feely, the label directly collaborates with the originators of Memphis's signature sound to reissue official physical versions of their cult classics.
Feely initially formed the similarly-named Tape House Group with German rapper Skinny Finsta in 2016, but stepped back in late 2017 to focus on work after leaving school. When the advent of the COVID-19 pandemic cost him his job, he decided to use his newfound free time to get back into running his label, launching Tape House's stateside branch. Since then, he's teamed up with a number of Tennessean underground pioneers whose initial tape runs have become coveted collector's items, from legendary producer Blackout to Womack da Omen, brother of Hypnotize Minds member La Chat.
"What really inspired me about the whole Memphis rap scene once I understood it was that it was really quite similar to what was going on in my own community, DIY punk in Chicago," says Feely. "These artists were working on small budgets most of the time, from home, selling homemade tapes out of the back of their trunk or at their shows."
Though Memphis horrorcore is the primary influence for Feely and many of the contemporary artists putting out new releases on Tape House, the scene's murky aesthetic is just the tip of the label's iceberg. In addition to Southern Rap rarities like Return of the Pimp by Mississippi's Mr. LPD and a previously-shelved demo by Chicago emcee Mista Phat Will, recent output by Lord Crucifix and DJ Bishop fuses vintage horrorcore production with the even grimier fidelity of dungeon synth music. The label even dabbles in jungle, dub reggae, and dark ambient on occasion. As long as the music's raw, home-recorded, and at least a little spooky, there's a spot for it in Tape House USA's discography.
"I would say now, Tape House USA attempts to represent extreme underground sounds, whatever that extreme may be," says Feely. "The Memphis inspiration is heavy for sure, and we are in a phase of reissuing a lot of classic '90s releases from Memphis but you'll see a new phase of '90s Chicago gangsta rap reissues later this year, as well as a lot of new material from local Chicago hardcore and punk."
Release to Start With
Graveyard Productions
The Havoc
Merch for this release:
Cassette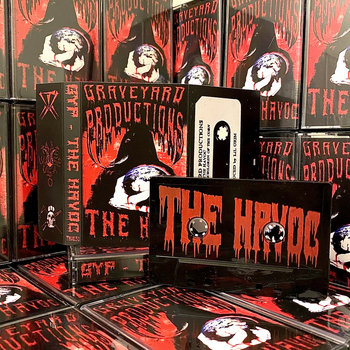 Originally pressed in 1995, Graveyard Productions's The Havoc was one of the most influential tapes to emerge from Memphis's mid-'90s horrorcore boom, thanks to producer Lil Grimm's unique approach to beatmaking. Using a Gemini Sampler and a four-track recorder, he scavenged Isley Brothers records, horror movie soundtracks, and Halloween sound effects cassettes to put a subdued, soulful spin on the city's ghoulish sound. On standout track "Grab My Mask," Graveyard member Mike Mike's tales of violent crime and occultism are juxtaposed against a soothing piano loop and wriggling sine waves. Even the 808s are relaxing, muffled behind a coat of tape hiss.
"[The Havoc] was some of the first Memphis rap I ever heard", says Feely. "The creepy fan art from the YouTube video was always seared into my brain along with the absolutely unique sounds. I had always been a fan of rap but hadn't encountered something so extreme. Even being from Chicago, drill rap can have a much more playful tone even at its most serious. Memphis rap on the other hand, doesn't pull any punches. It's 100% gritty, dark, and real."
–Jude Noel