TAPE LABEL REPORT
The Tape Label Report, July 2022
By Bandcamp Daily Staff · August 01, 2022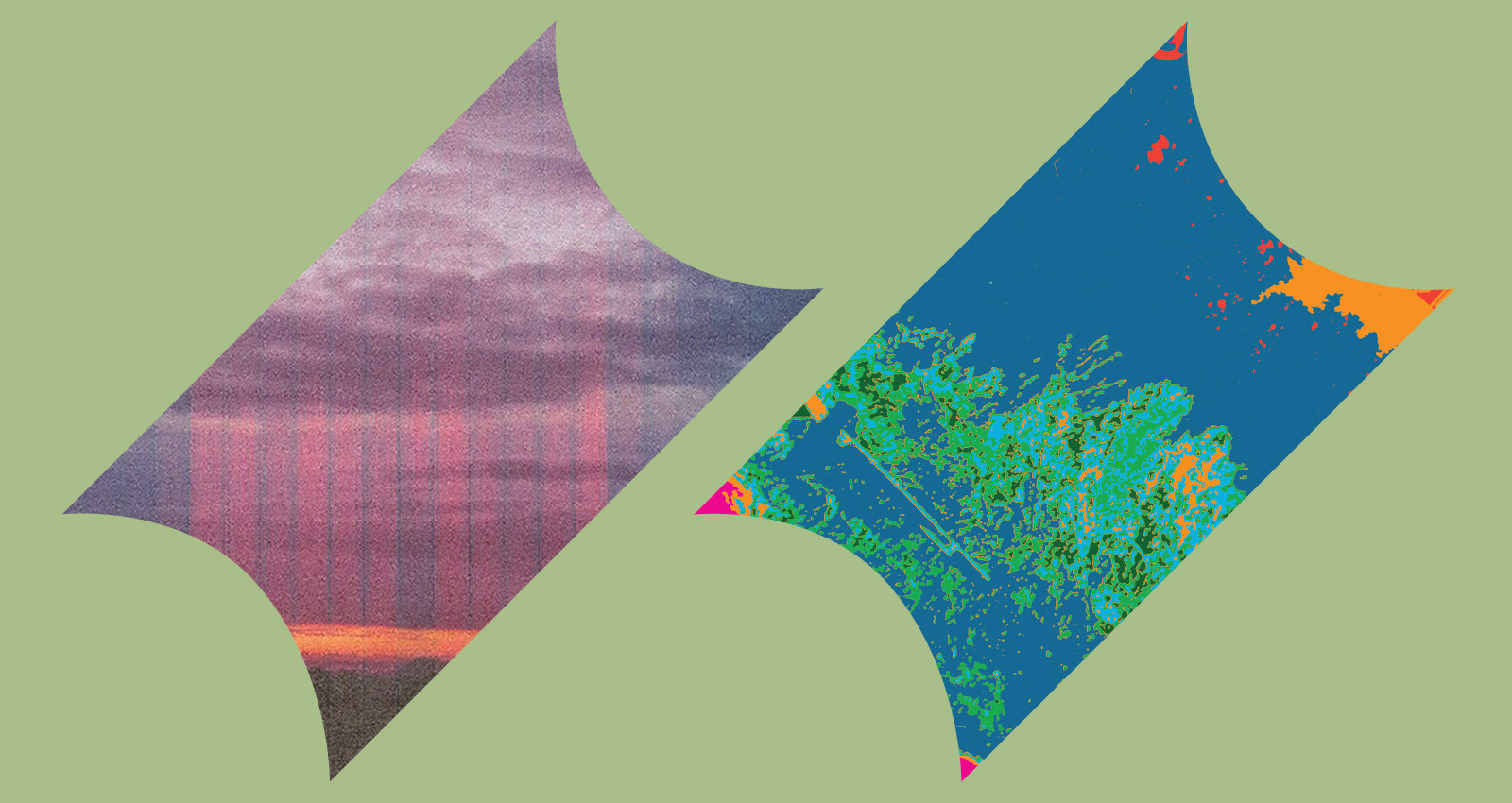 Welcome to The Tape Label Report, where we introduce you to five cassette-focused labels you should know about and highlight key releases from each.
---
Merch for this release:
Cassette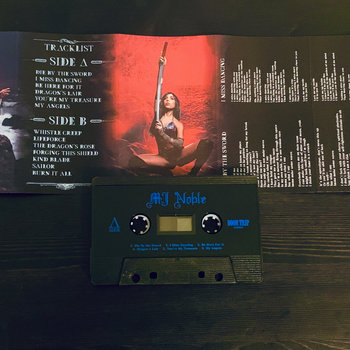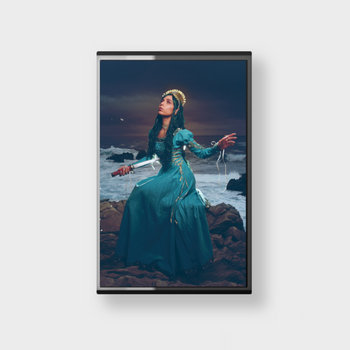 Considering how eclectic tape label rosters can get on Bandcamp, it's a testament to Doom Trip Records that they are able to stand out amongst the pack. From MJ Noble to Mukqs, Rangers to Lighght, Doom Trip founder Zac Emerson has curated a highly diverse set of artists whose distinctive qualities mesh together brilliantly, giving his label a cohesive yet manifold identity that is wholly its own. Emerson started Doom Trip in 2016. The label's first release was Flesh World Vol.1, made up of recordings Emerson made with M. Bailey of SCRTS and classical composer J. Rodriguez on New Years' Day of that year.
Emerson's singular taste is a core part of the label. "I'm always going to be more interested in artists who are doing their own thing than artists who appear to be jumping someone else's train," he says. "And while it's always a pleasure to get press coverage and sales, the level of marketability someone's music has is irrelevant to me. I'm only going to put something out if I connect with it in a deep or significant way, and I can only hope other people feel the same." Though Doom Trip primarily specializes in electronic music, its releases never feel static, with lots of creative variety giving the listener something different to latch onto each time.
Regarding his preference for cassettes, Emerson offers a wide assortment of reasons for using them. He likes the character of "tapes that look like they've been through hell yet they still play perfectly" and how "cassettes are the only format that will exist after the collapse of society," in addition to the possibilities afforded by their design layouts, affordability, and analog sensibility.
Release to Start With
Merch for this release:
Cassette, Vinyl LP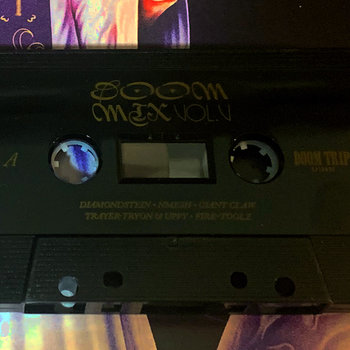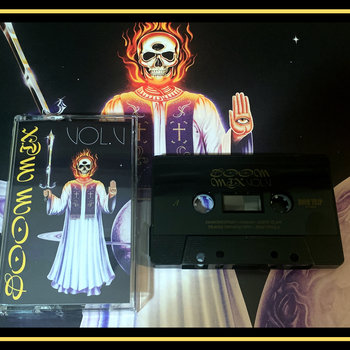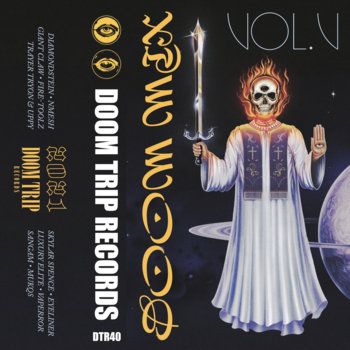 Emerson on Doom Mix Vol. V: "This one is straight heat start to finish, and the unusual blend of artists creates a listening experience that you can't easily find elsewhere. The 11 tracks all explore different sonic territories, but they remain united by an appetite for music that is as adventurous as it is accessible."
Indeed, if you have any interest in the weirdo internet music championed by the Tiny Mix Tapes crowd for the past half-decade, starting here is a wise choice. With Skylar Spence, luxury elite, Nmesh, and eyeliner, among others, being featured, there's a delicious slice of bizarro cake for everyone on Doom Mix Vol. V.
–Eli Schoop
---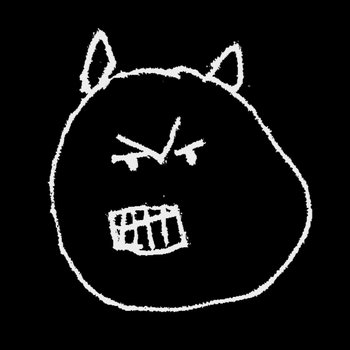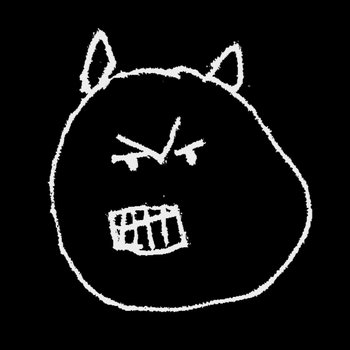 Merch for this release:
Cassette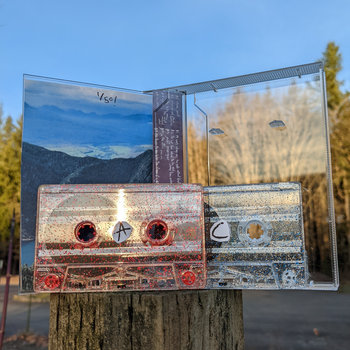 Seattle-based Drongo Tapes started in early 2018, after label head Elliott Hansen moved to the city for college. "I spent my first year of college going to as many shows as possible and trying to meet all the bands and artists I liked, and assembling them all into what would become Drongo's first tape compilation in October 2018," they say. Running a label is actually built into Hansen's DNA: their parents had a label called Cowly Owl!, and released a comp in the late '90s called Pop Machine which featured The Cat's Miaow (whose side band, Hydroplane, recently had their debut LP reissued on Efficient Space).
Drongo traffics in the darker, more brooding side of ambient, drone, and bedroom recordings like with Hansen's own solo project Skunk Ape, along with other projects on the label like Swingsets, rEEK, and Serpent Season. One of Drongo's more ambitious releases comes via Mourning Dove, who combines Grouper-like, synthy, fog-covered pop songs and long-form ambient drone pieces; at times you'll hear the outside world bleed in, like the sirens in "Ghost Passenger." Many artists release multiple projects on Drongo because it's a community effort. "Drongo is and always has been about helping my friends. I fell in love with putting music into physical packages as soon as I figured out how to record onto a tape deck," says Hansen.
The future of Drongo is busy, with the upcoming release of L.A. duo Glenrock's self-titled debut—a beautiful combo of blissed-out drones and subtle folk-like melodies—whom Hansen met when he booked a show for them in Seattle. "I love the way their arrangements flow so naturally, and how they weave in melodies and harmonies into their wobbly baths of sound," says Hansen. "It feels simultaneously freeing and grounding." Drongo Tapes is an exciting tape label, helping out otherwise left-of-the-dial experimental music get listeners, and that's how any label should operate.
Release to Start With
Merch for this release:
Cassette
Michael Moore's "Slow Motion" is two tracks of melting warm psychedelia and IDM that slowly evolve over their lengthy run times. A-side "Slow" moves from ambient jazz into what sounds like a psych rock band underwater before slowly disintegrating into a full-on drone bliss-out. The B-side, on the other hand, vibes on a side beat, letting the sounds evolve and swirl around to a hopeful finish. Moore's sense of movement is lovely and has such a welcoming quality to it—30 minutes of pure sonic embrace.
–Joe Trainor
---
Merch for this release:
Cassette
James Searfoss began Orb Tapes in central Pennsylvania in 2015 as a noise label, with the express intention of putting out music by new and lesser-known artists. "Certain corners of the noise world can be exclusionary and gatekeep-y, I think, and I was just hearing so much great new music that I felt needed a home on a physical format, and Orb became that," he explains.
In 2021, Searfoss reached the ceiling of what he could do solo. Reaching out to many music friends to see if anyone would be interested in joining Orb, Searfoss lucked out when basically everyone he talked to was into it. Orb is now a collaborative effort bolstered by the contributions of David Petersen (Hallucinogenic Bulb) in Philadelphia; Tony Lien (Bad Cake Records, Dere Moans) from Bemidji, Minnesota; Bob Bucko Jr. (Sex Funeral, BBJr, Personal Archives) from Dubuque, Iowa; and, in a slightly more ad hoc manner, Claire Bloom (Reverend Claire, burnt-feathers) from Pittsburgh.
It became apparent quite rapidly that "noise" was too narrowly focused for Orb Tapes. "We definitely love when genre is mangled, fused, dissolved, transcended, or otherwise avoided," Searfoss says. Orb eventually ceased being solely a "noise label;" now they try to put out as wide a variety of music as possible, including free jazz, ambient, grindcore, drone, electroacoustic, screamo, and many releases that come with their own new genre description like "bunker jazz," "sacred industrial," or "spiritual electronics." They've also recently started moving away from being strictly a cassette label, though most of their releases are still on tape at this point: they've released a CD and an LP with another of each format coming down the pike, as well.
As there isn't really a stylistic litmus test for the music they release, what Orb chooses to release really just comes down to what is compelling to them. "So much music is submitted to us regularly that we do our best to sift through, so I think it just really depends on what recordings hit each of us the hardest. Beyond that though, the only thing I ask myself about a potential release is, 'Does it have a touch of the weird in it?'" Searfoss says. "That would be the only sort of stylistic vein that runs through the entire catalog, I think. Of course, a lot of the releases are overtly weird or experimental; but some of them are different, more 'accessible' genres approached from a different angle." He names the avant-pop of Vijay Masharani & Flashlight O and the spaced-out prog R&B of BYZMUTi as examples.
Release to Start With
Merch for this release:
Cassette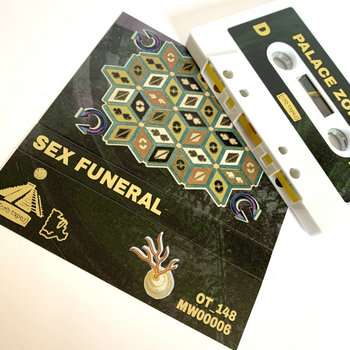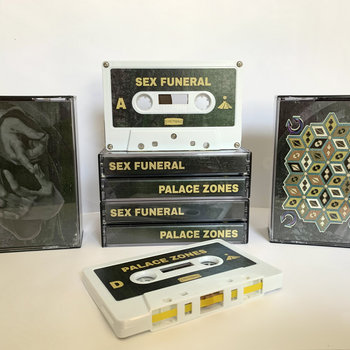 While it would be impossible to adequately convey the enormous range of sonic experimentation at Orb Tapes with just one or two releases, a potentially great starting point could definitely be double-cassette epic Palace Zones by Sex Funeral, the duo of deep weirdo music vets and frequent label contributors Bob Bucko Jr. and Matthew Crowe (Heaven Drugs).
This release is powerfully cinematic and traverses a wide and constantly evolving path of emotions and experiences. At times calming, beautiful, and bright, while at others dark and menacing, it's a whole journey through a vast cycle of feelings and experiences: the rhythms even sound like a processing machine, but it's as if what is being processed are the emotions conjured in the ears of an attentive and engaged audience. I wouldn't listen with the lights out unless you want to have visions.
–Erin Margaret Day
---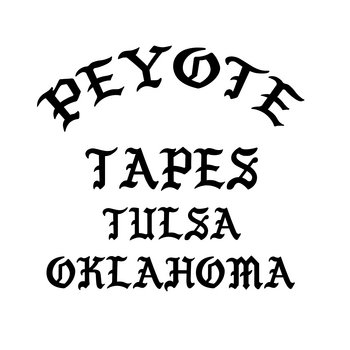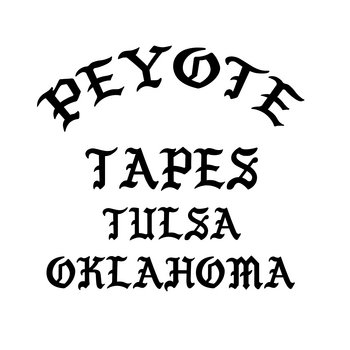 Merch for this release:
Vinyl LP
Growing up in Talequah, Oklahoma in the '80s, Nathan Young's attraction to cassettes was twofold. For one thing, that's how creative ideas from the "outside world" came to his small city in Cherokee County: heavy sounds like Van Halen and Mötley Crüe, and later broader concepts, like punk and DIY.
The other attraction runs deeper. Young is part Pawnee and Kiowa on his mother's side and part Delaware on his father's, and grew up in and around the Native American Church in Talequah. He remembers riding in his father's truck, hearing him sing "peyote music"—the music of the Native American Church.
"There was an underground tape trading network that was intertribal, where you traded peyote tapes," Young explains. Rituals and rehearsals would be recorded with portable cassette recorders, then circulate as a kind of currency. "They're votive items of the Native American Church, but they're also for enjoying and learning," says Young.
Peyote Tapes launched in Tulsa in 2009, inspired by the momentum of online music mag Foxy Digitalis. Whereas Native American peyote music is centered on high-bpm water drum rhythms and sung vocables, the early label output leaned toward Young's interest in noise and drone. He put out several early tapes for his ambient drone duo with Digitalis founder Brad Rose, Ajilvsga, and a tape for KILT, a free-noise project featuring Pulitzer Prize-winning Diné composer Raven Chacon. Releases from this iteration of the label were capped at 100, some coming in editions as small as 13. "It was kind of a secret," Young laughs.
The label went on hiatus after Young moved to Albuquerque and later pursued an MFA in Music and Sound. Peyote Tapes got a second life after Young returned to Tulsa for an artist fellowship. He used part of his grant money to create a space for musicians in the city, which eventually led to a rebirth of Peyote Tapes to showcase "the younger generation of Tulsa noise," like the heavy no wave band Scatter Girls and the solo noise of their guitarist, Natty Gray, who helps Young with the label today.
Release to Start With
Merch for this release:
Cassette
The current incarnation of Peyote Tapes preserves the limited-release format Young launched with. This limited-to-25 tape documents an improvisation between Young and Mateo Galindo (aka CriesLol). It's a fluid mass of low-end synthesizer drone, corralled feedback walls, and frenetic free improv percussion. Galindo and Young met via Raven Chicon, and became close when Young lived in Albuquerque. Galindo moved to Tulsa after receiving an artist fellowship in 2019—perfect timing to participate in the relaunch of Peyote Tapes. Young describes this 2020 collaboration, Spirit Plate, as being "inspired by spiritual jazz…a crazy, weird hybrid."
–Josh Feola
---
Merch for this release:
, Cassette
In the aughts, Scott Scholz was making his own music and touring following an undergraduate education in classical composition. But in 2009, he had an epiphany: there was such a high volume of fascinating new music being released, that he should just "listen to the kids" for a while instead.
"I got massively into listening, which led to co-hosting a radio show, music journalism, booking shows, hosting a series of house shows in my basement, doing some record mastering, Tymbal Tapes, and I basically turned into more of an advocate for adventurous music," Scholz explains. "I thought my break from making music would last a couple of years, but it turned into about a decade! I guess there were a few exceptions mixed into that period, but for the most part, I was very humbled and energized by just listening and advocating for other folks.
During his tenure co-hosting the experimental music radio show Other Music on Lincoln, Nebraska's KZUM, Scholz and his co-host Joseph Jaros had talked about starting a tape label for a good while. One night, they had David Moskovitch perform live in the studio, and it was clear that it was time. Tymbal Tapes dropped its first release in 2015, with a focus on "adventures in new music from the headwaters of the Heartland." All releases are tagged as being experimental, adventurous, avant-garde, creative, modern, and progressive.
Scholz operates the label on his own, down to dubbing all but two releases himself by hand. Since Tymbal grew out of his work as a reviewer for his own Words on Sound website, as well as other publications like Tabs Out, the music he initially chose to release was inspired by things he was listening to in that context. "One quirk of the label historically has been that I often reached out to artists to propose a particular idea that I thought would highlight something I admire about their previous work," Scholz points out.
Besides the definitive sonic novelty of each release on the label, another important feature is the amazing j-card aesthetic, which is the work of Dylan Marcus McConnell of Tiny Little Hammers. "I knew I wanted something black and white, but I'm basically helpless when it comes to visual art stuff," Scholz admits. "Dylan has totally created the aesthetic, and then I have them printed locally on nice linen paper that has the little slubs for a sense of classy permanence."
The releases are made in runs between 50 and 100 and tend to sell out in a month or two. Scholz is fond of the practice of bundling them with a small discount to encourage musical adventurousness: "I think that creates a great opportunity for listeners to try something new, taking a nod from curatorial instincts of the label."
Release to Start With
Merch for this release:
Cassette
Boron is a solo project of interdisciplinary artist and musician Dan Nelson, whose work complicates the already vague space between music and sound art. In his own words, "the idea of 'Boron' was originally sound that it seemed to me was boring and moronic. Anti-conceptual maybe, perhaps my mind already rebelling against the conceptual bent." This release shifts between pieces credited to Boron and a new moniker, Argon, which seems to introduce a new emphasis on compelling melodies and more mysterious and deep spiritual zones.
–Erin Margaret Day